Volunteering has hit a record high in recent years, with more people donating their time and efforts to make a difference in the lives of others. High-quality, passionate volunteers are the face and heart of an organization or project. They are the ones who show up prepared for the task at hand and ready to work hard because they are invested in your organization's mission and cause. Quality volunteers create a more positive, motivational, and rewarding environment for everyone involved.
Read on to learn how to recruit and retain volunteers, including the importance of your mission statement, understanding what your volunteers are looking for, and some volunteer guidelines for nonprofit and for-profit organizations.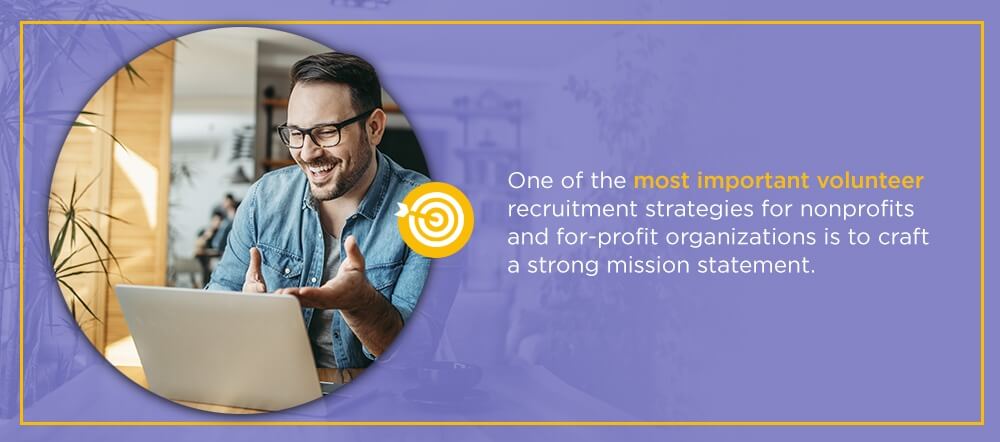 How to Attract the Best Volunteers With Your Mission Statement
One of the most important volunteer recruitment strategies for nonprofits and for-profit organizations is to craft a strong mission statement. A clear and compelling mission statement is essential when recruiting and retaining volunteers because it is the first thing potential recruits, partner organizations, consumers, and others will see.
Here are some tips to follow as you create your mission statement:
Work with others in your group to get feedback and brainstorm possible mission statement ideas.
Keep it simple and concise, and avoid flowery or ambiguous language.
Use this space to let others know what your organization is all about — who you are, your goals, and why you care about your cause.
If you're a for-profit organization, you might also use this opportunity to tell others what sets you apart from your competitors.
Re-analyze and adjust your mission statement regularly as your organization grows or changes.
A strong and easy-to-understand mission statement can be one of your most powerful volunteer recruitment tools. Once you have crafted a mission statement representing your organization, use it in all your marketing and advertising efforts.
Understand What Volunteers Are Looking For
The foundation to understanding what your volunteers seek is pinpointing who they are and the best way to reach them. To do this, you need to define a target volunteer market. Knowing your target volunteer can make your recruitment efforts more productive and allow you to begin narrowing your search for high-quality individuals interested in your mission.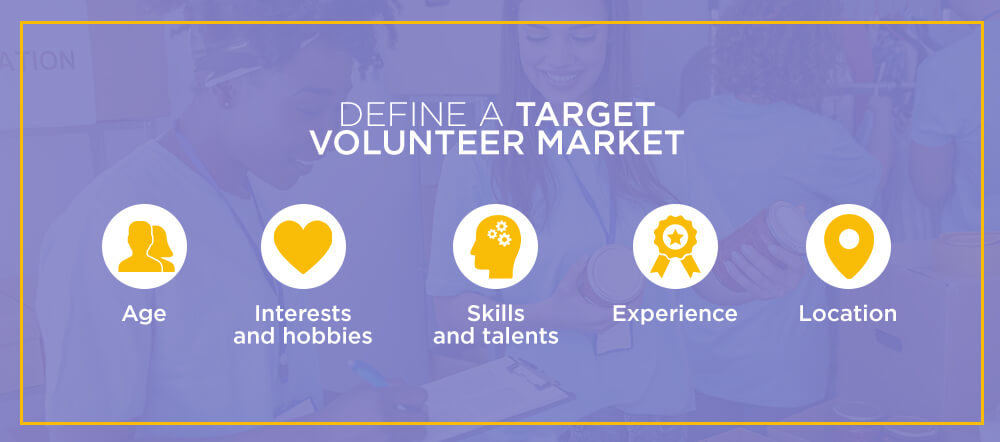 1. Define a Target Volunteer Market
Before you can identify your target volunteer market, you need to have a clear understanding of the type of person your organization needs. Some attributes, such as professionalism, passion, and reliability, are standard qualities to look for in all possible recruits. Some factors are more specified to your industry or goals.
Consider the following:
Age: Good volunteers come in all ages, but different age groups or demographics may be more inclined to help with a cause than others, and some age groups are statistically more involved in volunteer programs. For example, college-aged students might be most interested in a tutoring or animal care outreach event, while older adults are great candidates for mentorship programs. When targeting a specific age group, be careful not to isolate potential volunteers from other demographics. Just because an age group is less inclined to assist with certain organizations doesn't mean there are not plenty of possible matches.
Interests and hobbies: What does your ideal volunteer like to do in their free time? Do they spend a lot of time immersed in nature, hiking, or playing outdoors? Do they prefer to read or work with computers? Do they attend religious services or participate in cultural and artistic events in your community? By identifying what your target volunteer enjoys, you can know where to seek them out with your recruitment efforts.
Skills and talents: What specific skills and talents does your current project or organization need? Common examples are writing, marketing, leadership, manual labor, craftsmanship, performance, public speaking, education and teaching, cooking, technology and electronics, event planning, administrative organization, and the ability to interact comfortably with children or animals.
Experience: Some projects call for specialized volunteers with specific backgrounds or experience, whether through other volunteer organizations, jobs, clubs, internships, or interactions with particular industries or events.
Location: Does your ideal volunteer need to be located within a certain driving distance of a building or area, or do you have remote or dispersed options available?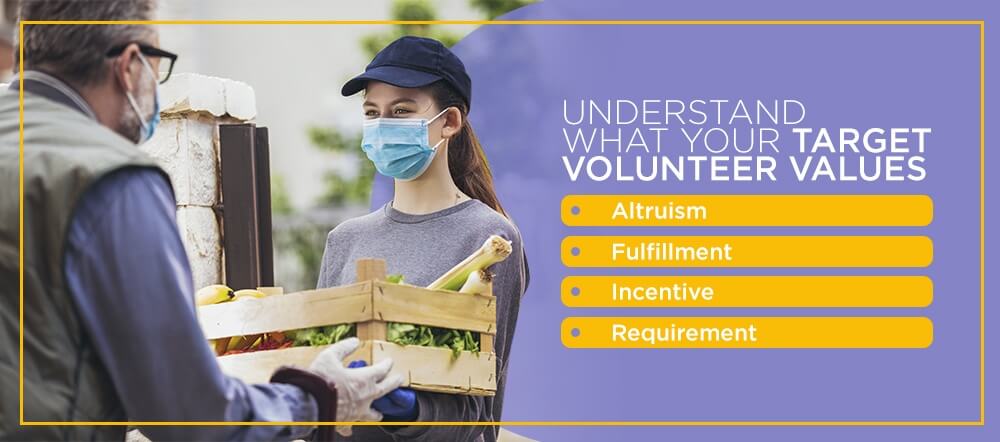 2. Understand What Your Target Volunteer Values
What are the motivations of nonprofit volunteers? Most people volunteer for one or more of the following reasons:
Altruism: Often, the best volunteers are those participating because they are genuinely passionate and invested in the cause. These volunteers believe they can create change and are committed to finding ways to bring that change about.
Fulfillment: Volunteers might be seeking fulfillment in areas of their lives, such as those who want to learn new things and broaden their cultural perspectives. If they are new to the area or hoping to meet new people, volunteering is a great way to socialize and connect with others. Some volunteer because it provides a nice balance for a stressful work or home life. Regardless of the need, volunteering has a way of making people feel better about themselves and the world they live in.
Incentive: Sometimes, no matter how altruistic a person is or what type of fulfillment they seek, an incentive is the most important factor when volunteering. Being an active, engaged volunteer takes a lot of time, energy, and drive, which is not always easy to come by in a fast-paced world. Possible incentives associated with volunteer work include the ability to network with others in a specific field and opportunities to gain valuable resume or skill-building experience.
Requirement: Finally, some volunteers seek organizations to partner with because they are required to do so by legal mandate, an educational degree program, or through their workplace or club. While many people who volunteer out of requirement are hardworking and possibly invested in your cause, this is not always the ideal group to target for recruitment when seeking highly motivated and driven volunteers.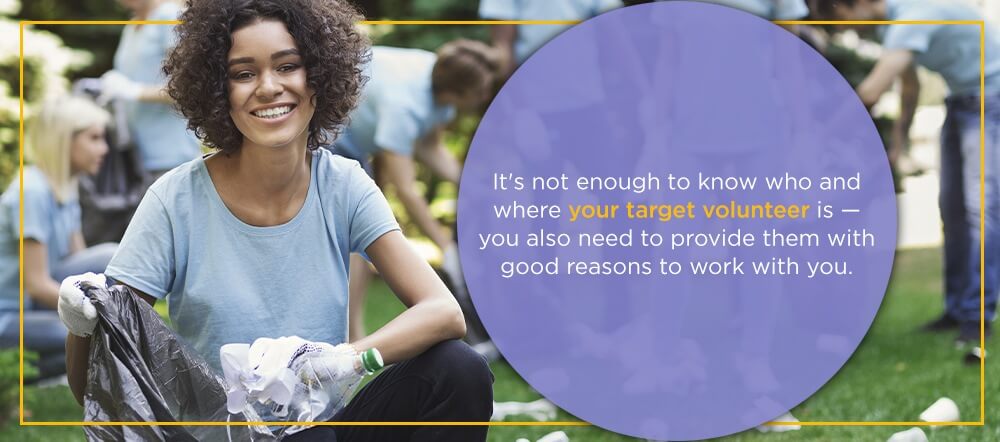 3. Offer a Variety of Roles
It's not enough to know who and where your target volunteer is — you also need to provide them with good reasons to work with you. As you've learned, a compelling mission statement is the first step in this process. Beyond your mission statement, make sure you are offering volunteers a variety of roles and tasks so they can find a niche that they feel comfortable in and can excel at.
Every volunteer brings a unique set of skills, talents, and interests to your organization. Instead of recruiting volunteers to fit pre-designated roles, get to know your recruits and work together to see where they can do the best with their abilities in your organization. By thoughtfully placing recruits, volunteers can continue to feel fulfilled and useful, rather than overwhelmed or burned out.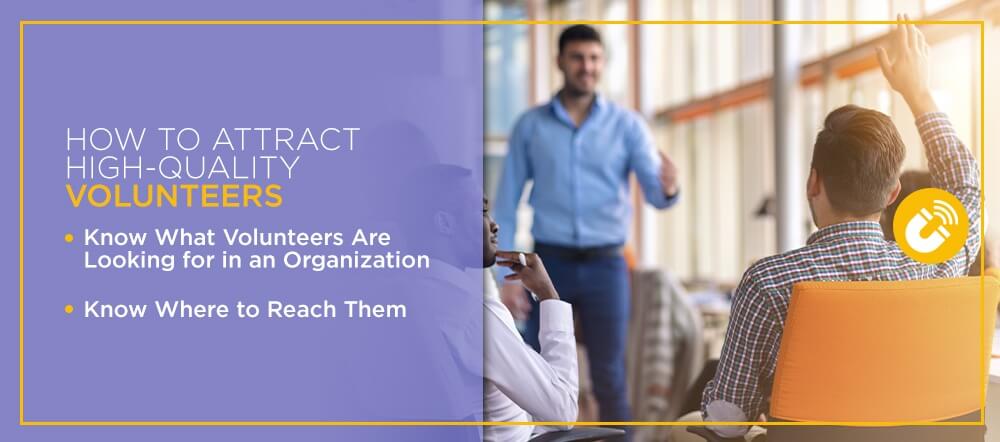 How to Attract High-Quality Volunteers
To attract high-quality volunteers, you need to know what recruits are looking for in an organization and how to effectively and directly reach out to your target volunteers.
1. Know What Volunteers Are Looking for in an Organization
One of the keys to keeping quality volunteers is having a firm understanding of what they are looking for in an organization or project, so you can be prepared to meet those expectations.
These are some of the best practices for volunteer recruitment and maintenance:
Leadership and decision making: Volunteers are just that — volunteers. They want an organization that understands the clear division of responsibilities between employees, staff members, management, and volunteer positions. They need strong leaders who can train them to meet specific project needs and should not be expected to navigate a project or task without guidance.
Valuable incentives: Volunteers need a reason to donate their time and energy to your project. While a passion and shared belief is the most important driving factor, it is not the only one. Let your recruits know about other incentives they can expect, like resume building, training to learn new skills, opportunities to meet others, or specific industry-related perks that come with being part of your organization.
A positive company culture: Nobody wants to work in a toxic environment, and the same is true for volunteering. Because volunteers do not rely on volunteer work for a paycheck, it's especially important to foster an open, positive company culture to encourage volunteers to stay and perform their best.
The opportunity to gain experience: Volunteers want to have a memorable, meaningful, and enriching experience, whether that means learning a new skill, being rewarded for their commitment, or seeing evidence that their work is making a difference within the community.
If you're not sure how to understand what volunteers are looking for, talk with your current volunteers or reach out with a community survey.
2. Know Where to Reach Them
Focus advertising where your target volunteers spend their time, such as college campuses, religious centers, fitness and recreation centers, afterschool programs, or popular local hangouts. Online, you can reach out to potential volunteers on social media platforms and professional networking sites.
Once you know where to find your recruits, some effective volunteer recruitment methods you can try are:
Make sure the volunteer information, call to action, and requested next steps are clear and accessible on your organization's website.
Highlight the successes and efforts of current volunteers on social media.
Seek media coverage when applicable for certain events or outreach efforts.
Ask existing quality volunteers to reach out to others who share your organization's beliefs and see if they are interested in joining your cause.
Keep your sign-up or application process simple and easy to follow.
Be specific in your volunteer recruitment methods, so you do not waste anyone's time advertising to people who are not interested or qualified for a certain role.
Offer full-time, part-time, one-time, and as-needed volunteer positions so you can fit into different people's lifestyles and schedules.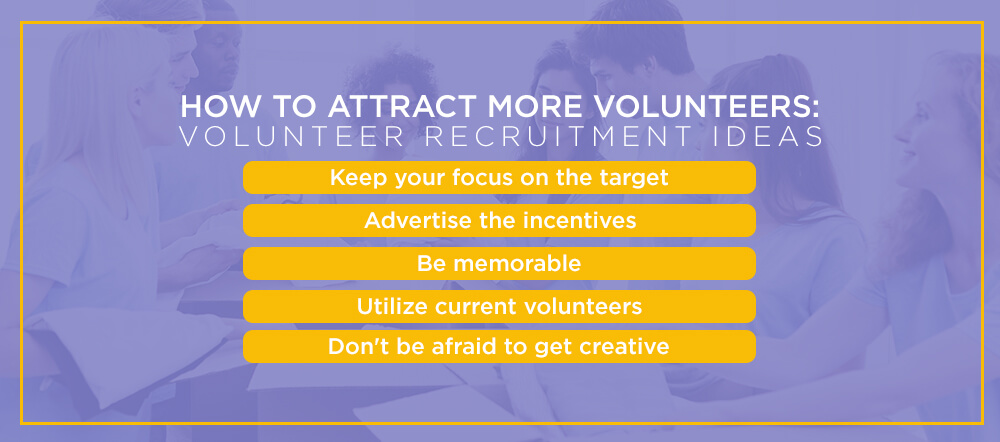 How to Attract More Volunteers: Volunteer Recruitment Ideas
Now, it's time to get your ideal volunteer recruits' attention. Some helpful volunteer coordinator ideas and tips include:
Keep your focus on the target: Do not waste time, money, or marketing efforts by advertising your open position to people beyond your ideal recruits. Keep the focus on your organization, its mission, and the benefits of volunteering with you. Appeal to your audience's specific values and wants.
Advertise the incentives: Include incentives in your volunteer advertisements so recruits know from the beginning what they can expect and gain from their time with you.
Be memorable: Spread your organization's name and mission statement around, and make it memorable. Consider holding social media contests, giveaways, or creating branded gear with your logo and cause on it. Make sure your organization is active in the community, and consider partnering with others in your industry on occasional events to expand your reach.
Utilize current volunteers: Who better to tell about the volunteer experience than the volunteers? Your existing volunteers likely have access to a network of like-minded people who will trust their judgment and want to participate in similar causes.
Don't be afraid to get creative: Some creative ways to recruit volunteers include starting a social media challenge to raise awareness, creating a fun recruitment video to use on social channels, or networking with potential recruits at other similar volunteer events.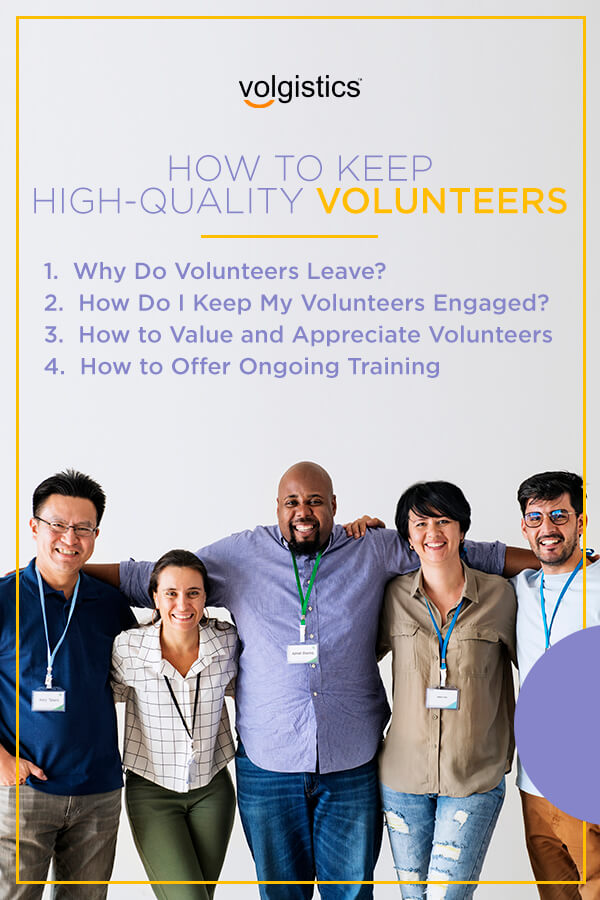 How to Keep High-Quality Volunteers
The most important part of attracting high-quality recruits is knowing how to keep them after they agree to help. How do you maintain volunteers once you have them? You make an effort to keep them actively involved by helping them feel valued and appreciated and offering ongoing training to develop and expand their abilities.
1. Why Do Volunteers Leave?
Volunteers can leave an organization for several reasons that may not be related to their experience with you, like a change in their personal life or relocation. Sometimes, however, volunteers leave because of a problem they've encountered with the organization, such as:
They feel underappreciated and undervalued for the work they do.
There is no longer enough incentive compared to how much time and energy they put into their role.
The organization's mission, policies, or tactics have changed and no longer resound with existing volunteers.
They feel burned out or overworked with the current workload.
Their experience does not match what was advertised during recruitment.
2. How Do I Keep My Volunteers Engaged?
Now that you know why volunteers leave, you can take steps to create a more welcoming environment and retain recruits. Some ways to motivate and engage volunteers include:
Be clear and upfront with volunteers about what they can expect with your organization and follow through with all incentives.
Break large, potentially overwhelming tasks into smaller ones, and delegate them based on people's abilities and interests.
Create a committee or plan for reevaluating your program regularly and implementing changes as needed.
Seek volunteer input when planning events.
Keep all things organized, and create a master schedule and task checklist to keep things running smoothly.
Rotate volunteers who express interest in other departments of your organization or who want to learn more skills.
Offer plenty of variety in shifts and tasks to prevent burnout and accommodate people's changing lifestyles.
Ease new volunteers into the process by giving them short, simple tasks until they feel comfortable taking on more responsibilities.
Watch for signs of burnout or discontentment among volunteers.
Make yourself available to hear concerns or feedback, and let others know they can come to you for support and encouragement.
3. How to Value and Appreciate Volunteers
The most effective way to promote volunteering is to value and appreciate the work your recruits do for your organization and cause. Take time to get to know your volunteers and learn why they chose your cause to work with. What makes them passionate about your mission? What's their story? Share your reasons for dedicating time and foster an understanding and equal relationship with one another.
Express gratitude and thank volunteers often. Go beyond thank you cards with things like special events in their honor, award ceremonies for hardworking individuals, small gifts, online shoutouts, and planned bonding events. Find innovative ways to engage volunteers by demonstrating the difference they are making in the lives of others and showing tangible results of their hard work. By reminding them of why they chose to participate in your organization, you can keep their motivation and spirits high.
Finally, be understanding when things come up in your volunteers' personal lives. Never make them feel like they have to choose between helping with a cause they believe in or tending to responsibilities elsewhere.
4. How to Offer Ongoing Training
As you recruit new volunteers, let them participate in a volunteer orientation program to help them acclimate to your organization faster. As they work and grow, give them the tools and resources they need to succeed, like daily planners or electronics that can help them be more efficient in their roles.
Allow volunteers to cross-train or progress into other areas of your organization over time, including leadership positions. When volunteers feel they can grow and flourish, they are more likely to stay with you. Teaching new skills is also a great way to enable volunteers to be even more useful across all areas and departments.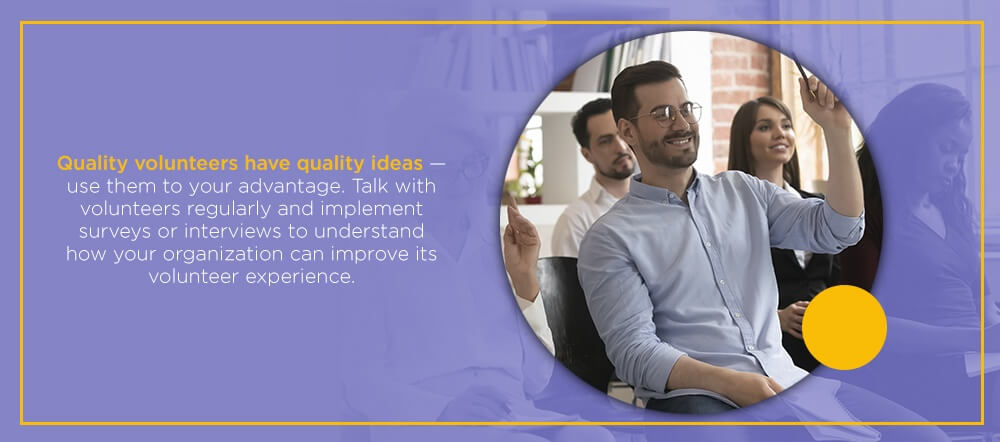 Get Feedback and Make Changes
Quality volunteers have quality ideas — use them to your advantage. Talk with volunteers regularly and implement surveys or interviews to understand how your organization can improve its volunteer experience. Ask what current volunteers love about working with you, and what they feel could be improved to attract and retain more recruits.
Hold exit interviews when volunteers leave and determine whether there was a specific reason they decided to move on. If several volunteers reference the same person or task, make appropriate changes to create a more welcoming and rewarding environment. Establish and work with a volunteer happiness or engagement committee to see changes through and develop a set of standards for how volunteers and staff are to treat one another.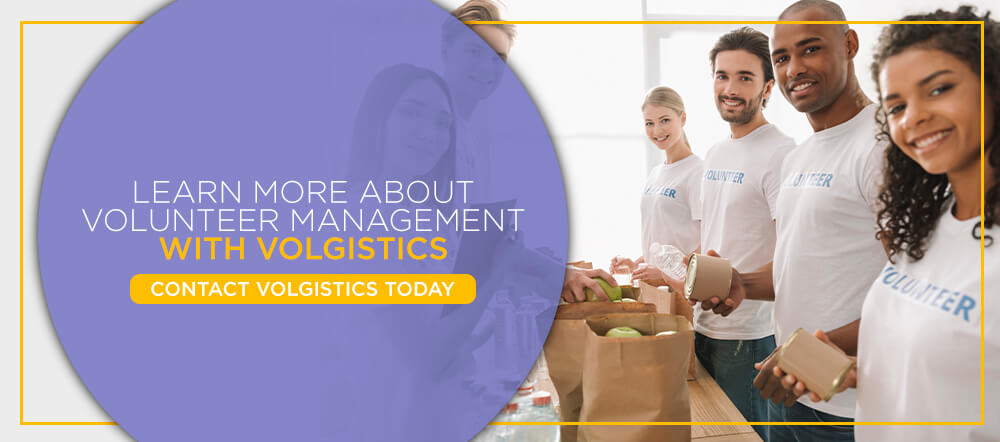 Learn More About Volunteer Management With Volgistics
There is no greater asset to your cause than a passionate, top-quality volunteer. By understanding, encouraging, and appreciating your recruits, you are setting your organization up for success. Another way you can bolster your organization's success is through the use of a customizable volunteer management program.
With a tool like Volgistics, you can track the volunteer life cycle, record volunteer service, customize and print reports, and manage and create volunteer schedules. These functionalities provide increased data that can help you remain organized and make decisions that improve your volunteer retention.
Contact Volgistics today to learn more about innovative tools and software that can help you manage and track your volunteers. To try the program for yourself, sign up for a free 30-day trial today.