Having a team of volunteers can significantly increase the impact of an organization. Competent volunteers can make a significant difference in day-to-day operations, and working with your organization benefits them by allowing them to build new skills and experience. However, you know not just any volunteer will do.
During the process of finding and signing up volunteers, you're likely looking for evidence of a strong work ethic and an excellent cultural fit. But are you conducting volunteer background screenings? Many organizations and volunteer leaders don't know exactly what they should be doing to vet volunteers before bringing them aboard. This guide to background checks for volunteers will explain all the critical information you need to know about screening new additions to your team.

Do Volunteers Need Background Checks?
Volunteers generously donate their time and energy to your cause because it's something that resonates with them. In many cases, nonprofits can't operate without them. When people turn up asking to help out, it can be tempting to agree immediately. However, conducting background checks on volunteers is just as critical as it is for any full-time employee. The following are all crucial points in the importance of screening volunteers.
1. Reputation
Volunteers are often on the front lines of your organization's cause. They are the ones collecting materials for food drives, setting up booths, soliciting donations, and otherwise interacting with the public. To the people they interact with, your volunteers are no different from employees, and there is no material distinction between a volunteer and the organization they work for.
If a member of the public has a bad experience with a volunteer, they'll associate your organization with that bad experience, and you'll lose favor with them. Whether it's something minor like a volunteer being slightly rude, or something catastrophic like a volunteer assaulting someone, the actions of people working on your organization's behalf will define the public's opinion.
If a volunteer's conduct is bad enough to warrant news coverage, your organization might never recover from the blow to your reputation. It's not always possible to weed out bad actors, but volunteer background check services are the best tool you have at your disposal.
2. Public Safety
If you find yourself wondering, "Why do I need to run background checks on volunteers?" consider the safety of the public and everyone within your organization. It wouldn't make any sense for someone convicted of criminal negligence to work with children in a church program, nor would it be a good idea to allow someone with a record of car accidents to drive the activities bus at an assisted living home.
Most situations don't line up with this exactly, but it's the responsibility of a volunteer leader to do their utmost to prevent unsuitable candidates from progressing. A comprehensive background check is the most thorough way to do so.
3. Liability and Legal Responsibility
From an ethical and legal standpoint, you do not want to be responsible for the negligent selection of volunteers. When volunteers have access to particularly vulnerable demographics, like children or seniors, they can do a significant amount of damage. Volunteers who work with confidential or financial information deserve a more thorough screening as well.
Some cases, such as hospital volunteer background checks, are a legal requirement. For example, volunteers in hospices are non-paid employees, and therefore, federal law requires them to undergo a criminal background check. In other cases, hospital volunteer background checks may be a condition for insurance or Medicare reimbursement, or a mandatory condition for receiving a grant.

How Should I Screen Volunteers?
Screening potential volunteers isn't as cut and dry as performing a criminal background check and getting on with things. You should center your entire recruitment process on screening as much as possible, from the application onward. The following volunteer screening checklist will help get you in the right mindset to screen applicants effectively.
1. Through Applications
When collecting information about prospective volunteers, your application form is the first chance to attract the best candidates and ask them to tell you about themselves. To start with, you'll need to leave room for essential information such as:
Email address
Phone number
Temporary and permanent mailing address
Two to three references
When requesting references, think about the type of position you're trying to fill. For a volunteer position at an animal shelter where you expect many minors to apply, personal references will often be adequate. For responsibilities that involve direct and frequent contact with vulnerable populations, professional references who can speak about the applicant's experience and character are desirable.
You only have so much room on one of these forms, so asking the right questions is imperative. These volunteer screening questions lead applicants to reveal more about themselves:
What inspired you to volunteer with us?
What do you hope to get out of volunteering?
What are your interests and hobbies?
What are your strengths and weaknesses?
What kind of volunteering have you done in the past?
The key is to choose open-ended questions, rather than guiding them through a list of volunteer pre-screening questions that have seemingly "right" answers.
2. Reference Checks
Some volunteer leaders request references, then never check them, assuming it's not all that important to follow up on. However, one of the brightest red flags you can turn up is when a prospective volunteer offers references that are fake or otherwise shady. If you call what's supposed to be the work number of a supervisor and hear a raucous party going on in the background, you might be dealing with a lie. Fake references are ample grounds for screening out an applicant.
When you do connect with legitimate references, keep in mind that they have nothing to gain from giving you their time. Remain respectful and grateful, while trying to get as much insight into the candidate's work ethic and emotional stability.
3. Interview Applicants
The interview is a chance for you to get a more in-depth insight into an applicant's personality. Even if a potential volunteer knows how to sound good on paper, you might find them to be unsuitable following the interview. The key is to try and avoid stiff, awkward questions like the classic, "Tell me about yourself." This question makes people completely freeze, and it's too open-ended to get an insightful answer from in most cases.
Asking the applicant questions about why they are getting involved can reveal desirable traits like leadership skills and organizational ability. Emotional investment in a cause is often a good predictor of performance and commitment.
On the other hand, applicants who are surly, sarcastic, rude, or seem bored in the interview are more likely to cause problems with other volunteers, employees, or the populations you serve.
4. Background Checks
Once you've determined an applicant could be a valuable volunteer, it's time to complete the process by performing background checks. In smaller organizations, volunteer leaders may not be sure how to run background checks on volunteers, and it can be a little overwhelming to dive right into.
Partnering with a reputable vendor of background check services is a good idea, as they can provide a broader range of options that can fit tight budgets. The advantages of online volunteer screening include organizational convenience, coordination, and speed.

Volunteer Background Check Requirements
It may come as a surprise to learn there is no single law that stipulates volunteers must undergo background checks. Neither federal nor state law completely covers the subject. Instead, base the rules that apply to screening volunteers on the duties they will perform within your organization.
Many states require background checks for volunteers who participate in state activities. In addition to hospice care, volunteers in schools or other state-funded facilities often require some manner of screening. Three federal laws apply to volunteer screenings:
National Child Protection Act of 1993 (NCPA): Also called Oprah's Law, the NCPA allowed schools, youth-serving organizations, and daycare facilities to access national criminal records from the Federal Bureau of Investigation.
Volunteers for Children Act of 1998 (VCA): The VCA expanded on the NCPA to allow volunteer organizations to access federal criminal records. However, they do not have direct access to the files but must request them through a state agency.
Fair Credit Reporting Act (FCRA): While usually brought up in regards to credit reports, the FCRA also governs background checks by third-party companies.

Types of Volunteer Screening Checks
You can implement a variety of screening checks as part of your process. Ideally, every organization would be able to run every type of screening check on every applicant — but that's not feasible in terms of time and budget. These seven forms of screening checks have varying levels of usefulness, depending on your industry and the role of the volunteer in question.
1. Criminal Background Check
This screening is what most people think of when they hear the term "background check," and it's the underpinning of any screening program. It functions on a Social Security number trace, allowing you to see criminal databases and court records on the national, state, and county levels. Volunteer criminal background checks should be part of screenings for volunteers in any industry, even when the law doesn't require it.
2. Sex Offender Registry
Screening for volunteer coaches and other positions that involve close interaction with children should always include a check of the Dru Sjodin Department of Justice National Sex Offender Public Website Registry. As one of the most critical reports for background checks on school volunteers, it compiles listings of registered sex offenders in real time.
3. ID Verification
It's an unfortunate fact that identity theft is on the rise. In 2017, 16.7 million people had their identifying information stolen, and thieves could use some of that to falsify applications for employment and volunteer work. It's one of the more unlikely scenarios, but ID verification services can prevent you from unwittingly bringing on a volunteer who has submitted stolen or false information.
4. Motor Vehicle Checks
Checking driving records is an essential part of church volunteer screening, or screening for any volunteer who may end up driving a vehicle as one of their job responsibilities. For instance, don't skip these background checks for parent volunteers who sign up to drive for a field trip. Volunteers in health care and social services are also likely to need one of these checks to fully perform their roles.
A motor vehicle record check will reveal any incidents in the last three to seven years of an applicant's driving history.
5. Drug Tests
The results of substance abuse speak for themselves. If a volunteer is consuming illicit substances, it can affect productivity, as well as negatively impact the safety of everyone around them. Drug tests are critical in positions where a volunteer will be doing something that requires close attention to safety, such as working with large animals in a zoo or veterinary capacity. Drug testing is a relatively cost-effective part of a comprehensive volunteer screening program.
6. Employment and Education Verification
Some volunteer applicants attempt to embellish their achievements in education or employment, but a verification check ensures they won't get away with it. It may not be necessary for low-level opportunities, but if you're hoping to have a volunteer in a medical setting or handling finances, you want to rest assured they have the qualifications to do so.
7. Credit Checks
Looking into an applicant's financial history can give you a complete picture of their stability and responsibility. Credit checks are primarily a means of limiting any potential liability for white-collar crimes like fraud or theft.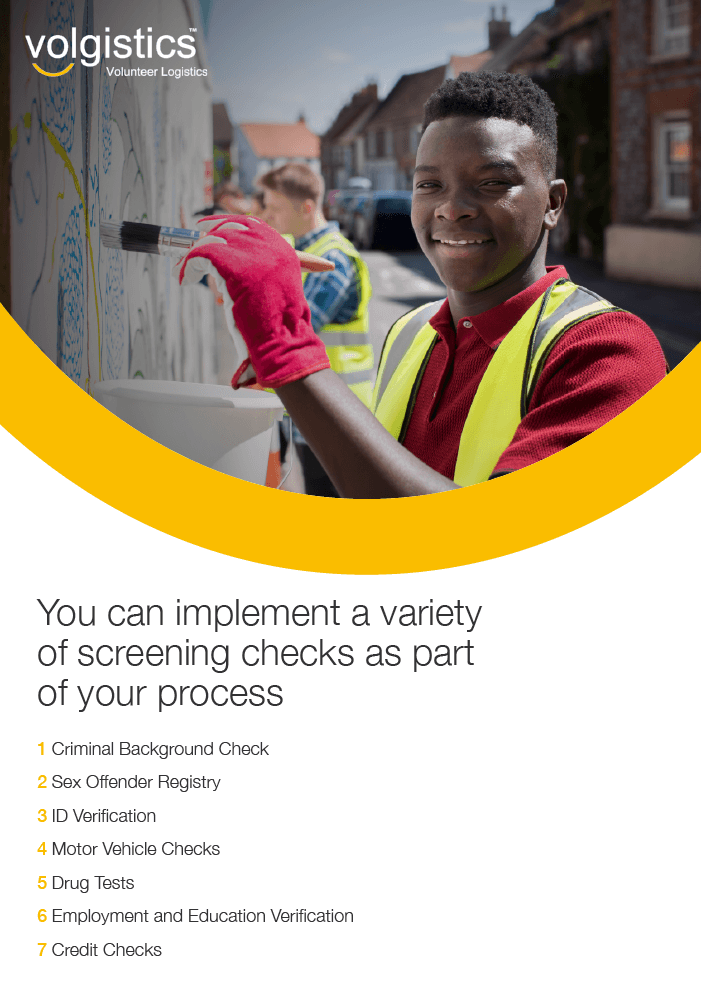 Should I Run Background Checks on Minor Volunteers?
Background checks for minor volunteers can be tricky. In general, any organization that performs background checks under a consistent program will do so on both adults and minors. However, getting the information you're looking for may prove difficult.
For one thing, you will almost always have to get parental consent to perform the background check, as many states have ruled minors aren't capable of providing consent themselves. Many parents are happy to consent, but some may give you a hard time or block some information. For example, juvenile detention centers in many states also require a parent's permission to release information.
Minors are in a unique position where their records are not generally accessible to the public. Sometimes, the most information you can find will tell you there was a case, but there aren't any details available. Running background checks on minors is a risk management strategy. Settings like summer camps, where minors will be in charge of younger children, often require background checks. If the minor in question will be handling sensitive information or finances, it may be a smart choice to do a background check.

Do Volunteers Need to Consent to Background Screening?
Yes. Failing to get consent before performing screenings is in direct violation of the FCRA. You must provide a volunteer background check consent form, get it signed, and be transparent about the information you collect, as well as how you'll use it. You also need to follow what's known as an "adverse reaction" process if the results of the background check lead to denial of the application. The preparation for the adverse reaction includes:
Notify the applicant orally or in writing that you are considering adverse action.
Give the applicant the name of the reporting agency from which you obtained the background check.
Inform the applicant they are within their rights to contact the agency and dispute information that's inaccurate or incomplete.
Give the applicant a copy of their screening report and a copy of their rights under the FCRA.
Once you've done this, you can proceed with the adverse action and formally deny the applicant. You will have to disclose what you based the denial upon.

How Often Should I Perform Background Checks on Volunteers?
One crucial mistake volunteer leaders make is thinking background screenings are a one-and-done tool to use when recruiting. However, there are a few real-world situations in which it is prudent to re-screen volunteers.
1. Shifting Roles
A reliable volunteer will often prove themselves worthy of taking on more responsibilities as they learn and grow in your organization. But before giving them that coveted promotion, consider the new types of information they would have access to. If a step up in your organization entails access to sensitive data and proprietary information, a new background check is in order.
2. Re-Hiring Seasonal Volunteers
Many volunteers, especially students, volunteer seasonally. When volunteers are only around for a few weeks or months each year, you have no way of knowing what they get up to the rest of the year. Screenings should take place whenever a volunteer has been away for several months.
3. Every Two to Five Years
How often should a volunteer background check be run? Even when volunteers work with your organization consistently, running regular background checks is a practical cautionary matter. A lot can change in two or more years, and you may find some issues have cropped up from one check to the next. Your screening program should include guidelines on when each volunteer should receive their next background check.

Insights on Making Background Checks Easier
Learning how to screen volunteers effectively takes some practice. To get you on the right track, here are a few insights that may change the way you approach the volunteer screening process.
Social media is an increasingly valuable screening tool, with 12% of organizations checking volunteer applicants' social media accounts.
A full 92% of volunteer organizations conduct criminal record checks.
Fully 73% of organizations use the sex offender search.
Only 41% use identity verification.
About half of organizations screen volunteers, no matter their position or longevity with the organization.
More than 53% of organizations use third-party screening sources, while almost 26% go to a government source.
Re-screening is on the rise, with a quarter of organizations regularly re-screening those who work with vulnerable populations.
Only 15% of organizations send the appropriate pre-adverse and adverse reaction notices to disqualified applicants, meaning they are out of compliance with the FCRA.
Background checks for nonprofit volunteers are an essential tool in keeping your organization and the populations you serve safe. Carving out some of the budget for these checks can prevent you from experiencing a costly incident you could have easily avoided with more thorough nonprofit volunteer screening.

Volunteer Management With Volgistics
As a volunteer leader, you have a lot on your plate. From the recruitment process to reporting, Volgistics is a volunteer management software that helps you do more for your teams and organizations. Volgistics covers every element of volunteer information, allowing you to organize for more powerful impacts. It offers volunteers the convenience of receiving schedules and checking in and out from an easy-to-use touchscreen kiosk.
Volgistics now also partners with Verified First to streamline your volunteer screening process. Since 2012, Verified First has been providing fast and accurate results along with competitive rates and outstanding customer service. Connecting Volgistics to Verified First through a simple browser extension allows you to send basic details about the volunteer to Verified First. Then, Verified First automatically contacts the volunteer for other needed information to complete the background screening, all without leaving Volgistics.
Volgistics has served thousands of organizations in every imaginable industry. If you would like to join the ranks of organizations that have revolutionized the way they manage volunteers, register for a live demonstration. A member of our support team will guide you through the system and provide insights on the features that best meet your needs.
You can also take Volgistics for a test drive by using a sample account, pre-loaded with data you can use to discover the benefits of the software. If you have any questions on how Volgistics can improve volunteer management, our dedicated support team is eager to address your inquiry.