Volunteer Management Software for Health Care

Whether you need to manage volunteers for a hospital, clinic, or treatment center, Volgistics' volunteer management system for the healthcare industry can help your organization's volunteer management efforts be more productive and organized, developing your volunteer network into a more powerful force for your organization.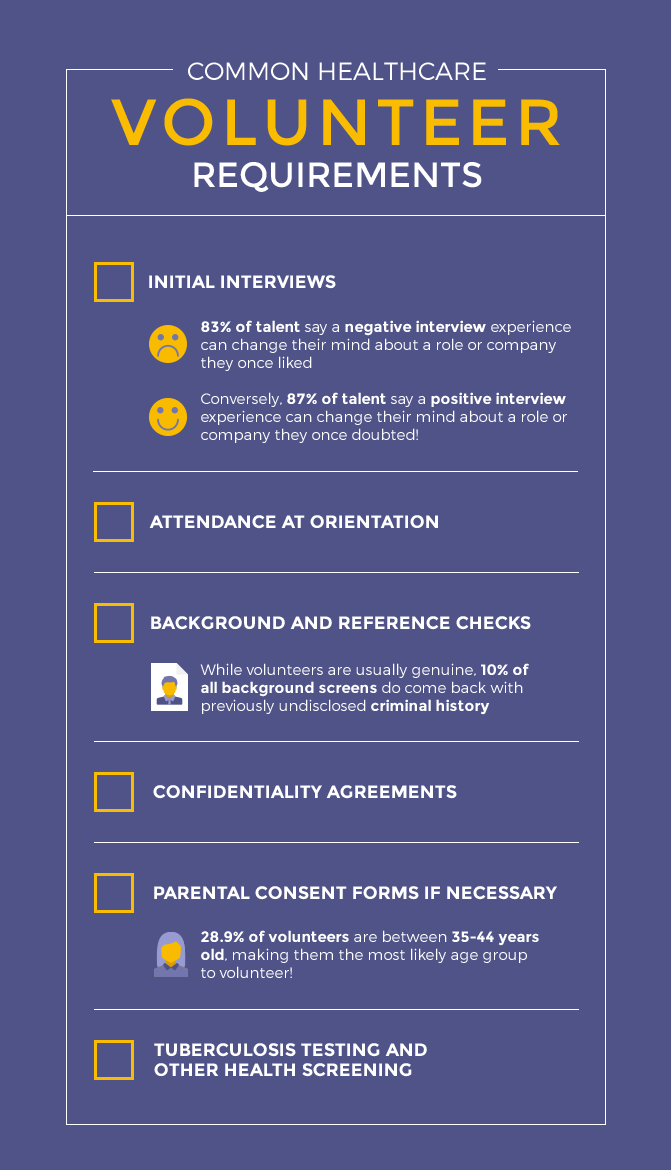 A volunteer database system is essential for organizing your volunteer structure, storing information on past and present volunteers, and allowing volunteer managers at health clinics to communicate with and assign tasks to volunteers efficiently. Volgistics' volunteer management system offers a software application that's highly customizable and accessible for healthcare facilities. You can match volunteers with appropriate tasks, track their histories, and message them with updates in this all-in-one system that's designed for maximum user-friendliness and accessibility.
The Volgistics system allows you to post volunteer opportunities to your Opportunity Directory, so prospective volunteers can easily see your available positions and the tasks and qualifications involved. Potential volunteers can then register through online application forms they find on your website. Once the volunteer managers accept an applicant, the information contained in the application is then uploaded to the volunteer database, eliminating data entry, which will save your organization time and money.
On top of this streamlined recruiting workflow, the Volgistics recruiting system is highly customizable and adjustable, allowing you to immediately alter application forms without the aid of a web designer.
The Volgistics volunteer database contains a vast wealth of data about each of your volunteers, including information for their references, emergency contacts, employers, interests, skills, and even volunteer photos. You can also create customizable fields that are unique to your organization and its needs, like parking permit numbers, driver's license numbers, education, and training information.
In addition, all of this information is searchable so you can quickly and easily find the records that you're looking for. You can filter volunteer records based on their ages, types, locations, service, preferences, customizable flags, and other specifiers to find records and match specific volunteers to the needs in your organization.
Include the optional VicTouch (touch screen kiosk) module and volunteers can sign-in when they arrive and sign-out when they leave. A detailed record of service performed is automatically recorded for the volunteer. Service information is available for reports immediately after the service is completed-without the need for any additional action by a volunteer coordinator. This feature frees staff from needing to perform data entry responsibilities to enter volunteer service.
Collect information from prospective volunteers using Volgistics' simple online volunteer application forms. We make it easy to post these forms online for potential volunteers to fill out, checking to make sure that applicants provide all required information in the appropriate format before allowing them to submit.
Whenever an application is completed, the system will automatically forward the form to the Volgistics Mailbox for screening and send the applicant a confirmation email to let them know what happens next. If you choose to accept an applicant, just verify the form and the Volgistics system will take care of all the primary data entry you need using the information from the form to create a new volunteer profile in your database without requiring your back-office personnel to enter the data manually.
Document storage is a powerful tool for volunteer organizations of all kinds, and Volgistics' document storage application, VicDocs, is a fantastic iteration. With this system, your organization can keep information about volunteers safe and available in a digital format, saving time and space for your volunteer managers.
Managing documents in several popular file formats, including PDF, DOC, XLS, TXT, JPG, PNG, and more, VicDocs keeps it all together, from driver's licenses and applications to waivers and contact forms. It's even backed up in a secure data center, so you don't need to dedicate hard drive space until you want to download a document for a specific purpose.
Volgistics is a secure system, and we take great care to protect your volunteer data, using similar security systems to those used in financial institutions. However, the system is not certified as HIPAA-compliant, so we don't recommend storing medical records with the VicDocs feature.
Volunteer records can also help your healthcare facility maintain compliance with regulatory agencies, tracking information on volunteers' training statuses, and other data. Use the Checklist feature to track volunteers and their completion of mandatory compliance requirements, such as TB testing, flu shots, background checks, and other requirements.
If a volunteer needs to renew an annual item, you can set your system to send them email or text reminders when these items will soon be due. On top of all of that, Volgistics' detailed volunteer data tracking and comprehensive reporting capabilities make it easy to generate reports for regulatory agencies.
Send emails and text messages to the groups of volunteers that you select. Whether you want to send automatic schedule reminders to a single volunteer, a location update to a scheduled group, or a policy update notification to your entire volunteer base, Volgistics' email and text messaging system makes it possible. To make this process more efficient, you can automate schedule reminders to go out on a daily or monthly basis. All of the messages that a volunteer receives will be recorded in their message history.
The optional VicNet module also improves communication with your volunteers, allowing them to stay in touch with your organization through any internet-connected computer. Volunteers merely log in to a secure portal to download forms, schedule themselves, post hours served, update contact information, receive messages, and review service information, all without involving a volunteer manager!
Use Volgistics' ready-made reports to get everything from simple lists of completed training courses and awards received to comprehensive summaries of volunteer service hours completed and positions filled. You can organize and customize reports in a variety of ways to fit your organization's unique needs. Organize by assignment to see hours completed in each area of your organization, or customize your reports to track factors important to your healthcare organization, like dollar values for volunteer hours served.
Create and track volunteer awards to improve participation and morale. You create awards based on hours of service, years of service, other performance measures, or immeasurable criteria such as a committee selection. The awards can be setup to apply to just certain groups of volunteers such as youths or seniors. Volgistics makes the job of tracking awards easier with reports and search functions designed to show who's eligible or who's received the award.
Volgistics includes a Site Level Access feature designed for large healthcare organizations that have satellite hospitals, clinics, or other locations. Headquarters-level operators have access to all volunteer records, assignments, and reports, while Site Level Operators can only see information for the location they are assigned to. This feature makes it easy for compliance items, awards, password security settings, field formats, and more to be standardized for the entire organization — but offers the advantage of a simplified interface for Site Level Operators that limits volunteer information from being shared between locations.
Volgistics offers three options for transferring the volunteer information you're using now into your new Volgistics account. The choice that's best for you and your organization's volunteer system depends on the program you're using now and the complexity of the data you want to import.
The Volgistics software's conversion options allow your existing data to be quickly loaded into your new account, so you can start using Volgistics as soon as possible, making your job easier without wasting your back-office time and resources with manually entering all the information into the system.
---
Learn More About Volgistics
If you're ready to improve your volunteer system, Volgistics' volunteer management software for hospitals can help. Learn more about the software and how it can help your health clinic achieve a new level of volunteer organization. Contact us today to reach one of our dedicated support team members or sign up for a free trial of the software! If you are curious how Volgistics works then you can register for a live demonstration!