State and Local Government
From beautification to emergency response and administrative services, your citizens can offer their time in many ways on your city or municipality's behalf. Depending on the population and range of services you oversee, it can be time-consuming or challenging to keep track of volunteers.
That's where Volgistics, the volunteer management solution for cities and counties, helps improve the efficiency of recruiting, scheduling, informing, and understanding your volunteers through a uniquely scalable system.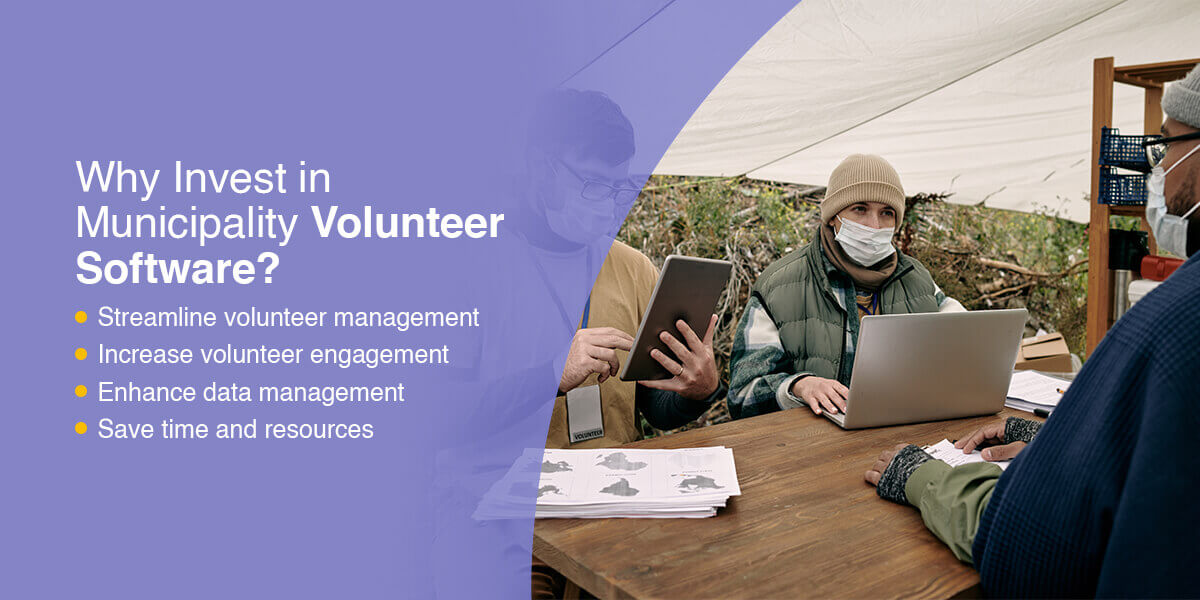 Why Invest in Municipality Volunteer Software?
Municipal organizations rely heavily on volunteer support to provide various services to their communities. However, managing volunteers can be complex and time-consuming. Volunteer software can help address these issues, making it easier for municipalities to organize their volunteers effectively. Here's why you should invest in volunteer software:
Streamline volunteer management: Your organization may still rely on paper sign-up sheets, which are time-consuming and error-prone. Municipality volunteer software allows for effortless organization and management of government volunteers. It can automate tasks such as scheduling volunteers, tracking hours, and communicating with volunteers.
Increase volunteer engagement: If you're experiencing difficulty engaging with volunteers, software can help. It can make it easier for people to learn about government volunteer jobs, sign up for opportunities, and stay up to date on events and activities. It can also give them a more personalized experience, leading to greater satisfaction and engagement.
Enhance data management: The software can collect and analyze data related to volunteer hours, activities, and impact. This information can help the municipality make better decisions about volunteer recruitment and management.
Save time and resources: Another struggle your municipality might face is limited resources. Volunteer software can help by automating tasks that would otherwise require significant staff time, such as scheduling and communication. Doing so can free up staff time, allowing you to focus on other essential initiatives.
Benefits of Volunteer Management Software for State and Local Governments
Volgistics is a paperless volunteer database that simplifies sorting and reporting, allowing you to build profiles, broadcast messages to volunteers via text and email, and modify schedules.
We offer a robust set of digital tools to benefit municipalities, such as:
Site Level Access
If there are multiple departments or locations in your civic organization, Volgistics uses a permission-based hierarchy to limit supervisors of the department so they can only be able to manage the volunteers they're responsible for. This feature makes Volgistics more user-friendly for operators, while the headquarters administration can maintain oversight and pull volunteer service reports at the level they choose.
Online Application Forms
Provide citizens who are considering volunteering for local government with a convenient application through your municipality's website. You can create custom forms for different locales or types of services — whatever pertains to your organization best. You don't need a background in IT or website design to host or create these applications. Applications are added to your Volgistics database automatically, eliminating manual entry for dozens or even hundreds of volunteers in a given period.
Service Reporting and Valuation
Volgistics provides the most flexible volunteer management for cities and counties with customized service measures such as parks cleaned up or community events managed. Volunteer reporting capabilities also help you calculate the estimated dollar value of completed services and track historical values. With Volgistics, you can know how much of an impact public service efforts are making for your local government and even set up awards for the top contributors making a difference.
Background Screening
Municipalities need to know that their volunteers are qualified and have up-to-date required background checks. Volgistics allows you to build a custom list of mandatory items, such as a criminal history check, health screening, or orientation.
By including completion dates in an entry, you can know when any expiration dates approach and remind your volunteers to renew so they can stay in active service. Volgistics also partners with Verified First, an award-winning background screening provider, for streamlined background checks to help speed up collecting information for the type of check you want to complete.
Schedules
Scheduling is one of the most critical aspects of managing a government volunteer program. That's why Volgistics has created a scheduling management system to help you schedule volunteers quicker than ever. Enjoy the versatility of scheduling one-time and ongoing tasks and even interval projects for each volunteer. You might also take advantage of software features like filtering schedules for managers to only see their volunteers, post self-service sign-ups, and other benefits.
Volunteer Management
Whether you're managing individual records or entire groups, the Volgistics volunteer hour tracking system provides the in-depth oversight you need to operate smoothly and efficiently. With personnel management, you can view each volunteer's hours worked, skill sets, and previous experience to place them in the projects that work best for their abilities and schedules. Other features include email and text reminders, award criteria and recognition, and many more.
Document Storage
When you're ready to go paperless, trust in Volgistics document storage software. Gone are the days of unsightly, overflowing filing cabinets. Simply scan and upload your essential documents, filter your materials, and find exactly what you need. You'll have a centralized repository for storing and organizing municipal volunteer documents and an easier time locating pertinent information.
Learn More About Solutions for Municipality Volunteer Management
Investing in municipality volunteer software can help you better engage with your community, increase volunteer participation, and improve the efficiency of your volunteer management efforts.
Volgistics can help you convert your volunteer records from your existing database to our platform. We have technical support specialists standing by to provide prompt answers to requests and a library of video tutorials and articles to reference.
Experience Volgistics by beginning a free trial or registering for a live demonstration. You can also contact our team today for more information.