Schools and Education
Colleges and universities, public school districts, private academies, and charter schools often offer volunteer opportunities to further their mission for quality education. Volunteers may commit time to fundraise, monitor after-school activities, and mentor students. Keeping volunteers engaged and documented is important, and a versatile school volunteer management software can help.
Volgistics is a customizable volunteer management solution for education organizations with robust tracking and reporting capabilities. This scalable platform can serve every organization from colleges and universities with multiple campuses to smaller schools with one building.
Why Invest in Volunteer Software for Educational Centers?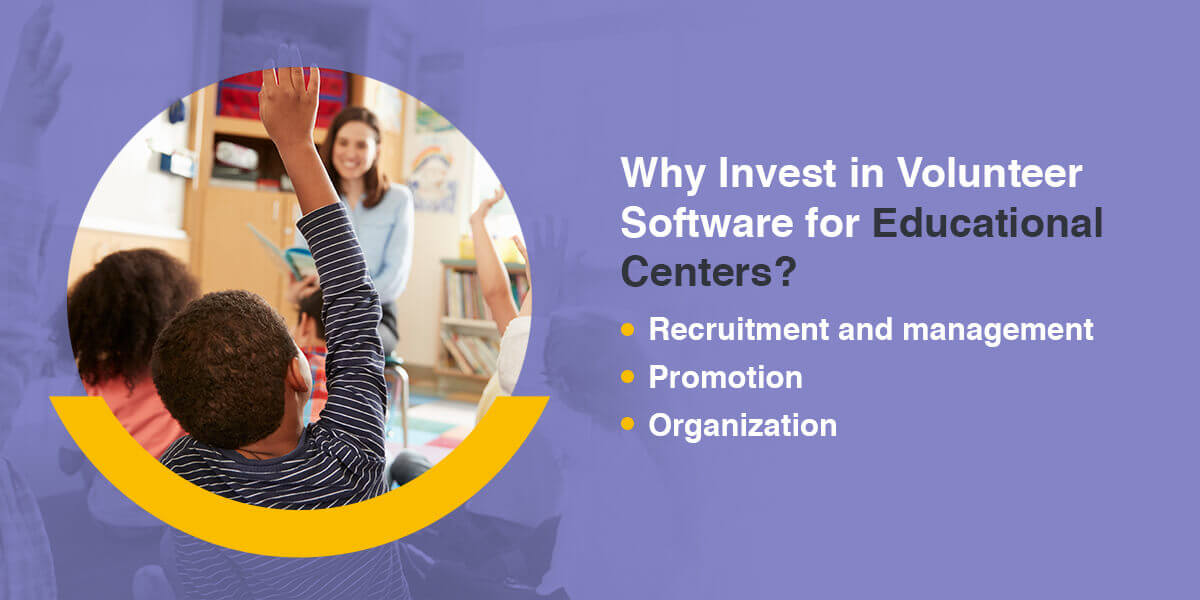 More than ever before, educational centers are engaging with their students, parents, and alums in service opportunities. Whether you're facing learning requirements, coordinating with PTA, or hosting peer-mentoring programs, volunteer management software for schools can help you take on your initiatives smoothly and efficiently.
Recruitment and management: Recruiting and promoting engagement among parent or college volunteers can be time-consuming. A centralized software platform can help potential volunteers easily submit their information, express their interest, and undergo any necessary background checks or screening procedures.
Promotion: It can be challenging to constantly update volunteers with service opportunities like supply drives, fundraisers, and large seasonal events. With volunteer software, you can ensure seamless communication with automated notifications, reminders, and updates regarding upcoming volunteer opportunities. The platform can keep volunteers informed and foster stronger relationships.
Organization: Many educational centers face the arduous task of posting updates and reminders across their various digital platforms. Automated software offers district-wide capabilities to post news and important information that's accessible to every school, saving you time and energy.
Benefits of Volunteer Management Software for Educational Institutions
Busy volunteer organizers need a modern way to organize volunteer profiles, create text and email updates, manage schedules, and even make custom fields for skill sets and services. As an online volunteer management system, Volgistics provides a wealth of tools for sorting your volunteer base and storing details such as contact information, references, and emergency contacts.
Discover more key features for schools below.
Ongoing Volunteer Scheduling
Save managers time and communicate clear timetables to your volunteers with built-in scheduling tools. You can assign dates, tasks, and times to individual volunteers, and create printer-friendly versions by assignment or place. You can also send automatic emails with schedule reminders to volunteers so they can stay informed.
VicNet gives you and your volunteers control over schedules and personal profiles on a platform accessible from any internet-connected computer, tablet, or smartphone, whether at your institution or at home. You can establish rules of conduct and share the necessary information for volunteering. Since a school's schedule can change, this online portal allows organizations to amend their planners alongside volunteers updating their availability. Volunteer leaders can also send communication to volunteers and track substitutes.
With a school, it's important to keep an updated list of who's inside the building. With the VicTouch module, volunteers sign in when they arrive and sign out when they leave. Not only does this record their past service, so you know when they were in the building previously, it also gives you a list of who is currently signed in at any time and their assignments.
Checklist Items
Volgistics can help you track whether your members have the proper paperwork to volunteer or have completed ongoing training to remain active. Create custom items to track and apply them to all or certain groups of volunteers, such as orientation attendance or health screenings. Similar to scheduling, you can also send checklist reminders to volunteers who have an item about to expire.
Volunteer Background Screening
Knowing you have carefully screened volunteers working in your school is crucial. With our partner Verified First, you can start screens and see results right inside Volgistics, so you can simplify and speed up your applicant on-boarding process.
Data Management
Volunteer management software offers data management capabilities, helping you collect and compile data related to volunteer activities, trends, and impacts. We keep your data safe with encryption, helping you easily navigate large volumes within customized fields. Volgistics can help you optimize your school volunteer programs, make informed decisions, and demonstrate the value of volunteers to stakeholders.
Document Storage
When you're ready to go paperless, look no further than Volgistics management software for schools. Quickly scan and upload essential documents and locate precisely what you're looking for. Whether you're managing college volunteers for a fundraiser or another large event, document storage software can help you access contact details, availability, background checks, and other information. It streamlines the process of finding suitable volunteers for specific activities or events.
Reporting
Reporting software from Volgistics can help you track and analyze volunteer activities, hours served, and impact. It provides data that can be used to evaluate the effectiveness of your school volunteer programs, assess the outcomes of volunteer efforts, and identify areas for improvement. You can also showcase your progress and resource allocation in PDF or Excel file format to provide transparency for donors.
---
Request a Free Trial for Volgistics Volunteer Management
By leveraging volunteer management software, educational institutions can streamline their volunteer processes, enhance tracking and reporting capabilities, and optimize the overall volunteer experience. Volgistics can empower you to use volunteer resources effectively, strengthen community partnerships, and achieve your educational mission.
In addition to providing you with a fully online management platform, we offer volunteer sign-in that integrate with Volgistics, ideal for school lobbies or building entrances. Even without the help of an IT specialist or web developer, you can post a volunteer application form to your school website and configure it to load approved submissions into volunteer profiles. Are you changing databases? We can help convert existing volunteer information into our system to give you an effortless start using Volgistics.
Begin a free trial of Volgistics or register for a live demonstration today. Contact us online for prompt support from our team.