Who We Serve
Volunteers are at the heart of your organization, and managing their efforts and time is critical to your mission. Volgistics volunteer management software makes overseeing your volunteers easier. We serve all kinds of clients across various industries, helping them streamline volunteer processes, improve communication, and maximize engagement.
Why Choose Volgistics Volunteer Management Software?
Our volunteer management software can help your organization achieve its initiatives and take on each project smoothly and efficiently. We make each step of your process easier than before, providing the following benefits for your organization:
User-friendly interface: Volgistics provides a user-friendly interface that is easy to navigate and intuitive to use. The software is designed with simplicity in mind, allowing organizations to quickly adapt and utilize its features without extensive training or technical expertise.
Comprehensive volunteer organizer features: We offer a wide range of features to support all aspects of volunteer management, including tools for recruitment, application tracking, scheduling, hour tracking, communication, reporting, and more. Volgistics ensures you can efficiently manage your volunteer programs from end to end.
Robust reporting: Volgistics provides robust reporting capabilities, allowing you to generate reports that keep you informed about your volunteer programs. That way, you can measure volunteer impact, track trends, identify areas for improvement, and showcase the value of volunteers to stakeholders.
Reliable customer support: On top of all these features, you'll get all the help you need from Volgistics' detailed video tutorials and free devoted support team. You can rely on us to assist you with any questions, concerns, or technical issues that might arise to minimize your downtime.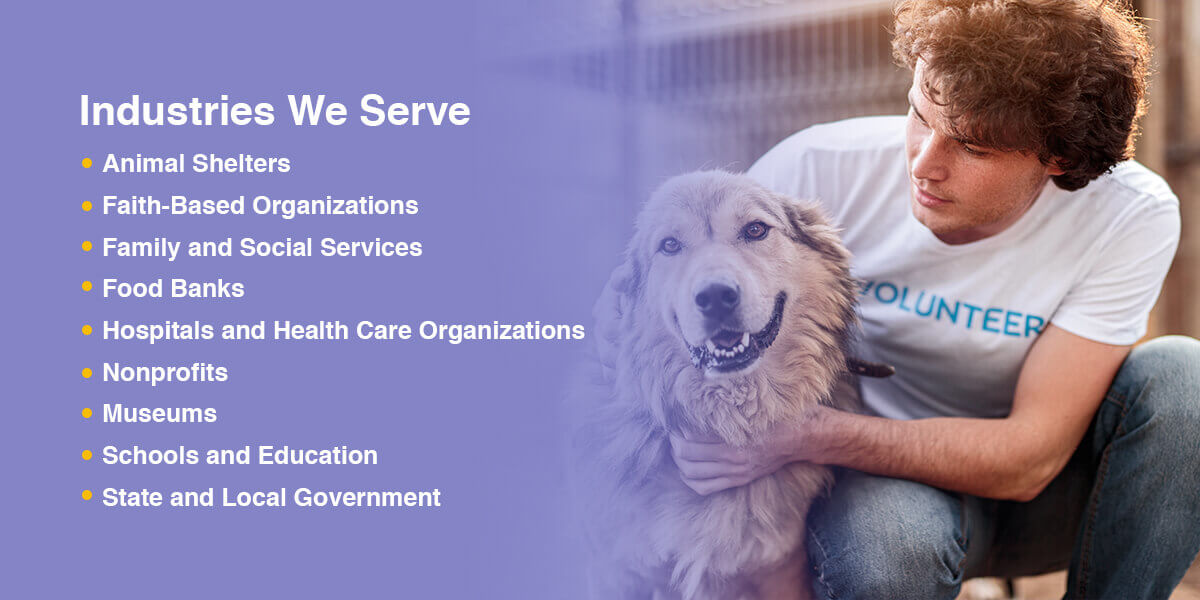 Industries We Serve
Volgistics recognizes that each organization has unique needs and requirements. The volunteer management software allows for customization and flexibility, enabling you to tailor your system to align with your specific workflow, terminology, and branding. These features make Volgistics an excellent solution for nearly any industry, including:
Animal Shelters
Volunteer management for animal shelters brings unique challenges, including ensuring volunteers know about animal care and safety protocols. Additionally, dealing with unpredictable animal behavior and managing volunteers' varying experience levels requires careful attention. Volunteer software can help by streamlining communication, tracking certifications, and matching volunteers with suitable tasks. It also simplifies scheduling and reporting, making coordinating and engaging volunteers easier.
Faith-Based Organizations
Managing volunteers for faith-based organizations presents challenges like organizing personnel with diverse skills and interests and aligning their talents with specific organizational needs. Additionally, it takes attention and sensitivity to balance your religious obligations and your volunteers' expectations. Volunteer management software empowers faith-based organizations by optimizing volunteer engagement, improving operational efficiency, and supporting your mission of serving the community.
Family and Social Services
Managing volunteers for family and social services organizations can be complex due to the work's sensitive nature and clients' diverse needs. Volgistics volunteer software can assist by centralizing volunteer data, facilitating background checks, and matching volunteers to specific programs. It also aids in tracking service hours, managing communication, and generating reports for accountability and impact assessment.
Food Banks
Food banks face the challenges of timely coordination, handling perishable items, and accommodating changing availability among volunteers. Volunteer management software for food banks can assist by streamlining scheduling, automating communication, and improving volunteer engagement. It also aids in managing volunteer roles, ensuring compliance with food safety regulations, and facilitating reporting for grant requirements and operational efficiency.
Hospitals and Health Care Organizations
Managing your hospital or health care organization can be complex due to stringent requirements, confidentiality concerns, and diverse volunteer roles. Volgistics software can help health care organizations by simplifying applications for volunteers, managing background checks, and maintaining compliance records. It also aids in scheduling, tracking volunteer tasks and facilitating communication, ensuring efficient coordination, and enhancing the overall patient experience.
Nonprofits
Nonprofits must constantly coordinate diverse volunteer roles, maintain engagement, and track impact. Volunteer management software from Volgistics supports nonprofits by centralizing volunteer data, automating training and certifications, providing reporting tools for contributions, and demonstrating impact. Ultimately, Volgistics can help you optimize volunteer engagement and your organization's effectiveness.
Museums
Your museum often deals with large volunteer pools, varying abilities, and the need for specialized knowledge. Volgistics management software for museums can assist by condensing your volunteer data and facilitating roles and schedules based on expertise. It also aids in tracking volunteer hours, managing training, and providing a platform for streamlined communication and appreciation, improving overall volunteer engagement and museum operations.
Schools and Education
Schools and education centers face challenges coordinating schedules, ensuring proper clearances, and aligning volunteers with specific needs. Volunteer software for schools assists by automating application processes, tracking volunteer credentials, facilitating communication, and streamlining volunteer assignments. Overall, Volgistics promotes efficient coordination, increased engagement, and enhanced support for students and educators.
State and Local Government
State and local governments often struggle with managing a large pool of volunteers across various departments and programs. State and local governments can leverage Volgistics to streamline various processes, compile essential data, automate background checks, and track volunteer hours and contributions. This volunteer organizer software can improve efficiency, coordination, and accountability in utilizing volunteers for public service initiatives.
Request a Free Trial for Volgistics
Volgistics volunteer management software can help you manage your volunteers, donations, and events — no matter your industry. Volunteers can be confident that their data is secure, accessible, and reliable. Additionally, we provide dedicated customer support every step of the way.
To start streamlining your volunteer management processes, request a free trial today.