Volunteer appreciation recognizes the real impact that real people have on your organization.
These thank-you gifts and tokens of appreciation can help increase volunteer retention, stabilize your operations and increase your community engagement potential. But more importantly, they're human, so recognizing the selfless service over 77 million Americans partake in every year goes a long way.
How can you give back to the volunteers who give so much to you? Explore this volunteer appreciation guide to learn why volunteer recognition is important, thoughtful volunteer appreciation ideas, best practices, and more for your volunteer management operations.
Understanding Why People Volunteer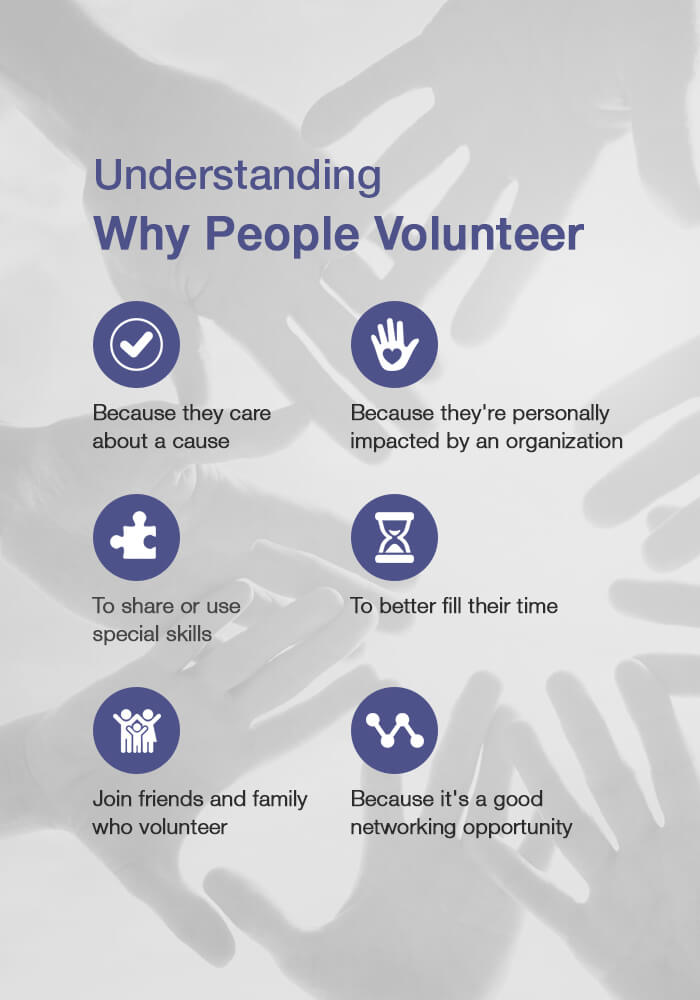 Understanding the reasoning behind your volunteer's commitment helps you tailor appreciation ideas to their motives.
What are the top reasons people volunteer? National polling reveals:
Because they care about a cause: People routinely cite "making a difference" as a leading force behind their volunteer activity. This altruistic drive leads us to participate in causes, projects, and missions that mirror our values. Since nonprofits & volunteer organizations often serve as some of the most trusted and positive institutions in a community, they're considered the place to give back and make a positive difference.
Because they're personally impacted by an organization: Individuals are more likely to participate in a specific organization when they've been personally touched by its work. The same logic applies to volunteers with a personal connection to an organization's central mission. For example, consider veterans working at organizations dedicated to military and veterans affairs, pet owners volunteering at pet shelters, and college students tutoring at schools near campus.
To share or use special skills: Volunteering gives people an outlet to exercise personal or professional skills, such as graphic design, financial planning, or grant writing. This rationale is particularly attractive for retirees, who make up a large portion of the ever-valuable category of skilled volunteers.
To better fill their time:Individuals seeking a way to use their free time meaningfully make ideal volunteers. This motivation makes them energetic and engaged in your organization work, happy to contribute in whatever way they can.
Join friends and family who volunteer: Volunteering offers a unique social experience depending on the nature of the work or project. Even volunteering with work colleagues can create stronger social bonds and camaraderie.
Because it's a good networking opportunity: Corporate philanthropic programs often allow employees to volunteer at partner organizations. This creates a win-win situation, with volunteer organizations receiving a steady flow of skilled volunteers and employees an outlet to meet others in their organization.
Formal Versus Informal Volunteer Recognition
Successful volunteer recognition programs can fall into two celebration categories — formal and informal.
1. Formal Volunteer Appreciation
Formal volunteer appreciation are the recognition awards and events scheduled ahead of time. These planned thank-yous often involve gifts along with a ceremonial presentation.
Depending on time and resources, your organization can organize any number of formal volunteer appreciation events spearheaded by your staff:
Catered volunteer luncheons
Annual or semiannual volunteer awards
Certificates or acknowledgment from the mayor's office
A carnival or festival for volunteers and their families
Gift baskets or gift cards to volunteers' favorite restaurants or stores
Volunteer-of-the-month awards, social media posts, and website announcements
Formal volunteer advancement or progression programs
2. Informal Volunteer Appreciation
Informal volunteer appreciation comprises all the ways you imbue a culture of thanks into your organization's everyday operations. Informal volunteer recognition is often non-tangible, though it may involve small physical tokens of thanks that you can deploy at a moment's notice or when meaningful situations arise.
Popular ways to show informal volunteer appreciation include:
Volunteer boards with names, pictures, and accolades of your volunteers
Bringing in coffee and treats for volunteers
Establishing volunteer feedback surveys to glean insights and ideas
Handwritten thank-you notes and emails after major volunteer accomplishments
Birthday cards and treats delivered on the volunteer's birthday
General conversations, support, and inclusivity fostered between staff and volunteers
Among their many pros, informal volunteer recognition ideas are cost-conscious and feasible regardless of your organization's size. Often, these ideas see the most significant ongoing impact and buy-in when you or a member of your staff oversee them.
Volunteer Celebration Best Practices
Follow these reward and recognition tips to make the most of your volunteer appreciation ideas.
1. Make It a Priority
Volunteer programs should be a part of regular, day-to-day operations at your organization. Now, this doesn't mean you hand out gifts daily. But it does mean your organizational culture is warm and appreciative and includes volunteers at every level.
Introduce the volunteer recognition program as part of someone's role on your staff. Incorporating this function into a staff's job duties will institutionalize volunteer thank-you gifts and strategies, rather than running an ad hoc or random program.
2. Show Appreciation Often
Frequent volunteer appreciation builds an environment volunteers want to participate in. This increases your organization's volunteer retention rates, allowing you to host more events, help more constituents and make a larger area impact — all because you have a stable volunteer pool to draw from.
Use your intuition and common sense to devise a volunteer recognition schedule. Set up multiple kinds of recognition, some more casual, such as a bulletin board showcasing volunteer profiles and their hours, and some more ceremonious, such as annual volunteer appreciation dinners.
3. Understand Preferences
All of your volunteers are different. Their personalities, likes, and interests will determine the type of recognition most meaningful to them. Honor those preferences by matching gifts to the volunteer and putting yourself in their shoes to prepare valuable, memorable thank-yous.
Also, ensure you're checking in with volunteers to pair the work they enjoy doing with the organization's needs. Get creative! The more you can match preferences and skills, the richer the volunteer experience and the higher your retention rates.
4. Be Sincere
People know the difference between honest gratitude and perfunctory praise.
Be demonstrative with your volunteers, offering thanks and meeting their needs continually. Generously give your time and energy to ensure volunteers have the resources needed to perform their work. Maintain an open-door policy at your organization during any volunteer shifts. Most of all, have real conversations with the volunteers who step into your organization, making them feel like more than a worker bee.
Sincere displays of appreciation and recognition include:
In-person gifts and awards
Handwritten messages
Learning about volunteers' friends, families, and jobs
Asking questions about their day or week — and really listening
Staying in routine contact via text, calls, and emails
5. Give-and-Take Feedback
Research shows volunteers crave feedback from the organizations they work for — and organizations want feedback from volunteers. These insights give both parties direction, result in better work, and structure new goals to strive for, grounding everyone's time and talent. Yet many volunteer managers are afraid to survey volunteers, even though routine feedback is one of the healthiest best practices for members of any organization.
6. Highlight Skills and Expertise
At least once a week, create a task list of volunteer work that needs to be accomplished. Drafting these to-do lists ensures volunteers always have value-adding, not menial, work to perform.
Go the next step by creating skills surveys for volunteers to complete. Field expertise in things like IT and computers, accounting and bookkeeping, public relations, content marketing, social media, event planning, and more. Assign volunteers official titles and promote them according to their contributions. Doing all this creates a skills-based volunteer experience where individuals feel truly valued and can perform at their best. Who doesn't want that?
7. Provide "Workplace" Amenities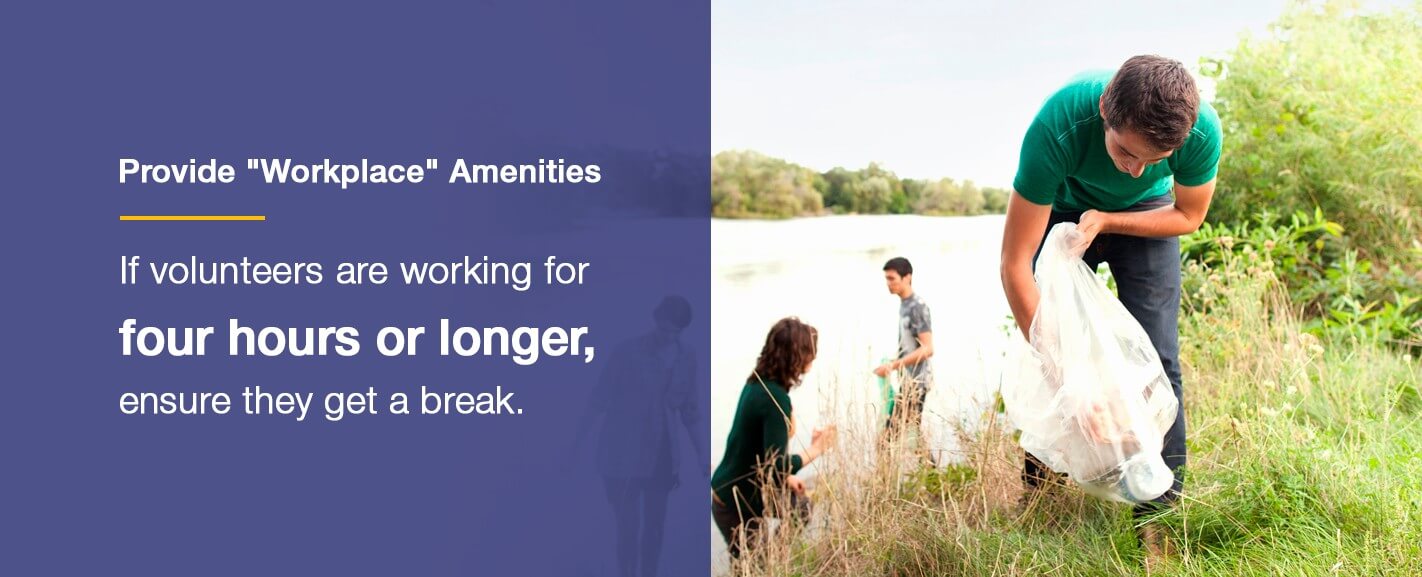 Any amenities you offer to your staff should be extended to your volunteers. After all, these individuals are taking time out of their day to work for you — and not get paid for it.
You don't have to go overboard here. Think free coffee, tea, water, and snacks available throughout a shift. If volunteers are working for four hours or longer, ensure they get a break. You can even invite long-term volunteers to staff retreats or bonding events.
8. Focus on Impact
Find ways to quantify the results of each volunteer's service. Calculate variables such as the dollar value of their time, the money they've saved your organization, the number of people they've directly served — really any relevant volunteer impact metric. Use any means available to assign a number to their efforts, then shout it from the rooftop.
Meaningful Volunteer Appreciation Ideas
Volunteer recognition is for commemorating the impact these valuable individuals have at your organization. You want gifts for volunteers to be personal and meaningful. Yet as a nonprofit organization, you also can't break the bank over volunteer recognition program ideas — even if you'd like to.
Use these volunteer gift ideas to thank those special individuals at the heart and soul of your volunteer organization.
1. Appreciation Tokens From Inside and Outside the Organization
Volunteers touch the lives of everyone at your organization. To honor their impact, ask those your organization serves to create thank-you notes, pass along stories, or write affirmations for their favorite volunteers. Gift these tokens of appreciation to relay just how much of an impact that volunteer has — straight from the people who've benefited from it.
2. Invites Onto Advisory Boards
Advisory boards and committees focus on specific operations at your organization, such as fundraising or event management. Consider asking long-term volunteers with years of service at your organization to join these committees. They'll be honored by the trust you're placing in them, while you benefit from the knowledge and expertise introducing fresh insights to your organization.
3. Mentorship Opportunity
Offer rewarding mentorship opportunities as a thank you to reflect the time and commitment a volunteer has made. Mentorship programs can work in one of two ways. Either the volunteer receives a mentor for professional and personal development or the volunteer can become a mentor. This second option works particularly well if your volunteer organization serves direct populations, such as children, veterans, or the elderly.
4. Treat Baskets
Everyone has a favorite snack! Stuff a basket full of them, surprising an outstanding volunteer with candies, chocolates, coffee beans, tea — hey, even a variety pack of their favorite potato chips.
You can also theme treat baskets. For example, put together "grilling goodies" containing gifts like gourmet barbecue sauces, new grilling tongs, and a recipe book for a volunteer you know loves firing up the grill.
5. Delivered Lunch
Coordinate lunch to be hand-delivered to a volunteer while they're at work or in-house, volunteering at your organization. Bonus points if you know their favorite dish from a local cafe or restaurant, which will instantly brighten their day and show how much you care.
6. Personalized Projects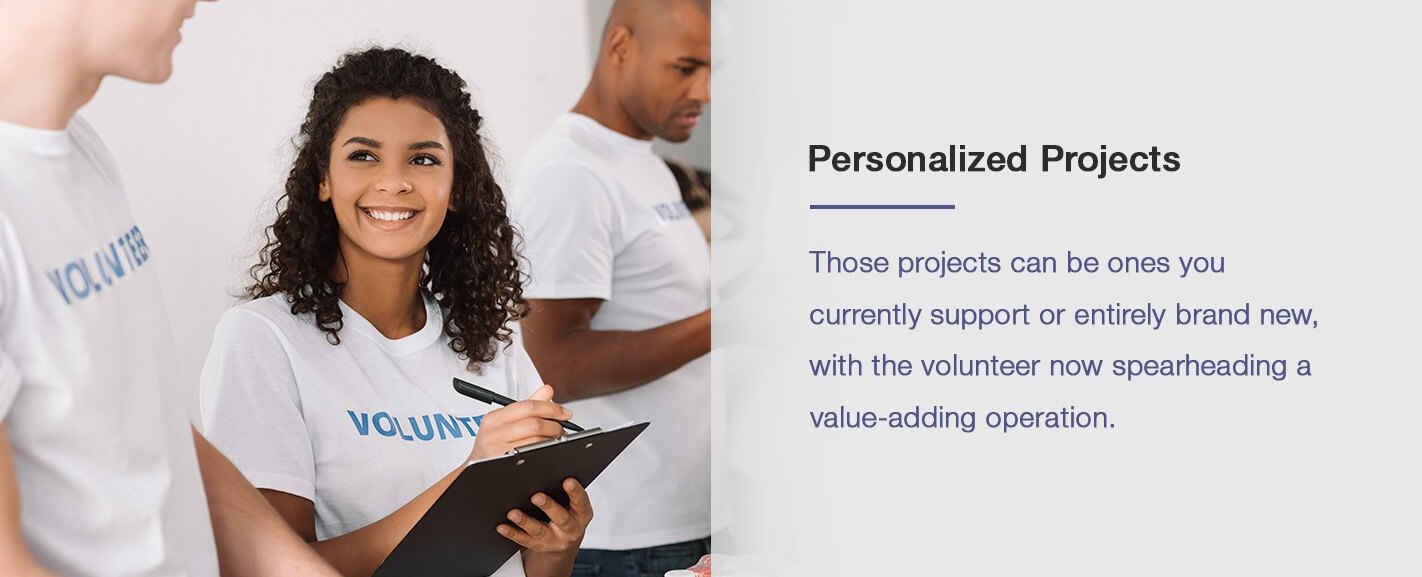 Want your organization to nurture the most excited, committed volunteer work? Just ask the volunteers themselves! Inquire about projects or tasks they'd personally like to take on in the organization. Those projects can be ones you currently support or entirely brand new, with the volunteer now spearheading a value-adding operation.
Letting volunteers pick their work shows respect, trust, and camaraderie. The fruits of their labor will likely reflect that.
7. Flowers or Plants
Got a green thumb among your volunteer ranks? Show how much your organization has "grown" because of them with a plant or flower bouquet hand-picked for their home, office, or garden. You can find even more creative ways to thank your volunteers, tucking heartfelt notes and affirmations into the bouquet itself.
8. Personalized Mug
Order a coffee or tea mug tailored with the volunteer's name, an inside joke or a favorite quote of theirs. You can also inscribe a thank-you message right onto the mug's surface as well, reminding your volunteer of their impact and value with every sip.
9. Discounts at Local Shops
Arrange a discount at a local store, business, or boutique fitting the volunteer's interests. Similarly, and if you have the funds in your budget, you can purchase gift cards to these area stores, showing appreciation for your volunteer while also supporting local businesses. It's in a win-win for all.
10. Give a Shout Out
Sing your volunteer's praises across social media and e-newsletters. You can also create mini campaigns out of your recognition, such as weekly volunteer spotlights or volunteer-of-the-month posts.
Organizations can even go the extra step, sending articles naming specific volunteers and their accomplishments to local newspapers or industry newsletters. Municipalities all over the country maintain their own organization forums and resources, which make a great place to broadcast impact.
Make sure you have volunteer consent before sharing any pictures or information online. Consider adding a consent field to volunteer applications to make double-checking this even easier.
11. Pay It Forward
Cover the registration fee or part of the cost of a professional development course, activity, or conference you know a volunteer is attending. Paying it forward is especially great when you have student volunteers or adults who are continuing their education.
12. Nominate Them
Last but not least, look for opportunities to nominate a key volunteer for a local or state community award. These awards magnify your volunteer appreciation tactics, taking them from a strictly internal practice to an externally recognized and even more memorable form of thanks.
Research relevant awards in your city, state, or nonprofit sector. Chances are you already have a volunteer or two who meet nomination criteria and would make compelling candidates.
Show Appreciation for Your Volunteers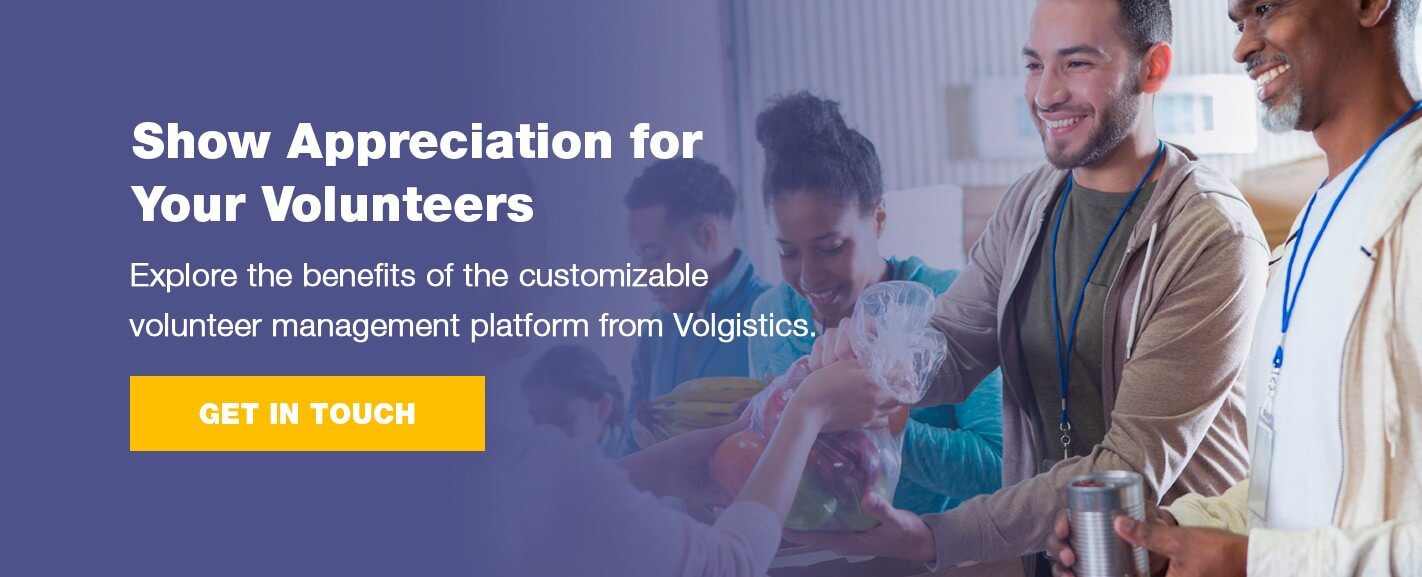 Explore the benefits of the customizable volunteer management platform from Volgistics. From easier scheduling and communications to tracking volunteer compliance, recognizing their accomplishments, and improving your overall volunteer lifecycle, we're your partner in technology for volunteer leaders.
Get in touch for your free demo.