The Assignment Profile report feature makes it possible to create PDF files that include Assignment and Coordinator information. The reports have optional Summary Pages outlining the information included in the report and/or Assignment Detail Pages for each Assignment depending on the options you choose when you create the report.
The report's setup options allow you to:
sort reports in a variety of ways
select which fields of information you'd like to include in the report
select Assignments to include based on different options
Options also allow you to include Assignments for a certain Site, Place, Coordinator, or Cluster, or to include Assignments based on the Assignment's status.
These reports are located under the Assignment profiles link after you select Print from the menu.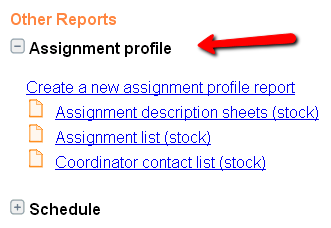 Help topic 8263 "Assignment Profile Reports" provides an overview of the new feature, information on how to create reports, and links to more in-depth help topics about the choices on each tab. If you're unable to find the answer to a question, please submit an inquiry and we'll be happy to assist you.