The Travel Time Merit Hours feature allows you to add volunteer service to recognize time spent traveling to volunteer.
Volgistics has always had a feature to use Merit Hours to add time to a volunteer's regular service hours automatically. This is useful in situations where you want to award extra service because the volunteer served on a holiday or weekend for example. Many organizations also used this feature to give volunteers credit for time spent traveling to volunteer. This use had some limitations, though, which have been addressed with our new Travel Time Merit Hours feature. This feature is designed specifically for giving credit for travel time and allows you to give the same number of hours and minutes for all volunteers, or hours and minutes based on up to six zones.
To use Travel Time Merit Hours, you must have Merit Hours enabled on the Merit Hours Setup Page. Then, select the "Travel Time" link to setup how and when you want the extra service given.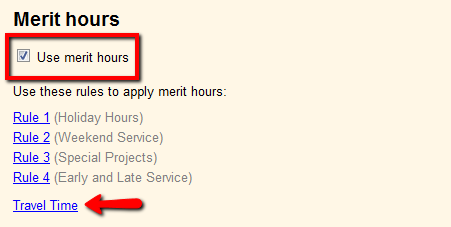 You can find specific information on Travel Time Merit Hour setup in Help topic 1210.
Our next webinar on January 30, 2014 will cover more about how the Merit Hours feature works and how to set it up in your account.
As always, if you need help or have additional questions, please submit a help inquiry and we'll be happy to assist you.