With paper files to organize, staff turnover, information silos across various software and filing cabinets, and scheduling conflicts, manual volunteer management can be a labor of love — but it doesn't have to be. Volunteer management software is an administrative platform that helps your team simplify existing processes with faster, more efficient recruitment, compliance, tracking, scheduling, training, and organization methods. Compared to manual data entry and volunteer tracking, management software automates daily tasks and reduces the likelihood of costly errors. It can also help you engage volunteers in new, exciting ways.
Learn more about transitioning to a software management system and how it can benefit your organization.
4 Steps to Switching to Volunteer Management Software
Transitioning from manual volunteer management techniques to streamlined cloud-based software can save your team time and resources while helping to reduce volunteer and staff stress. These four steps will help you get started.
1. Evaluate Your Existing System
Consider your current management methods before choosing and transitioning to software, including what you use for:
Volunteer profile creation and tracking
Volunteer scheduling
Event management
Report generating
Volunteer application processing
Group tracking
Large-scale communication
Document storage
Training and onboarding
Next, identify which of these tasks you want to modernize or simplify. Incorporate feedback from all staff and volunteers, so you can meet each individual and department's specific needs for getting work done. Analyze existing volunteer opportunities to determine which ones may become obsolete after transitioning to software — such as manual filing and paperwork processing — and consider how you can adapt those roles to your new automated system.
2. Find a Volunteer Management Software That Fits Your Needs
Take your newly compiled list of wants and needs and prioritize it before searching for your VMS options. Some features you might want to consider include:
Scheduling that lets volunteers sign up and adjust shifts on their own
The ability to communicate via multiple methods, like text, email, and mailing labels
Custom volunteer profile creation
Data tracking and reports specific to your organization
Flexible pricing models and payment options
Technical ease of use
Accessibility on different devices
Volunteer portals and check-in features
Contacts management with touchpoint logs
Ongoing customer support for training and questions
Service goals storage
Data security and file privacy
Look for a VMS that includes a free trial or live demo option, so you can get a feel for the system before committing. Once you've found the right program for your team, set a transition timeline with plenty of buffer room padded into your schedule. Work with team managers, IT professionals, and volunteers to create a step-by-step transition calendar and communicate your plans to any relevant stakeholders or board members. Ensure each person affected has a clear list of what to expect, when to expect it, and how the changes will benefit their position.
3. Archive, Back up, and Import Data
The most critical part of moving between manual and software management systems is transferring all relevant data without losing anything in the process. Make a list of which data is essential, like volunteer contact information or valuable documents. Back this information up to a cloud storage platform or external storage device if it's already on a digital platform. Scan any documents onto your device, as applicable.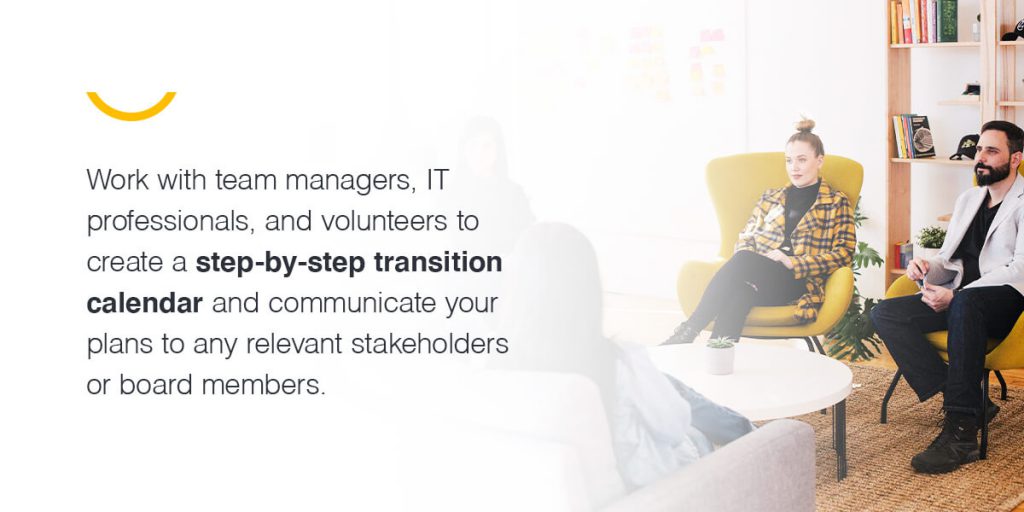 Eliminate any duplicate information and merge what you can into a single file. Don't waste time and storage space transferring outdated data, like inactive volunteer information, unless it's absolutely necessary. Once you've formatted the data and checked data type compatibility, you're ready to import your data into your new VMS.
Volgistics has two options for moving data — a Free Import Utility and the Jump-Start Service — depending on data type and complexity. And if all else fails, you can always customize an application form and have your volunteers re-register in the new system.
4. Train Volunteers and Admins
Moving to a VMS is an excellent way to save money and time, but the process requires some preplanning and thorough staff and volunteer training. Avoid overwhelming your team by starting only with core components, then moving on to more optional and exciting features that are desirable to have but not critical for completing your daily tasks. Ask for feedback after each wave of transitions.
When you bring the new system to your team, focus on the benefits. Don't merely tell them these new methods will save time and make things easier — show them how each feature will directly benefit their daily responsibilities and volunteer time. Anticipate their possible concerns or any issues you could encounter during the transition, and familiarize yourself with the new platform beforehand, so you're ready to help others learn. Consider designating a single person to act as your VMS leader or manager, and let them handle all VMS-related questions, training, and tasks.
You can also reach out to your VMS provider for more personalized training or get answers to industry or organization-specific questions. Browse your VMS vendor's website for how-to guides, helpful blog posts, and video tutorials to integrate into your training programs.
Benefits of Volunteer Management Software
Using software to manage volunteers comes with benefits like these.
Increased visibility: Manual volunteer management takes time and resources your team could allocate elsewhere, like community outreach or donor engagement. VMS platforms have automated time-saving features, so volunteers can focus on what matters — your organization's mission. When you pair this with other benefits, you can help your message reach more donors and focus on new outreach methods.
Volunteer engagement: Some VMS platforms have built-in features that make it easier than ever to demonstrate your appreciation for volunteers, like supportive, flexible self-scheduling, and thank-you messages.
Easy communication: A VMS lets you reach hundreds or thousands of volunteers with a quick message on their device of choice instead of spending time reaching out separately to each person — a feature that could prove critical when there is a last-minute event change or scheduling conflict.
Simplified scheduling: Online scheduling helps you see who will be volunteering at specific events or with tasks, so you can create personalized plans that best use each volunteer's skills, interests, and experiences. Volunteers can choose shifts and tasks that fit their lifestyle, then view and print their schedules and make changes as needed.
Managing Volunteers With Volgistics Software
Volgistics is a scalable, feature-rich VMS platform that gives your organization more control over processes and everyday tasks. Automate and modernize your team to save time, engage volunteers, and reach your community in new, exciting ways. Core features include volunteer scheduling, tracking, database, reporting, recruiting, and application storing, plus convenient sign-in kiosks, document storage, group tracking, and volunteer portals.
Schedule a live demonstration today to learn more about the Volgistics platform and how it can benefit your team, or sign up for a 30-day free trial to get a closer look at the software's features.