As an organization that relies on donations, you may be looking for a way to achieve more sustainable giving. Reengaging inactive donors is an effective way to increase donor retention because they're already familiar with you. Instead of starting from step one with a new donor, make an effort to reconnect with lapsed donors and convert them to loyal supporters.
The Value of Donor Retention?
Donor retention is essential to your organization's success and financial stability. Retaining existing supporters is far more cost-effective than constantly having to find and recruit new ones. To increase your organization's donor retention, focus on creating engaging strategies for turning existing donors into loyal, repetitive donors. Another effective way to boost your retention is to concentrate on ways to reengage inactive donors. Converting lapsed donors into loyal supporters helps create more sustainable giving.
When your retention rate is higher, you spend less money on marketing. That allows you to put more resources toward making your current donors feel valued, and a valued supporter is more likely to increase their contributions.
6 Tips for Reengaging Inactive Donors
Working to win back your inactive donors can effectively increase your donor retention to create more sustainable giving. Here are a few ways to bring lapsed donors back into the fold.
1. Give Them a Personalized Experience
Over 70% of donors feel more engaged with an organization when they receive personalized content. Your donors want to feel like more than a resource for money. Understand who they are and why they initially chose to donate to your organization. Doing so will allow you to connect with inactive donors and show them their donation meant something. Use your data and records to provide specific information about how much their donation was and what your organization specifically used it to do.
While writing personalized content to each donor will take some time and dedication, the personalization will make them feel like a valued part of your cause.
2. The Right Ask at the Right Time
When you contact inactive donors, don't forget you can ask for things other than money. Your supporters may lapse for several reasons — perhaps they lost interest, are strapped for cash or are experiencing donor fatigue. Sometimes it's best to ask for engagement before you request funds. Invite them to view your newsletter or read recent success stories. Understand their situation, and if money is tight, invite them to volunteer their time to help at an event instead.
When the time is right, and you regain their attention, ask them to consider making a monetary donation again, and you'll be more likely to get it.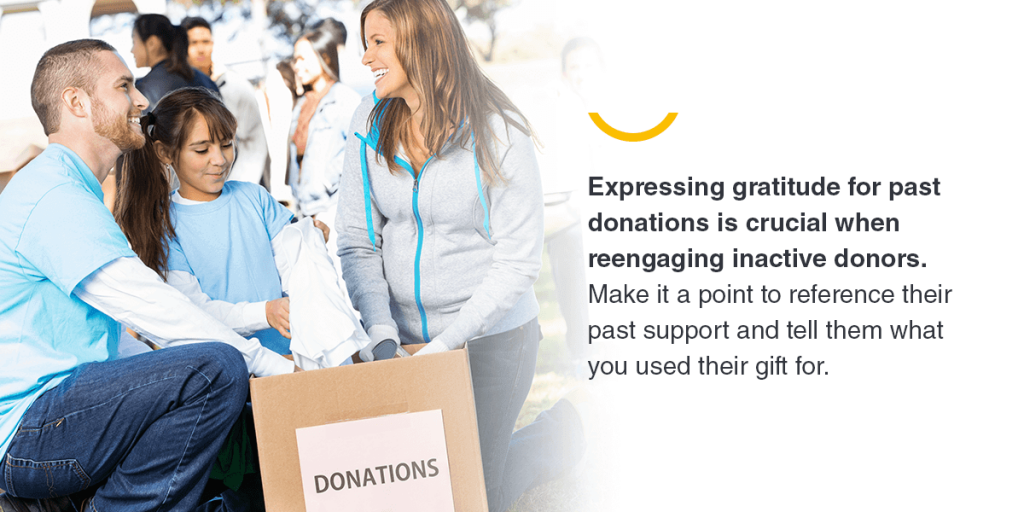 3. Express Gratitude for Their Past Support
You can never thank a donor too often. Expressing gratitude for past donations is crucial when reengaging inactive donors. Make it a point to reference their past support and tell them what you used their gift for. Donors love to hear about specific ways their contributions helped make a difference. Now is an excellent time to let them know how impactful their support is.
4. Remind Them of Your Organization's Work
If it's been a long time since a donor has contributed to your organization, it's a best practice to remind them what you're all about. Your inactive donors might have lost track of what your organization has accomplished since their last contribution. Take the time to update them about recent achievements or successes. Now is also an excellent time to inform them of current projects or upcoming events they might be interested in.
5. Gather Feedback
Asking for your donors' opinions can go a long way. It shows you value their input and want to create the best experience for them as supporters. Ask your inactive donors to complete a survey that asks what you can do to improve their experience. Then, make a genuine effort to implement their suggestions. When you help them help you, donors will feel valued.
6. Empower Recurring Donors
Make recurring donors feel special. To make it more enticing to become a repeat donor, provide perks and extra recognition to supporters who commit to your organization year after year. To be sustainable, your program should allow donors to actively participate and feel appreciated. Create a sense of community among recurring donors and make it something others want to be part of.
How to Retain Donors With Email and Fundraising Letters
Now that you know how to reengage your inactive donors, how can you retain them and make them recurring supporters? Email and fundraising letters are a great place to start. When you improve your donors' experience, they'll feel more inclined to continuously support your organization. When writing content for emails and newsletters, consider including a few things to improve your donors' experience.
Email preferences: Try giving donors a way to set email preferences and allow them to control how often you appear in their inbox. With this option, your donors will be less likely to unsubscribe completely.
Flexible donation options: While there's nothing you can do about your donors' financial situation, you can meet them in the middle. When asking for support, offer custom donation amount options and volunteer options. Let your donors know you always appreciate any way they choose to contribute.
Show appreciation: Donors want to know what is happening with their money and feel they are making a genuine impact. Update supporters on how your organization is using their contribution and thank them for their support.
Ways to renew support: Provide donors with a tangible way to take action directly from the email or fundraising letter. Invite them to donate again or subscribe to the newsletter. Give them a way to get involved.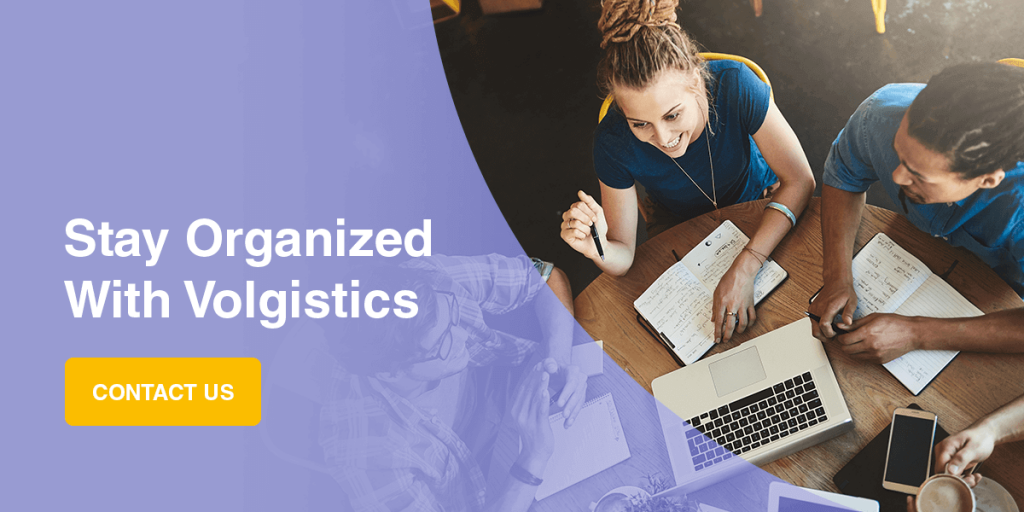 Stay Organized With Volgistics
As your organization, volunteer base, and donations grow, you'll have a lot to keep track of. Online systems like Volgistics help you organize your information. Make Volgistics yours — manage your records, track service hours and create assignments and schedules while keeping all your volunteer information in one program. Thousands of organizations are benefiting from Volgistics' features, and you could be one of them. For more information, contact us and receive quick responses from our support technicians.
If you're interested in taking advantage of our system, consider signing up for a live demonstration to find out if it's a fit for your organization!