Volunteer logistics — it's a fancy term that's a whole lot easier said than done.
For every volunteer manager in the industry with a finely tuned, perfectly cemented, top-to-bottom volunteer management system in place, there are ten trying to get there. And by no fault of their own. Nonprofits face a host of duties and responsibilities balanced against the backdrop of the nonprofit industry's laundry list of concerns, from tight finances and a competitive donor landscape to stretched staff and overall organizational growth.
What's more, that list of concerns is only made longer without a solid base of volunteers serving at its heart, engaging, supporting, and catalyzing the missions of the entire organization.
These are not easy tasks for volunteer leaders in the real world. That's precisely why we've put together the ultimate guide on how to effectively manage volunteers to improve volunteer engagement.
Successful volunteer management goes far past feel-good fluff. Behind every nonprofit is a family of individuals whose work goes beyond the routine call of duty. With the right tools, steps, and strategies in place, you can maximize that work and ensure that your volunteer family feels as much a part of your mission as possible — for years to come.
We've got tips on volunteer management best practices, plus tangible ways to organize and improve key volunteer management domains to make your practices efficient, streamlined, scalable, and cost-effective. It's a winning recipe to attract and retain volunteers, helping your nonprofit achieve what it was meant to be.
What Is Volunteer Management?
Before taking a deep-dive into the step-by-step strategies to improve volunteer management, we must first peel back what exactly this role is and how it fits into an institution's larger organizational structure.
Volunteer management is the umbrella term for the collective tactics, strategies, and processes in place for an organization to use volunteers. Within those strategies are certain stages, or domains, which together are known as the volunteer lifecycle.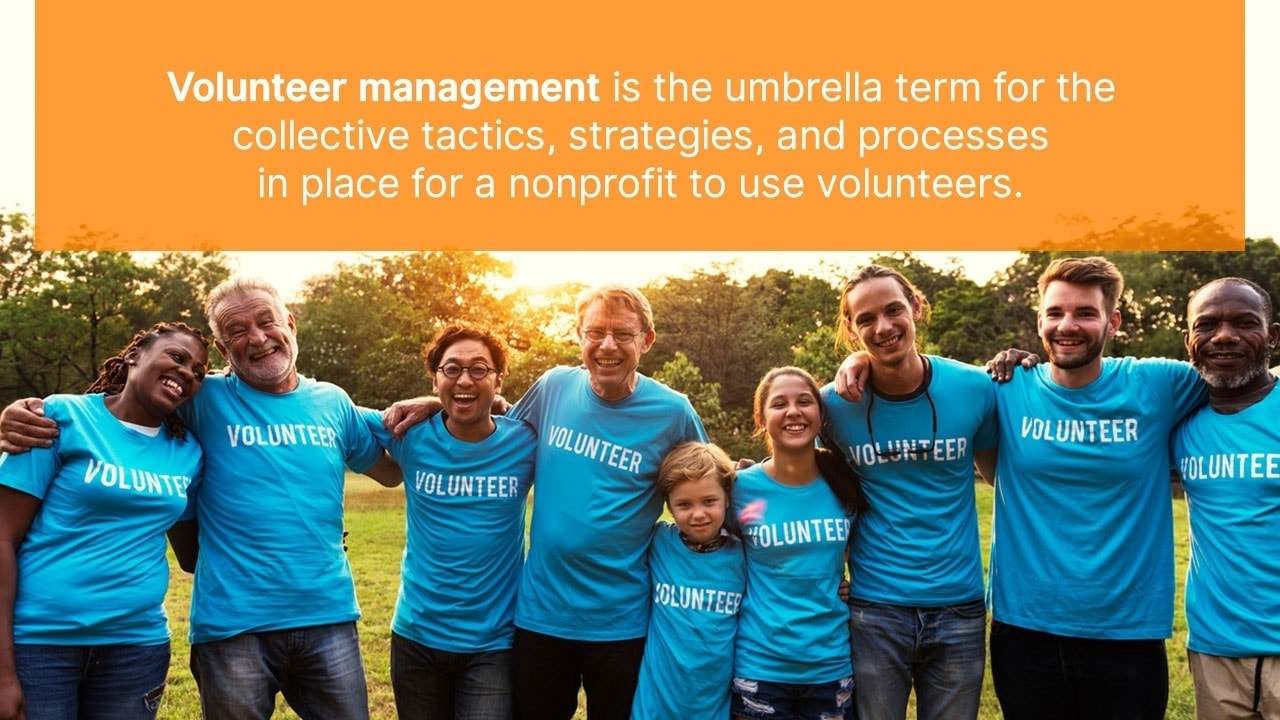 If a nonprofit has the resources, they will appoint a volunteer manager — a staff member whose role it is to implement and oversee the volunteer lifecycle exclusively. However, it is not uncommon for program managers or a nonprofit's director themselves to adopt aspects of a volunteer manager, given the size or current capacities of their organization.
Tips on Volunteer Management Across Nonprofit Types
There are approximately 29 different classifications of nonprofits in the United States, defined according to the Internal Revenue Service. The most common type, however, is the 501(c)(3) Nonprofit, encompassing the gamut of charitable, educational, civil service, and religious organizations with certain tax-exempt statuses who do work within and for the general public.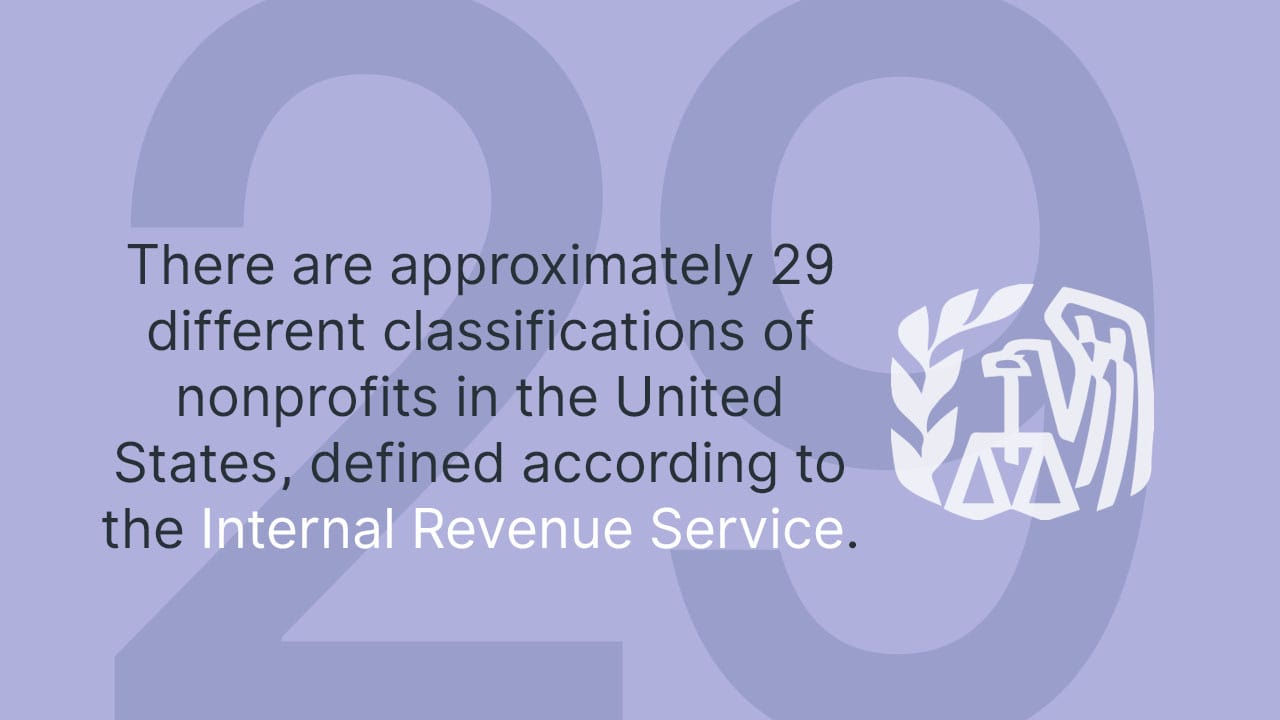 You are likely most familiar with a number of 501(c)(3) organizations. Tips on volunteer management for this type of nonprofit tend to center on recruiting, engaging, and retaining volunteers and extend across the following popular volunteerism niches:
Healthcare, Hospices, and Palliative Care
From hospital baby rockers, front-desk greeters and clerical assistance to special-event help and inpatient unit volunteers, hospitals and health services have no shortage of opportunities. Volunteer managers in the healthcare industry often manage in-depth volunteer screenings and interviews alongside volunteer documentation and compliance regulations.
Animal Rescues or Pet Shelters
Volunteering at an animal shelter is one of the most popular service types around. Private and municipally run rescues and shelters have a variety of around-the-clock routines their staff requires help with, from pet walking to grooming and shelter cleaning. Likewise, aquariums and zoos maintain a solid rotation of volunteers for their special events and their own internal maintenance tasks.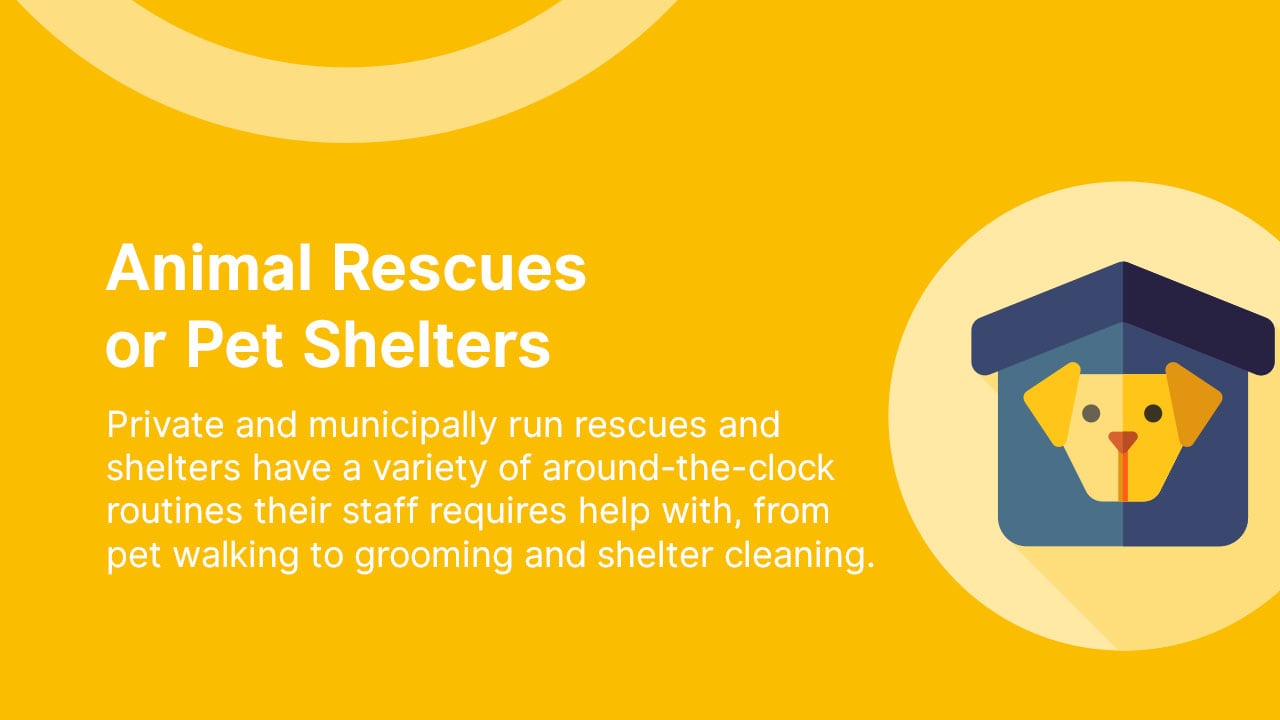 Community Outreach
With an innate focus on bettering their surroundings, community outreach nonprofits can take shape in neighborhood clean-up crews, afterschool programs, or civil services with a hyper-local footprint. They inherently rely on volunteers found within their neighborhoods — indeed, not doing so contradicts their nature. Volunteer managers in community outreach programs need to connect and care about deep-seated community issues, as well as translate that care into clear volunteer pipelines.
Museums and Education Nonprofits
Skill-matching opportunities abound at education-driven nonprofits or places where learning and culture are at the heart of operations, such as museums. Math and literacy tutors are nearly always in demand at after-school programs, while volunteers assist in core capacities that museums or educational foundation don't have the in-house staff or funding for.
Food Banks
Food banks or food-justice nonprofits deal with one of the most pressing and immediate hardships people experience — food insecurity. They balance high donation turnover with scheduling overlapping volunteer shifts and a near-steady stream of community guests, all of which tends to fall under a volunteer manager's helm.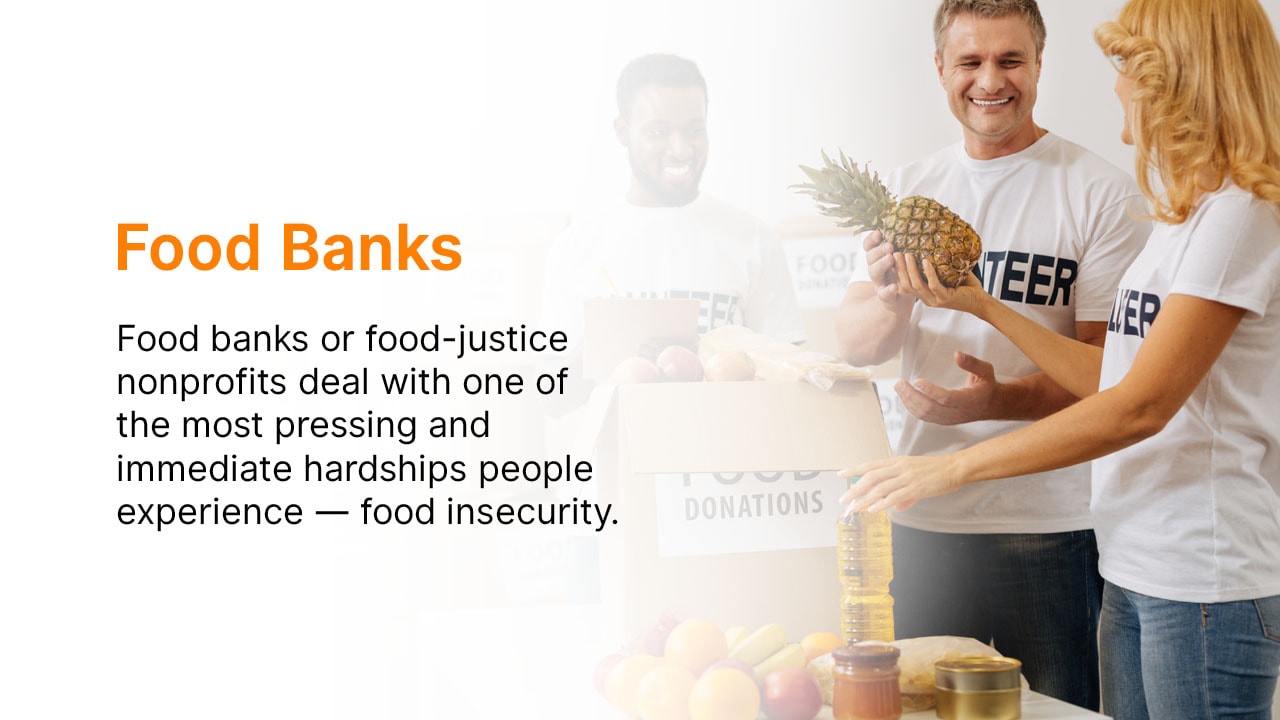 Veterans' Services
Nonprofits dedicated to veterans' services often wear numerous hats. From medical and related health services, job training and placement, and moving and relocation to general military-to-civilian transitions, they serve a pocket of the population that has served us for so long. Volunteer managers in this nonprofit niche must balance numerous volunteer specialties while remaining sensitive to the needs and interests of their community.
Types of Volunteers
Volunteer managers also know that not all volunteers are the same. In-person, task-specific service, or event staffing is crucial — and the most common type of volunteer. Yet in today's world, the list of ways for the public to lend their time and talents to an organization doesn't stop there.
Virtual Volunteers: Today's world allows people to dedicate their time and skills without having to step into a nonprofit physically. Virtual volunteers most often perform functions for an organization that can be done remotely, such as bookkeeping or social media.
Mentorship: Considered a type of formal, long-term volunteering, mentorship opportunities allow you to do center relationships, namely through youth mentorship or professional development/career mentorship.
Pro-Bono Work: Individuals with a specific trade or talent can apply those skills in the service of a nonprofit free of charge. From legal counsel to designing an organization's new website to catering an event, pro-bono partnerships are often essential for volunteer managers to cultivate.
Corporate Volunteers: Employee groups taking time out of their workday to volunteer not only better their communities, but they grow closer as a team, exercise new skills, and boost the brand of their company's reputation.
Target Demographic Volunteers: Youth groups and retired communities are amongst the most likely to volunteer their time, with older teens — age 16-19 — and seniors — age 65 and up — driving volunteer engagement rates.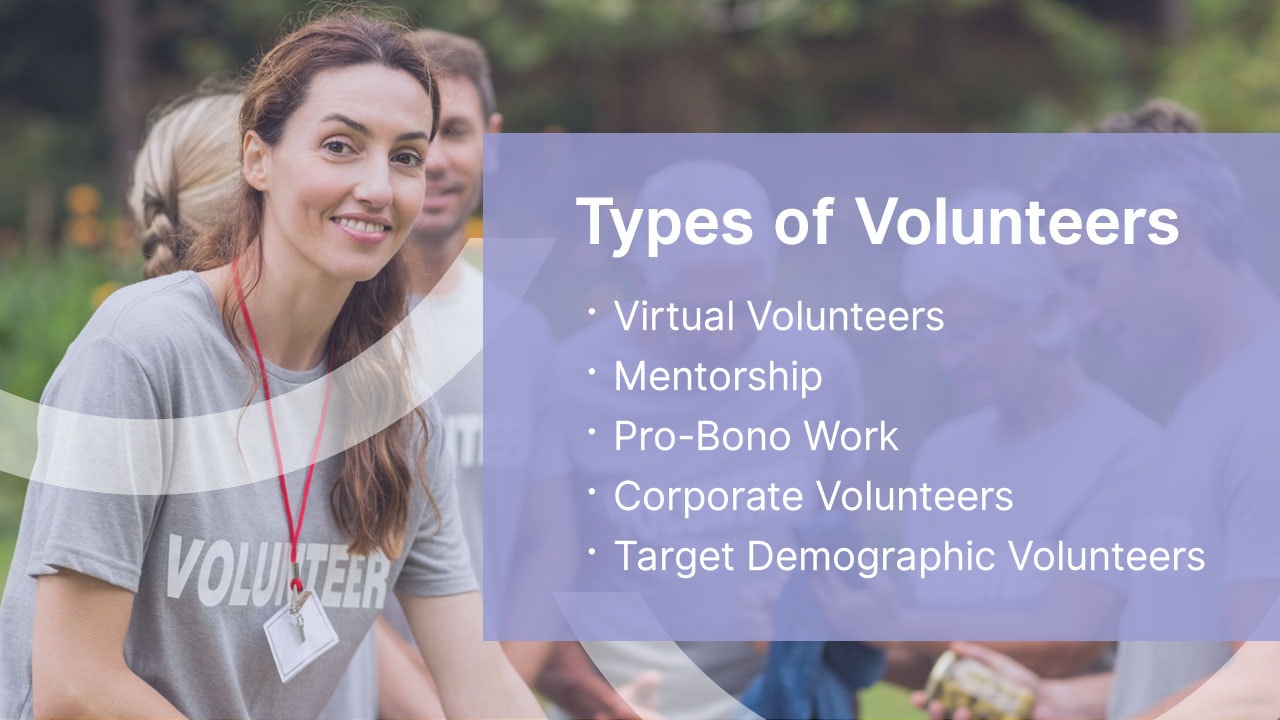 Tips on Volunteer Management Domains
How to effectively manage volunteers begins by identifying a clear and succinct role for the volunteer manager.
Many assume a volunteer manager funnels all their time and energy into routine volunteer advertising into the community. They use multiple channels to do so — digital, print, or interpersonal — with the end-goal to attract and secure as much extra assistance as possible.
While it's intuitive that this individual is a vital member of the staff and the crucial touch point for community engagement, it's not so straightforward what those day-to-day operations include that equate to evergreen volunteer infrastructure. What's more, this volunteer-manager cliché doesn't take into account other essential responsibilities, such as retention, engagement, and community branding, or building long-term volunteer capacity and securing stable revenue or funding across fields for their institution.
A dynamic volunteer manager should have work domains extending beyond being a mere volunteer recruitment voice, participating in the following nonprofit operations:
Ideation and Implementation of a Strategic Plan
Strategic plans are not only meant for the private sector. They're also not broad swaths of intangible or unrealistic goals your nonprofit dreams of, without concrete actions to get there.
Rather, strategic plans serve as the stepping stones to the future version of your organization. They turn the intangible into the actionable by identifying three or four overall goals, then their target timelines, then the step-by-step measures to reach those goals and the resources necessary to make them happen.
The more specific, the better. Strategic planning for nonprofits starts with building momentum around a strong mission, as this imprints an organization's identity and helps shape future wants and needs. It is imperative to have a volunteer manager at the table during strategic planning, as well as to review and spearhead a few of its annual goals.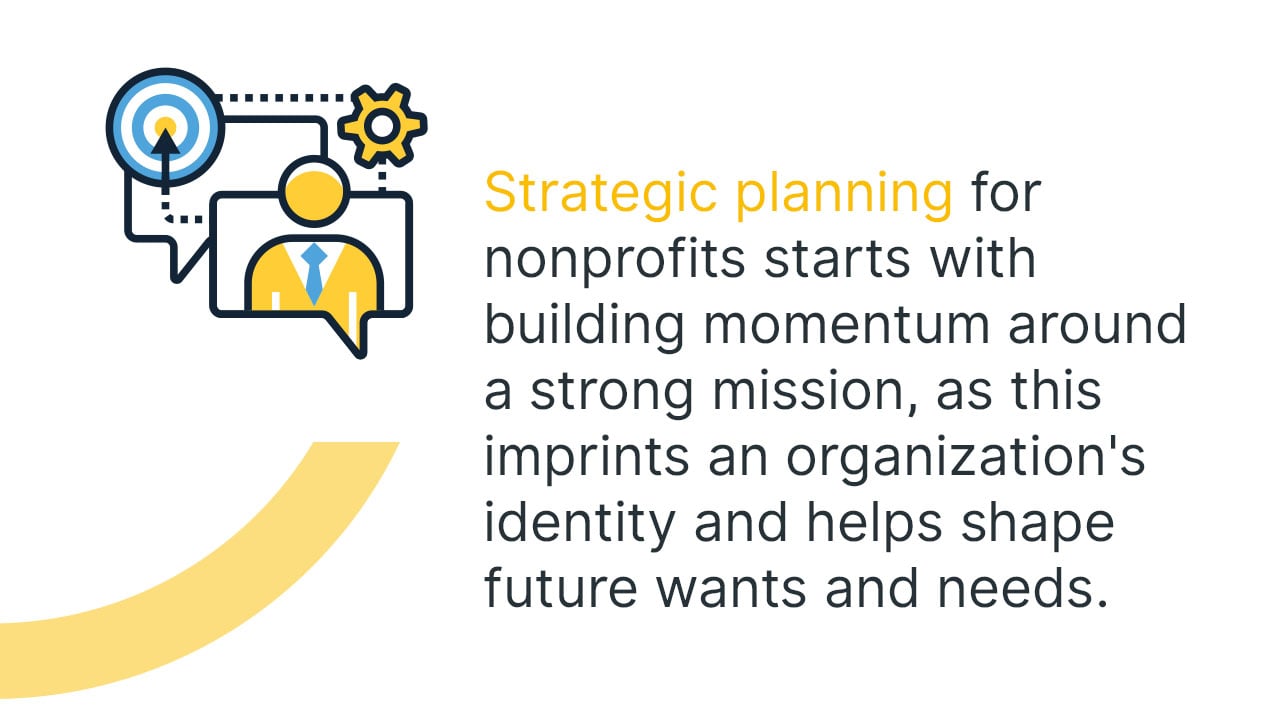 Working Volunteers into the Larger Organizational Structure
Likewise, nonprofits big and small should also have an organizational structure in-place. These documents serve as the scaffolding to positions and domains, linking the two in a transparent, defined manner for all in the organization to assess. Organizational structures show the chain of command as well as who to turn to during specific procedures.
A volunteer manager will sit somewhere in the organizational structure, as will other predominant staff roles at a nonprofit, like the director, assistant director, and program coordinators — all nestled under a governing board of directors.
However, where do your volunteers land? It's inarguable that volunteers are essential to your nonprofit's framework. Display that value by working them into your overall organizational structure.
Manage the Entire Volunteer Lifecycle
Last but certainly not least, volunteer managers direct volunteer operations across its various stages. Tailoring best practices through their nonprofit's equipment, technology, procedures, personnel, and networks, they oversee the entirety of the volunteer lifecycle. That volunteer lifecycle, in turn, is broken down into five distinct branches:
Volunteer Recruitment
Volunteer Communication
Volunteer Retention
Volunteer Tracking and Recognition
Volunteer Impact Analysis
These are the domains volunteer managers are best known for — and are the very segments this guide will break down below. We'll provide in-depth tips, methods, and strategies to capitalize on your available resources to make every stage of the volunteer lifecycle as dynamic and efficient as possible — all while building the smoothest volunteer pipeline for your nonprofit, today and tomorrow.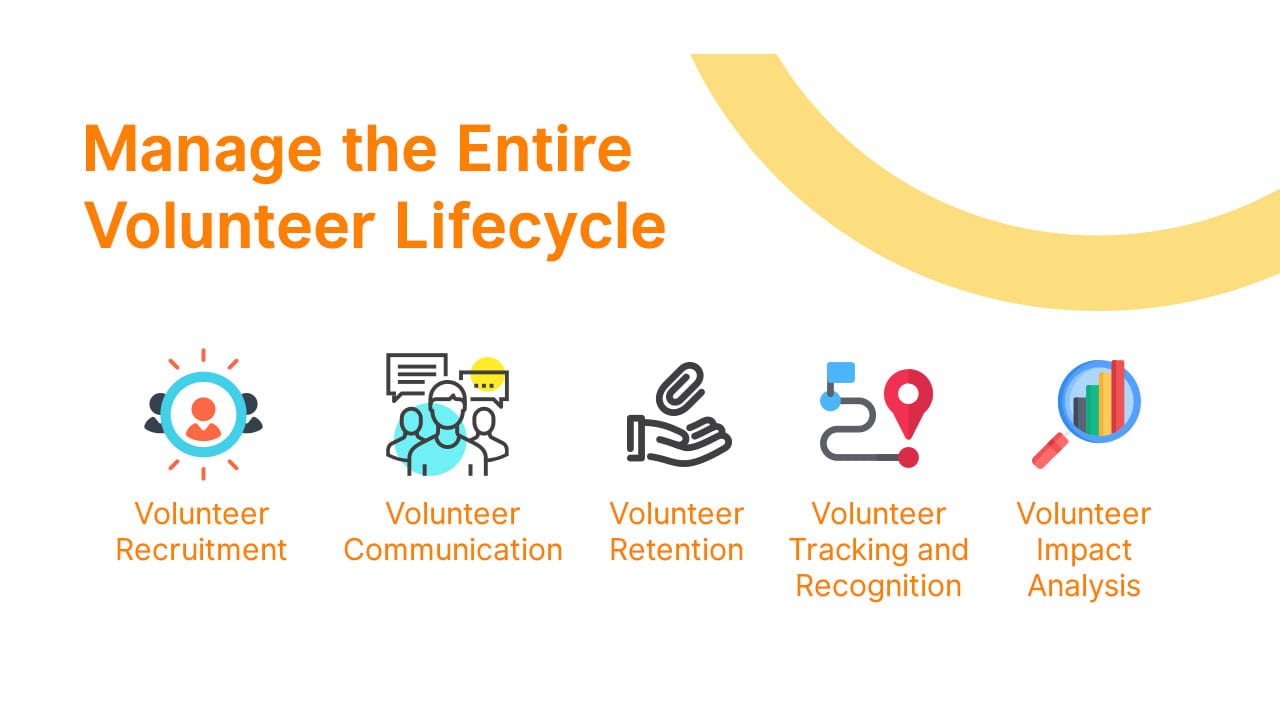 1. Volunteer Recruitment
It's square one in the series of volunteer manager tasks. It's the foothold upon which volunteer operations depend and the base of the entire service-work lifecycle — without which, a nonprofit cannot execute its full mission and engagement potential.
Thanks to technology, digital volunteer recruitment methods have expanded in the past decade. Yet these tools don't eliminate the creativity and work that goes into phase one of the volunteer lifecycle. Rather, it lends volunteer recruitment tactics a sharper launching point for easier volunteer advertising, making its subsequent checkpoints more productive, cooperative, and sustainable.
Recruitment Methods
Volunteer recruitment methods combine the warmth and personability of word-of-mouth interactions with the reach and functionality of digital publicity. The following volunteer recruitment methods offer the best means to broadcast service opportunities for today's savvy volunteer manager:
Social Media Networking: Rather than posting events on your social media pages alone, reach out to local businesses and even other nonprofits to share volunteering endeavors. These aggregate partnerships are natural and quickly compound into a wide-reaching volunteer network.
Community Boards: On both physical boards in community hotspots and digital boards hosted on your local municipality's websites, post volunteer schedules, and highlight upcoming events to generate a larger audience.
Target Demographic Partnerships: Remember those target volunteer demographics from earlier? Reach youth groups and senior citizens online through websites or digital communities they're a part of. You can also directly contact places where these groups spend their time, such as community living centers, high schools, or colleges.
Online Directories: Most counties host official websites dedicated to linking prospective volunteers with in-need organizations in the area. You can search for these directories online and submit your nonprofit to be featured.
Your Own Website: Ensure your nonprofit's website has a clear, user-friendly volunteer board so that visitors of all kinds can easily access it.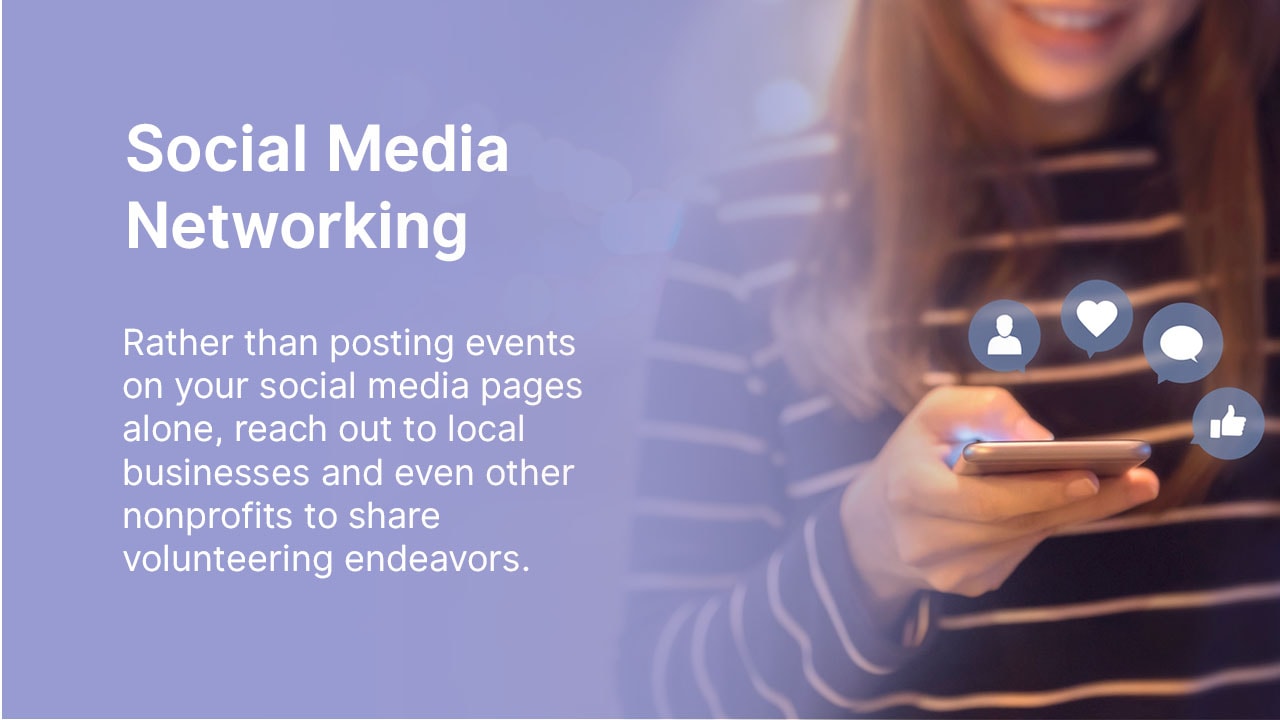 Applications
Create volunteer applications, with a special emphasis on digital forms that candidates can fill out and submit directly from your website. Whether you receive these applications via email or through a special software or portal, you have a dedicated place to review, input, and organize volunteers and move onto the screening stage.
Background Checks
Once candidate applications have been vetted, ensure you have the next proper recruitment protocol in place — background checks.
Background checks not only satiate many boards of directors, but they are often a base requirement to meet insurance provider's nonprofit liability coverage minimums. Depending on the nonprofit type and services you operate, it may be mandatory for your organization to run formal background checks on any candidate.
Whether accomplished through a private screening company, a state agency, or completed in-house using public records, a volunteer manager must guarantee the people entering their space are aligned with its mission. But before running background checks for your applicants, you should decide what you're looking for and what positions, if any, a volunteer would be prohibited from serving in based on what you find.
Placement Interviews
Placement interviews are key ways to connect with prospective volunteers. After applications and background checks have been processed, setting up placement interviews allows a volunteer manager to get to know the in-depth skills, interests, and growth areas of a person — plus treats that volunteer like a valued, holistic member of the team, not just an extra body.
Health Screenings, If Necessary
Finally, the recruitment process concludes with an official health screening — but only if required due to the nature of the nonprofit or the work a volunteer will be doing.
For example, hospital volunteers are often required to undergo a handful of health screens, such as a two-step tuberculin skin test, before inclusion on a volunteer roster. These health screenings may be worked into a placement interview or even completed beforehand to keep onboarding as streamlined as possible.
For the simplest, most efficient and effective volunteer recruitment processes, consider adding volunteer recruitment software into your nonprofit's infrastructure. These tools allow you to build a "one-stop shop" for all potential volunteers, with online directories, applications, volunteer descriptions, and scheduling accessible in a single location.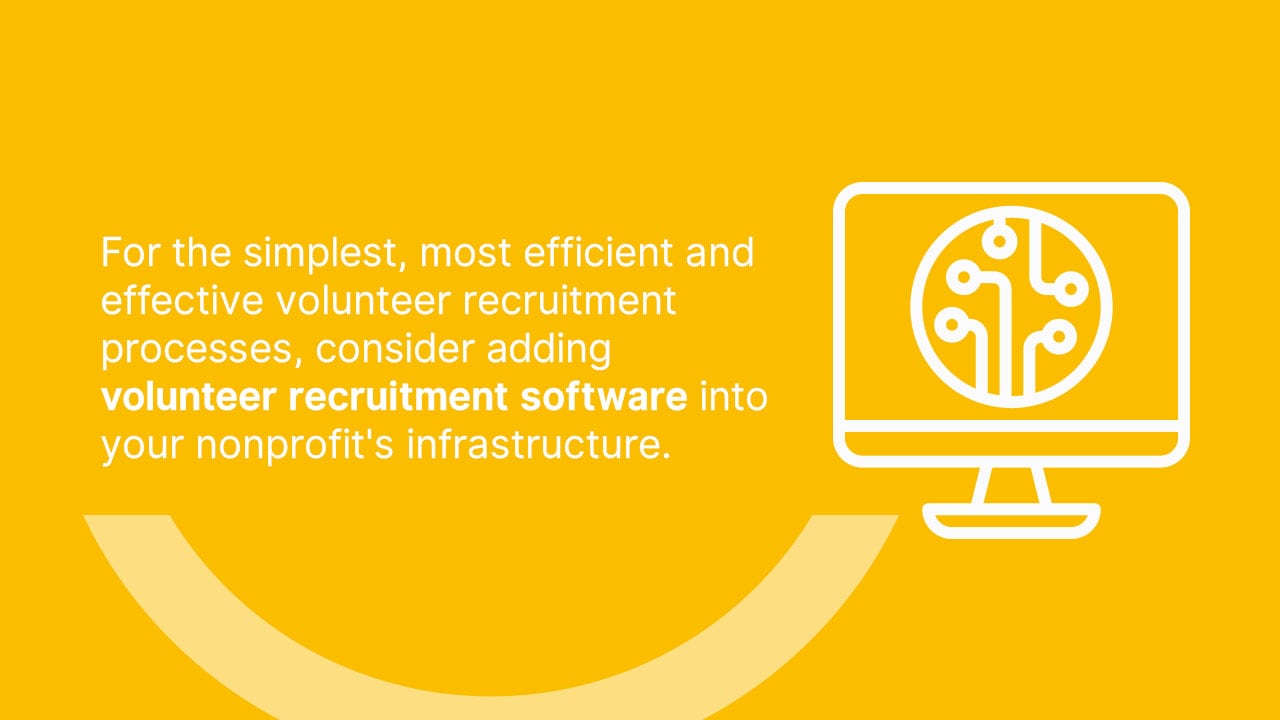 2. Volunteer Communication
Though it permeates nearly all aspects of the job, volunteer communication strategies tend to go under the radar. It's an assumed aspect of the volunteer manager's position — the ability to reach out, communicate, and stay in touch with the community — yet one that sees little definition or strategized tactics.
Understanding how to better communicate with volunteers across the lifecycle directly translates into keeping and improving those volunteers. We've got a few strategies for better volunteer communication to adopt in your nonprofit today.
Volunteer Schedules
Coordinating schedules has caused many pounding headaches for volunteer managers — especially without the right scheduling and communication tools in place to make it a little easier.
Outdated models of volunteer scheduling include static programs, such as Excel or similar spreadsheets, where collaboration is non-existent and cyclical versions have to be continuously produced. What's more, it's impossible for volunteers to access these schedules on their own.
Instead, volunteer managers have a host of two-way programs they can utilize to create schedules faster and easier:
Self-scheduling volunteer software is becoming more and more prevalent. Volunteers themselves can log in, pick volunteer slots, and track their own hours. Volunteer managers get notices when this occurs and can oversee proper shift allotments.
Commitment-tracking features also let you analyze what kind of volunteers you most frequently attract as well as their hours and skillsets, from "one-and-done" episodic volunteers to pro-bono work to reoccurring, formal service members. You can use this insight to further tailor schedules.
Role Descriptions and Volunteer Confirmation
Do you post and maintain role advertisements on your organization's website? Are those volunteer roles clearly differentiated and detailed, containing relevant information such as role expectations, physical work requirements, time commitments, or specialty skills needed?
Conversely, do you have a portal where prospective volunteers can submit a skill or volunteer interest on their own? And are your communication channels — from phone and email to website notices or automated messages — alerting you of a candidate's interest so you can respond quickly and professionally?
Consider adding the following communication extensions:
Automated messages when a volunteer candidate expresses interest, such as a thank-you email and link to your official application page.
Automated confirmation and calendar reminders when volunteers are scheduled.
E-Newsletters sent out to free subscribers, with the latest news and volunteer opportunities available.
Text and email volunteer management software where you can reach out to individuals or entire groups of volunteers, conveniently and with a few clicks.
Training Programs
Role-specific volunteer training is a pivotal part of successful volunteer communications. It signals the start of volunteer onboarding while also fostering a sense that volunteers are as critical to a nonprofit's mission as paid staff.
Don't go overboard, though. Develop a handful of volunteer training based on critical service types. Create a tailored presentation and role walkthrough for each, plus a service binder with important materials printed out for volunteers to keep.
Lastly, be flexible with training dates and times. Always ensure you've sent clear instructions and a reminder about times and locations where training is occurring.
Feedback Loops and Ongoing Volunteer Support
Just as we're all familiar with employee reviews, nonprofits can capitalize on volunteer feedback to glean insights on organization, communication, and process improvements.
These feedback meetings, or loops, serve three purposes:
They prioritize volunteers' opinions and make them feel valued, seen, and heard in the organization.
They allow volunteer managers to gather fresh perspectives on internal processes, which in turn can be used to improve strategic planning and overall organizational management.
Feedback loops work two-ways, as well. You can also use this time to give feedback on the volunteer's activities and performance itself, if comfortable doing so and agreed upon at the onset of a volunteer's commitment. That is to say, never surprise a volunteer with a performance review. Include these up-front in role descriptions and get active consent from a volunteer if they wish to have one.
All this lays the foundation of ongoing volunteer support, where service members feel intimately involved in the nonprofit. They tie their presence, attitude, and energy as factors contributing to or detracting from an organization's progress.
3. Volunteer Retention
Even the most seasoned volunteer managers search for tips on volunteer retention. It's at the heart of their operations, and one many professional development and industry resources dedicate generous time and resources to.
The most common volunteer retention advice centers on recognition — creating center-stage moments where individuals and their achievements are broadcast for all to see. Yes, this kind of recognition is one of the leading ways to retain volunteers — but it's not the only way.
Before curating volunteer recognition and rewards, a manager must first keep a volunteer coming back, time and time again. How can volunteer managers imbue meaning and impact into every individual who walks through their door — and translate their work into collective momentum?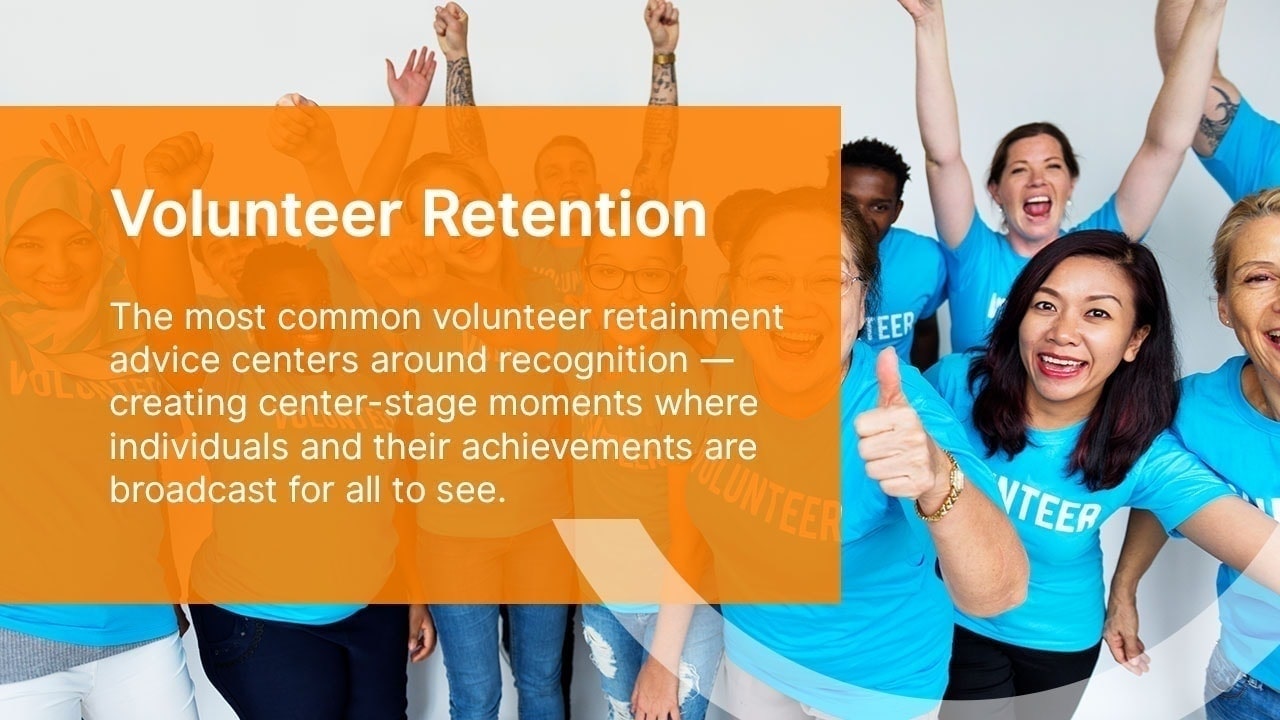 Empowerment through Purpose
As a nonprofit, mission and values must be central to everything you do. From the t-shirts you supply and the brochures you hand out to the speeches and presentations you make, your "brand" revolves around a central purpose. So, too, should your volunteer interactions.
This doesn't mean operating like a commercial, with inauthentic dialogue or brand-centric moments. What it does mean is framing volunteer work always with an empowering, positive message. Openly discuss short and long-term strategic goals and how volunteers help secure them. Discuss the tangibles of their work. Add a purpose — quantifiable, qualifiable, or both — to all events or projects.
Track and Record Service
Look for complete online tools that allow you to easily input and track each volunteer's service hours. This is a critical internal measure for both volunteer retention and recognition, as well as totaling end-of-year service bulletins or impact reports.
The more detailed this software or system, the better. Beyond totaling hours, you can assign volunteer classifications, designate groups, build data sets, and organize contact information all in one spot.
Balance Work and Play
Show your gratitude while building stronger volunteer connections by hosting celebratory events. These can be upbeat and social, such as sports outings, barbecues, or ice-cream socials for volunteers to mix and mingle in a laid-back environment. Like most gatherings, this helps volunteers feel like a part of a team and more likely to stay engaged with your nonprofit.
Always Say Thanks
From handwritten thank-you cards to small treats and surprises, saying thanks never goes out of style. When it comes to volunteer retention, showing appreciation is not only an industry best practice — it's a way to maximize connectivity and loyalty over time.
Use your networks and online platforms as a means to say thank you, as well. Consider "volunteer spotlight" posts weekly or bi-weekly, where a volunteer is showcased on your nonprofit's Facebook, Instagram, or other social media pages — with their permission, of course. Try to quantify their impact as much as possible in these posts, using numbers to shed light on how much they've done and what their work means to the organization.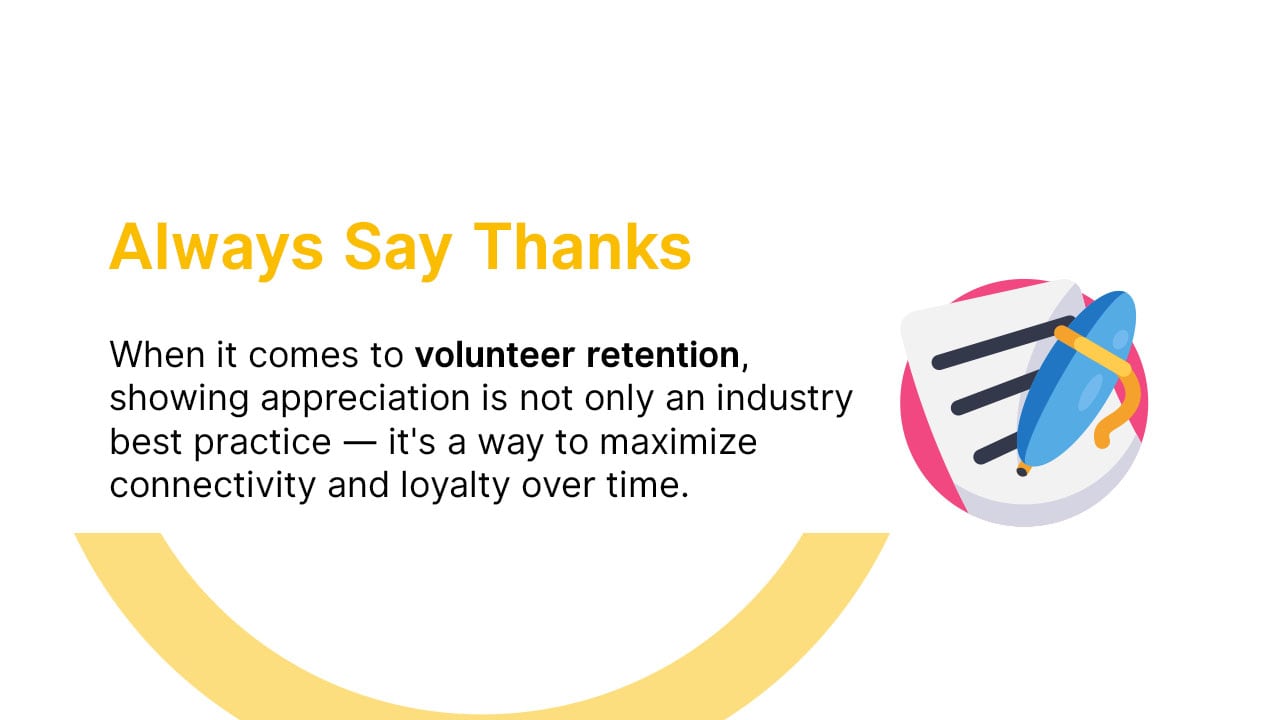 Curate a Safe Volunteer Environment
Volunteers are unlikely to return to your organization if they don't feel properly equipped or informed — or worse, threatened or unsafe. This falls under the umbrella concern of organizational security, which a volunteer manager can proactively curate through their own management styles.
Beyond making volunteers feel supported and welcomed, managers need to make them feel comfortable. From conflict management resolution amongst volunteers to running proper background checks to clean, sanitary environments, make sure to cross your Ts and dot your Is when it comes to safe volunteer settings. This, in turn, encourages returning volunteers.
4. Volunteer Tracking and Recognition
With the right tools and measures in place, volunteer managers can move on to their next critical domain — tracking and recognizing their volunteers.
It's a part of the job many say they love, as it adds momentum to volunteerism and puts a personal face on nonprofit achievements. It's also one of the easiest yet most important PR initiatives for nonprofit organizations to undertake, regularly highlighting the human impact so critical to their success.
Many volunteer managers have their own ways to track volunteer hours, commitment types, and projects. Yet harmonizing these systems and making them accessible to others within the organization not only helps keep volunteer tracking evergreen amidst turnover, but it creates a pipeline where this domain is never lost or overlooked.
Categorize Commitment
A key part of volunteer tracking is not only knowing who's coming in and when, but also what kind of services they're performing. For your own nonprofit metrics, categorizing volunteer commitment helps you see where your strengths and weaknesses are so you may tailor improvements accordingly.
For example, with a categorized volunteer report, you may be able to determine that your organization relies heavily on youth groups who are exercising mandatory service-hour obligations. You can see that volunteer names and groups change frequently, with most being short-term or project contingent.
All this categorization shows that your current volunteer recruitment practices skew episodic and highly demographic. You have data in place emphasizing the need for longer-term, lower-turnover volunteers types, and can pitch for those resources. None of these informed decisions would be possible without volunteer categorization software or program extensions.
Run Volunteer Reports
Volunteer reports are often one of the key deliverables under a volunteer manager's helm.
Whether your organization chooses to run them weekly, monthly, quarterly, or in a custom timeframe, it is absolutely critical for there to be a system in place that turns stored volunteer data into itemized reports.
What's more, these reports should be versatile and tailored to their respective audiences. Volunteers who request reports for their own accountability or mandatory service hours will get different information than a broader, quarterly report printed for the board. Likewise, volunteer reports will help a volunteer manager execute a range of daily tasks, such as project and task delegation, managing expenditures, or initiating a timely performance review.
Celebrate Service
With a streamlined program in place effortlessly tracking the hours and impact of volunteers, it's only natural to communicate that information outward. Celebrate and reward the hard work of your most dedicated volunteers with a number of creative volunteering honors:
Reach Out: Contact the volunteer's employer to share their service. This proves not only the dedicated work ethic of that individual but also their integrity and commitment to causes beyond themselves. If possible, consider reaching out to the mayor's office or local politicians to have them send service thank yous as well, especially if the volunteer has spent time on community endeavors.
Treat Them: Treat the volunteer to dinner at their favorite restaurant, a basket of favorite baked treats, festival tickets, music events, or more. The more personalized, the better.
Volunteer Hall of Fame: Dedicate space within your nonprofit to showcasing pictures of your volunteers in action, along with service plaques and a list of their achievements.
Scrapbook of Service: Have staff members, along with anyone who's been directly affected by the volunteer's service, write personal notes to them. Compile those messages in a "service scrapbook" for the volunteer to look back on.
Local Store Discount: Consider reaching out to local cafes, grocery stores, coffee shops, and retailers for local service-award discounts. Many of these might qualify as tax write-offs for the business.
Nominate Them: Nominate outstanding volunteers for local community awards to have their hard work recognized even further.
5. Volunteer Impact Analysis and Reporting
A volunteer manager can truly showcase the time, talent, and accomplishments of their collective volunteer efforts through annual volunteer impact reports.
Measuring service hours, volunteer categories, projects and events accomplished, money fundraised, and goals quantified, these reports give a logistical perspective to the use and support of volunteers. In fact, 2018 averages show that every hour of a volunteer's work equals nearly $25 in value — rivaling the impact of even cash donations.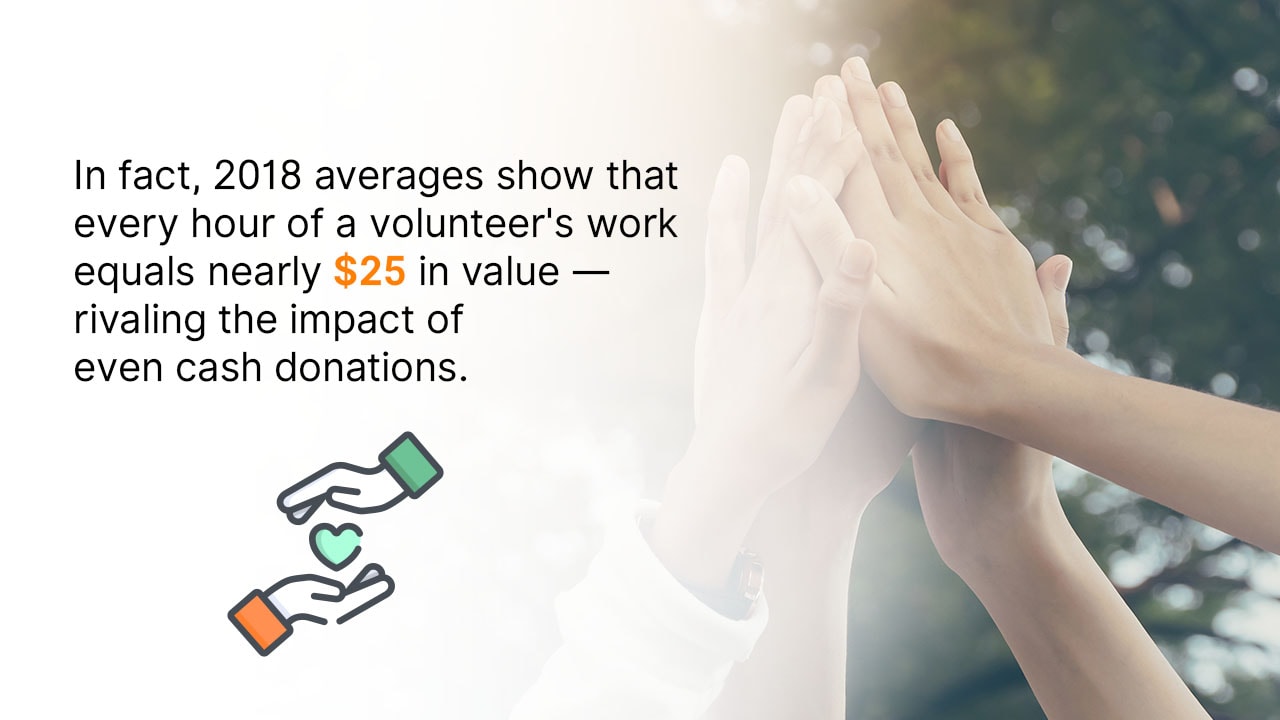 Volunteer managers can use impact analyses and reports to calculate the cost-savings or monetarily-backed service enhancements of their nonprofits. These numbers can then be put to use across a number of beneficial applications:
Volunteer Impact Reports
The basics of a good volunteer report should include:
Dollar Value of Volunteer Hours: Any calculation that converts the work and hours of volunteers into economic, social, or tangible community enhancements. These are highly specific to a nonprofit and can be easily gathered from value-generating software.
Productivity Rates: Based on volunteer and hour-related information collected from surveys and direct observation.
Testimonials: Words and insights on the power of volunteers, straight from the sources most impacted by them.
Project Outputs: Proof of progress toward strategic goals and initiatives — which are especially pertinent to donors and the board of directors.
Other Impact-Report Figures: You can include any other important progress numbers, including social media engagement, funds raised, increased awareness around an issue, events managed, donations procured, and so on.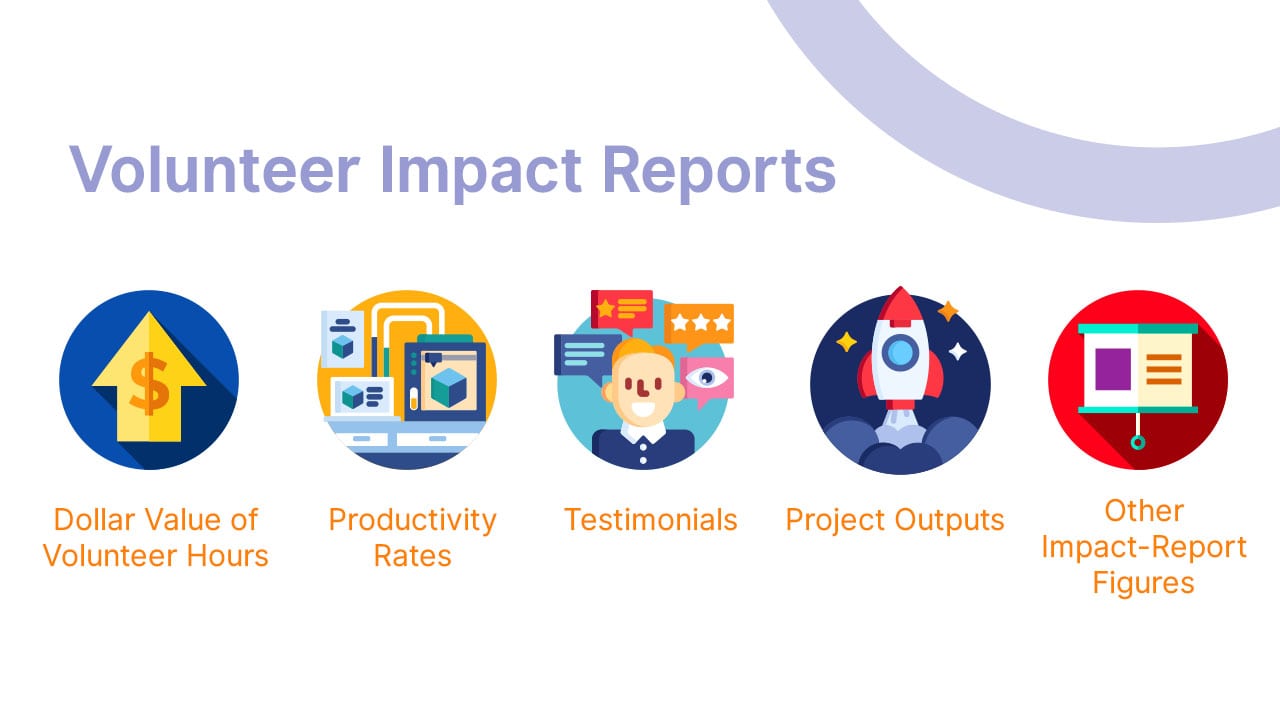 Grant Writing
Generating volunteer impact reports directly sets you up to prepare better grant proposals. And since grants remain one of the leading sources of funding for nonprofits — yet also one of the most competitive — presenting concrete numbers helps set you apart.
You can use the numbers and calculations to prepare stronger grant applications. That's because most grant calls specifically ask for impact-based metrics. They want to know exactly how far awarded money can go, and if you have the infrastructure and support in place to deliver.
Volunteer Compliance
Volunteer impact reports and analyses also serve to help volunteer managers document compliance. Nonprofits in the healthcare, social services, or youth mentorship niches, in particular, have volunteer and documentation procedures they must adhere to.
Overall Volunteer Management Trend Dos and Don'ts
As nonprofits adapt to evolving volunteer expectations, shifting demographics, tighter sources of funding, and emerging technologies, their organizational processes must develop as well. Volunteer managers can stay ahead of the game, crowd, or pack to be leaders in a field , succeed, or win. Keep important content above the fold to be noticed by professionally improving upon volunteerism trends of the past few years:
Do:
Embrace Video: Video has emerged as the dominant digital engagement tool of the 21st century. Harness it for both entertaining and educational purposes, including public-facing nonprofit branding, to volunteer recruitment, or even setting up video modules for new volunteer training.
Match Your Message With Your Audience: For volunteer recruitment efforts, use specific, targeted messages that will connect with the demographic you wish to bring onboard. Millennials and youth groups tend to link altruistic acts with their own quality of life, whereas baby boomers separate the two, seeing volunteering as a social duty. Tailor recruitment and mission messaging accordingly.
Start Exploring Smartphones: From implementing text-friendly donation platforms, to making your website mobile-friendly, to texting as a point-of-contact with volunteers, don't shy away from utilizing today's leading consumer technologies.
Don't:
Forget Structure: While volunteering shouldn't be as rigid as a job, it should still come with expectations, skill development, training, oversight, and room for growth. Communicate those possibilities effectively at every level.
Forgo Insurance: Organizations must mitigate risks and protect themselves from unforeseen volunteer occurrences where the nonprofit is left liable. Research both Volunteer Injury Insurance and Directors and Officers Liability, as well as General Liability to assess your positions, or consult with a pro-bono legal expert.
Ignore Software: Software solutions for volunteer managers assist with nearly every aspect of the job, from volunteer retention, advertising, applications, scheduling, information storage, data tracking, report generation, and so much more. The role is only made more difficult without it.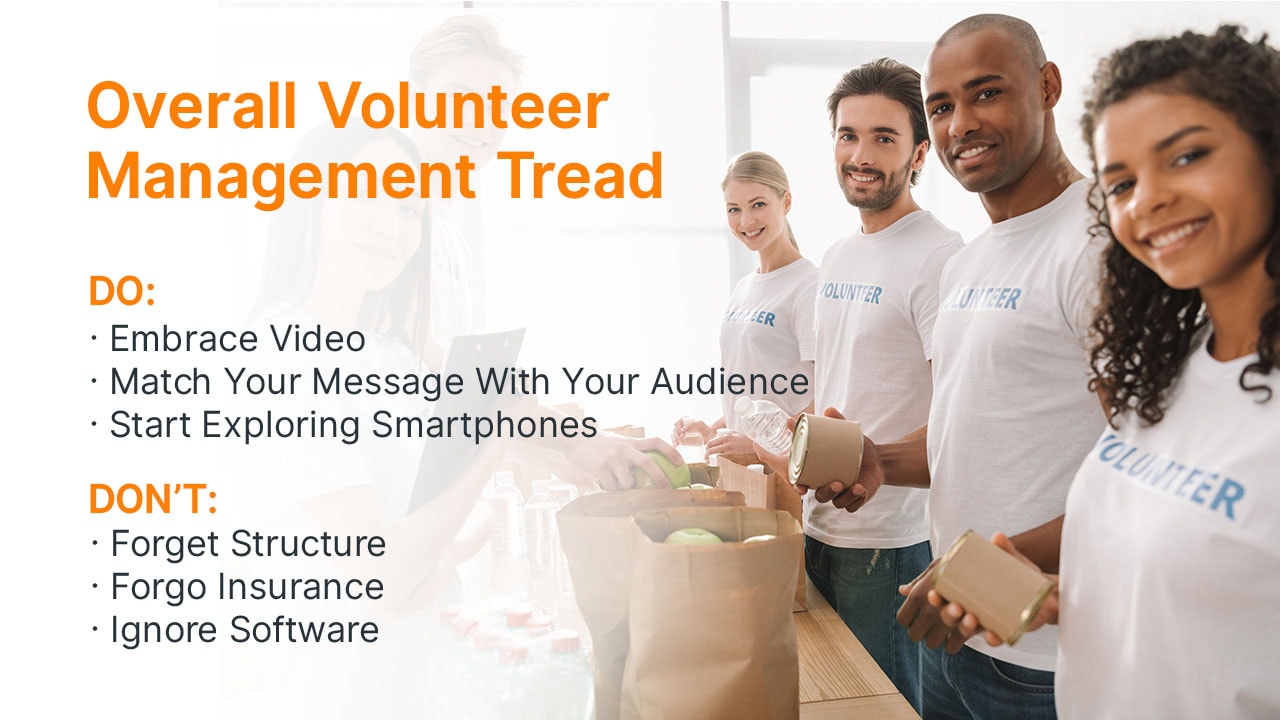 Improve Volunteer Management with Software That Works for You
Volgistics serves over 5,000 nonprofits and helps track over 6 million volunteers with its nonprofit logistics software.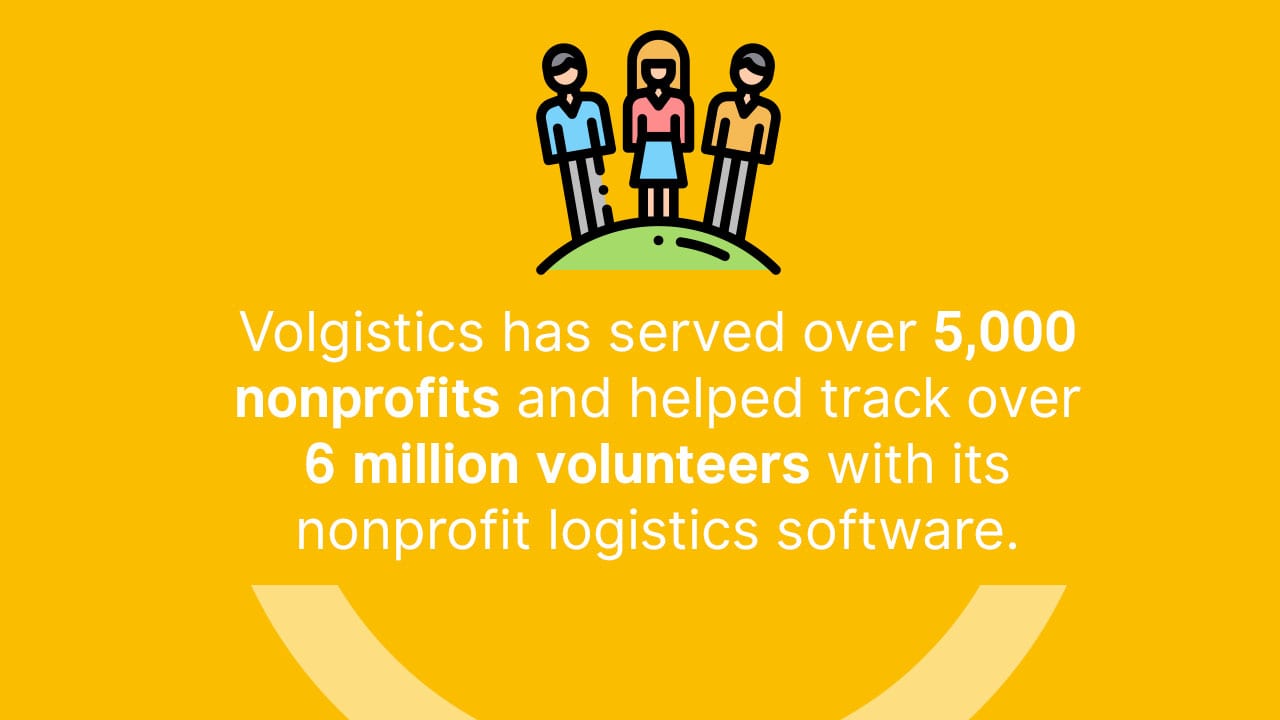 And it's only the beginning. We want to make volunteer managers' roles more streamlined, simple, and efficient through our user-friendly software so you can focus on what really matters — living out your organization's mission.
Explore our suite of solutions today, or get in touch for a free, no-obligation trial account.