Your volunteer organization wouldn't be the same without its volunteers. These are the folks using their free time to show up at your door, support your causes, and bring your mission to life. Selecting the right volunteer management system for your organization ensures you create the best volunteer experience for them. Plus, these systems simplify your volunteer management work, making it easier to track hours, send volunteer communications, generate reports for boards and grants, and so much more.
Learn the benefits of volunteer management software customized for your organization or nonprofit, as well as how you can be confident you're picking the best volunteer management tools.
What Is Volunteer Management Software, and Why Is It Important?
Volunteer management systems are administrative software that can assist you across the full spectrum of volunteer operations. Specifically, these tools can aid in volunteer:
Recruitment
On-boarding/training modules
Scheduling
Outreach
Tracking
Communications
Compliance
Think of volunteer management software systems as your go-to repository for all things volunteerism. From setting up application forms to storing e-waivers to texting and emailing volunteers directly, these systems modernize volunteer operations. Because they become the organized epicenter of your volunteer operations, volunteer management software is one of the most valuable tools for high-functioning volunteer organizations. With it, your organization can grow more organized, more efficient, and more successful at attracting and retaining high-value volunteers.
Things to Consider When Buying a Volunteer Management System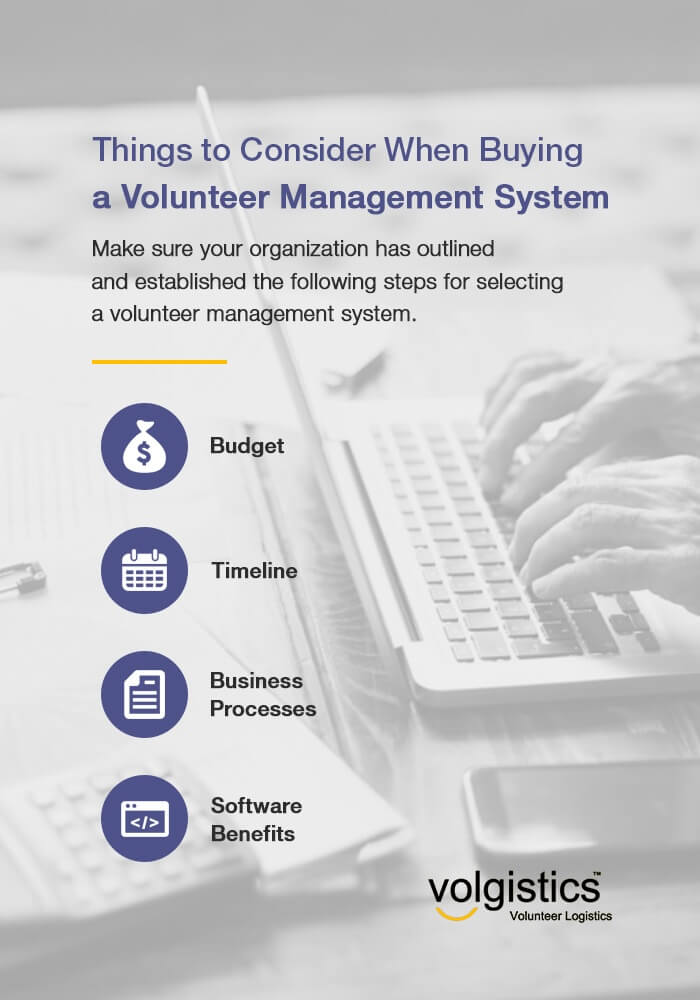 Choosing the right volunteer management system might seem daunting. There are dozens of products on the market, each touting a list of features and affordances designed to save you time and money. How do you know which programs live up to the hype?
To make your volunteer management selection process easier, make sure your organization has outlined and established the following steps for selecting a volunteer management system.
1. Budget
Volunteer management systems will range in pricing. Some software providers build all-in-one systems you pay a flat subscription to, giving you access to dozens of applications and integrations you may or may not need. Others will present a-la-carte products, where organizations can customize the software to their exact needs.
Determine the maximum budget your organization can allocate to this management system. Note that often, the cheapest software option doesn't always offer the best return investment. Hidden costs and add-on expenses can multiply down the road when building the system you need. Remember, sometimes you have to pay a little bit more for quality.
2. Timeline
Your software implementation timeline should be generous, leaving plenty of time to research individual pieces of software. All relevant staff at your organization should also review and agree upon your schedule, ensuring everyone's on board.
Pay particular attention to your event calendar, scoping out when you have major programs planned. The weeks leading up to these events will already be hectic. Introducing a new piece of software at these packed moments may backfire, increasing work and stress levels while you iron out integration. Similarly, be wary of software vendors who try to rush your purchasing decision or push the hard sell too often. They may not have your best interests at heart.
3. Business Processes
Create a list of business processes your ideal volunteer management software can simplify or streamline. Often, these are tasks eating far too much of your time, preventing everyone from moving onto higher-functioning and value-adding work. For example, you might look for a software that can:
Generate volunteer reports
Contain volunteer check-in or sign-in portals
Facilitate text and email communications with all volunteers
Manage and accept new volunteer applications
Consider which of your business processes would benefit most from going semi or fully automated via volunteer software, then begin vetting accordingly.
4. Software Benefits
Use your business process checklist as an inspiration for the exact features included in your new volunteer management software.
No two organizations are the same. Neither are their driving missions, their management needs, and goals of their operations, nor the type of volunteers they seek to attract. Look for software catering to your top volunteer pain points or gaps. Applications that contain the most relevant features will trigger the kinds of business process improvements your team has already outlined, resulting in positive developments like:
Increased volunteer recruitment, especially among skilled volunteers
Simplified volunteer communication via text, email, etc.
Easier volunteer scheduling and hours tracking
Increased volunteer operations efficiency, represented in user-friendly volunteer reports
Scalable software, able to grow with your volunteer numbers as well as your entire organization
Essential Features of Volunteer Management Software
When it comes to industry software, many volunteer managers and program directors make the well-intentioned mistake of assuming bigger is better.
This approach is understandable, but it's not practical — or cost-effective — for the vast majority of organizations and nonprofits. Instead, take the time to seriously consider your top needs and pain points in your current volunteer operations. From that needs list, you can effectively begin ranking essential features to look for in your volunteer management system, thus filtering only the best solutions.
Looking for direction when it comes to those essential features? Consider the rankings below to begin properly vetting the right volunteer management software for your organization's needs, today and tomorrow.
1. Must-Haves
Some of the most important volunteer management software features include the following.
Accessibility: Volunteer databases that are accessible regardless of location offer unparalleled convenience for you and your staff. For example, Volgistics uses a web-based system available on any desktop, laptop, or mobile phone — not just the ones in your building. Sign in from your computer in a coffee shop or work from home, never having to worry about accessing urgent volunteer reports or databases.
All-in-one/centralized solution: Can the software house all programs, reports, documents, and features related to your volunteer operations? Or do you still need to support multiple programs to accomplish simple tasks such as scheduling volunteers over the next month? Disparate systems defeat the core purpose of volunteer management software, so you should avoid them if possible.
Security:Volunteer databases may store sensitive information, such as copies of driver's licenses. You need to be confident this user data will remain safe and accessible only to approved users.
User-friendliness: Each organization has different needs, and you want software that allows you to adjust and stay organized. You also want customizable software that allows you to make changes without a programmer or developer.
Communications portal: You can use software to send text or email updates to volunteers based on their communication preferences. Send volunteer confirmations, schedule openings, thank-you messages, and more.
Volunteer reports with analytics: Volunteer management software can generate reports with rich, focused data. In a few clicks, your staff can review these volunteer metrics to make adjustments, tailor practices, or to strengthen grant proposals.
Offers support: Customer servicing and continued support even after you've launched the software at your organization — just in case you have questions or encounter usage issues.
2. Nice-to-Haves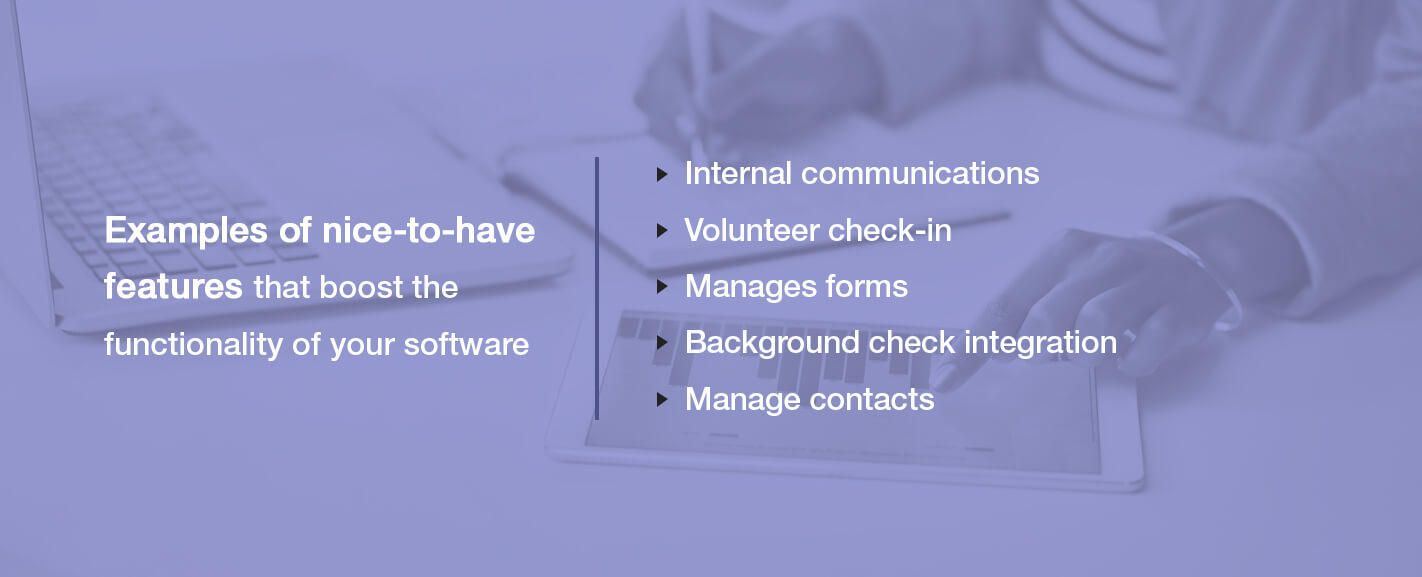 Nice-to-have features boost the functionality of your software, both for your staff and for your volunteers themselves. These important features of volunteer management software likely save you time on the work you already do, but they may not be business-critical.
Examples of nice-to-have features include the following.
Volunteer portal: Some software suites include an interactive platform tailored for volunteers themselves. Each volunteer in the system receives a username and password. Using those credentials, volunteers can log in to the system and review the profile and schedules, see upcoming volunteer events and needs, and sign up for new shifts.
Volunteer check-in: Some software comes with a volunteer time clock that works on computers or mobile devices. When volunteers arrive on-site, they check in, and then dive into their valuable work. You won't have to manage in-person check-ins during an already busy day or worry about cumbersome paper sign-in sheets, which are easy to lose. You can even see who's on-site at a glance.
Background check integration: Volunteer management software can assist you in some of the most important aspects of recruitment, such as running background checks on volunteers and other compliance documentation. Screening volunteers is essential, yet often time-consuming, and may even involve initiating multiple types of background checks before clearing a recruit.
Manage contacts: Use your system as a central log for up-to-date volunteer information, including mailing addresses, emails, and preferred methods of contact. This system can double as a touchpoint log, helping you keep track of other volunteer communications and updates, such as sending newsletters or contacting a previously active volunteer who hasn't signed up in a while.
3. Could-Haves
"Could-have" features include extra software amenities that are generally attractive, but not business-critical.
In other words, these are the features that make your day-to-day role as an administrator smoother but won't be deal-breakers if left unsupported. Even without these features, your organization can maintain steady, successful volunteer efforts.
Volunteer profiles: Software with internal communications, like those above, may also host personalized volunteer profiles. With these, your volunteers can complete their profiles, update their volunteer information, schedules, and tailor their communication preferences, all so you don't have to.
Event management integration: Certain volunteer management programs can integrate with event management software, streamlining your organization's event planning.
Document uploading: Scan and save existing paper files into your software, adding another layer of "file-cabinet" functionality to your system — sans the clunky furniture.
4. Optional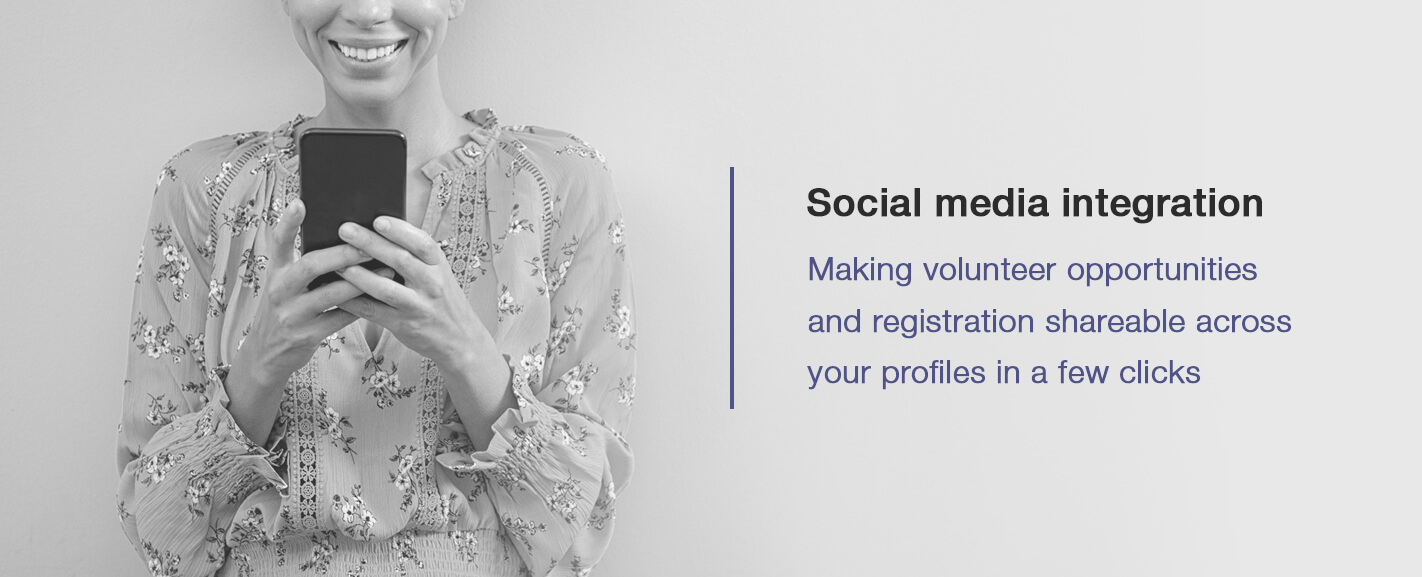 Optional volunteer management software features are those at the bottom of your needs list. Perhaps these software features aren't necessary for the sector, size, or scale of your organization. Likewise, these amenities might not land under your organization's current priorities.
Regardless of the circumstance, typical examples of optional volunteer management features include the following.
Social media integration: Making volunteer opportunities and registration shareable across your profiles in a few clicks
Service record auditing: Review service entries for accuracy
Mandatory service/service goals: Track volunteer progress toward goals you set for them
Ultimately, you and your fellow staff are the best judges of optional software amenities. You're most capable of determining which features are optional, even irrelevant, and which are critical to see smoother volunteer operations.
Other Tips on Picking the Right Volunteer Management Software
Keep these additional considerations in mind when selecting your top volunteer management software.
1. Prioritize User Support
Few volunteer organizations have dedicated IT staff ready and waiting to solve software glitches or integrate new applications. And that's OK! Look to your software vendor to provide fast, expert technical assistance for your new product, from initial installation and implementation through everyday usage.
Bonus points for software vendors who share supplementary support materials, such as product video demos, infographics, or resource libraries where they answer some of their most common user questions.
2. Take Advantage of Free Software Trials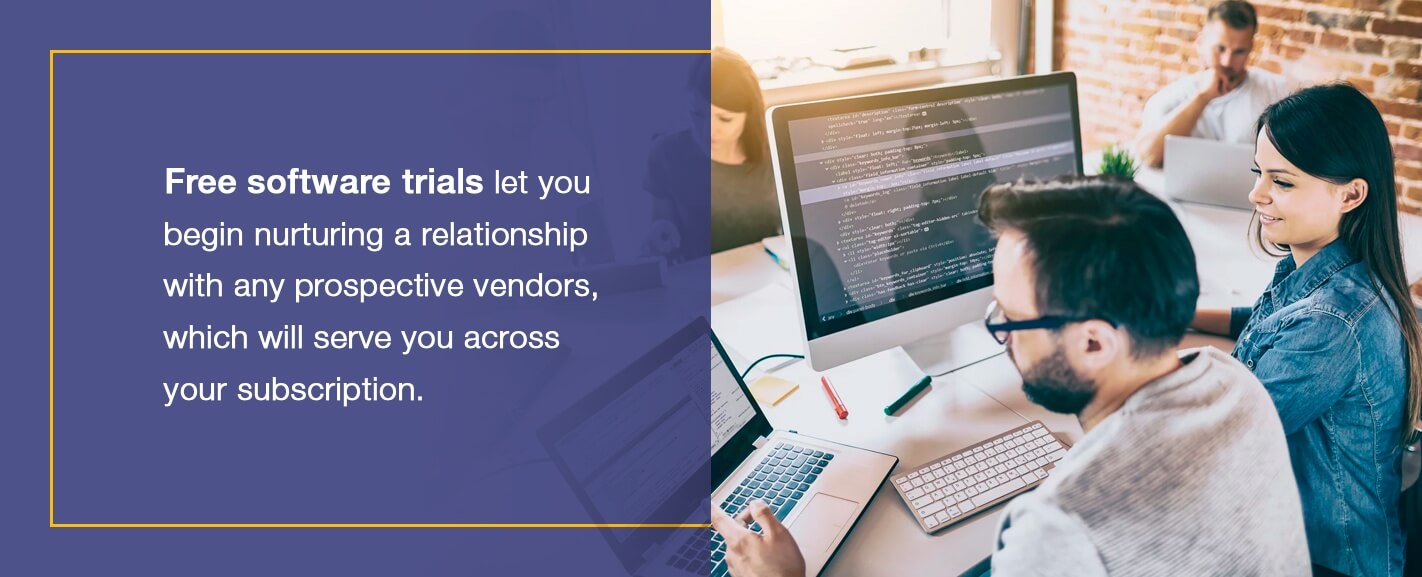 Search for software companies that offer free demos of their product. These demos can include anything from sample accounts to full software access for a trial period, letting you experience the software firsthand.
The benefits of a "try-before-you-buy" offer are numerous. You can test the features and design of the software, seeing for yourself if it's fast, secure, and easy to navigate. Free software trials also let you begin nurturing a relationship with any prospective vendors, which will serve you across your subscription.
3. Find Vendors With Flexible Pricing
Volunteer management software is not one-size-fits-all. Its pricing shouldn't be, either.
Vendors maintaining rigid price structures across only a handful — or just one — software setup may be a red flag that a business is in it for the profit, not to provide a premium product. Instead, research vendors that are feature-rich, scalable, and that carry experience working with organizations in your sector. Their products, and their price tags, will be more aligned with your needs.
4. Seek Data Integration/Conversion Assistance
Select a software vendor that helps you convert historical data from your legacy documents and systems into the new one. Such data will vary, but includes information like volunteer profiles to past annual volunteer reports and grant applications.
Data integration can be daunting without dedicated IT staff to handle its procedures. Vendors that assist or take care of data conversion for you offer serious peace of mind.
5. Works With Your Organization's Size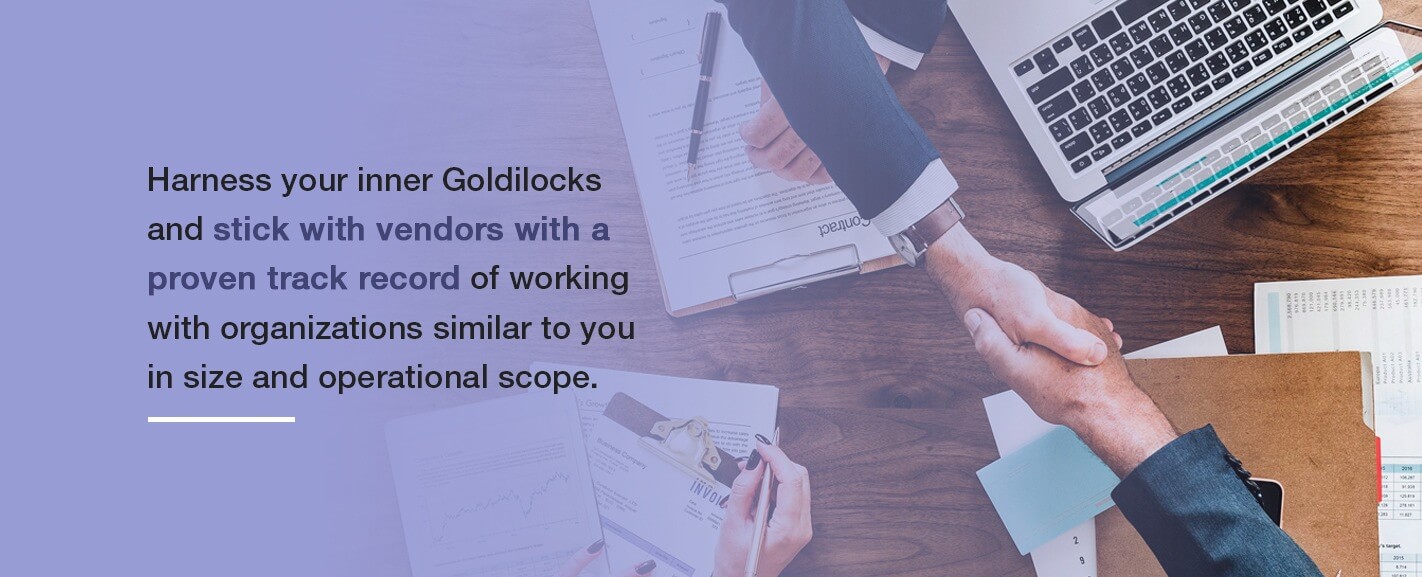 Trying to make software designed for different-scaled organizations work at yours is like trying to fit the proverbial square peg in a round hole.
First, these products will carry too few or too many features for your current business needs. Second, they may feel impersonal, since their developers had another kind of user in mind. Finally — and perhaps most importantly — the software itself will probably be at the wrong price point to work in your favor. Harness your inner Goldilocks and stick with vendors with a proven track record of working with organizations similar to you in size and operational scope.
What Is the Best Volunteer Management Software?
Need help choosing the right volunteer management system? Simplify your decision-making process and feel more confident in your choice by following these four tips.
1. Define Your Objectives
All the software you're considering should make day-to-day volunteer operations quicker, easier, and more intuitive. How they go about simplifying tasks, plus what they charge to do so, is a different story.
Create clear, concrete objectives you want to see as a result of using new software. For example, use volunteer reports and analytics to create stronger grant proposals and reports for your board of directors and help increase funding. Likewise, perhaps you're looking to grow your volunteer pool and therefore need software with greater cross-channel integrations and an interactive volunteer portal.
Understanding your short- and long-term volunteer management needs focuses your software choices, increasing the chance of picking the right one.
2. Research Different Options and Compare the Top Three
Researching too many pieces of volunteer management software can lead to buyer's remorse. On the other hand, maintaining tunnel vision exclusively on one system risks missing a vendor that may provide a superior fit.
Check third-party websites for reviews of software filtered for your organization sector and size. These sites host expert advice, as well as testimonies from actual product users, giving you a well-rounded view of the software in real life.
3. Know Your Volunteers' Needs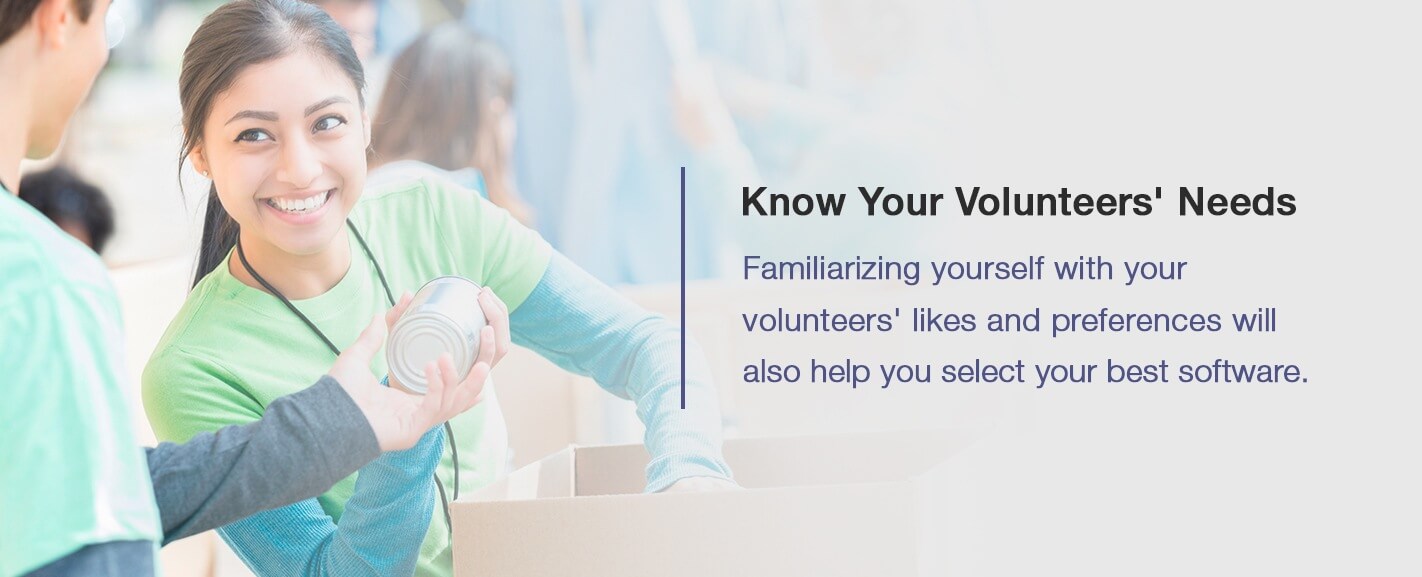 Familiarizing yourself with your volunteers' likes and preferences will also help you select your best software. For example, volunteers who prefer text-based communications will be more likely to re-engage with organizations that communicate and stay in touch using text messages. That means volunteer management software with text-based communications will be a better choice for your organization, compared to products without this feature.
Knowing what volunteers look for in an appealing organization will, again, help you make the most informed decision.
4. Never Forget the User
You and your staff will be the ones using the software day in and day out. Consider what works best for your workflows. Selecting software that seems tailor-made for your daily operations is far more likely to increase staff buy-in, which leads to higher ROI on your investment in the first place.
Testing Your New Volunteer Management Software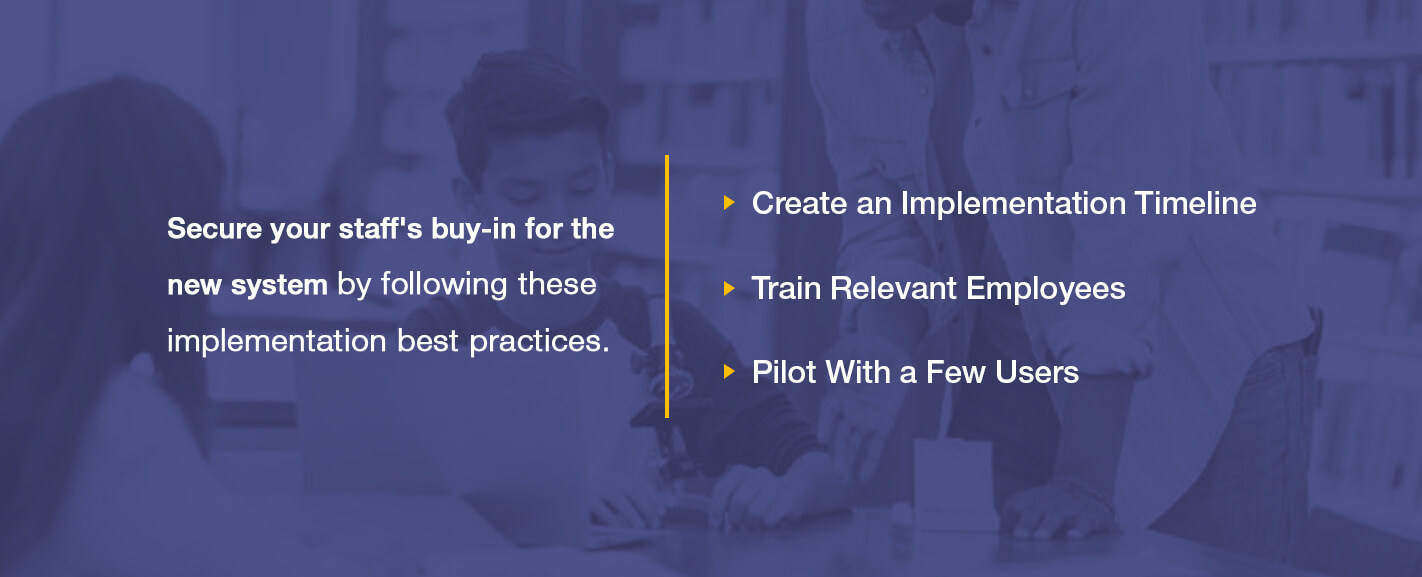 Secure your staff's buy-in for the new system by following these implementation best practices.
1. Create an Implementation Timeline
Your implementation timeline outlines the end-to-end schedule of selecting and installing your new software, naming target dates for each major phase. For organizations, these timelines cover stages such as software/vendor research, trial testing, product selection, contract signing, installation, historical data conversion, and then a multi-phased rollout into your daily operations.
Sound complicated? Don't worry — it's likely you already practice this serialized kind of implementation. Think of it as orientation for this new piece of software which, once fully integrated, will make your job fundamentally easier.
2. Train Relevant Employees
Create training modules yourself, or ask your software provider for formal training materials to help launch the new platform among your team. Take your time, ensuring each relevant staff member understands how to use and navigate the system. The more comfortable they are with it, the better its success will be.
3. Pilot With a Few Users
Consider selecting a handful of staff members to pilot the software across the implementation timeline. Fewer users early on helps to establish control and visibility over the new software. Plus, you can see what testers like and what they don't about its current features, allowing you all to play around with the system at a more relaxed, exploratory pace before full rollout.
How to Choose the Right Volunteer Management Software for Your Organization
Congratulations! After following the steps in this guide to volunteer management solutions, you're nearly ready to select your new system. There are just a few final considerations to review to ensure you're getting the end product you need.
1. Research Subscriptions and Additional Fees
Your chosen vendor will provide, or host, most software. You gain access to the system by paying a fee through a license or subscription, as specified in your contract after you vet and contact the software vendor.
Most volunteer management software runs on a year-to-year subscription, but variations exist. Make sure you have a clear understanding of your subscription timeline and fees before signing your contract.
2. Consider Cost and Frequency of Software Upgrades/Integrations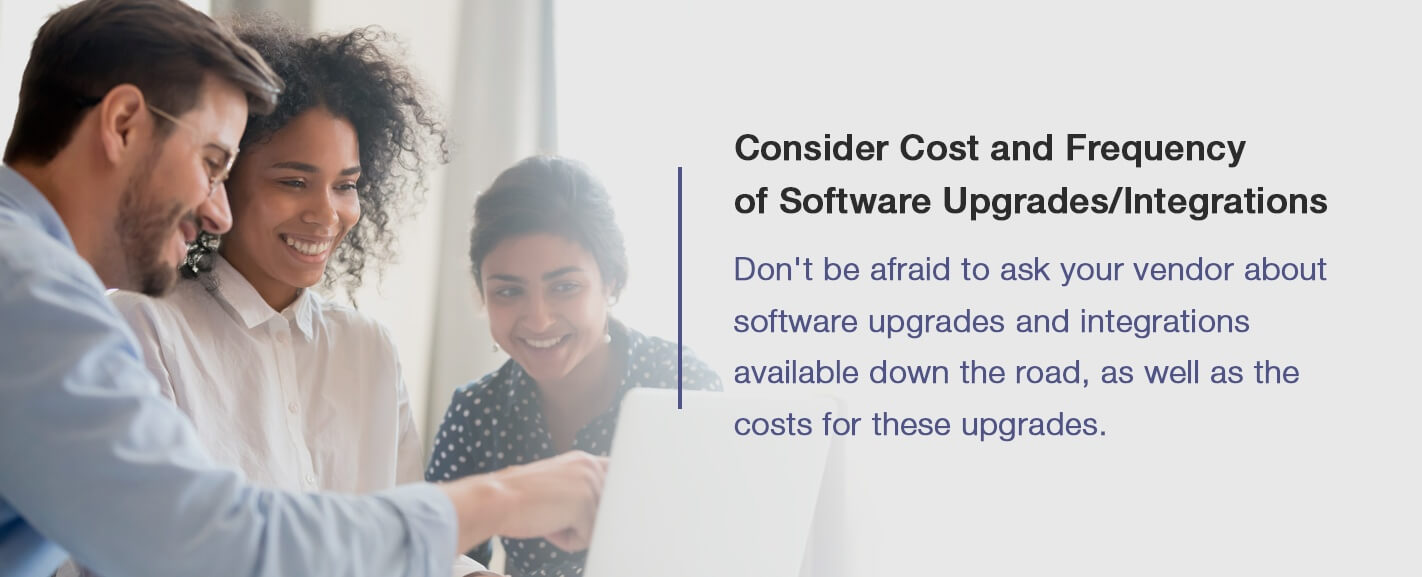 Off-the-shelf software is a great place to begin when using volunteer management software for the first time. However, as your organization evolves, so will the digital tools it uses daily.
Don't be afraid to ask your vendor about software upgrades and integrations available down the road, as well as the costs for these upgrades. These will be essential to forecast into future budgets and feasibility models. Vendors offering the most competitive ongoing services and add-ons may also become the most attractive software vendor.
3. Pick Your Software
In addition to reviewing the product itself, consider all of the following before selecting your software:
Timing and frequency of software upgrades
Cost of upgrades or additional applications
Any fees beyond the initial installation
Software training programs and orientation
Customer support, helplines and user forums
Software discounts or upgrade discounts for nonprofits
Make Volunteer Management Easier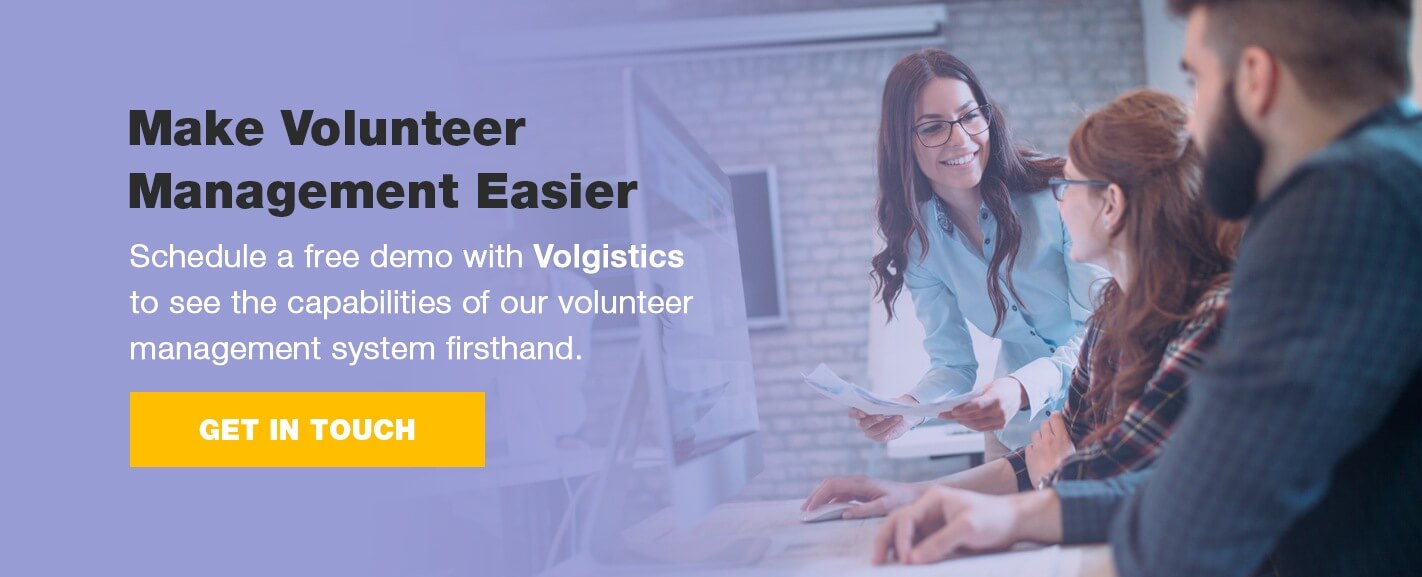 Selecting the right volunteer software can be tricky, and you want to put in the time to find the best option for your volunteer organization or nonprofit. Schedule a free demo with Volgistics to see the capabilities of our volunteer management system firsthand. You can also watch our free video tutorials to see what types of features we offer. Our extensive help library can even assist you with any questions you have.
Get in touch today to learn more.