Just like how businesses need to engage their employees, how a volunteer organization treats, involves, and motivates its volunteer base is crucial. Knowing how to manage volunteers successfully will help your organization accomplish its goals and keep morale high among your volunteers. When volunteers are more engaged, informed and connected to your organization, they'll participate in events more often, perform better and bring about better results for your organization and cause.
Start a new chapter in your volunteer organization — one designed to attract, keep, and nurture the best volunteers possible — with these 20 volunteer coordination best practices.
Volunteer Engagement Tips
Successful volunteer engagement goes far beyond funneling people with free time through your doors. With these engagement tips and tactics, volunteer managers can create more welcoming, motivational, and meaningful partnerships with volunteers that keep them returning for more.
1. Clearly Define Volunteer Roles and Titles
Remember when we mentioned that good volunteer management is similar to how a business treats its employees? Turns out one of the top reasons employees quit is because they don't understand the value of their role or what they contribute.
Broad responsibilities or shapeless positions weigh on your volunteers. Imagine yourself in their shoes, entering a new organization with only vague ideas behind the meaning of their work, what it's for, and why they have to do it. Treating volunteers like perfunctory task bunnies is the quickest way to demotivate them. Conversely, creating clear, written volunteer roles (with a title) that include stated priorities and responsibilities structures their volunteer hours and immediately grounds their work.
2. Build a Progression Pipeline
Progression pipelines show the tiered volunteer roles available at your organization. Each new tier comes with more responsibility as well as certain perks and amenities matching the impact of the role.
As a rule of thumb, start brand new or young volunteers off with small, manageable roles. (You don't want to scare them off too quickly!) As they grow comfortable with your operations, practices, and technology, you can introduce new tasks and goals gradually.
For example, a new volunteer could be tasked with scheduling pre-written posts across social media for next month. A more seasoned volunteer can work with you to ideate those posts. A true veteran — someone who deeply understands your mission, values, and organization "personality" — can be tasked with answering direct messages and responding to comments online.
3. Develop an Orientation Program
Don't allow new volunteers to show up to their first shift wide-eyed and empty-handed. Instead, create orientation programs geared toward specific volunteer roles and activities and undertaken before their initial day "on the job."
Volunteer orientation can be both online and in-person. Online training can review how to use equipment and technology or review organization compliance and legal standards. In-house training can give building tours, introduce volunteers to staff, explain your mission and values, and perform role walkthroughs — anything to make the volunteer feel equipped and comfortable.
4. Hold Feedback Sessions
Regular feedback sessions ensure everyone at your volunteer organization has a seat at the table. Evaluative meetings can be both formal or informal and include time for volunteer praise and constructive feedback. These meetings also allow the volunteer herself to express what she enjoys about her work at the organization plus what could be improved on your end.
Conduct feedback sessions on an ongoing but sensible schedule. Doing so nurtures the trusting environment that's so central to high-functioning volunteer management programs in which all members give and receive mutual respect. It's also a good idea to conduct exit interviews with departing volunteers, providing the same learning moments as above.

5. Use Technology
Using volunteer management technology makes coordinating, communicating, and working with volunteers far easier. The best of these programs offer time-saving portals and features beneficial to both parties — volunteer managers and the volunteers themselves. Managers can review volunteer hours and project data while volunteers can set their own hours and create their own task trackers. Some volunteer management software also has communication portals.
The use of up-to-date technology at your organization also allows staff (and you) to respond to volunteer inquiries far quicker. With the right technology, you can answer questions, relay documents, send emails or texts, and create and correct schedules without leaving anyone hanging.
6. Host Volunteer Meetings
Gathering all your volunteers together for regular group meetings is a coordination best practice that reinforces volunteer importance. These meetings allow you to communicate essential information and strategies, from upcoming event calendars to fundraising goals, staff changes, new policies, and more.
Regular meetings help ensure that everyone is informed and on the same page. Plus, hosting volunteer-only meetings like these encourages individuals to provide insights and suggestions about process changes.
7. Build and Use Project Briefs
Similar to what its name suggests, project briefs outline the details of an upcoming project or endeavor undertaken by your organization. Often, briefs are circulated amongst an organization's staff yet rarely shared with the volunteers essential to its execution.
Make it a habit to send important project briefs to your entire volunteer roster. Sharing briefs is especially essential if action items on that brief involve volunteer participation or if a project is something new that your organization has never done before.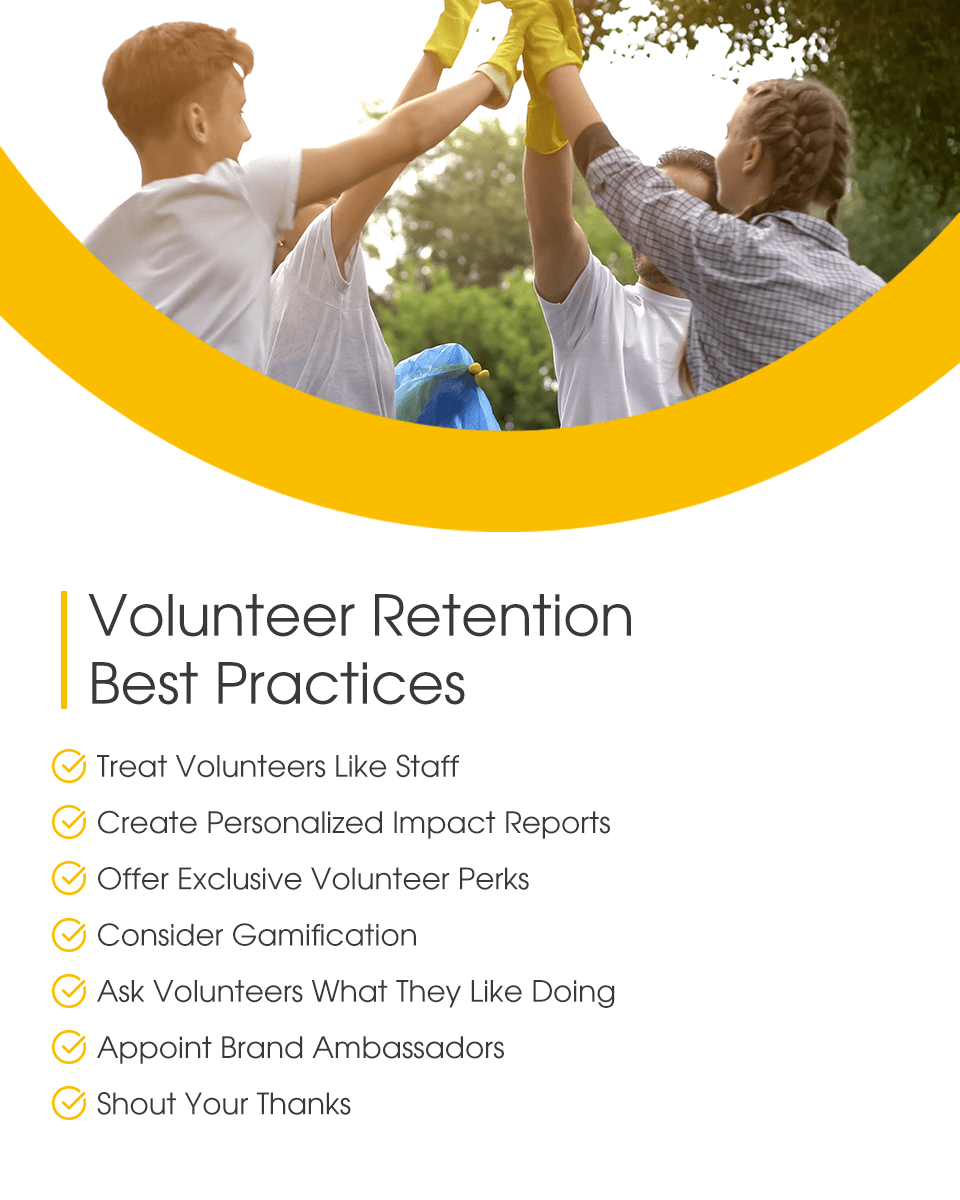 Volunteer Retention Best Practices
Supporting a successful volunteer program naturally involves retention strategies. Volunteer retention is a top concern among today's volunteer managers, who cite budget constraints, misguided volunteer incentives, and hiccups communicating with volunteers as just a few barriers to maintaining numbers.
Turn the tides of your retention strategies with these tips.
8. Learn From How You Treat Staff
Give volunteers the same on-site perks you afford paid staff. That means breaks every 3-4 hours, time off for lunch, free office coffee and/snacks, access to computers and role-relevant equipment, and more.
Treating volunteers like staff also means engaging in scheduled feedback sessions as well as sharing project goals, action items, and strategic changes. Together, these efforts help volunteers develop stronger cognitive, social, and emotional connections to their work as well as your organization. As these connections grow, so will their dedication to their work with your organization.
9. Create Personalized Impact Reports
Many organizations publish annual impact reports for board members to review the objectives achieved that year, as well as the health and sustainability of the organization overall. These publications also serve to bolster grant proposals as well as to temperature check your organization's future strategic goals.
Consider generating personalized impact reports for key volunteers. Tailor these documents to the work a given person did over the last year, and illustrate the impact that work had. Include key performance indicators (KPIs) as well as how you measured those metrics, to showcase the importance of that individual's presence.
10. Offer Exclusive Volunteer Perks
Use your organization's values as well as your best judgment to set up meaningful volunteer perks thanking individuals for their time.
Just avoid going overboard or straying into legally dubious volunteer gifts. Volunteer amenities do not need to break the bank. Gifts and perks can be as simple as bringing in donuts once a week, setting up a free book exchange, or having a snack basket. Items of small market value, paid-for lunches, and celebratory or holiday gifts are also not taxable and are creative ways to create a fun, inviting volunteer environment.
11. Consider Gamification
Gamification can spice up your progression pipelines as well as individual volunteer roles and titles. By introducing small game-like elements into daily work, you incentivize retention and keep volunteers coming back for more.
Consider simple gamification techniques such as assigning points to certain volunteer projects or tasks. You can do the same for logged hours. Volunteers who hit a certain number of points can "trade" them in for rewards — or simply bask in the glory of seeing their name at the top of a volunteer leader board displayed on your website or volunteer management system.

12. Ask Volunteers What They Like Doing
Inviting volunteers to have a say in the work they do shows attention, courteousness, and care beyond a status-quo volunteer experience.
Take time to learn the specific tasks or activities each volunteer is drawn to. Are their skills being put to good use? Do you even know what those skills are? If not, consider drafting a small online or print survey each volunteer completes to gain a greater understanding of their unique talents, from computer or web skills to writing, social media, bookkeeping, event planning, and more.
13. Appoint Brand Ambassadors
Select a handful of "brand ambassadors" from your most dedicated volunteers and staff. These individuals will make it a priority to boost your organization's image via select relevant channels. For example, brand ambassadors can commit to live-streaming from your organization once a month, during an event or fundraiser or just a regular day in the office. Similarly, brand ambassadors can be in charge of sharing your event calendar online to help boost attendance.
14. Shout Your Thanks
Formal and informal volunteer recognition remains a top volunteer management best practice. Regardless of your organization's size, budget, or volunteer roll numbers, it should be a priority to thank individuals who use their free time to serve you. Consider everything from thank you notes and videos to shout-outs on social media, small treat baskets, catered lunches, and annual volunteer award receptions.
Volunteer Management and Leadership Best Practices
Volunteer managers have a lot on their plates, especially at small nonprofits and organizations. In a single day, you're tasked with finding and recruiting skilled volunteers, vetting, screening, and training them, managing volunteer schedules, mitigating no-shows, balancing budgets, coordinating and executing events — plus keeping everyone's spirits high and work meaningful.
The best tips for managing volunteers reduce these workloads and aim to make the juggling act of administration far easier.
15. Manage a Thorough Volunteer Database
Digital volunteer databases streamline a significant portion of day-to-day volunteer tracking. As a central information repository for all things related to your volunteers, these systems save volunteer managers time and effort across the gamut of their responsibilities. Volunteer databases make it simple to assess availability, identify volunteer assignments, organize schedules, structure work tasks, and log completion. These same systems store volunteers' preferred contact method, so you can quickly call, text, or email with schedule and task updates to keep workloads moving.
16. Leverage Community Partnerships
Volunteer organizations play a pivotal part in the communities where they exist. As such, volunteer managers and staff should remain open to potential community partnerships with mutual value add.
These connections drive your brand awareness and widen your volunteer recruitment. From corporate sponsorships to setting up booths at local concerts in the park and farmers markets, keep community engagement top of mind, then watch as related volunteer activities and numbers improve.
17. Practice Omnichannel Recruitment
Launching a multi-channel volunteer recruitment campaign casts the widest net possible for finding diverse volunteers. For example, different generations prefer various social media channels. Targeting a specific medium is more likely to place your organization in front of target volunteers' eyes of a certain age and with certain talents, helping assure skills gaps and key open hours get filled.
At the same time, you can track and test each channel to determine which sources the highest-quality applicants, then tweak recruitment campaigns accordingly.
18. Get On the Cloud
Cloud-based volunteer management systems require no in-house IT staff to install and maintain the database. They are managed by a third-party vendor who ensures quality security features, program flexibility, and task functionality for your organization's needs. Best of all, these programs aren't location contingent, meaning you can log into them from your mobile phone, on your laptop, at home, or working at your favorite coffee shop.
19. Optimize Your Website
Consider how your website may be helping or hindering your image and, therefore, your volunteer management program.
Does the language on every page convey trust, authority, enthusiasm, and energy? Is there a page dedicated to becoming a volunteer, including an easy-to-click online application and your contact information for questions? Optimized organization websites also contain simple but impactful ways to stay connected with prospective volunteers, such as a newsletter opt-in or direct links to social media pages. Offering these methods of staying connected is a key way to increase awareness and engagement, eventually courting higher volunteer conversion rates.
20. Set SMART Volunteer Goals
Effective leadership in volunteer organizations requires setting goals for your team, and setting SMART goals makes it more likely that you'll achieve what you set out to do. SMART goals are short and long-term objectives broken down according to "specific," "measurable," "achievable," "relevant," and "time-bound," benchmarks, thus the acronym. They're primarily used in the private sector for individuals and departments to set actionable, bite-sized goals rather than lofty — and therefore unattainable — ones.
Organizations can also use SMART goes to clarify their volunteer management programs. Think deeply about two to three goals for your program. Then get to work establishing a SMART-inspired set of directives and action items for achieving them. These SMART goals scaffold the daily work it takes to bring your sometimes abstract volunteer program improvements to fruition. The more specific you can be, the better.

Get Your Free Volgistics Software Trial
Ready to fine-tune how you manage your volunteer program for greater engagement, retention, and success? The right volunteer management platform can help you get there.
Volgistics is the industry leader in technology for volunteer leaders like you who are searching for better management software. See the benefits for yourself with a no-obligation 30-day free trial of our volunteer system or reach out to schedule a live software demonstration.