Many nonprofit organizations are run almost entirely by volunteers. For example, 90 percent of American Red Cross humanitarian tasks are carried out by volunteers. Red Cross and Red Crescent have over 97 million volunteers worldwide. How do large organizations like the Red Cross manage their volunteer data? It is unlikely they keep track of volunteer performance in paper logs when technological tools are available. For most nonprofits, it would be unwise not to use technology to their advantage.
Technology has changed our lives in every aspect, from how we communicate to how we learn. Charitable organizations can use technology such as volunteer management software to keep track of volunteers easily. The right software saves time, money, and effort, so volunteer managers and volunteers have more room in their schedules to do what they love most — helping others.
In this post, we will look at all the reasons nonprofits can benefit from volunteer management software. As you will see, technology improves volunteer management in far more ways than one. Before we get started, let's cover what volunteer management software is.
What is Volunteer Management Software?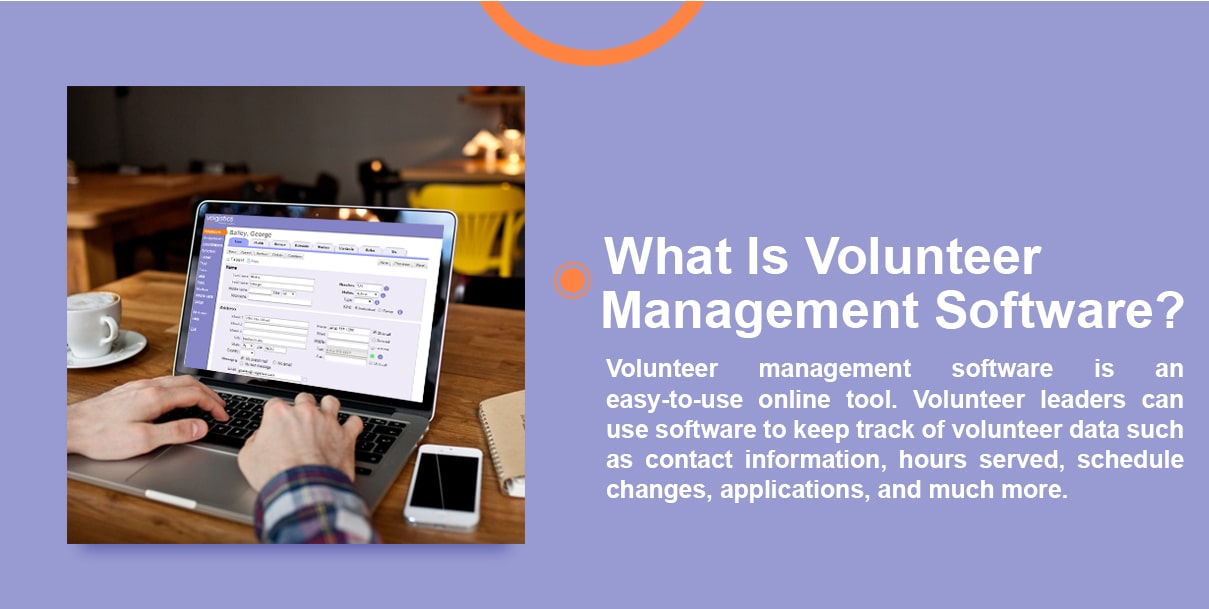 Volunteer management software is an easy-to-use online tool. Volunteer leaders can use this software to keep track of volunteer data such as contact information, hours served, schedule changes, applications, and much more. Many software programs feature texting and emailing capabilities with automated notification options to help volunteer managers save time, stay organized, and effortlessly keep in touch with all volunteers. With so many volunteers using technology to find opportunities, volunteer management software is a must-have for organizations that want to stay current and reach a vast audience.
Reasons to Use Volunteer Management Software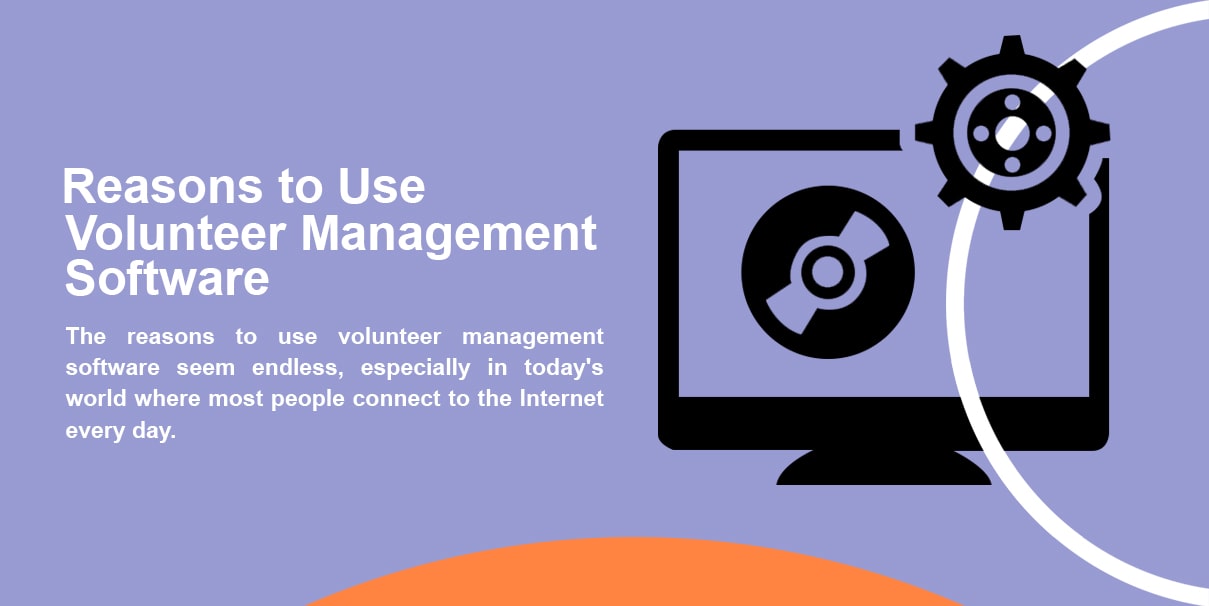 The reasons to use volunteer management software seem endless, especially in today's world where most people connect to the internet every day. Technology has become a vital part of everyday life. Volunteers expect organizations to not only be present online but also to offer ways to communicate and participate online. Volunteer management software provides the tools managers need to impact as many individuals as possible. Let's explore more reasons to close the spreadsheet tab and sign up for volunteer management software right away.
How Volunteer Management Software Improves Volunteer Recruiting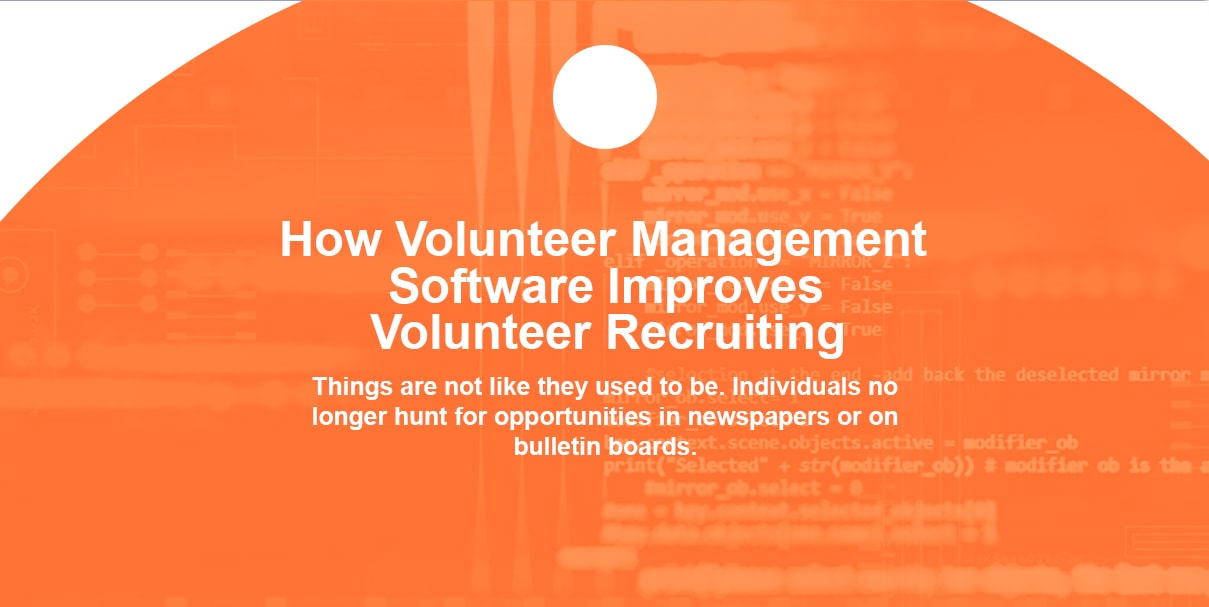 Things are not like they used to be. Individuals no longer hunt for opportunities in newspapers or on bulletin boards. Although print resources can still help spread the word, organizations need to focus on digital methods to recruit volunteers. They also need to make recruitment as convenient as possible.
The majority of Americans find news, communicate, and share stories using technology whether it be through texting, emailing, social media, or browsing the internet. You want to make sure individuals can easily find your organization's volunteering opportunities. It should also be quick and simple for volunteers to apply for an opening and share opportunities with others who may be interested. Volunteer management software allows you to either link application forms to your website or embed them so they appear as part of the page. This allows prospective volunteers to easily locate and submit an application in minutes. They can also share your advertisement via social media, increasing your reach.
If you are concerned older volunteers will not get online to apply, have no fear. Older generations also use technology in high numbers. Consider these statistics from Pew Research Center:
Ninety-two percent of Millennials own a smartphone.
Eighty-five percent of Gen Xers and 67 percent of Baby Boomers also own smartphones.
Eighty-five percent of Millennials say they use social media.
Other Pew research found:
Seventy-seven percent of Americans go online daily.
Twenty-six percent go online almost constantly.
Forty-three percent go online several times a day.
As you can see, the majority of American adults frequently use the internet. It's essential that your organization is digitally available to meet the needs and wants of volunteers. Volunteers are more likely to respond to organizations that reach out to them and make recruitment simple. Here are more reasons volunteer management software improves recruitment:
Improves your image: Individuals are more willing to volunteer for an organization that seems worthwhile. When you integrate volunteer management software into your organization's website, volunteers will see you are serious about your mission, you are organized, and you value your volunteers' time because you want to make the process convenient for them.
Enables you to reach thousands in seconds: Technology is marvelous at reaching many people simultaneously. Instead of spending hours hanging up flyers or mailing brochures, you can easily reach prospective and current volunteers with a notification to alert them of openings.
Increases visibility: According to a 2016 Pew survey, 62 percent, or the majority of American adults, get news on social media. You too can use social media to your advantage. When you announce volunteer opportunities or events via social media platforms, you can spread the news quickly. Volunteers can follow your online campaign all the way to the application form, thanks to volunteer management software.
Targets the right audience: When you have easy access to volunteer demographics, you can develop campaigns to target the right audience. With volunteer management software, volunteers get to create their own profiles. You can use profiles to gain insight for building a successful campaign. Also, some software allows you to tag and classify volunteers based on age, interests, skills, and other pertinent info so you can quickly filter volunteers.
Makes your organization easy to find: People use the internet for everything, from ordering takeout to booking vacations. In 2015, Pew found that 79 percent of Americans used online resources to find jobs in the past two years while only 32 percent used ads in print publications. Many people will start their search for volunteer opportunities online, and you need to make it simple for them to find you and apply. With volunteer management software, they can search for opportunities based on their skills and interests, making recruitment easier, more personalized, and more convenient.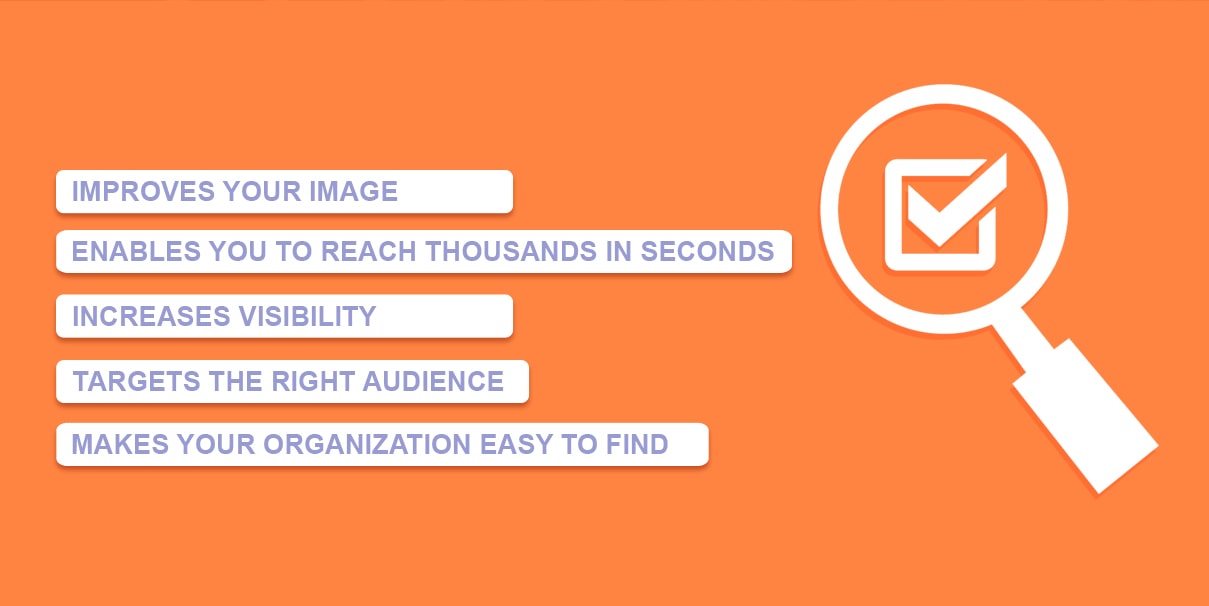 Overall, your organization can use volunteer management software in any way you wish to recruit more volunteers and share your mission. You'll certainly reach more individuals than organizations that do not embrace technology.
How Volunteer Management Software Helps With Volunteer Retention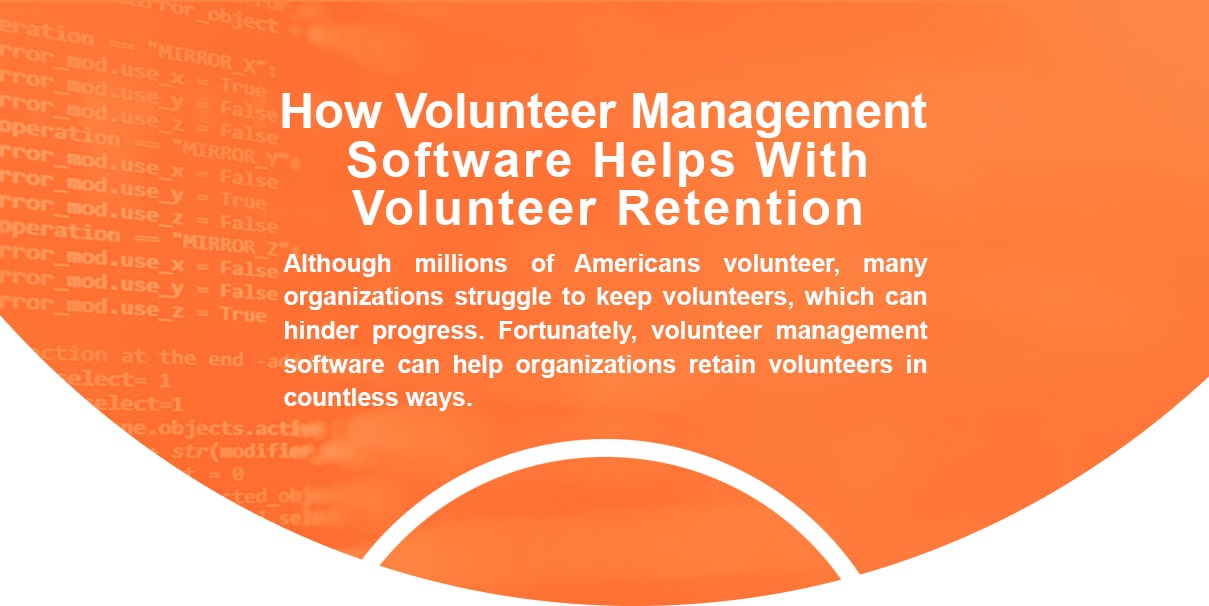 Although millions of Americans volunteer, many organizations struggle to keep volunteers, which can hinder progress. Fortunately, volunteer management software can help organizations retain volunteers in countless ways.
First, let's consider why individuals choose not to volunteer. Here are a few reasons according to a 2009 Fidelity Charitable survey:
They have no time.
They feel pressured to give more time than they want to.
They cannot find the right organization to match their cause.
They had a bad experience volunteering in the past.
Keeping these insights in mind, here's how you can use volunteer management software to help with volunteer retention:
Engage volunteers: Volunteers want to feel valued, engaged, and part of a team. Volunteer management software creates a space for volunteers to provide feedback, update their profiles, and choose assignments they prefer. When they feel like they are heard and are making a difference, they are more likely to stick around.
Make it easy to help: Volunteer management software makes the whole process easier from the application stage to the moment volunteers discontinue service. Users can easily sign in on-site, check their schedules from their phones, look at updates anywhere, and much more.
Show appreciation: If volunteers feel taken for granted, it is highly likely they will quit. Volunteer management software makes it easy to frequently show volunteers you care about them and appreciate them, even if your organization has hundreds or even thousands of volunteers. For example, if you want to send a birthday card to every volunteer, you can set up automatic birthday messages, so no one ever feels forgotten.
Find the right fit: If an assignment is too demanding or requires too much time, volunteers will move on to other nonprofits. However, volunteer management software helps prevent volunteer dissatisfaction, frustration, and burnout. You and your volunteers can use the software to find opportunities which match their skills and interests easily.
Send thank-you notes: Sometimes, all a volunteer needs to hear is a simple thank-you. Nevertheless, it can be time-consuming to thank every volunteer on your team regularly. Volunteer management software allows you to send out thank-you notes so you can frequently express your gratitude without spending too much time.
Promote future opportunities: You can retain volunteers you trust and love by using software to promote future opportunities. For example, if an assignment is coming to an end, you can notify volunteers and send new opportunities their way with just a few clicks.
Keep in touch: After a volunteer leaves, you should still keep in touch, because you never know what opportunities might appeal to them in the future. Also, you want them to think of your organization when their schedule opens up. You can send opportunity notifications, or you can send manual messages to connect with volunteers on a more personal level. Either way, focus on building positive relationships to keep volunteers coming back.
Show their impact: Volunteers want to see the results of their contributions. Improve volunteer retention by recognizing them for their accomplishments. Use volunteer management software to keep volunteers updated on the organization's progress, so they will always feel like part of the team.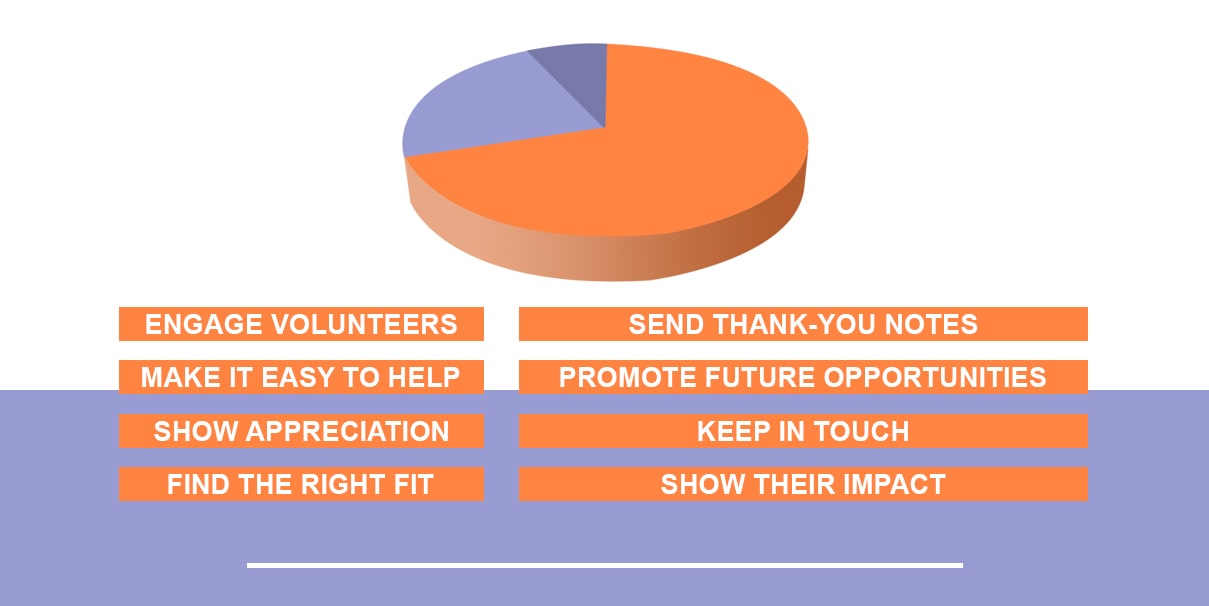 How Volunteer Management Software Improves Communication
Communication can become tedious when information is disorganized. How can you know how long a volunteer served your organization if you can't find their info? How can you remember dozens of volunteers' interests and qualifications? With volunteer management software, there is no need to stress about remembering the details. The next time you meet with a volunteer, you can thank them for helping you for two years, for example, or ask them how their cat is doing. Volunteer management software makes it possible to be a friend to all volunteers. Here are a few more ways volunteer management software improves communication:
You can send messages to thousands: With volunteer management software, you can contact the volunteers in your database in just a few keystrokes without needing to go through a time-consuming selection process. So, when there is a cancellation or change, you can notify all volunteers in a matter of seconds.
Texting keeps volunteers engaged: Volunteer management software allows you to send automated or manual texts to volunteers so they can participate and contribute even when they are on the go or off an assignment.
Volunteers can access info anywhere: Unlike the old days when people had to call their manager or drive to the worksite to look at their schedule, technology has made it possible to view schedules anywhere. Volunteers can access everything they need to know about their assignment on their phone or computer to prevent confusion and inconvenience. Many volunteers visit nonprofit websites through mobile devices. For example, according to the 2018 M+R Benchmarks study, mobile traffic for nonprofits increased by nine percent and accounted for 40 percent of nonprofit website visitors in 2017.
Volunteers get to use a channel they prefer: Some individuals prefer to keep their volunteer profiles and schedules separate from other day-to-day matters. Volunteer management software helps volunteers stay organized and in control of their volunteer work. Also, they know exactly where to go when it's time to read a volunteer-related message or look for new opportunities, without having to weed through personal emails or social media messages. They'll also know where they can reach you and other volunteers to help build strong relationships.
How Volunteer Management Software Impacts Scheduling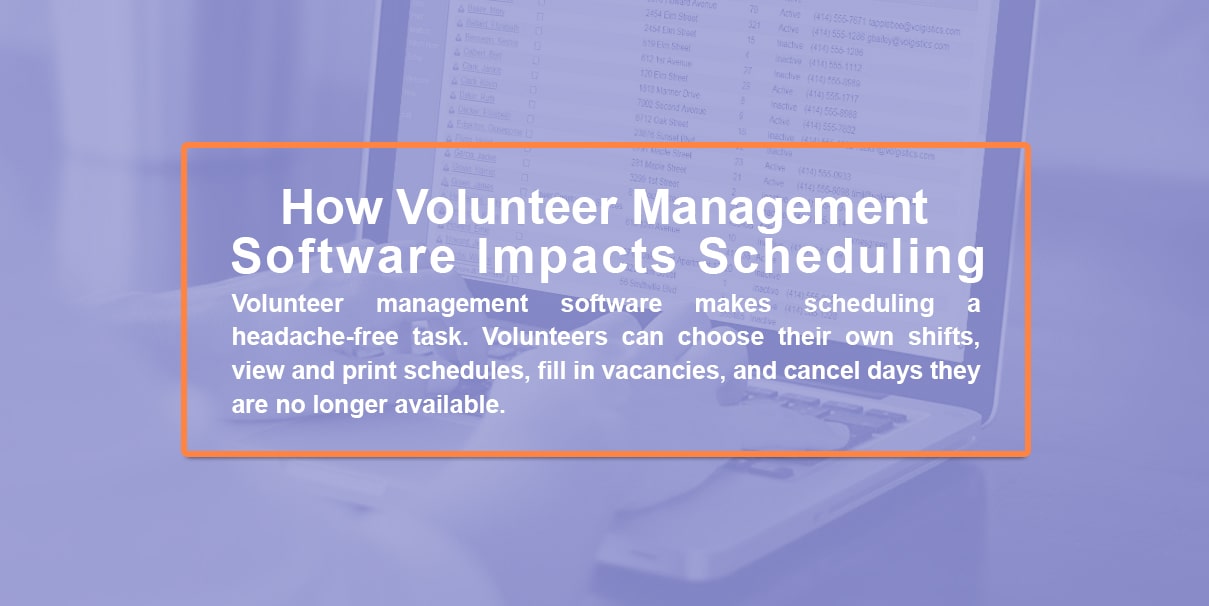 Volunteer management software makes scheduling a headache-free task. Volunteers can choose their own shifts, view and print schedules, fill in vacancies, and cancel days they are no longer available. Most volunteers appreciate this level of flexibility. As mentioned above, many people choose not to volunteer because they say they don't have time. Volunteer management software allows busy individuals to find a slot they can work with. Also, you'll enjoy less stress as a volunteer manager. Online scheduling makes everyone happy.
How Volunteer Management Software Saves Time
By now, you can probably imagine how online management tools can help you save significant amounts of time. For example, when it's time to print data reports, you'll know exactly where to look for volunteer information. Also, volunteers can access their own data easily instead of needing to ask you for the information. Here are more reasons volunteer management software saves time:
It allows users to enter their own data and make updates, so staff does not have to spend hours or their time dedicated to data entry.
You'll spend less time organizing and accessing data.
It makes assigning tasks easier and less time-consuming.
You can save time by using automated features.
When you save time, you also reduce stress for everyone in the organization, creating a happier environment all-around. When volunteers are happy, they stay.
How Volunteer Management Software Helps Raise Funds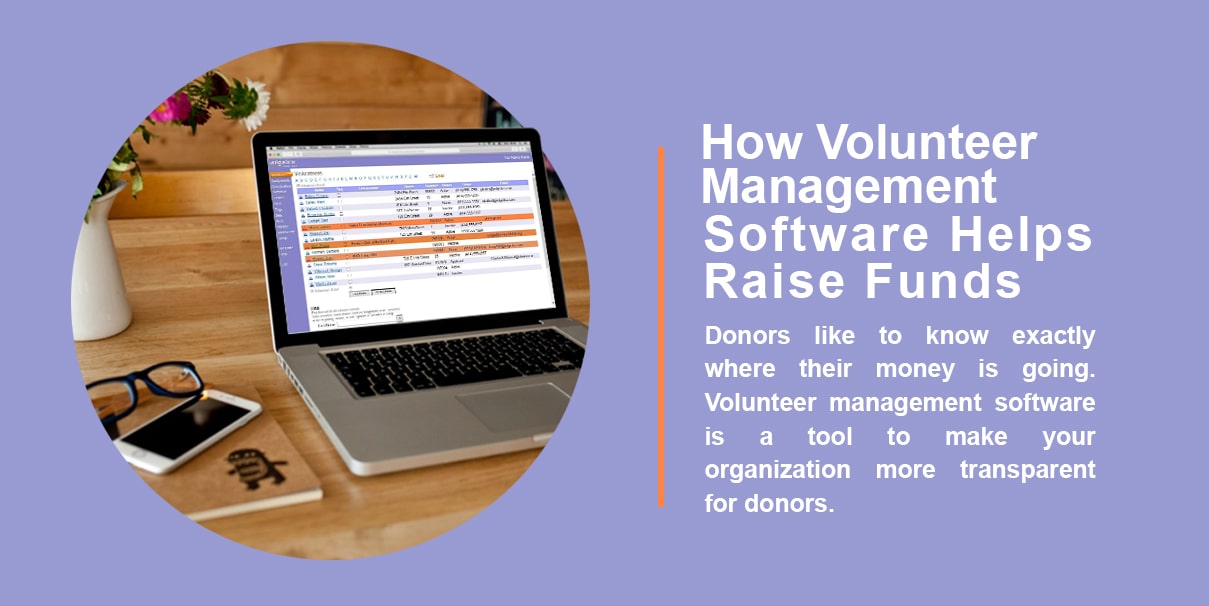 Donors like to know exactly where their money is going. Volunteer management software is a tool to make your organization more transparent for donors. With the ability to track detailed records of every volunteer, from hours served to tasks completed, you can prove to donors that volunteers are making the most of the available resources.
Volunteer management software can also help you attract online donations. Many nonprofits are using digital channels to reach donors and obtain funding. With the help of social media, total online revenue grew by 23 percent in 2017 for nonprofits. Volunteer management software can help you grab donors' attention by providing the data they need to see. Show your audience exactly how many hours volunteers served, how many people they helped, and other relevant facts. All this information is at your fingertips with management software, to save you time and keep information up-to-date when you need to reach donors.
Lastly, volunteer management software encourages volunteers to convert to donors. Volunteers are passionate individuals who love to help make the world better, not just by contributing their time and talents, but also with donations. For example, a 2014 Fidelity Charitable survey found that half of the survey respondents say volunteering leads them to give more financial support. Donors are also likely to be volunteers. According to the same survey, nearly four in five donors volunteered for a charitable organization in the past 12 months. You should treat volunteers like donors from the start.
Learn More About Volgistics Today
Integrating technology into your organization is essential if you want to recruit and retain as many volunteers as possible. It's also a necessary organizational tool. As discussed, the majority of Americans use technology every day, and you do not want your organization to get left behind. The easier you make it for prospective and current volunteers to find you, sign-up, and spread the news, the brighter the future will be for your nonprofit. Overall, technology can help your organization flourish.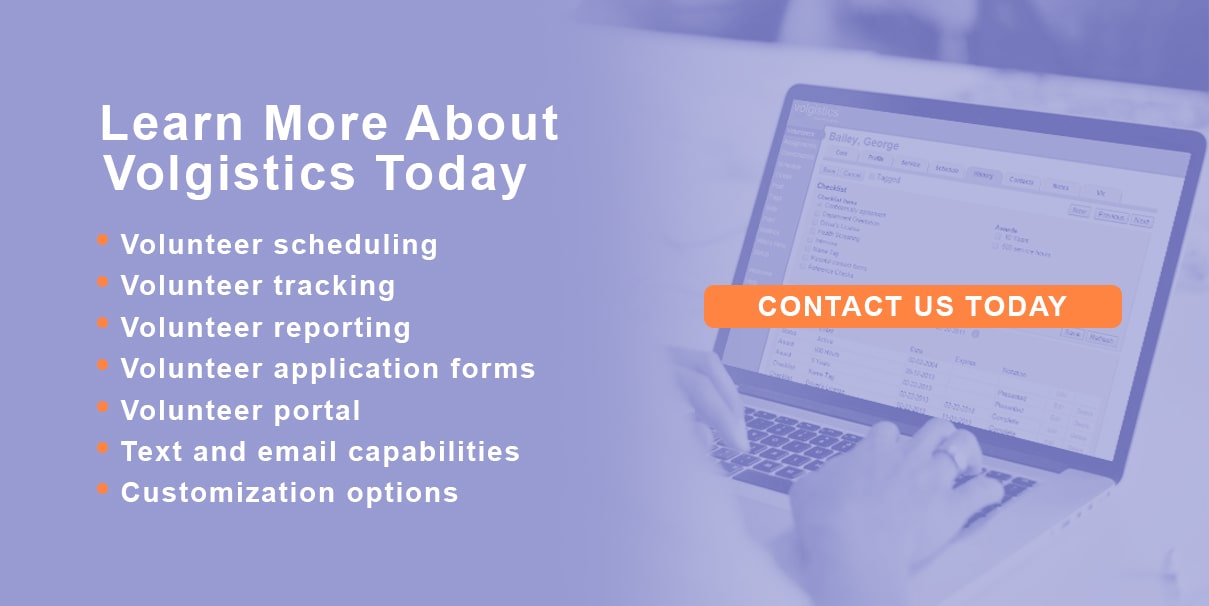 If you are a volunteer manager interested in adopting easy-to-use, comprehensive volunteer management software, try Volgistics. Volgistics is volunteer management software designed to increase management efficiency. Volgistics offers everything you need to keep volunteers engaged and data organized. Some core Volgistics features include:
Volunteer scheduling: Easily keep track of schedules, allow volunteers to sign up for open shifts from anywhere, print schedules, and more.
Volunteer tracking: Technology has made a powerful impact on tracking volunteers. With Volgistics, you can organize volunteer information with tabs, quickly find info with search tools, and assign volunteers flags to help you filter volunteers for the right assignment.
Volunteer reporting: Quickly generate PDF or spreadsheet reports, and make custom reports when it's time to impress donors.
Volunteer application forms: Simplify the screening process with application forms that allow volunteers to submit their information online.
Volunteer portal: The optional, online volunteer portal, VicNet, gives volunteers control of their assignments. With VicNet, volunteers can update their contact information, check and print their schedules, sign up for openings, and much more, saving you time and giving them flexibility.
Text and email capabilities: Communicate with volunteers wherever they are through text or email. You can send custom messages to let volunteers know you appreciate them in your own words or quickly text those involved to notify them of last minute location changes.
Customization options: If there's something your organization needs, you can customize nearly any Volgistics feature such as schedules, reports, and application forms. Link Volgistics forms right to your website to make it easy for volunteers to apply, review opportunities, and use VicNet. Share your site on social media and watch the news diffuse.
If you would like to learn more about the benefits of Volgistics volunteer management software, the Volgistics team is ready to answer all of your questions. Watch a live demo, start your free trial, or contact us today!