Connecting with nonprofit interns is one story. Connecting with curious, motivated, hardworking, high-energy, and positive individuals seeking to make a real impact at your organization — even briefly — is entirely another.
Make the most out of nonprofit intern programs at your organization with this guide to managing nonprofit internships — here, we'll cover:
Where to scout, screen, and find interns.
What to look for in nonprofit interns.
How to set up a successful internship pipeline program.
Tips, tricks, and general best practices to manage new or ongoing programs.
Where to Look for Nonprofit Interns
Recruiting nonprofit interns can feel like throwing darts at a dartboard. Sure, some connections will stick — but others will radically miss the mark, leaving you wondering how to attract talent for your program in the first place.
Make sure you know how to recruit the best nonprofit interns by focusing your search strategies in these places:
1. Campus Job Fairs
The nature of university job fairs creates a space dedicated to connecting job and internship-seeking students with prospective organizations. This eliminates much of the direct scouting and screening work on your end, since colleges orchestrate the job fairs themselves — all you have to do is register!
Career fairs often happen twice a year: once during the fall semester and once during the spring semester. Consider registering and setting up engaging booths at both fairs to ensure a continuous intern pipeline.
For an extra recruitment boost, brainstorm ways to incentivize students to stay in touch, such as prize drawings for booth visitors who follow you on social media or subscribe to your newsletter. Then, provide an internship informational resource for students to take with them, further keeping your organization's internship program in their mind.
2. Social Media
Social media's reach with millennials, Gen Z, and other age demographics makes it a prime recruitment platform for your nonprofit.
Use popular social media sites to create and post campaigns to specifically advertise your organization's internship program. Remember that different generations have different social media preferences. Use those usage patterns to your advantage to target and attract ideal intern candidates in qualifying age ranges.
In addition to demographic-relevant social media usage, consider syncing your campaigns with the school-year calendar itself. This tactic is especially important if you offer course credit in return for program participation. Properly timing your campaign will attract more student candidates at times when they're seeking internship opportunities.
3. Online Job Platforms
Popular online job platforms like Indeed, Glassdoor, SimplyHired, and more attract diverse candidates across ages and skillsets. Posting your internship program on these sites is a relatively overlooked tactic for nonprofits, particularly if you're open to older interns, such as retired individuals seeking more meaningful ways to spend their free time.
Plus, many of these sites offer discounts or even free listings for registered nonprofit organizations, making this recruitment strategy even easier.
4. University Career Centers
Working with college career offices creates an ongoing partnership where career counselors can connect prospective students with your nonprofit directly.
Interested students who enter their school's career office leave with your nonprofit's information, including internship pamphlets, business cards with contact information, and even internship applications.
5. Positive Word of Mouth
There's no substitute for the power of a positive reputation. Having a stellar standing in your community will help organically attract prospective interns to you. Find ways to nurture a positive brand reputation in your community, and work these tactics into your annual strategic goals and plans. Your internship program will reap the rewards.
How to Recruit Interns
Knowing how to attract talent for nonprofit internship programs is essential. When applied successfully, each of the following tips can increase your applicant pool:
1. Communicate Key Internship Benefits
Internship benefits should be described in job listings explicitly and upfront. The more specific, the better.
While broadly stating an internship is "good experience," especially for high school or college applicants, it short sells the opportunity and shows little effort on your part to create an engaging, meaningful program.
Instead, relay the exact advantages that interning at your nonprofit delivers to candidates. These benefit descriptions should highlight with appropriate levels of detail any of the following:
Skills that interns can expect to develop.
Course credit offered, if applicable for service-learning initiatives.
Mission and impact the interns can make internally (at your organization) and externally (within the community).
Project scope, if interns will be assigned to a specific project or program at your organization.
Wider internship responsibilities.
2. Be Transparent With Schedules and Responsibilities
Detail the expected schedule of an intern, including:
Number of work hours per week — for example, full-time, part-time, or a fluid mix, depending on your programming or event calendars.
Hours spent in the office versus hours spent out in the community.
Expected travel or transportation — will the intern need access to a personal vehicle?
Daily roles and obligations.
Metrics for measuring intern performance.
College students, in particular, will have several responsibilities to juggle, from class schedules to additional part-time jobs. Be sure to communicate your nonprofit's willingness to engage with a flexible schedule, including letting interns set their own hours every week or possible work-from-home days.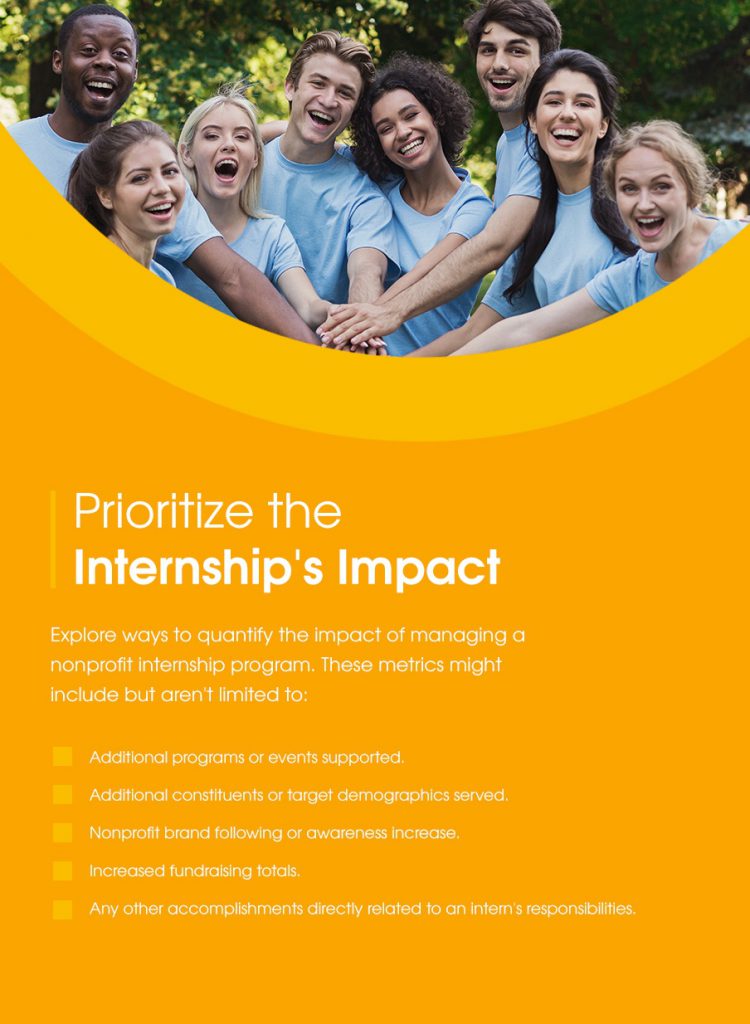 3. Prioritize the Internship's Impact
Everyone who steps into your nonprofit — from employees to volunteers to interns — wants to engage in meaningful work. They want to leave their shifts feeling their time meant something, both for your nonprofit's wider mission and the daily operations allowing that vision's execution.
Explore ways to quantify the impact of managing a nonprofit internship program. These metrics might include but aren't limited to:
Additional programs or events supported.
Additional constituents or target demographics served.
Nonprofit brand following or awareness increase.
Increased fundraising totals.
Any other accomplishments directly related to an intern's responsibilities.
4. Provide a Clear Job Description
The clearer and more accurate you are about an intern's daily tasks, the better.
Clear job descriptions set expectations early, mitigating misunderstandings and shaping how applicants should expect to use their time when at work. This will help attract and recruit the best nonprofit interns who possess the skills, interests, and personalities suited for your available roles.
5. Highlight the Organizational Culture
College students and young adults care about organizational culture more than ever.
These generations want to know the nonprofit they're committing to is a healthy and high-functioning environment with values, practices, and behavioral norms aligned with their own. Anything less will feel out-of-sync and likely result in under-performing interns.
What's more, accurately describing your organizational culture in internship applications helps candidates reflect on the program as a best-fit before they take the time to apply — and well before your company takes the time to screen, interview, hire, and onboard them.
6. Provide Optional Mentorship
Integrating a mentorship opportunity into your internship program creates a value add-on that's as attractive as it is practical.
Interns can opt to be paired with a mentor at your organization. You may even consider using your nonprofit's community or corporate-fundraising connections to pair interns with mentors out in the community or in professional fields of interest.
7. Outline Ideal Candidate Qualities
State the ideal qualifications you're looking for in your interns. Realistically, you won't find someone who checks every single box, but the best internship programs are mutually beneficial — both for your organization and the individual you hire. To nurture that best-fit, be sure to communicate the kinds of skills, traits, and characteristics you know will work from day one.
Good qualities of a nonprofit intern will vary depending on your needs and capacities, plus the specific niche or mission of your organization.
How to Manage Nonprofit Interns
Whether you're starting a program from scratch or revamping a current one, use these internship program best practices to model a successful internship pipeline at your nonprofit:
1. Set Up a Screening Process
There are several methods for screening nonprofit interns you can deploy, including:
Initial intern application, available online or in-person.
Referrals or references.
Screening or skill set questionnaire.
Job interviews, via phone, video, or in-person.
Background checks, if applicable.
The logic of screening potential interns is similar to screening potential volunteers — it verifies the information a candidate submits and provides a holistic look into this person before they become associated with your organization.
2. Assign a Supervisor
Ensure every intern has a direct supervisor assigned to them from day one — this may seem obvious when setting up and managing a nonprofit internship program, but many nonprofits overlook the logistics of how interns fit into existing chains of command. Clarifying your organizational structure to all interns means they know who to go to with questions and concerns, as well as to whom they report across their various daily responsibilities.
3. Establish a Training Program
Training programs for nonprofit interns will vary, but they are essential to a high-functioning, well-oiled overall system. Tailor yours by first reviewing the scope of your intern's daily roles and responsibilities. For example, you'll need to consider:
What equipment and hardware they'll be using.
What accounts, programs, or software they need access to.
What keys they may need.
What transportation or vehicles they must drive.
Any other technical or interpersonal training deemed fitting to execute their main tasks.
Once you have your interns' needs scoped, you can set up online or print training programs to educate them on all relevant information, including:
General nonprofit practices and procedures
Technology, hardware, software, or equipment training
System and infrastructure access protocols
Industry or organization-specific compliance requirements
4. Create Time for Reflection
Another often-overlooked best practice for nonprofit internship programs is carving time for interns and supervisors to reflect on the experience.
Reflection opportunities provide a high-impact, deep-learning moment for ourselves and others. In fact, these deep-learning sessions help interns better understand their own career goals, ethics, values, skills, personalities, world perspectives, biases, and more. A stronger awareness of all these things is an outstanding intellectual and emotional exercise everyone will benefit from, not just your interns.

5. Solicit Feedback
Feedback from the interns themselves is the most direct method of improving your organization's intern program. Their lived experiences funnel into proactive insights helping shape future:
Recruitment tactics and channels
Intern job descriptions and responsibilities
Hours and scheduling demands
Job perks and amenities
Mentor opportunities
Training program changes
Encourage openness and honesty, above all. Feedback sessions only function when all parties feel comfortable sharing their real opinions and have a designated space guiding how to do so with a trusted colleague or supervisor.
6. Recognize Intern Impact
Intern recognition can take many shapes and forms, but the goal is the same. Showcase how much your intern's work meant to your organization, shouting from the rooftops that individual's achievements.
Consider hosting a special event to recognize your intern or team of interns formally — this heightens the sense of gratitude and makes these individuals feel appreciated.
Such recognition events may be even more essential if you manage unpaid interns or host a service-learning, for-college-credit program where precise moments of thanks become the place to express your appreciation.
7. Encourage Interns to Take On New Challenges
Successful internship programs empower their interns to learn and grow. This growth takes place in many forms, like leading programs, creating new internal systems, improving business functions, developing a new skill, or stretching beyond general personal and professional comfort zones.
Be intentional about finding ways to learn your interns' likes, interests, and growth areas. Then, consider methods to integrate development opportunities into their schedules, allowing them to rise to the challenge. Doing so enriches their internship experience beyond a line on their resume, making it the meaningful experience many seek.
8. Provide Clear Tiered Responsibilities
Institutionalize tiers for interns to "graduate" onto new roles and responsibilities, so they don't feel stuck in role assignments for the duration of their internship.
In doing so, you nurture a work culture of autonomy and empowerment rather than rigid, top-down rules and systems. Gradually increasing an intern's responsibilities based on their unique goals and strengths also gives interns professional confidence and reinforces feedback and reflection.
9. Be Open and Adaptive
No internship program is ever set in stone. Your organization's program should be fluid and responsive, adapting to the needs of your current interns, while modeling improvements for your next group.
Understand that by engaging with and managing a successful nonprofit internship program, you open your organization to:
Fresh perspectives on business processes, protocols, practices.
New uses for current software and hardware.
Novel ideas for seasonal programs or events.
Improved visibility with target constituents.
Bridged knowledge or skills gaps.
New community partnerships and connections.
Potential hiring pipelines, with interns becoming prime candidates for employment opportunities.
If your organization is ready for these changes, you're well on your way to creating a high-quality, mutually beneficial internship program.
Improve Your Nonprofit's Recruitment Strategies
Whether you're recruiting and managing interns or scheduling volunteers, Volgistics can help you ease today's top operational challenges of running a nonprofit. Explore our sample accounts, or sign up for a free trial to see for yourself what our program can take off your shoulders.