If you are a volunteer manager, program director, or human resources professional, legal problems with volunteers are likely some of your greatest concerns. Volunteers are often essential to an establishment, but if something goes wrong with a volunteer, it can be detrimental to your organization. What if a volunteer gets hurt while serving with your organization? What if they hurt someone else or break the law? In these cases, your organization may be held liable.
At Volgistics, we help organizations manage their volunteers. We have compiled this guide to avoiding volunteer liability to protect your organization and volunteers.

What Is the Volunteer Protection Act?
The Volunteer Protection Act was passed by Congress to protect volunteers at various organizations like charities and other nonprofit entities from personal liability. Volunteer positions are defined as those in which people perform services for organizations without compensation except for reasonable allowance or reimbursement for expenses incurred. According to this law, volunteers are not personally liable for their actions or omissions when all the following standards are met:
They are serving as part of your organization.
They are properly certified, licensed, or otherwise authorized to act in a manner when required or appropriate.
They are not operating a vehicle, aircraft, or vessel that requires insurance or an operator's license.
The harm they cause is not considered criminal or willful misconduct, reckless misconduct, gross negligence, or conscious indifference to the safety and rights of the harmed individual.
Whether a person's service meets the definition of a volunteer determines if they are protected under the Volunteer Protection Act. A volunteer can be anyone, from a person teaching classes to someone serving on a building committee. This Act also extends its protection to volunteers for government entities.
The Volunteer Protection Act does not usually reduce a victim's recovery or eliminate the organization's liability for the volunteers' acts or omissions.
6 Tips to Avoid Legal Issues With Volunteers
Since volunteers may not be held personally liable for their actions or omissions, your organization may be held responsible instead. To avoid legal issues with volunteers, consider the tips below:
1. Develop Volunteer Criteria
First, develop your volunteer criteria. You should know what volunteers you are looking for, and volunteers should understand what is expected of them. Assess why your organization needs volunteers and how they fit into your structure. Define what work your volunteers will perform, establish healthy teamwork between your paid and unpaid staff members, and explain to the recruits why your organization is seeking volunteers.
After you establish why your organization is seeking volunteers, define what you expect from volunteers. Volunteers can enhance your programs and services beyond providing clerical support or answering phones. Volunteers can fill unique roles, so you may want to set specific objectives and goals for volunteer achievement. Regularly review these objectives and make modifications as necessary.
Over time, you can use the data you collect from your volunteers' accomplishments to illustrate how the program has helped your community and help market your program and find new volunteers. Volunteers are divided into the following types:
Skill-specific volunteers: These volunteers have skills that are specific to a task your organization needs to be accomplished, such as web designers.
General assistants: These volunteers may include people who help with mailings and answering phones.
Pro bono volunteers: These volunteers can include professionals who offer services for free, such as doctors.
Determining which volunteers your organization needs can help you develop your volunteer criteria. For example, you may want volunteers who can offer general assistance through event setup and cleanup, and nurses who can volunteer pro bono to meet clients' health care needs.
Like paid staff, volunteers will need guidance and help with addressing problems that arise. They want to feel productive, receive opportunities to grow, and perform work that challenges them. Volunteers also deserve to feel valued for the work they do. Developing volunteer criteria can ensure that both your volunteers and your organization get the most out of your partnership and avoid legal problems.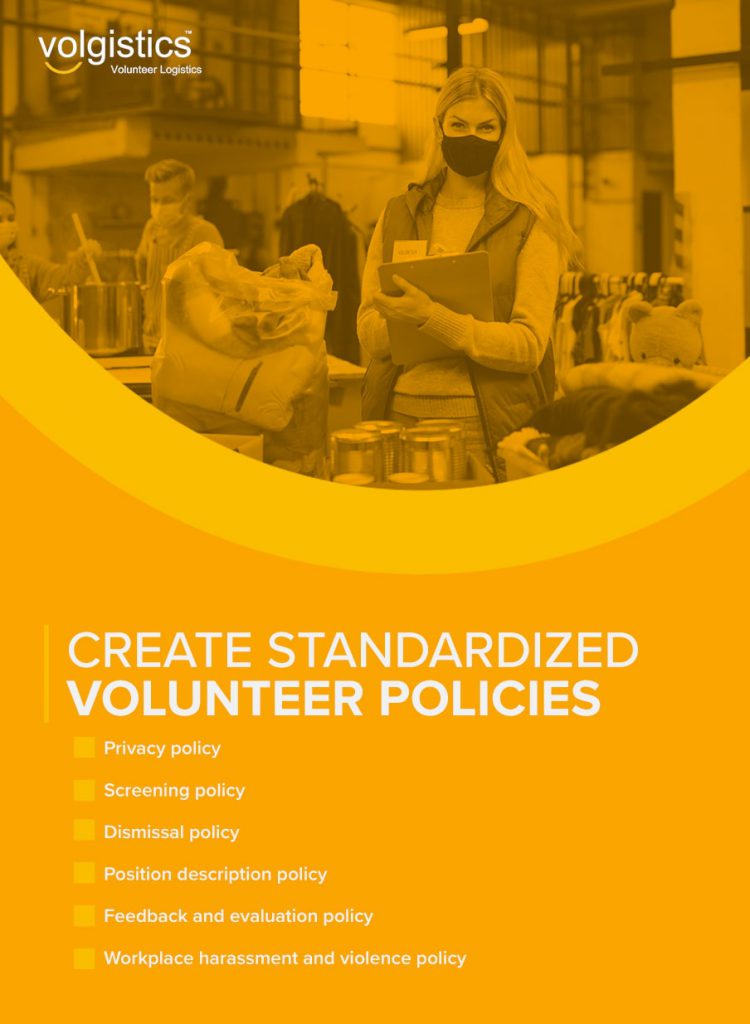 2. Create Standardized Volunteer Policies
While your organization likely has policies for your paid employees, you may not have policies specifically for volunteers. Creating a handbook that includes standardized volunteer policies can help your organization avoid legal issues. There are multiple volunteer policies you may want to include in your volunteer program, such as:
Privacy policy: You will need to obtain some personal information from your volunteers, so your organization needs a privacy policy that details how this information will be handled and protected. This policy should address how long your organization will retain volunteers' personal information after they leave the organization, where this information will be stored, who will have access to this information, how access to this information will be restricted, and under which circumstances this information would be disclosed to someone.
Screening policy:When someone wants to volunteer with your organization, you should dedicate time to screening them before approving them for volunteer work. A screening policy can help you identify volunteers' strengths and weaknesses and allow them to fulfill roles they will be successful in.
Dismissal policy: Despite your best efforts in recruiting and screening for the right volunteers, you may find a volunteer is not the best fit for your organization. To prepare for this situation, develop a dismissal policy that will outline the process of dismissing a volunteer.
Position description policy: A position description policy will allow your organization and potential volunteers find the roles they are best suited to. Position descriptions may include general skills needed, technical qualifications, tasks involved, time commitment, and location where the volunteer work will take place.
Feedback and evaluation policy: It can be helpful for both your organization and your volunteers to implement a feedback and evaluation policy that illustrates how you will give your volunteers feedback. This policy should address how frequently volunteers will be given feedback, the form of evaluations, who can view volunteers' evaluations, and whether volunteers will have an avenue to offer feedback.
Workplace harassment and violence policy: Having a policy in place that addresses workplace harassment and violence is essential for informing volunteers how your organization will prevent and handle incidents of violence or harassment, including a volunteer experiencing harassment or harassing another person.
These policies can help your organization mitigate risks associated with working with volunteers. By explicitly banning inappropriate or prohibited behavior, you may be able to protect your organization from liability. To ensure your policies are adequate, consult with a volunteer specialist or attorney.
3. Provide Comprehensive Volunteer Training
Just like paid employees, volunteers should be adequately trained before performing work for your organization. Training will help guide a volunteer on what to do, how, and when. You can train your volunteers one-on-one or in groups, and you may want to develop written materials that volunteers can later refer to. Training sessions may include:
Describing how volunteers can report problems
Covering the code of conduct at your organization
Letting volunteers know how to identify abuse and report it
Informing volunteers about expectations you have for them
Specifying who is in charge and how they can be contacted
Informing volunteers on how they should act while representing your organization
Covering how volunteers can maintain the confidentiality of your organization and clients
Your volunteers should understand what training they will receive prior to volunteering. Let volunteers know how many training sessions they need to attend and explain why they are required to participate in this training. Inform volunteers about the likely schedule for these training sessions and give them information on how they can sign up for certain sessions or times.
Lack of adequate training is often the source of liability risks, so training your volunteers on the same policies and protocols as your paid staff is essential.
4. Establish a Volunteer Screening Process
The first part of your volunteer background screening process is the application. The type of volunteer position you're filling will determine how comprehensive the application needs to be. If your volunteers will be working with vulnerable populations like the elderly or children, the standards should be higher. If the volunteer activity is mainly comprised of simple tasks that pose little risk to anyone, it may be suitable to develop a shorter application.
You also need different applications that are catered to the various volunteer positions at your organization. A long application may discourage some volunteers, so avoid requiring volunteers to fill out lengthy applications when they aren't necessary. Your volunteer application may solicit the following information when appropriate:
Personal information: You may want your volunteers to provide their phone number, address, driver's license, email address, and emergency contact. In some cases, you may also want proof of personal insurance.
Written permission for background check: In some cases, you may want to perform a background check on your volunteers, especially if they will work with at-risk populations.
Qualifications: If qualifications are necessary for the volunteer position, such as education or special skills, a volunteer should provide this information on the application.
Waiver of confidentiality: This waiver will allow you to gather the information needed and share it with the necessary staff.
References: Include a space on the application for a volunteer to list their references. References can include employers, community members, and other organizations where they have previously volunteered.
Establishing a volunteer screening process goes beyond developing an application form. Screening is especially crucial for volunteers who will be performing dangerous work, working with vulnerable people, or driving while performing their volunteer work. Your screening process may simply be a personal interview, or it may include:
Drug screening
Proof of insurance
Criminal background check
Proof of certain vaccinations
Driver's license and driving record
Credential verification, such as a special skills assessment or teaching certificate
At Volgistics, we have partnered with Verified First to make the volunteer screening process more efficient and effective.

5. Prioritize Workplace Safety
When safety and health hazards are present in the workplace, this can dramatically increase your organization's risk of liability. Adhere to the Occupational Safety and Health Administration (OSHA) standards of workplace safety and recommended practices. Implement a health and safety program in your organization to prevent workplace illnesses, injuries, and fatalities, along with the financial hardship and suffering these incidents can cause for volunteers and their families.
Your workplace safety program should be focused on prevention rather than reacting to accidents after they have already occurred. Regularly conduct checks for health and safety hazards and address them before they result in illness or injury to your volunteers or paid employees.
Start with a basic safety program and goals that you can expand upon later. Focus on monitoring performance, reaching goals, and evaluating outcomes to ensure your workplace attains the highest possible level of safety. An effective health and safety program can help your organization:
Improve OSHA compliance.
Engage workers and make them feel valued.
Reduce costs for workers' compensation premiums.
Increase productivity and improve business operations.
Prevent illnesses and injuries from occurring in the workplace.
Follow OSHA's Guidelines for Safety and Health Programs to ensure your organization provides a safe workplace for both unpaid and paid workers.
6. Obtain Insurance
Finally, you may want to obtain insurance that can provide protection to your organization from volunteer liability. If you already have insurance for your organization and employees, you may want to ask your insurance agent about whether the protection extends to volunteers. If your current insurance does not cover volunteers, you may want to purchase additional coverage.
You should have insurance that offers protection in the following events:
A volunteer sues your organization after experiencing an injury while volunteering.
A third party sues your organization due to a volunteer acting inappropriately.
A volunteer accidentally injures a third party or causes property damage.
A volunteer is injured.
Consult with an insurance agent who is experienced in working with organizations that use volunteers, as they will know what options are available to you and which policies to change. For example, your organization may need cyber liability insurance if your volunteers handle your technology and data, or your organization may need general liability insurance if your volunteers will be repairing homes for the elderly.

Manage Your Volunteers With Volgistics
At Volgistics, we help volunteer leaders reach their goals through the use of technology. Benefits you can enjoy when using Volgistics include:
No startup fees
Simplified communication
Easy-to-use reporting
Tracking outcomes
Free unlimited email support
If you are a volunteer manager, program director, or human resources professional, contact us with your questions or for prompt technical and pre-sales support online.