Are you looking to switch your volunteer management software? Maybe you're going paperless, or your current system doesn't do what you need. Either way, choosing and implementing a new system is a valuable investment. So, it's essential to take your time as you select and introduce a new software.
With the right plan in place, switching to a new program will help admins, volunteer organizers, and volunteers get organized and save time. You might even find yourself recruiting more help and improving volunteer retention.
Determine Why You Want to Switch Volunteer Management Software

The first step for a successful transition is to identify your reasons for switching. If you currently use spreadsheets, you will gain so much from moving to a system designed for volunteer management. It's still a good idea to look for a feature-rich system that will do what you need it to do.
But to replace your current volunteer management software, you'll need to figure out precisely what you need from a new system. Maybe you need better statistics to report for grant writing, or perhaps users have trouble understanding the mechanics of your current program.
The key to success at this stage is to talk to everyone who will be working with the new system, and include their needs and wish lists in your research. Say you are an organizational leader looking to save money. You find a cheaper software and get started. Once it's purchased, you discover it won't work with your organization's computer system. Volunteer managers cannot access the right information, admins can't manually input hours, and your volunteers don't even use it.
It is crucial to involve the people who will work with the software regularly to make sure the new system addresses their needs.
Research and Find Your New Volunteer Management Software
Once you know why you're switching systems, make a list of your top priorities for the new software. To find the best volunteer software for you, research volunteer management vendors and see who has the tools you need. Some capabilities you will want to look for are:
Volunteer profiles and information: Different organizations might require different information about their volunteers. You may need to track contact info, total hours, skills and interests, background checks, comments and evaluation from staff, or something else.
Scheduling: How to does the system let you schedule your volunteers? This process should be easy for you to manage. Look for a program that gives your volunteers the freedom to sign up for time slots on their own.
Communication: You might need to blast updates to a vast audience of volunteers. In this case, you'll want to look for a system you can use to send emails and texts, or one that lets you print mailing labels from the information in its system.
Data tracking and reports: The reports you need will be specific to your organization. You may need to know how many hours a volunteer works each month or calculate the number of volunteers recruited per event. You may need to print name tags, manually input hours, or create a custom report, such as the number of meals delivered.
Customization: Your organization's volunteer needs are specific to you. What you need might be different from that of other volunteer organizations. So, look for a volunteer management system that lets you add custom data fields and mold your software to your own needs. Also, look for a service that offers flexible pricing based on the number of users who need it.
Ease of use: Consider the technical abilities of your end-users. You'll want something that you, your volunteer managers, admins, and volunteers will all be able to access and use without a struggle.
We recommend trying a free demo of the program before you buy, so you can know exactly how it works and what capabilities it has.
Start Planning Your Transition

Once you've narrowed your options down to one service, it is time to plan your switch. When overhauling how you manage and communicate with volunteers, planning is essential. To have a successful switch, you need to be smart about how you handle the project. Three things to keep in mind:
Set a timeline: Be realistic about your timeline. You don't want to rush toward completing your transition by an unreasonable deadline. You might need more time than you expect, and you want to avoid any mistakes that will cause you to lose crucial data. As you create a transition plan, take a look at each step in the process and think about the amount of time it will take. Set a deadline for each stage. Make sure to budget in some wiggle room for other factors, such as an upcoming fundraising event that eats more of your team's time.
Create a process: Below, you'll find the steps to change volunteer management systems. Follow these steps and any directions your new software vendor recommends. As you plan each step, focus on what needs to get done as well as who will work on each task and how they will complete them.
Involve the right staff: Each member of your team has different priorities and different requirements to get their jobs done. Include your volunteer managers, organizational leaders, admins, and, if you have any, IT professionals throughout your implementation process. It may also be helpful to involve a few of your volunteers.
Steps to Switch Your Volunteer Management Software
Once you've set a timeline and brought the right people on board, it's time to execute your plan. Take your time with each step and don't skip over details, as this will cost you more time down the road.
1. Communicate Your Action Plan With Core Organization Stakeholders
A lot goes into switching to a new system. Don't forget to communicate your change plan with your board, staff, and volunteers. Make sure everyone knows that a switch is coming, when they can expect it, and what they need to do. Those responsible for each step in this process should know their deadlines and be able to meet them.
Don't forget to get people excited! Show board members how the new system will save money or increase your support network, admins how they will save time scheduling shifts, and volunteers how they can sign up for new opportunities.
2. Determine What Data to Carry Over

One mistake to avoid when switching systems is to try to carry over every piece of data to the new system. Instead, focus on what kind of reports you need to draw from the system, and what key information you need from volunteers. As long as you can save all your old data somewhere else, there is no need to bring it all over.
Inactive opportunities or volunteers who haven't worked with your organization in the last two years don't need to carry over to your new software. Plus, having old information in a new system might cause mistakes. You might send an email to uninterested parties, or volunteers may try to sign up for roles that are already filled.
Avoiding nonessential data will make your transition more straightforward.
3. Archive Your Data and Save a Backup
If you are currently using another software, make sure to export all your old data. Not all this information will be relevant or necessary to include in your new system, but you should save it in case you need it. Once you transition to new volunteer management software, you will lose access to the old program. So, make sure to save everything.
Contact your vendor's support team so you can export this data in a format that you can import into your new system.
4. Format Your Data for the New System
If you are digitizing your volunteer management system, you likely have volunteer information in paper files or spreadsheets. If this is the case, you should first scrub your data for duplicates and merge all the data you want to transfer over onto a single spreadsheet.
If you are transitioning from another system, you should be able to export everything onto one spreadsheet.
Your support team will tell you how to format your new data. Make sure you discuss what data is most important to your organization to ensure they preserve it during the transition.
5. Import Data Into the New System
Next, it is time to input the data into your new system. Volgistics offers two flexible options to help you transfer this information.

The Volgistics Free Import Utility is a downloadable application that lets you bring simple data into your Volgistics account. Your dedicated Volgistics support team can aid you in formatting your data for your new system, but you may want to involve an IT resource as well.
For more complex data, Volgistics also offers a Jump-Start Service. All you have to do is send in your database or spreadsheet files, and the support team does the rest.
6. Train Admins and Volunteer Managers on the New Software
Once you transfer your data onto your new software, it is time to learn the system and train its principal users. Volgistics offers several free online training sessions each month that you and your team can watch together. You can also schedule a personalized consultation to have a support specialist work within your account, answer your questions, and focus on the topics that interest you.
In addition to these training sessions, it's helpful to get into the system and start playing with it. You learn best by doing!
You should train your key team members first, since they will dictate how to best use the system for your organization, and will act as point person others will turn to for questions.
7. Address Any Issues and Obstacles Before Rolling out the New System
As you and your team begin using the system for yourselves, you may run into hurdles, find errors in your data, or have more questions about the system's capabilities. You may find that you need a feature that you didn't buy already. Make sure to address these issues before you roll out the new system. Contact your support specialists to integrate new capabilities, resolve errors, and answer questions.
8. Get the System Ready for Launch
Once everything is in working order, populate your system with new opportunities and information. When you announce the new system and send out a link to your volunteers and stakeholders, you want your new software to be exciting and filled with chances to get involved. The first time users click on the link, they should find excitement about what they see so that they will want to come back.
9. Roll out Access to the New System

When it's time to launch your new volunteer management system, don't immediately cancel your old one. Give your staff and volunteers time to learn the new system, catch any gaps in the data, and retrieve information from the old system. Set a date to discontinue the old software, and make sure everyone is aware of it long ahead of time.
After you announce your new system to the public, follow up with step-by-step instructions, so volunteers know how to set up their profiles.
Congratulations! You've successfully transitioned to your new volunteer management software. All that's left to do is enjoy the time you're saving, and continue to fine-tune the new program.
Change Management Best Practices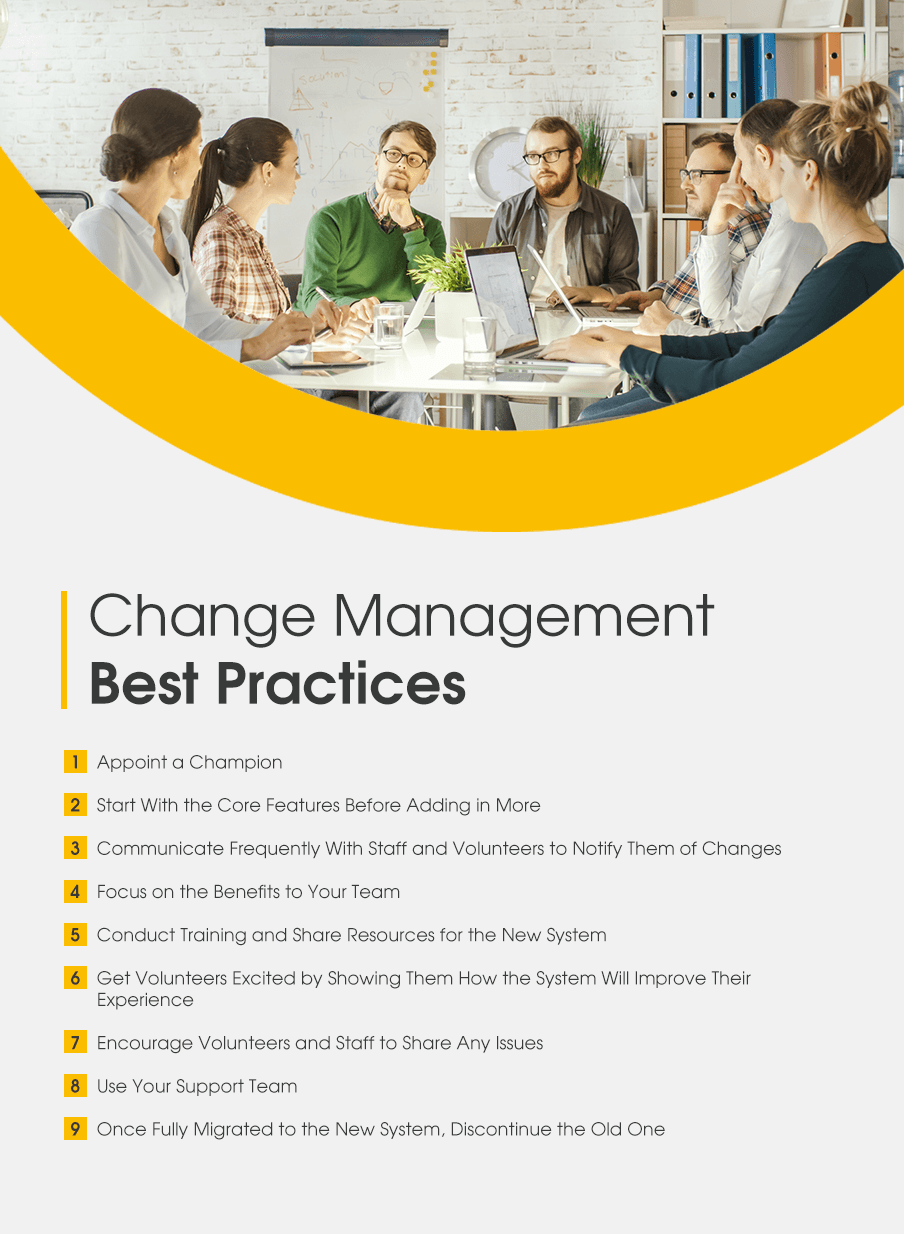 Long-time members of an organization are often used to doing things a certain way. Change can be difficult, especially if some of your volunteers or staff are a bit tech-timid. So, in addition to working on the transition's technical aspects, you'll want to prepare your team for the change and get everyone on board.
1. Appoint a Champion
One of the first things you should do as you prepare for a new volunteer management system is to appoint a project manager for the new system. It could be you, someone on your board, or a small task force. This person will be your organization's in-house guru, someone who's excited about the transition and capable of leading others to success.
They will be in charge of implementing the new application as well as communicating with the team and preparing people for the change. If your champions are excited about the change, that energy will radiate throughout your entire team.
2. Start With the Core Features Before Adding in More
Gradual changes tend to work better than ones that happen suddenly. Many volunteer software providers offer a bunch of useful and exciting features. It can be tempting to tack them all on from the start, but then your team will have more to learn all at once. Start with your new software's core capabilities, and then add on additional features after some time has passed.
Some additional Volgistics features you may want to integrate:
VicNet, which is a virtual portal for volunteers that lets them view their profile, update their schedule, and more.
VicTouch, which clocks volunteers in and out and turns your Volgistics account into an on-site volunteer kiosk.
VicDocs, which lets you store key documents such as a scan of a driver's license or paper documents.
3. Communicate Frequently With Staff and Volunteers to Notify Them of Changes

When you first decide to make the switch, make sure you announce it to your team. Let them know what's coming and how things will change, and provide them with a rough timeline and a changeover date. If things change as you go, update everyone on your progress.
Try to keep in mind that as you integrate your new software, you are the expert on your team. You know all the nitty-gritty details of your system and the transition process, but this might not be obvious to others who are less involved. Whenever you make a change to the new system, and there are bound to be some adjustments, ensure everyone knows about it.
4. Focus on the Benefits to Your Team
As you make the switch and begin training your staff on the new system, highlight how this system will make things easier for them. Your volunteer leader will save lots of time and be able to get more organized, while your admin will have an updated mailing list and can send electronic and physical mail with ease. Make sure you show your staff how this system works better for them.
5. Conduct Training and Share Resources for the New System
Learn the system well enough yourself to help others learn it as well. You can schedule a personalized training session for your staff with your software vendor, or you can reserve this kind of training for you and your key users and relay appropriate information to the rest of your team.
Your software provider likely has lots of video tutorials, how-to guides, and other resources that you can share. But, if you have a few particular ways you plan to use the system, you can film short training videos yourself, so your team knows how to use your new processes exactly how you intend.
6. Get Volunteers Excited by Showing Them How the System Will Improve Their Experience

Remember that this system won't work if your volunteers don't want to use it! It's essential to get some buy-in from your volunteer force so that they will use it when the time comes. Before you make the switch, announce the change to your volunteers and show them all the cool features to which they will gain access. Volunteer management systems can often let volunteers apply for opportunities online, schedule themselves for shifts, access online training, and track their hours.
7. Encourage Volunteers and Staff to Share Any Issues
As you transition, make sure to give staff and volunteers the chance to voice concerns and make you aware of any issues. Show that you are willing to coach people on the new system and answer their questions. Offering your support and addressing your team's problems can help boost their confidence and understanding of the new system.
8. Use Your Support Team
Don't spend hours trying to figure out how to use a feature or fix an issue. Contact your volunteer management software vendor's support team — they're experts. You'll save time and frustration as you work out all the bugs and ensure you have the smoothest transition possible. At Volgistics, technical support is complimentary at all levels, and you'll have access to an extensive searchable help library.
9. Once Fully Migrated to the New System, Discontinue the Old One
Once everything is up and running on your new system, set a changeover date, and make everyone aware of it far in advance. After your team is comfortable with the new software, discontinue the old one. Eliminate any confusion about which system to input information on, and prevent losing new data because it was entered into the wrong program.
Make the Switch to Volgistics and See the Difference Today

Volgistics offers a feature-rich and scalable service that's perfect for organizations of any size, from small local nonprofits to large national organizations. You will get the features that are most important to you as well as the freedom to customize your software to your specifications.
To see if Volgistics is the right service for you, try out our pre-loaded sample account. Or, get started with your trial account in minutes, so Volgistics can get to work for you with your own data. Or, if you're ready to contact our dedicated support team, you can sign up for a live demonstration today.