Is your nonprofit looking for ways to diversify its volunteer roll? Add more flexibility to the volunteer schedule? Bring new talent through the door? Expand programming or projects across the upcoming calendar year?
If you answered yes to any of these questions — and what nonprofit wouldn't — then managing a family volunteer program should be on your radar.
Family volunteer programs open the doors for families in a community to spend quality time together while doing genuine good. Family volunteerism also encourages the next generation of compassionate and driven changemakers — ones deeply invested in the health and wellness of their communities.
Learn how you can set up and encourage family volunteerism at your organization, plus the benefits of family-friendly volunteering.
How Is Volunteering Good for You?
Volunteering as a family provides unique advantages to every member regardless of each participant's age, skill sets, and motivations.
1. It Increases Empathy
When asked the value of volunteering with their families, teens, and children surveyed by Indiana University's Center for Urban Policy and Environment named "expanding their worldview" as a top benefit. For youth especially, developing and strengthening empathy nurtures a range of benefits, including:
Improved social trust and relationship ties
Increased grit, perseverance, and resiliency
Enhanced communication and collaboration skills
And more
2. It Makes You Social
Family volunteering is a prime way to get families outside the house. Working these opportunities into their schedule creates a new bonding opportunity and provides a great place to meet other community-minded families and individuals.
What's more, further research shows even moderate volunteering (one to two times a month) lowers stress levels while strengthening communication, social skills, and psychological resources shared among participating family members.

3. It Reduces Anxiety and Depression
Volunteering individually and as a family can reduce feelings of anxiety and depression, as tracked by a study conducted by The University of Texas. Reduced levels of depression and anxiety are correlated with elevated energy, mood regulation, a sense of optimism, and even boosted mental clarity, acuity, and attention span.
Entire families can lower their stress levels and increase their mental and emotional well-being by adopting a volunteer routine, working with causes or organizations in their communities that everyone believes in.
4. It Boosts You and Your Family Members' Self-Confidence

Dedicating your family's spare time to a community project or endeavor helps prove the rewards of hard work, showcasing what's achieved when you put in the time and effort. Plus, volunteer opportunities offer an ideal setting to adopt and practice new skills. For minors and adults alike, this combination can instill greater self-confidence and grit, helping everyone realize what they can achieve if they put in consistent work.

5. It Can Help You Live Longer
Family volunteering can decrease blood pressure and boost serotonin levels in the brain. What's more, it can even increase life expectancy, particularly in adults and seniors age 55 and older. Research shows that individuals in this age group maintain better physical and mental health markers than others their age who don't volunteer — with some of the best outcomes found in those who volunteer alongside loved ones.

Why Should You Volunteer as a Family?
From program managers to parents, people see numerous benefits of volunteering as a family that helps each party create, join and build the most engaging family volunteer program possible. Here's what the process has to offer.
1. It Helps You Spend Time Together
Modern parents bemoan long work hours and hectic busy schedules preventing them from spending quality time with their kids. And perhaps surprisingly, modern kids feel the same. Three out of every four children say they wish they had more quality time with their parents, particularly quality time outside the house engaging in special or hands-on activities.
Family volunteering bridges this quality time gap. Both parties spend dedicated, intentional hours together in a meaningful setting, nurturing all the health and social benefits cited above.
2. It Creates Memories
Similar to vacations and holiday traditions, family volunteerism is one of the best ways to make memories with your family members. The more consistent your volunteer schedule and engaging your host organization or communal projects, the more positive those memories tend to be.
Children who grow up volunteering with parents, siblings, or extended family will also be more likely to carry on this tradition with their own families someday, creating an altruistic generational legacy that ripples across the years.
3. It Teaches Children Valuable Life Skills and Traits
The developmental skills of volunteering have long been lauded in scientific studies and anecdotal stories alike. Across numerous publications, researchers prove kids and teens, in particular, adopt valuable personal and professional skills through volunteer opportunities, including:

Better task management
The ability to self-motivate
A greater sense of self-worth and purpose
Tendencies toward altruism and compassion
The ability to collaborate
Enhanced interpersonal communication
4. It Creates Consistency
Ritual is important for childhood development as well as household management. Both parents and children benefit from a sense of healthy structure shaping hectic weeks, helping the former balance activities with free time and the latter learn responsibility, commitment, and time-management habits.
Family volunteering is a fantastic option for families looking to add consistency to their routines while also having fun and getting out of the house — and away from those ubiquitous smartphones and screens.
5. It Makes Everyone Happier
Because volunteering directly combats negative emotions such as stress, anxiety, depression, and anger while bolstering self-esteem and empathy, it triggers a formulaic chain of responses in your brain that ultimately release serotonin. In less scientific terms, continual volunteering will make you and your family happier.
Studies show that when mental well-being markers are high, other health outcomes follow — which, in turn, sets off a domino-like chain of events boosting overall happiness levels within your household or at your nonprofit organization, including:

A heightened sense of daily purpose
Better physical health
Improved family and friend relationships
Overall higher life satisfaction
6. It Lets You Learn About One Another

Family volunteering opens up conversations about topics or issues each family member cares about, such as animal rights, food sustainability, veterans affairs, or local environmental causes. Some of these topics may present entirely new learning moments for other family members. That's a good thing! Conversations about collective interests quickly turn into action as families search for community organizations and nonprofits dedicated to tackling these issues in their local area.
Through these new and familiar volunteer opportunities, families learn more about what makes each member tick — their unique passions, skills, and concerns — all while growing closer.
Great Organizations for Family-Friendly Volunteering
Family-friendly volunteer opportunities abound. Consider these dynamic ways to encourage family volunteering in nonprofit fields or niches, all of which are suitable for kids, teens, adults, and seniors.
1. Elderly Care and Assistance
Local nursing homes and elderly care facilities open their doors to volunteers on the daily. Families who volunteer at elderly assistance homes can host group activities, perform maintenance or basic care work, set up special home events, or even "adopt" a resident, taking turns visiting a few times a week.
Similar elder care activities abound, such as volunteering to drive senior citizens to and from appointments and run errands. You can provide the chauffeuring while the kids provide the entertainment, all while combating loneliness and social isolation experienced by many in nursing homes.
2. Local Neighborhood Initiatives
What better way to spend time with your family than volunteering right in the neighborhood you live in and love? Search online for your official neighborhood association. Websites may have a dedicated volunteer page with events or the names and contact information of its community liaison, ready to set up a family-friendly day of service such as:
Street or park cleanups
Neighborhood farmer's market assistance
Celebration or street festival volunteering
The building or renovation of a nearby home or business
Neighborhood dog walking opportunities
3. Meal Deliveries
Nonprofits dedicated to meal deliveries address issues related to food sustainability, access, and equity in their local communities. For bonus points, this opportunity can also teach kids and teens important skills, such as cooking or gardening.
Meal deliveries and food-service-related causes easily undertaken by family volunteers include:
Cooking and delivering meals to the elderly or disabled
Serving prepared food at local shelters
Volunteering at a community garden
Organizing food drives for pantries
4. Pet or Animal Shelters
Animal shelters rely on a carousel of volunteers to walk, play with, and care for their furry residents. They also need donations for essential supplies and adopt-a-thon-like projects and awareness events.
Consider taking the family once a week to a local shelter to play with, walk, or bathe the pets. If you're a volunteer manager, consider hosting family-friendly shelter days with additional activities geared toward kids and parents.
5. Nature Conservatories
Family-friendly conservation work gets people of all ages outdoors, connecting with nature and disconnecting from electronics. Everyone benefits from the fresh air and sunshine, and young kids in particular will love exploring nature without needing any specialty or advanced skills to:
Plant trees
Weed out invasive plant species
Pick up trash at the park
Start a neighborhood recycling program
Take part in street or building beautification projects, such as painting neighborhood murals
Volunteer at nature preserves
6. Crafting for a Cause
Another fantastic — and approachable — way to set up family-friendly volunteer days is hosting a craft-a-thon for a cause. Think fundamental yet straightforward goods whole cohorts of family volunteers can stop by and make while also enjoying other family-friendly activities like games, music, and a snack bar. Options include:
Knitting nights for homeless shelters (mittens, scarves, gloves, and similar apparel)
Making custom artwork or jewelry for the elderly in care facilities
Creating paper snowflakes, jack-o-lanterns, and other holiday decor to decorate hospital children's wards
Preparing bake sales for nonprofit fundraisers
Designing dog collars and scarves for pet shelters
And more creative nonprofit craft night ideas
7. Mentorship or Buddy Programs
Families can sign up to "buddy" a physically or developmentally impaired individual, taking them out to the movies, escorting them to parks, hosting family game nights, crafting, and engaging in other activities centered on quality time. Families can also host their buddy during the holidays, birthdays, and other special occasions, making the individual feel like a part of the crew.
Benefits of Having Families Volunteer at Your Nonprofit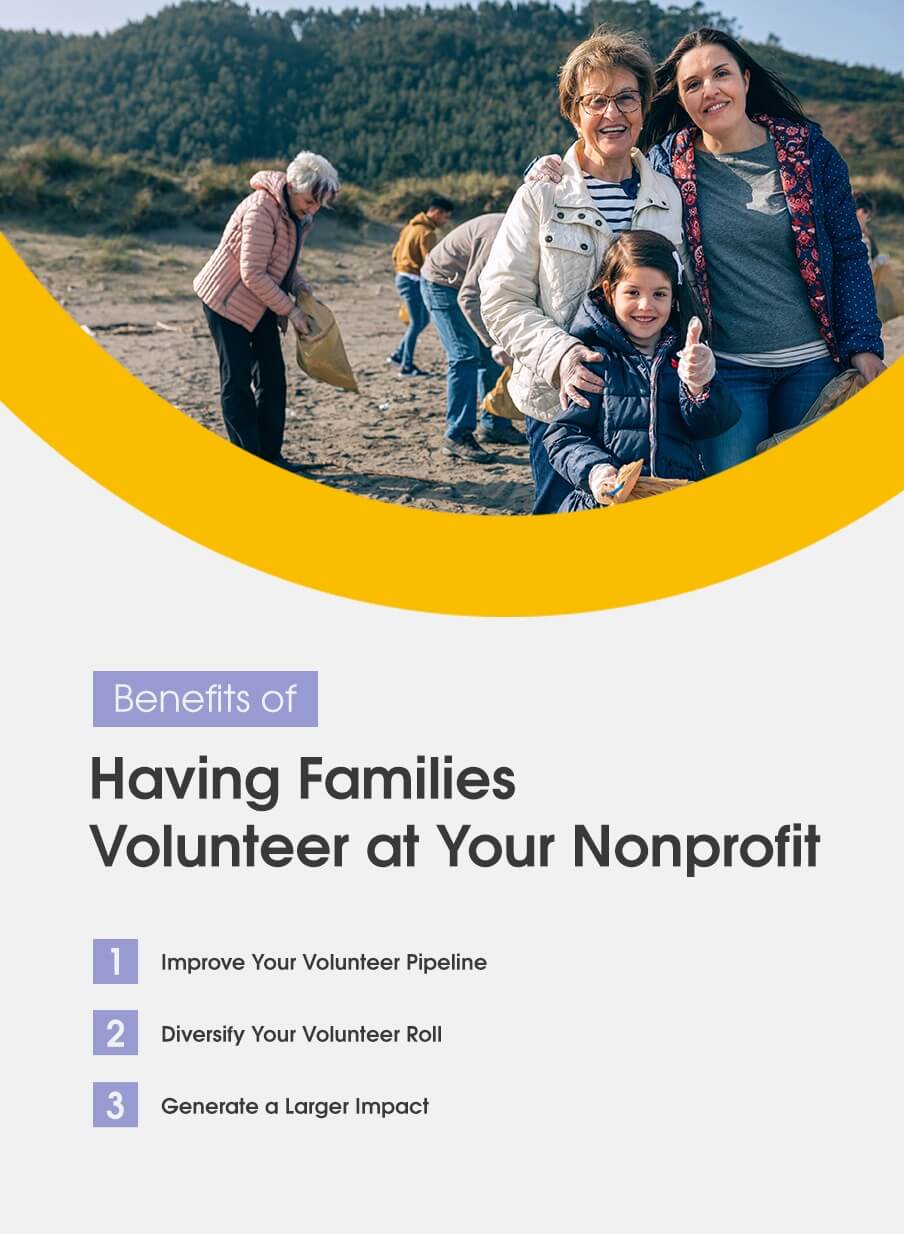 Managing family volunteer programs can bring several critical advantages to your nonprofit organization — ones missing or harder to nurture with other volunteer demographics.

1. Improve Your Volunteer Pipeline
Kids introduced to volunteering earlier are more likely to continue volunteering in their teenage years and young adulthood. Similarly, adults who begin volunteering are more likely to spread the word about your organization to their families, friends, and colleagues. This effect holds the potential to proliferate across more people and more family networks, resulting in a strengthened total volunteer pipeline with more prospects than ever.
2. Diversify Your Volunteer Roll
Family-friendly volunteering means a multi-generational lineup of new volunteers for your organization to add into the fold. A diverse volunteer roll translates into easier shift scheduling, as different ages will be available for complementary hours. It also means a variety of technical skills at your nonprofit's disposal, with every age group and family member bringing a distinct talent or expertise to the table.

3. Generate a Larger Impact
Supporting family volunteers as well as family-friendly events at your nonprofit will highlight your commitment to the community. You can encourage an open, welcoming environment for all while fostering greater brand recognition and awareness of key causes. Together, this effort to support and include families in your mission will boost your ability to have an impact in the community, achieve more goals, conduct more projects, and do more good — all while setting a positive example for generations to come.
How to Manage Family Volunteers
In addition to emphasizing quality family time, how can volunteer managers find ways to encourage family volunteers? Consider these family volunteerism program tips and best practices.
1. Host Family-Friendly Functions
Rather than diving head-first into a formalized program, find ways to coax organic family engagement and interactions within your organization's walls.
Even if your role centers on volunteer management, not every responsibility needs to focus exclusively on official volunteer recruitment and engagement — even if those are the end goals of these initiatives. Instead, showcase your community involvement and get families to commit to you on their own by hosting simple, relevant, and attractive family-friendly events. Consider:
Scavenger hunts
Kids cooking or craft classes
Movie nights
Bonfires
Nature hikes
And more
2. Set up Family Points
Points systems mirror other volunteer incentive strategies. The more family members volunteer, the more they rack up points on a volunteer leader board (physical or digital) where they earn badges and rewards. Adding a points system into your family volunteer plan will work particularly well for kids, who love the game-inspired "leveling up" inherent in this model.
3. Be Flexible With Weekdays
Managing a family volunteer program requires a little more leniency than scheduling for other volunteer demographics. Coordinators need to be open-minded, communicative and personable, giving plenty of options for families to comfortably fit volunteering into their schedules rather than turning it into another weekly to-do.
Review the reliability and features of your typical volunteer scheduling program. Does it allow for customization, track volunteer hours, enable you to schedule groups, and generally simplify your volunteer scheduling responsibilities? If not, it may be time for a change before you implement your formal family program.
4. Learn Everyone's Individual Strengths
Just because a family volunteers as a unit doesn't mean they should be treated the same. Each member will have different personalities, tastes, hobbies, and skills. Share age-appropriate strengths-finding surveys with new members during volunteer orientation, ensuring those preferences line up with some of the activities or responsibilities offered in your program, then inquiring about what can be done to make family volunteer work easier and more engaging for everyone.
Get Your Complete Toolkit for Supporting Family Volunteers

Schedule a free demo of Volgistics' industry-leading volunteer logistics software, or view our sample account to compare our toolkit's features side-by-side with your current scheduling system.