Between family life and work, it can seem like there's barely enough time to fit in a social life, let alone volunteering. However, while people feel busier than ever, the average person has more than five hours of free time every day. The challenge volunteer organizations must face is how to persuade people to get involved and give back during that free time.
As managers, it can feel like an impossible job to convince busy people to volunteer. To help make it easier for you, we've gathered strategies to encourage more people to volunteer with your organization despite their busy schedules.
9 Ways to Motivate Your Busiest Volunteers
The following are some helpful ways to get your busiest volunteers engaged and willing to offer up their time:
1. Make It Easy to Register
Make it as easy as possible for prospective volunteers to enroll in your program or sign up for new events. If the process of joining a volunteer organization is too complicated, busy people will assume the volunteer work will be too time-consuming as well.
It's helpful for volunteers to have digital access to your volunteer organization's information. In-person signup sheets can be inefficient and inconvenient for busy individuals. The more streamlined the registration process is, the greater the chances of getting all kinds of people to join your mission.
2. Offer Opportunities With Shorter Time Commitments
You probably often hear replies like, "I don't have enough time," or "I'd love to, but I'm too busy," when trying to gather volunteers for an event. Offering volunteer opportunities with shorter time commitments can create more opportunities for people with busy schedules.
Consider offering shorter shifts for volunteers or hosting micro-events that last only an hour or two. These small changes make it easier for people to fit volunteering into their schedules and could inspire more busy people to participate. They may even remember how much they enjoy volunteering and begin coming to events regularly.
3. Communicate the Value of Volunteer Work
When it comes to sharing volunteer opportunities, it's helpful for organizations to highlight the value of their work.
Speak up about the good that your team does in the community! Share facts and statistics about the positive change your organization has made, and don't be shy about volunteering stories and anecdotes to inspire prospects.
You can include messages about the value of volunteering via:
Newsletters
Website
Social media
This messaging will remind busy people who may not prioritize volunteering in their free time of the benefits and joys of giving back.
4. Respect Your Volunteers' Time
Most participants who stop volunteering do so because of a lack of time. It's essential for organizations to respect their team members' time if they want to motivate people to volunteer.
It's important to make the most of everybody's time when it comes to volunteering. Busy individuals who feel like events are disorganized or a waste of time will not return. Implementing volunteer management tools can help leaders better manage their time and ensure both events and meetings are punctual.
5. Keep Volunteer Management Organized
If you want to encourage busy people to volunteer, you'll need organized volunteer management. People with hectic schedules want things to be clear and well-coordinated when they're sacrificing their limited free time.
Keeping your volunteer management organized makes it easier to keep track of volunteer availability and find better opportunities for engaging volunteers with busy lives. Well-organized management can inspire busy people to join your mission with confidence and trust.
The right management software can keep your volunteer management efficient and organized. From volunteer scheduling to group tracking, Volgistics has the tools to keep your operation well organized on one platform.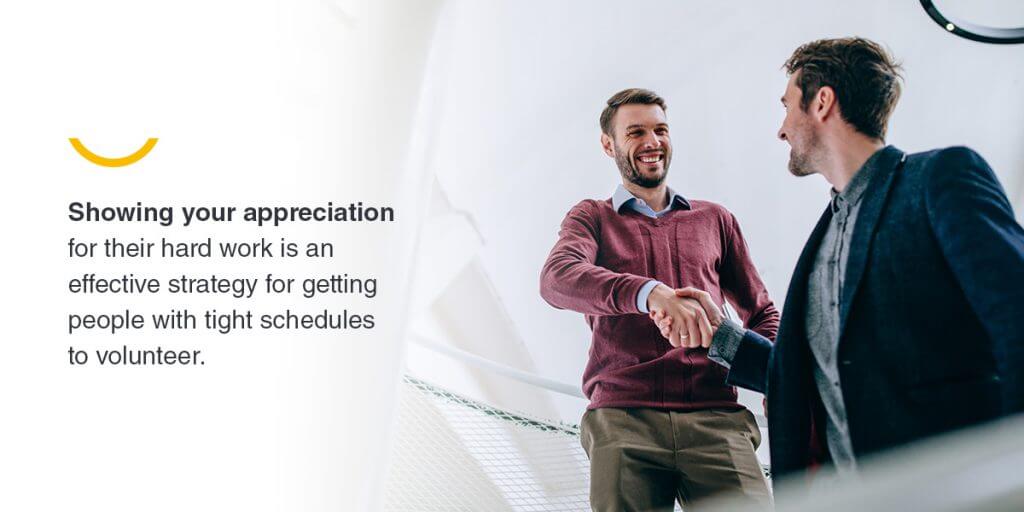 6. Spotlight Busy Volunteers
Showing your appreciation for their hard work is an effective strategy for getting people with tight schedules to volunteer.
Be sure to give your busy volunteers recognition to show your gratitude for all they do. Spotlight individuals that make time for giving back despite having a lot on their plate. Whether formal or informal, this recognition will show others that it is possible to fit volunteering into a busy schedule.
When you recognize and celebrate volunteers who prioritize doing good for the community, it can have a domino effect and inspire others to get involved.
7. Encourage Them to Invite Others
One way to get busy people to volunteer is by encouraging them to invite a friend or family member to join them. Spending time with a loved one while giving back to the community is a great way to multitask and fit volunteering into an overbooked schedule.
When reaching out to prospective volunteers, managers can highlight how volunteering is a great way to bond and spend quality time with the people who matter to you.
8. Stay Connected With Regular Communication
Having regular communication is key to staying connected with volunteers. People have a lot going on in their daily lives. Between working jobs and taking care of kids, it's easy to get lost in the hustle and bustle. When this happens, volunteering is often the last thing on a busy person's mind.
In addition to creating stronger connections with volunteers, consistent communication helps remind people that volunteering is an impactful way to spend your free time.
9. Consider Your Volunteers' Interests and Skills
It's helpful for managers to find opportunities where volunteers can use their current skillsets and interests. While people with busy schedules may not have the time to go through extensive training or learn completely new skills, they'll be more willing to get involved if they feel they already have the know-how.
Volgistics volunteer management software helps you keep track of each person's skills, letting you communicate with specific groups of volunteers that may be interested in certain events. Inviting people to put their personal talents to work can inspire even the busiest volunteers to make time for giving back.
Manage Your Volunteers with Volgistics
With a better understanding of how to motivate busy people to volunteer, you can make the most of your volunteering efforts.
Better manage all of your recruits with volunteer management software from Volgistics. We offer a 30-day free trial to let you get a proper feel for how our tools can transform your volunteer organization's operations. This software can help with everything from volunteer scheduling to creating customized reports, with free support available seven days a week.
Are you interested in learning more or do you have additional questions? Contact us today!