How do you get your nonprofit noticed? When volunteer organizations think of spreading the word about their programs, many think of social media. Realistically though, only 18% of people who become engaged with local nonprofits do so because of social media. Traditional print, radio, and television media still play a significant role in burnishing your organization's image, developing community trust, and generating awareness of your work.
In the guide below, we'll discuss volunteer organizations and public relations, explain how to get publicity for your nonprofit, and lay out some ways you can make your media partnerships fruitful and lasting.
Benefits of Media Attention for Nonprofits
Good public relations benefit your organization by boosting its profile and reputation in the eyes of the public. When you have good public relations, the public perceives your organization favorably — it sees your programs and mission as trustworthy, valuable, and worthy of support. Having good public relations also means having a genuine relationship with the public. If your organization makes an error, it holds itself accountable for its actions, and if you have a critical need, the public is more likely to step in with donations or other support.
The magazine Nonprofit Quarterly identifies five key areaswhere your organization's public relations can provide support and make a substantial difference:
Contracting for charitable services
Asking for and receiving donations
Leveraging your assets for the public good
Marshaling your social capital for the public good
Committing and adhering to your mission
Strong public relations takes time and hard work, but if you put in the effort, the rewards can make a tremendous difference for your organization. Media relationships are essential for helping your organization boost its public relations. Local media outlets can make your organization more visible in the community, promote your mission, and let the public know when you hold events or fundraising campaigns.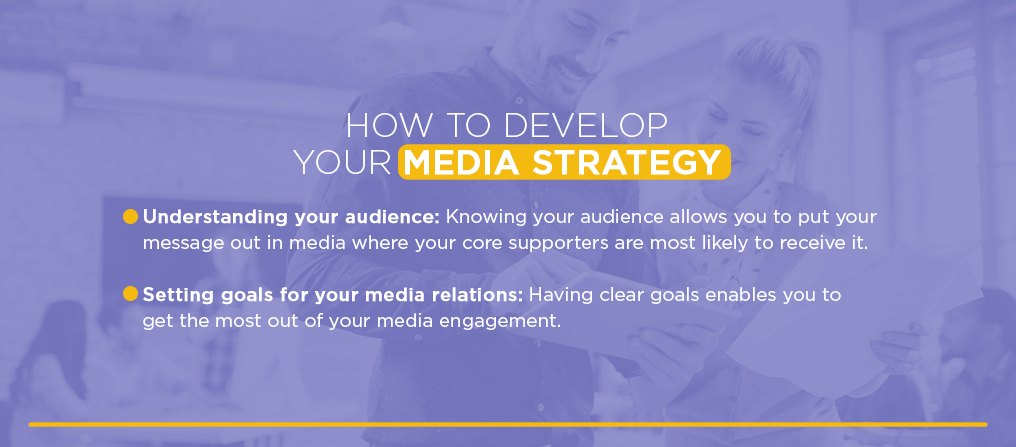 How to Develop Your Media Strategy
When your organization is contemplating how to get media attention for your cause, it's critical to keep two factors in mind — understanding your audience and knowing what you want to achieve for your organization through media relations:
Understanding your audience: Knowing your audience allows you to put your message out in media where your core supporters are most likely to receive it. If your main supporters are retired, for instance, your best bet is to target them in traditional media rather than on Instagram. Audience understanding also allows you to tailor your media message so recipients will best respond to it when they receive it.
Setting goals for your media relations: Having clear goals enables you to get the most out of your media engagement. Do you want to achieve a specific number of media placements? Or do you want to use your media engagements to reach a certain number of people or bring in a specific amount of revenue? Setting clear goals can help you measure the success of your media strategy and adjust accordingly.
How to Bring Value to the Local Media
How do nonprofits get media attention? One way is by providing something of value to the media outlet. Below are a few effective ways to do just that:
1. Generate Buzz
Being able to generate attention for your media partner is an excellent way to provide immediate value. You can do so when you:
Have a compelling story: Consider how you can provide an exciting story that will engage consumers or a heartwarming tale that tugs on heartstrings. Both of these strategies give the media outlet an incentive to feature your organization.
Engage with current events: If your organization engages with recent news, it can boost its capital significantly. If changes in health care law are afoot, a hospital or clinic can approach the media with professional opinions or expertise. If a city is considering changes to the management of its unhoused population, an organization that works directly with that population can contribute insight to show the impact of the proposed change.
Make sure your story is newsworthy: If your organization works to improve voter turnout for elections, the fact that your volunteers will be out as usual, knocking on doors, raising awareness, and coordinating transportation, is not necessarily newsworthy. However, if your organization sets the goal of improving voter turnout by 30% over the last election cycle, your efforts toward that goal are likely newsworthy. A well-placed article or TV interview may generate the public interest and support you need to reach that objective.
2. Invest in a Genuine Relationship
When you're thinking about how to get media attention for your nonprofit, be sure you're working toward a real relationship where benefits flow both ways. You can build a respectful, long-term relationship with local media partners by following some of these tips:
Work with their time frames: Even though people are consuming more and more news online, many media outlets still have deadlines for aired segments and publications. Being flexible with your schedule to accommodate those deadlines can boost your likelihood of earning a slot.
Be concise: TV outlets may not have much time to give you, and they need punchy soundbites to compete for viewers' attention. Print outlets may offer you more room, but even there, you'll need to distill your message to a few essential points to keep readers' interest. Media engagements are not the place to enumerate the many virtues of each of the cats you have at your shelter or expound on each act of a buzzworthy ballet — keep your message short and to the point.
Practice and polish: If a TV station offers you a few minutes of its packed lineup, be sure to give an interview the station can be proud of. Review what you plan to say, have your main sound bites in mind, and practice articulating them so you don't get lost or stumble over words. You don't want to sound over-rehearsed, but you should come prepared to convey your message clearly and effectively.
Make it easy: If you'd like to promote an event, a newspaper or TV station may not have the resources to send a reporter to spend much time at it. You can make the paper's job easier by providing a photograph or a written rundown of the day. Even if you'd rather interview in person, be willing to communicate by phone or email if that's what a journalist can do. Be flexible with rescheduling if you need to, and remain cordial and professional, even if you don't get the depth of coverage you were hoping for.
Say thanks: After your media appearance, drop a quick note to the event contact, journalist, reporter, or support staff members who made the engagement possible. Showing your appreciation goes a long way toward ensuring the outlet will want to work with you again.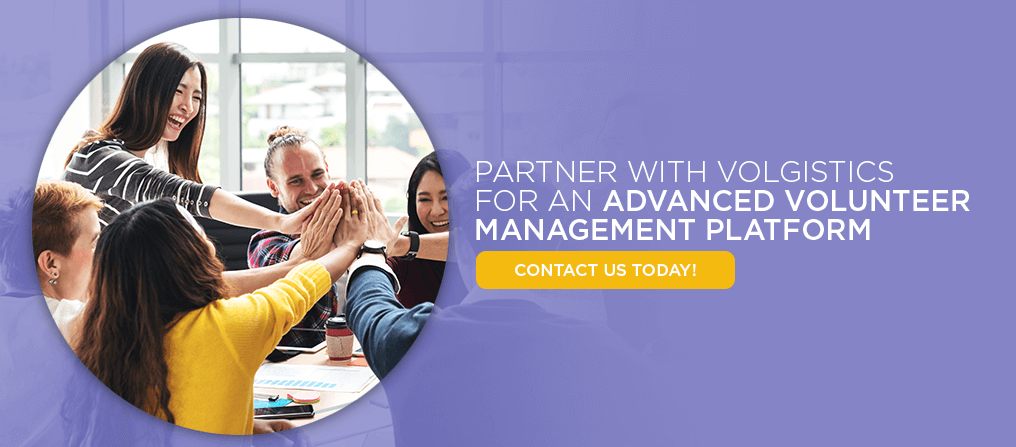 Partner With Volgistics for an Advanced Volunteer Management Platform
Establishing strong public relations and a reliable media partnership takes time and hard work, but managing your volunteers shouldn't have to. When you partner with Volgistics, you'll gain a powerful, scalable, feature-rich platform that will grow with your organization. Recruiting, tracking, communicating with, and preparing reports about volunteers will become intuitive and easy, and our dedicated support team can help with any questions that come up along the way.
Contact us today to learn more.