People who volunteer are often looking to contribute their time and energy to a cause that they believe in. In doing so, they can selflessly devote their efforts to various missions in the hopes of helping others.
Unfortunately, having the free time to volunteer in person isn't an option that everyone has. Between work and family responsibilities, appointments, and errands, it's unlikely that people have enough time on their hands to volunteer for a cause — even if it's one they'd love to work with.
This is where virtual volunteering comes in. With this concept, you can attract more individuals who want to do their part for society without having to commit to a commute or leave the comfort of their own homes.
What Is a Virtual Volunteer?
A virtual volunteer is just what the name suggests — a volunteer that joins a cause, event, or fundraiser virtually. Virtual volunteering, also called digital volunteering or online volunteering, consists of individuals committing to a volunteering opportunity by connecting through their computers, smartphones, or tablets. This means they might join video chats, email forums, or other means of collaboration to help your organization plan and host a successful event.
With just a computer and internet connection, a virtual volunteer can do almost anything that you might require of them in person. Virtual volunteers are valuable individuals who work from the comfort of their own homes to benefit your nonprofit organization by contributing ideas, services, content, or another form of assistance for your team. This might include things like delegating duties, researching, writing, making social media posts, or designing shirts for your upcoming event.
What Types of Opportunities Attract Virtual Volunteers?
While certain events and fundraisers will require in-person commitments, there are plenty of options you can introduce within your organization or mission to provide some flexibility for volunteers. Here are some ideas you may consider implementing:
Online tutoring
Teaching virtual classes
Reading with kids online
Writing thank-you letters to military troops
Performing fundraising, marketing, or community outreach activities for a program
Making audiobook recordings
Transcribing books in digital form
Sewing clothing for communities in need
Hosting a virtual book club
Completing administrative tasks
Language training or translation
Creating or leading webinars
Raising awareness for online fraud
Adding subtitles to online content
Assisting those with disabilities
Planning a virtual movie night
Lending emotional support on a crisis hotline
Hosting a virtual discussion
Participating in a phone bank
Designing a web page
Aiding in creating and implementing child recruitment services
Becoming a virtual assistant or secretary
Writing online content for newsletters or social media pages
Assisting with legal or scientific research
Hosting an online fundraiser for an animal rescue mission
What Are the Benefits of Using Virtual Volunteering?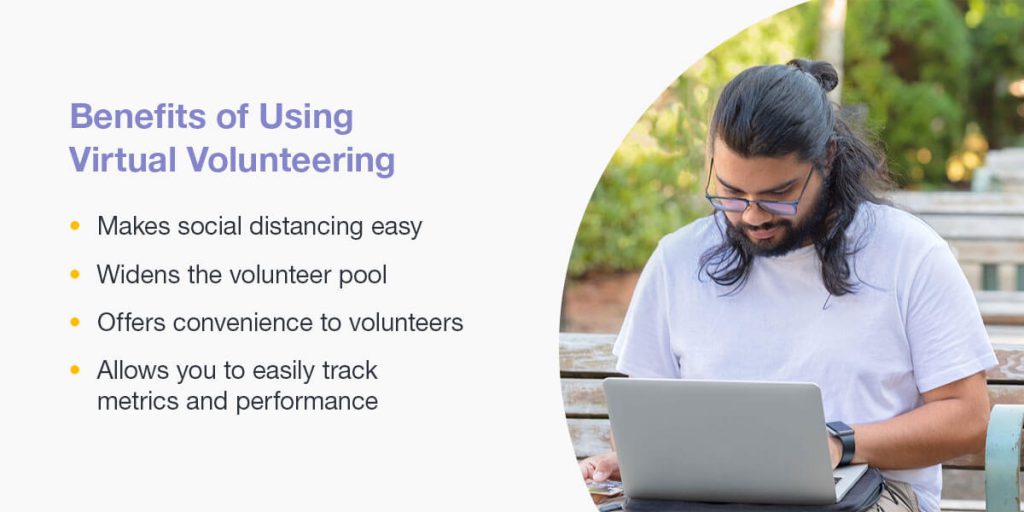 Implementing a virtual volunteer option at your organization means you can reduce physical limitations and allow your mission to be more widely accessible to volunteers. Let's discuss the other benefits of having virtual volunteers:
1. Makes Social Distancing Easy
Online options for volunteers mean your organization can still run and host events even if social distancing is required. For instance, during the pandemic, virtual volunteering opportunities protected volunteers from Coronavirus. Even years later, having virtual options means any immunocompromised individual can still participate in supporting your mission.
Of course, other illnesses can impact in-person volunteers — even the common cold can spread right before a big event. You can prevent your volunteers from getting sick by hosting a virtual event or fundraiser if many people in your organization have been getting sick.
2. Widens the Volunteer Pool
Virtual volunteering allows you to cast a wider net and reach more individuals around the world. For instance, if your mission is heavily reliant on just the people in your community, you may not be able to grow as quickly as you'd like. By offering online volunteering opportunities, your organization can increase the amount of support you receive while spreading the word about your cause.
There are probably hundreds or thousands of people out there waiting to get involved with a mission like yours, but they're located too far away. Virtual volunteering removes this obstacle and allows them to contribute in any way you see fit.
3. Offers Convenience to Volunteers
Many people don't have the extra time to volunteer, even if it's something they've always wanted to do. Commuting and finding childcare can be difficult for individuals who want to volunteer, which is why virtual options are so important.
Virtual volunteering is convenient for people who want to volunteer but have limited time, making volunteering more attractive. Additionally, easy online volunteering can help you recruit more volunteers now that they know there are more flexible options available to fit their schedules.
4. Allows You to Easily Track Metrics and Performance
Program directors and managers will want to know how well their volunteer initiative is performing. With volunteer recruitment software, it's easier to measure the time and effort that volunteers put in through custom reports and metrics. Program managers can use this software to easily monitor volunteer hours and communicate with all virtual volunteers without having to track them down in person before or during a big event.
See How Volgistics Volunteer Recruitment Software Can Simplify Volunteer Management
As a program manager or director, your schedule is often full of tasks and responsibilities that can make it difficult to keep everything running smoothly. With a high-quality volunteer recruitment platform, you can monitor your virtual and in-person volunteers to ensure compliance and boost engagement.
At Volgistics, it's our goal to help make volunteer management more efficient, allowing you to track outcomes, view reports, and reduce the technical burden so you can spend more time engaging with donors. With more time, you can focus your energy on fulfilling your organization's mission and creating effective fundraising strategies.
Ready to get started with software for your organization? We invite you to sign up for our 30-day free trial or live demonstration to learn more about our software.