Volunteer recruitment is essential to an organization's operations, especially for nonprofits. It allows you to assemble a team of talented people who believe in your mission. When done correctly, volunteer recruitment drives progress and innovation. However, a flawed recruitment strategy can make the process more difficult than necessary.
Understanding your organization's overall goals and following recruitment best practices are essential for creating an effective volunteer recruitment strategy.
What Is Volunteer Recruitment?
Volunteer recruitment involves attracting, screening, and selecting people to support your organization. You may wish to engage volunteers for specific, short-term projects or events. Or, you might want to recruit a dedicated team of volunteers to do ongoing work with your organization.
Whatever your goals, volunteer recruitment is strategic. Building a team with the ideal mentality, attitude, and skill set requires careful review, a thorough onboarding process, and a well-planned approach to assimilate them into your organization's culture. The aim is to make a positive impact and enhance efficiency.
For example, you need to make sure your marketing content conveys the right message to appeal to potential volunteers and motivate them to participate in your cause. Your strategy should also define what you need for every role and how to onboard and train volunteers for their responsibilities. A comprehensive volunteer strategy matches each volunteer's abilities and interests with your organization's objectives.
Why Are Volunteers Essential to Nonprofit Organizations?
Nonprofit organizations rely on volunteers for the following reasons.
1. Reduce Operational Costs
Most nonprofits are on a tight budget and are always looking for ways to reduce expenses. Often, bringing on volunteers allows you to get the work done at a much lower cost than hiring, managing, and maintaining full-time or part-time employees would.
Most volunteers do not expect the same paychecks and perks as salaried employees. They may also be available to contribute to your organization even during weekends and holidays, putting their hearts and souls into their responsibilities.
2. Boost Visibility
Volunteers become advocates for your organization, raising awareness and improving your image among their peers. They can also attract new donors and volunteers through social media and peer-to-peer campaigns.
Consider how information spreads like wildfire on social media. Everyone loves a feel-good story. When volunteers talk about their positive experiences supporting your organization, you can attract a bigger following. The same is true even for traditional television and radio news, especially when you and your volunteers achieve a significant milestone.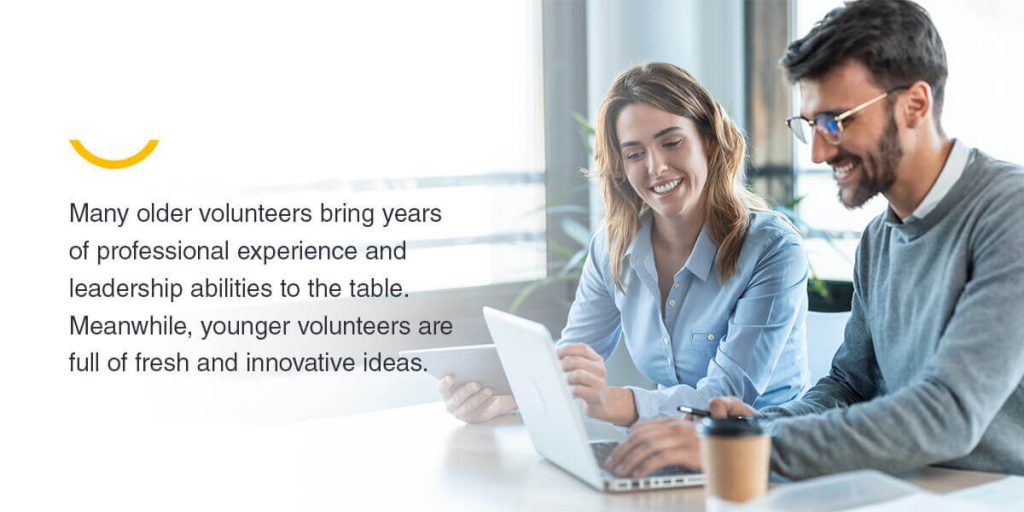 3. Bring Diverse Skills and Perspectives
Everyone brings something different to the table. When you take on new volunteers, you gain access to their unique talents and insights. Many older volunteers bring years of professional experience and leadership abilities. Meanwhile, younger volunteers are full of fresh and innovative ideas.
Sometimes, you may also need people with specific skills and qualifications. Recruiting specialized volunteers can help you improve your services. For example, an organization that provides tax assistance to people in underserved populations would benefit from recruiting more volunteer accountants and tax experts.
When Should an Organization Recruit Volunteers?
Depending on your organization's goals, you might need to recruit volunteers for any of the following reasons.
1. Major Campaigns and Events
Volunteers can be invaluable during large events when you need all the help you can get. For example, volunteers may be willing to offer their assistance if you're organizing a community-centered campaign during the holidays or weekends. Additionally, you can recruit experts with specialized skills to handle complex projects. A classic example is recruiting teachers to educate the audience about the mission.
2. Staffing Changes
Volunteer managers, program directors, and human resources leaders seek volunteers to meet organizational growth or increased service demand. The approach is particularly helpful in catering to short-term changes. However, if you intend to retain the volunteers, it helps to implement a strategy that targets the talents for the roles needed and provides adequate training.
Volunteers also bring fresh ideas. Most recruiters are locals with extensive knowledge of what the community needs and how it functions. Adding them to your team is excellent for planning and executing successful initiatives.
3. Shifts in Values and Focus
Organizations grow over time — sometimes, the focus changes. A classic example is converting a for-profit business into a nonprofit organization. Volunteers become the primary driving force as organizations shift focus to community-based operations. Volunteer recruitment is essential for creating and maintaining a positive social brand, even for profit-making businesses.
What Are the Benefits of Having a Volunteer Recruitment Strategy?
The advantages of having a volunteer recruitment plan include the following.
1. Helps You Find Enthusiastic Volunteers
There are two critical aspects of every recruitment process — a candidate's fit for the opportunity on one side and your organization's goals and values on the other. Though volunteers offer their services freely to your organization, it's vital to maintain consistently high standards. A recruitment strategy that defines each department's needs will make it easier to identify eligible candidates.
Fundamentally, your organization should engage volunteers to perform specific tasks that align with your goals and objectives. When interviewing prospects, your strategy helps you ask intelligent questions.
2. Increases Your Organization's Impact
It can be challenging to make an impact when you don't have enough people to get the work done. Creating an effective strategy for recruiting new volunteers allows you to continue serving your community in the same capacity year over year.
A well-designed recruitment strategy helps you find, onboard, and retain the people you need to keep your organization going strong. An especially effective plan can also help you grow your organization and make an even bigger impact.
3. Guides Effective Onboarding and Retention Strategies
Though many people volunteer for a specific event or project, others might want to continue volunteering for an organization they care about. An effective recruitment strategy guides the organization in preparing volunteers who plan to participate in ongoing projects.
Asking the questions during the recruitment process can help you identify long-term volunteers and set them up for success. Assessing a new volunteer's abilities and interests before they begin enables you to place them in positions where they'll thrive. Training can help them feel confident in their work.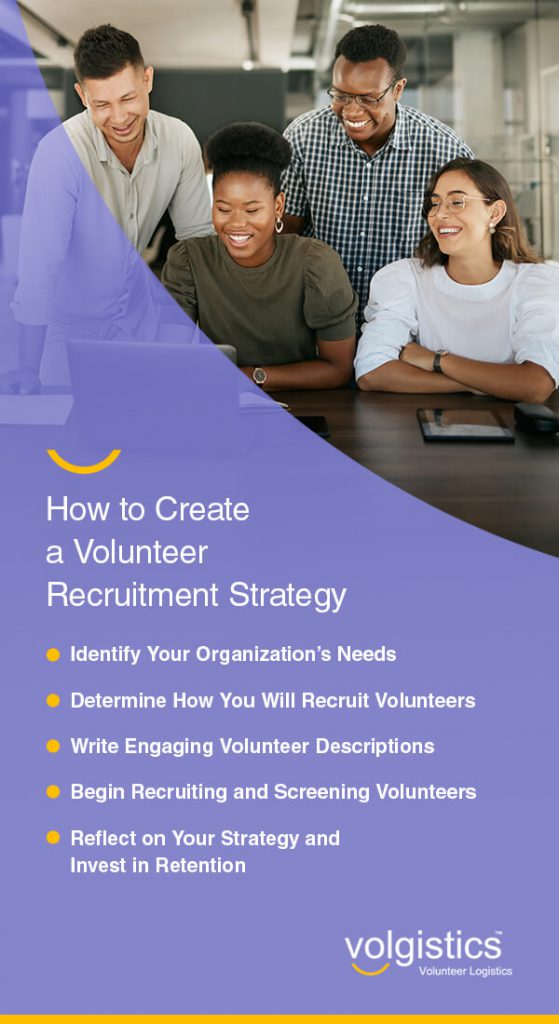 How to Create a Volunteer Recruitment Strategy
Here is an example of an effective volunteer recruitment plan.
1. Identify Your Organization's Needs
Volunteers are most valuable when they fill a gap. In other words, it's best to recruit volunteers when you need them, not because it's a trend. If your current workers have no problem staying on top of their responsibilities and efficiently managing their workloads, securing volunteers may be unnecessary.
Assess your business' operations and target where adding volunteers would be beneficial. Do you need help with event ticketing? Could bringing on volunteers help you improve your facility's organization?
Additionally, if you know you'll need volunteers with more specialized skills, note which specific abilities you're looking for and why. For example, if you need help transporting attendees to your events, but nobody on your team has a commercial driver's license, bringing on a qualified bus driver might be a good idea.
2. Determine How You Will Recruit Volunteers
You can employ various techniques to identify and attract talent to your organization. Many organizations use outreach programs in schools and community clubs, while others prefer digital marketing. Whichever approach you choose, consider which demographics you'd like to attract.
While casting a wide net can work, the most efficient way to recruit volunteers is to target a specific group of people. Who is most likely to connect with your organization's mission? Think about factors like age, hobbies, and values.
Besides attracting prospects, consider the various recruitment stages. For example, do you plan to interview and screen each applicant? What essential activities will facilitate a smooth onboarding process?
3. Write Engaging Volunteer Descriptions
Creating a detailed, specific volunteer description boosts engagement with your audience and gets people excited about working with your organization. Give prospective volunteers clear insight into what they can expect so they feel confident going in.
The opportunity description must contain essential information, including:
Position title
Location details
Your organization's mission statement
The job description
The volunteer's responsibilities
Screening requirements
Benefits to the volunteer
Qualifications and certifications
Wrap up your description with a powerful call to action. Use verbs like "sign up," "join," and "register" to clarify what you want your viewers to do.
4. Begin Recruiting and Screening Volunteers
Once you have a compelling volunteer description written, it's time to start attracting people to your organization. Post your volunteer opportunity wherever your target demographic is most likely to see it and leverage personal and community connections whenever possible to maximize your reach.
Volunteer screening is an integral part of the recruitment process. It is vital for maintaining your organization's reputation, ensuring a safe working environment, and mitigating civil and criminal liability. Developing a comprehensive recruitment strategy enables you to focus on managing crucial variables and necessary tools to achieve the best outcome.
5. Reflect on Your Strategy and Invest in Retention
Your recruitment process will likely change over time. Periodically reevaluate your strategy and identify areas for improvement. One effective method is to send a volunteer feedback survey. Create a list of essential areas to address and evaluate when the strategy was successful in doing that. For example, consider how long it took to identify and interview talented volunteer candidates.
Volunteer Recruitment Tips
If you need some help coming up with creative ways to recruit volunteers, we're here for you. Here are eight volunteer recruitment ideas to help you launch a successful campaign.
1. Use Current Volunteers as a Resource
Referrals are one of the best ways to recruit volunteers. The approach leads most people to credible and trusted candidates, especially when the referring volunteers have a positive work ethic. Some organizations provide incentives for referrals. Others also ask volunteers to suggest people from their personal or professional networks. You can combine these strategies to find the most promising prospects.
2. Contact Former Volunteers
Happy former volunteers make some of the best ambassadors for your organization. Their testimonies can publicize your mission and highlight your successes. Most organizations prioritize maintaining a healthy relationship with previous recruits. Invite former volunteers to your events and encourage them to bring friends. You can briefly present information about the benefits of volunteering and reasons to support your vision.
3. Use Social Media Strategically
Social media marketing is a creative way to recruit volunteers. It allows you to share your activities with your audience and keep them engaged. While most organizations understand social media's extensive reach and potential, they may need extra help choosing the best platform for their efforts. Follow these steps to optimize your social media campaigns.
Identify your target audience and evaluate where they spend the most time. For example, while the largest group of LinkedIn users ranges from 25 to 35, Twitter's largest age group is between 18 and 29.
Define your social media marketing goals.
Understand the various social media outlets and their uses. For example, if you believe visual education is the most critical format, YouTube might be the best. Meanwhile, Twitter is ideal for driving engagement and capitalizing on trending topics.
Consider how much time it takes to maintain a dedicated social media presence, including building a following and interacting with people. You can use an employee or volunteer with expertise in the area or outsource it.
4. Leverage Traditional Advertising Solutions
Flyers, newspapers, radio, and TV ads are still practical ways to get your recruitment message to volunteers. Most local media outlets offer nonprofit organizations free or discounted services. They let you reach a broader audience, especially in combination with other marketing plans.
5. Collaborate With a Corporate Partner
Many corporations recognize the benefits of community involvement and may be willing to partner with you to help you drive progress. While almost every nonprofit organization needs some financial support, you may also benefit from in-kind donations of products or services. Target potential sponsors according to your organization's needs and objectives. Once you identify prospective partners, reach out to them formally and request a meeting with them.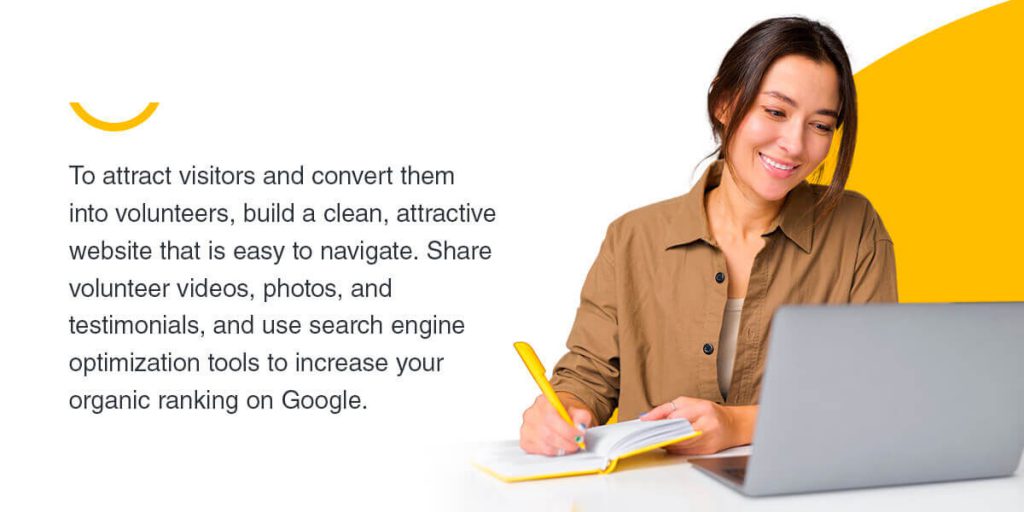 6. Create a Dedicated Volunteer Page on Your Website
Websites serve many purposes today. Your nonprofit's website is a place to share information with your audience, receive donations, market your organization, respond to inquiries, and more — it's like an office on the internet.
To attract visitors and convert them into volunteers, build a clean, attractive website that is easy to navigate. Share volunteer videos, photos, and testimonials, and use search engine optimization tools to increase your organic ranking on Google.
7. Ask for Feedback to Improve Your Recruitment Strategy
Feedback is a golden opportunity to gather information and improve your strategy. Invite your recruitment team to tell you about their experiences. Talk to volunteers and ask them to evaluate the recruitment process. Study the trends in the responses you receive and adjust where necessary to optimize retention and future recommendations.
8. Leverage Volunteer Recruitment Software
Volunteer recruitment involves tremendous amounts of paperwork and information to help you track activities and plan effective strategies. Some organizations still manage the recruitment process manually, which can be even more challenging.
Volunteer recruitment software is a more efficient, reliable way to manage the process. For example, it allows you to receive applications, access customized reports, and schedule shifts for volunteers.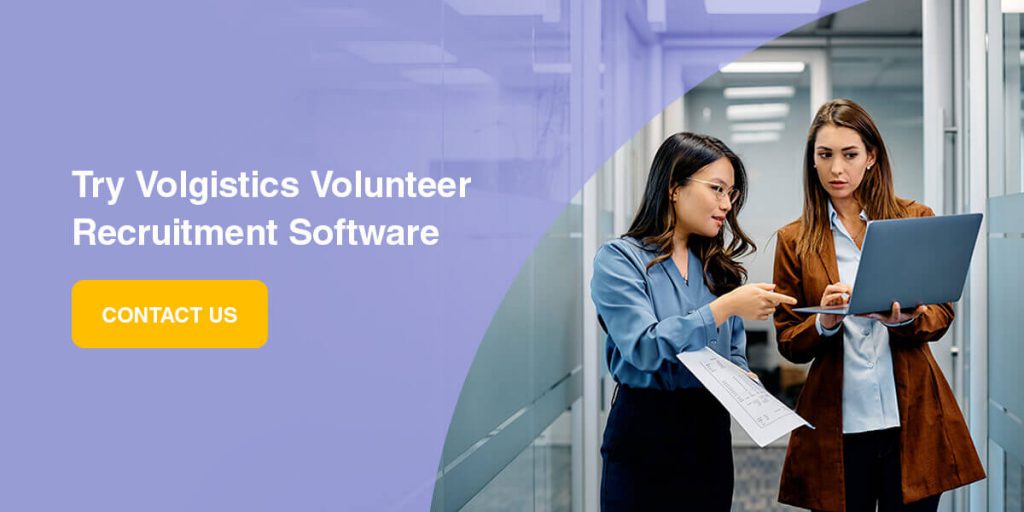 Try Volgistics Volunteer Recruitment Software Today
Investing in premium volunteer recruitment software helps you develop and implement effective strategies. A high-quality platform should make management simple and convenient by allowing you to monitor activities and securely store sensitive documents. Choosing the right partner increases your return on investment.
Volgistics is an end-to-end volunteer management system — from application to award calculation. The software is customizable, making it the perfect solution for multiple industries. To learn more about what we can do for you, take advantage of our live demo now!