With the holiday season right around the corner, you may be looking for ways to express gratitude for your volunteers. After all, giving volunteers a small token of your appreciation might seem like the least you could do, considering all they do to help you work toward your mission.
As a nonprofit organization, you have to be more careful when giving gifts than a for-profit company. Before browsing magazines for gift ideas or making your holiday to-do list, read through these considerations for purchasing volunteer appreciation gifts.
Is It Legal to Buy Gifts for Volunteers?
Purchasing gifts for volunteers at your organization shows how much you appreciate them, but you must follow all the tax laws when choosing to give gifts. If you do not follow the tax laws, your organization could face challenges during an audit.
Since you cannot pay volunteers, you must be careful with gift-giving. Some gifts are considered taxable compensation, namely cash or cash equivalents like gift cards. According to federal law, cash and gift certificates — regardless of the amount — given to volunteers on behalf of a volunteer organization changes their status from a volunteer to an employee or independent contractor. You both would then have to report the compensation on your taxes.
You may want to avoid giving cash or gift cards as gifts to show your volunteers how much you appreciate them. Instead, you may consider giving gifts that are de minimis, or too minor to be considered compensation. These gifts are given infrequently and are relatively small in value, possibly including items like holiday ornaments, flowers, the occasional coffee and donuts, or tickets to a local sporting event.
Guide to Volunteer Gift Giving: Pros and Cons
There are advantages and disadvantages to purchasing gifts for the volunteers at your organization. Consider these positives and negatives before heading to the store for holiday presents.
Pros of Volunteer Appreciation Gifts
First, let's discuss some of the possible benefits of volunteer appreciation gifts:
Make volunteers feel happy: Receiving a thoughtful and kind gift would make anyone feel loved and supported, especially when they are least expecting it! Small tokens of your appreciation show volunteers you recognize their hard work and how it impacts your organization's mission.
Increase volunteer engagement: When volunteers feel happy, supported, and encouraged in their environment, they can become more engaged with your organization and dedicated to its success. Increased volunteer engagement might look like a bigger turnout for events, increased motivation during shifts, or higher volunteer retention rates.
Encourage new volunteers: When experienced volunteers share their positive experiences with your organization, more people might feel encouraged to become involved. New volunteers who have recently started working with your organization might feel compelled to become more involved than they already are as well.
Highlight specific accomplishments: Giving gifts also allows you to highlight the achievements of your staff. For instance, if one of your volunteers completes 200 hours of volunteer work, you could say thank you with a bouquet of flowers and a card.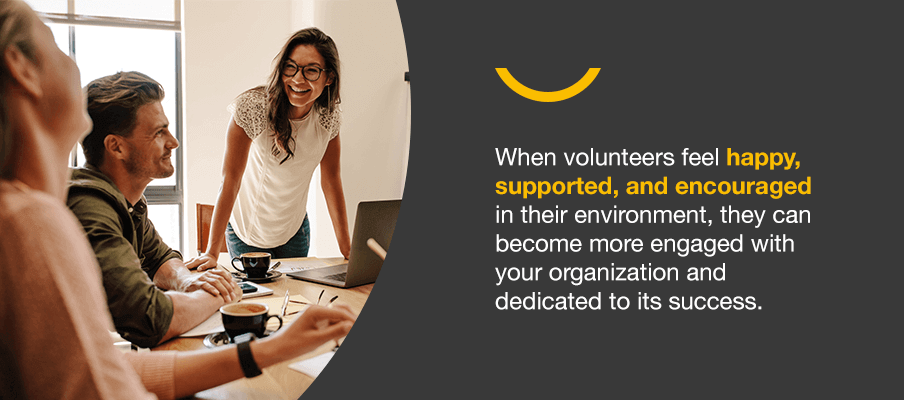 Cons of Volunteer Appreciation Gifts
The disadvantages of offering gifts to your volunteers include:
They might come to expect gifts: When you give volunteer gifts — even infrequently — it's only natural that volunteers might come to expect them from you. When you do not live up to these expectations, your volunteers might get discouraged, even though you are not obligated to give gifts.
You may face issues later: Avoiding legal trouble is one of the primary reasons to avoid giving gift cards as gifts. If a former volunteer leaves your organization on unfavorable terms, they could claim the gift cards served as compensation for their work, which could get you in legal trouble.
Gifts can become expensive as your organization grows: It's possible to give volunteer appreciation gifts on a budget, but as your organization grows and you gain more volunteers, the cost of individual gifts — however small — will start to add up. If you give gifts, you should create a plan and stick to it, including when you'll give gifts throughout the year and how much you will spend on them.
Volunteer Appreciation Gifts Ideas
Common volunteer gift ideas include:
T-shirts
Mugs
Water bottles
Hats
Bags
Socks
Flowers
Candy or snacks
Occasional office parties
Occasional office coffee and donuts
If you want to get more creative, you might try giving one of the following unique volunteer appreciation gifts:
Potted plants
Tickets to local sporting, music, or theatrical events
Books by their favorite author
Calendars with photos of the volunteer team
Holiday ornaments
Alternative Ways of Showing Volunteers You Appreciate Them
While giving gifts is an effective way to make volunteers feel happy, there are other ways you can make them feel supported by your organization. The following examples are great alternatives to the small gift ideas for volunteers mentioned above:
Inviting them to special events: If you get invited to community galas or celebrations, invite dedicated volunteers to attend with you. Giving them a ticket is a great way to show volunteers how much you appreciate their support of your organization.
Listening to feedback and suggestions: Many volunteers are eager to share their experiences and feedback but don't often see an opportunity to do so. Listening to their feedback and having an open and honest conversation about their concerns and successes proves you are dedicated to improving your relationship with volunteers.
Giving handwritten notes: You can write your volunteers handwritten notes to express gratitude for their help. The amazing thing about handwritten notes is how you can personalize them to make them extra special for the recipient. You can give handwritten notes for holidays, birthdays, anniversaries, or other special life events to show volunteers you remember the important things happening in their lives. You can also create electronic greeting cards for holidays and special events.
Implementing a "volunteer of the month" program: Volunteer of the month is an excellent way to motivate volunteers. You can have a bulletin board dedicated to your volunteers of the month and host small parties once per year to celebrate the 12 volunteers who excelled that year. You can also share short profiles about each volunteer of the month on your website, volunteer portal, or social media.
Baking cookies or other treats: Bringing cookies or other homemade treats into the office can boost morale and make long days or events enjoyable. You might consider baking cookies when you know a certain volunteer event will take a long time or when a team is assigned a challenging project. Just remember to keep any allergies in mind before you do any baking.
Making a video: Gather the executives and people in high positions at your organization to make a video thanking volunteers and sharing how their work impacts the community. Volunteers who understand the impact their work has on the community will feel more fulfilled.
Posting social media shoutouts: You can also spotlight volunteers on your social media profiles to show appreciation and gratitude. However, you'll want to get their permission before posting them online.
Writing reference letters: Many volunteers, especially young volunteers, get involved with an organization to boost their professional development. You can improve relationships with your high school- and college-aged volunteers by agreeing to write them letters of recommendation for college applications, jobs, internships, and more.
Giving LinkedIn endorsements: For the same reason you'd write reference letters, you can give dedicated volunteers LinkedIn endorsements. These endorsements show hiring managers and HR personnel that the person is trustworthy and a hard worker.
Offering leadership roles: When people want to impact their community, achieving a leadership role within a volunteer organization might seem appealing. Giving volunteers who long for more responsibility the chance at it can go a long way in making them feel appreciated and valued at your organization.
How Volgistics Can Help
Giving holiday or special occasion gifts can be great for encouraging volunteers and saying thank you. However, what will motivate them even more than gifts is a positive experience with your organization.
Volunteer management software is an excellent investment for organizations that want to improve their volunteers' experience and make participation as smooth as possible. Volgistics has decades of experience helping volunteer managers use technology to streamline their organization's efforts.
For more information on Volgistics, contact us online or schedule a 30-day free trial of our services.