Volunteers are extraordinary individuals and vital members of a community. Every year, millions of volunteers contribute their time, energy, and skills to helping others. According to the U.S. Census Bureau, 24. 9% of Americans volunteered in 2015, contributing an estimated value of $184 billion. Without volunteers, many organizations would not be able to reach their goals. Some organizations would not exist at all. Volunteers help organizations stretch their budgets to meet the needs of a community.
Unfortunately, the volunteer rate has decreased almost 2% from 2011 to 2015. When a valuable volunteer quits, they leave behind a void that can be hard to fill. Organizations can significantly benefit from using volunteer best practices to retain volunteers and attract new ones.
Volunteer Retention Tips
If you're a volunteer manager, you've probably experienced the frustration of volunteer loss, and you might be wondering how to retain volunteers with the resources you have. Don't lose hope – there are plenty of easy, inexpensive ways to retain volunteers. Sometimes, simply thanking volunteers regularly is enough to improve volunteer retention. With the following tips, you'll learn a variety of volunteer retention strategies to keep volunteers coming back.
1. Make a Good First Impression
Making a good first impression is critical when recruiting and retaining volunteers. If a volunteer does not understand what you expect of them, or if they do not feel welcome from the get-go, it is unlikely they will return. You want volunteers to feel confident they can contribute to your mission and be part of a team from the beginning. You also want volunteers to feel appreciated for considering your organization as soon as you meet. The moment a volunteer feels uncomfortable or unwelcome is the moment they decide to leave.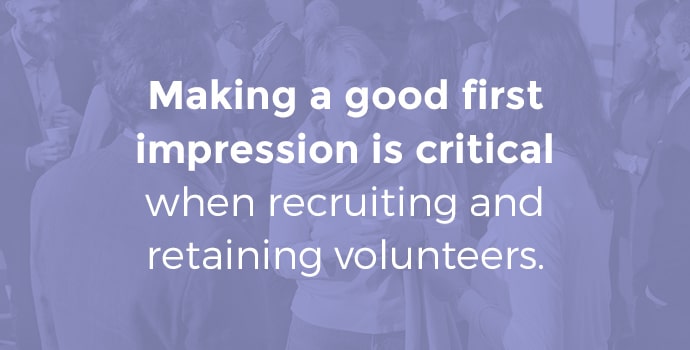 To make a good impression that will stick with volunteers throughout their service, keep these tips in mind:
Clearly define their responsibilities: If a volunteer has a clear understanding of their assignment, they are more likely to do a better job and feel satisfied. When they get satisfaction from their service, they are more likely to stay. Clearly communicate the specific purpose of their position and discuss their primary duties. Don't forget to include essential details like worksite location, supervisor name, number of hours per week, benefits they will receive, and resources provided. You might give a brochure or packet so they can remember everything you discussed. Once they see you are prepared to receive their help, they will feel confident about their decision to join your mission.
Listen more than you talk: People are motivated to volunteer for many different reasons. Some individuals volunteer to learn a new skill, while others do it to help their community. Regardless of their motivations, make volunteers feel like their efforts will be worthwhile by listening to them, acknowledging their needs, asking questions, and showing how you can help them reach their personal goals. They will immediately feel appreciated and happy to contribute their time to an organization who values them as an individual.
Be a connector: Some volunteers will be interested in using your organization to explore their career interests or gain job training. Try to connect volunteers to staff members or others who can help them grow professionally as soon as possible. They will remember how you helped them, and they will be glad they volunteered for your organization rather than a different one.
Consider your body language: You want volunteers to feel welcome, so it's important to pay special attention to your body language. For example, you can express openness by allowing your arms to relax at your sides. Avoid placing your hands in your pockets or crossing your arms as that signals defensiveness. Sit with a straight posture and maintain good eye contact to show you are listening and are genuinely interested in your volunteer.
Follow the above tips to make an excellent first impression, and you'll be hard to forget when volunteers think about quitting or looking elsewhere.
2. Give Volunteers What They Need
Although many volunteers contribute their time and energy to help a good cause, some volunteers need to fill requirements for school. Others choose to volunteer to network with like-minded professionals. For example, according to a Fidelity Charitable survey, 22% of survey respondents are motivated to volunteer for networking purposes.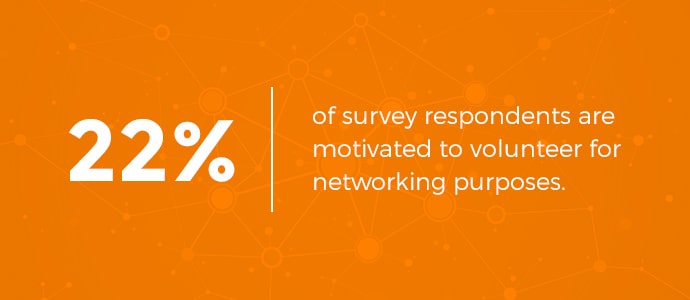 Volunteers are valuable nonetheless, and you want to keep them as long as you can. For this reason, assure volunteers from the beginning that you want to help them succeed. Consider offering volunteers the following:
Letters of recommendation
Job training
Networking opportunities
Educational opportunities
Skills development
When volunteers receive the resources they need to improve their lives, they will feel good about staying with your organization and proud to help. They will always remember how you helped them progress, and they'll be happy to recommend your organization to others interested in volunteer work.
3. Make It Easy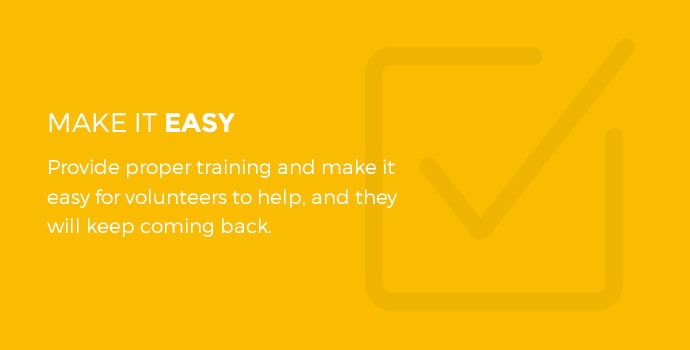 New volunteers might feel hesitant to join your organization, especially if they are inexperienced. Provide proper training and make it easy for volunteers to help, and they will keep coming back. On the contrary, if volunteers stand around feeling confused or overwhelmed by difficult tasks, you can expect them not to return. Here are a few ways to simplify the process:
Guide them: Be a new volunteer's guide the moment they walk through the door. Give them a tour of the facility, introduce them to other volunteers and staff, and explain your mission. Also, make sure they understand their duties.
Provide training: Let them know immediately that they will receive the tools and training necessary to complete their assignments. Remind them you are grateful for their help, and let them know you are there to offer direction. If they are to be trained by someone else, explain to them who will provide their training.
Encourage questions: Volunteers should always feel comfortable asking questions. If they don't, they might become frustrated with their tasks and leave. Encourage them to communicate with you, ask questions, and voice their concerns whenever they need to.
Provide support: New volunteers might feel excluded or anxious in the beginning. Help them feel a sense of belonging by pairing them with another volunteer for support. The buddy system is an excellent way to make a volunteer feel welcomed, and they get to make a new friend. A volunteer will be more likely to return when they feel connected to others.
It should not be difficult for volunteers to make a difference and help their community thrive. Make the whole process as simple as possible, from the sign-up to the arrival, and you'll have volunteers returning time and time again.
4. Match Skills to Assignments
Almost half of survey respondents consider whether or not they will get to use their skills when choosing an organization. Forty-four percent say if an organization cannot use their specific skills they will go somewhere else.
Most volunteers do not want to do dull work. They are interested in volunteering because they have a specific talent or skill they wish to share with their community. If a volunteer gets to use their skills and talents, and if they get to see the results of their contributions, they will be more likely to stick around and continue enjoying a sense of accomplishment.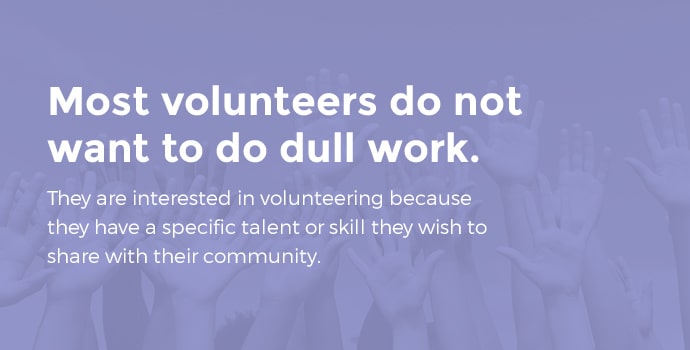 Ask volunteers from the start what they love to do, what their interests are, and what they want to do. Do your best to match their skill levels with appropriate assignments. Also, give them the option to choose their assignment. Make sure volunteers are kept busy and have a backup plan if you accidentally overschedule volunteers. You do not want volunteers to feel like they are wasting their time.
5. Make It Fun and Comfortable
Volunteer work can be tough sometimes, no matter what someone's skills are. Although volunteers are there because they want to be, it does not mean they should be uncomfortable. You can easily increase the level of comfort for volunteers with small details. For example, you might provide drinks, snacks, comfortable chairs, or other items that make the experience more pleasant.
It's true that not all tasks are fun, but there are tons of ways to add joy to the atmosphere. Don't be afraid to get creative. Bring in a new donut flavor once a week, or offer volunteers their favorite candy. Overall, it's best to ensure volunteers enjoy their experience.
Also, consider that many individuals volunteer to meet new people and socialize. With this in mind, you might arrange gatherings outside of service to help build stronger bonds and lasting friendships. The more comfortable and happy a volunteer is, the more motivated they will be to return.
6. Be Flexible
Part of being a volunteer is giving up considerable amounts of time to complete a project or help an organization long-term. Because of time, many people choose not to volunteer. For example, 32% of survey respondents do not volunteer because of the pressure to give more time than they want to. Forty-six percent do not volunteer because they don't have time.
In today's world, most people have packed schedules. They might cross volunteering off their to-do list if the time requirements are too demanding. If you want to attract and retain volunteers, it's important to be as flexible as possible with scheduling. Consider each volunteer's personal life, and make sure they feel comfortable helping in small ways.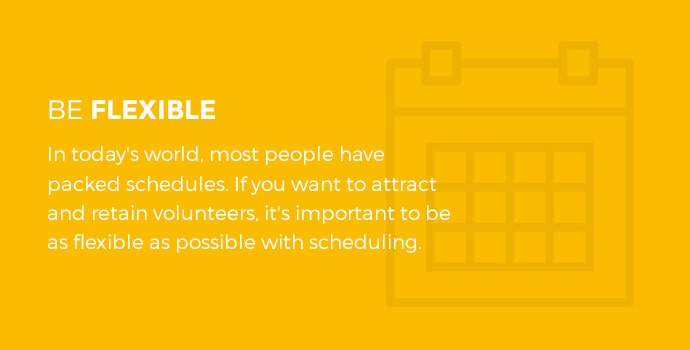 You can also think of alternatives to appeal to a wider range of volunteers. For example, you might allow volunteers to work from home if possible, or to contribute only an hour a week. The point is to let volunteers know that any contribution is appreciated, and there is no long-term commitment. By giving them short-term assignments, volunteers with tight schedules are more likely to come back.
Also, specify the amount of time you need from volunteers when you advertise for help. That way, volunteers know what to expect before they get started. Most volunteers will appreciate the flexibility and lack of pressure.
7. Communicate Often
Volunteers like to feel that someone is watching over them, guiding them, and supporting them. If a volunteer feels forgotten, it is unlikely they will return. Reach out to volunteers, address their concerns, answer their questions, and listen to their feedback. Remind them frequently that you appreciate them, and make sure they never feel ignored.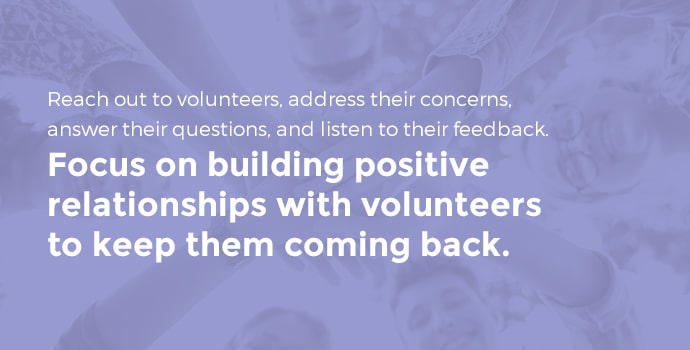 Also, take time to evaluate their skills and consider opportunities to help them grow or improve. Similarly, ask volunteers for their input about community needs or wants, and what can be done to improve the organization. Lastly, ask volunteers what they need and if they feel supported. Make them feel part of a family or team by frequently checking in.
Overall, volunteer managers should focus on building positive relationships with volunteers to keep them coming back. Try to stay connected through email, phone, meetings, or social media. Communicating with volunteers does not need to be complicated or time-consuming, yet it makes all the difference.
8. Prevent Volunteer Burnout
You may recall jobs you've held in the past that you did not enjoy. You can also probably think of jobs you loved. What were the differences between the two? Think about the characteristics of good and bad jobs and use that insight to build a better experience for volunteers. When volunteers do not like the work they do, they might experience burnout.
Burnout can occur when volunteers feel overwhelmed, underappreciated, or like nothing they do matters. When volunteers do not enjoy their assignments or feel taken for granted, they will see little reason to stay, even if they've been there for years. To prevent burnout and losing your most loyal volunteers, aim to create a long-lasting positive experience in the following ways:
Offer ongoing training and educational opportunities
Offer meaningful work with detailed responsibilities
Offer necessary resources and space
Make volunteers feel respected
Offer support however you can
Make volunteers feel recognized and valued
9. Show Appreciation
Each volunteer hour is valued at an estimated $24.69. Considering that volunteers donate their hard work and time, it's important to make them feel appreciated and valued at every meeting.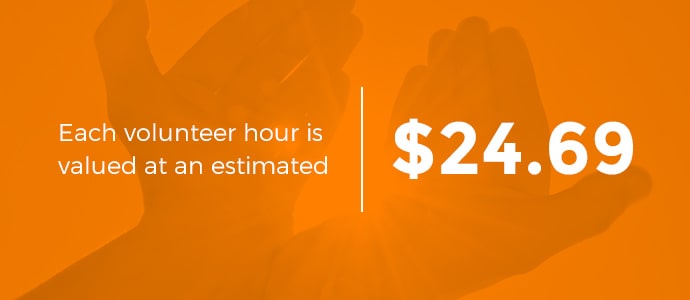 Showing appreciation can be easy and inexpensive. There are so many simple ways to show someone you care about them and value them. Sometimes, even the smallest gesture can make a huge difference and help you retain volunteers.
For example, you can thank a volunteer with a quick note or an email message. In a matter of minutes, you can show them you notice what they do for your organization, and you are grateful for them.
Some organizations thank volunteers by giving them free meals for a certain amount of hours worked. Either way, make sure to say thank you often. When a volunteer feels appreciated, they will continue to give their time and effort.
It's okay to get creative and have fun with showing your appreciation. Keep in mind that expressing gratitude does not require tons of money, although it's up to you how elaborate you wish to get. Here is a list of ideas to inspire you:
Send the message: Thank volunteers via letters, emails, or thank-you cards. Surprise volunteers with birthday cards, and make them feel extra special.
Spread the word: Give volunteers the recognition they deserve through media coverage or by writing about volunteers in newsletters. You might also provide a wall plaque for volunteers acknowledging their hours of service or start a volunteer-of-the-month program.
Give: Give volunteers gifts such as mugs, t-shirts, or tote bags decorated with the organization logo to make them feel like they belong. Give them treats like movie or concert tickets, gift cards, or other tokens of appreciation they can use and enjoy.
Celebrate: Celebrate National Volunteer Week and host an event to honor volunteers. Invite staff to the event to take part in the festivities and show their appreciation. You might also hold an annual event just for volunteers, or celebrate certain milestones you create with volunteers.
Listen: Make an effort to get to know volunteers personally. Remember details about their lives and interests, and continue the conversation next time you see them.
10. Stay in Touch
After a volunteer completes an assignment, it's important to stay in touch. That way, if an individual decides they would like to volunteer again, they will know where to turn. You can encourage individuals to volunteer at your organization again by:
Thanking them
Showing their impact
Promoting future opportunities
Getting to know them better
Individuals will be more interested in volunteering again if they know they made a difference. Keep volunteers up-to-date on the organization's progress. Share success stories or invite them to tour the full facility so they can see how their actions fit into the overall picture. Once they witness the result of their efforts, they will feel motivated to come back.
11. Keep Track of Volunteers
Depending on the size or sector, an organization might see dozens of new volunteers a year. With so many different names and faces coming and going, it can be difficult to keep track of volunteers. Nevertheless, volunteer managers need to develop a system to remember details about every individual and avoid making volunteers feel unnoticed.
Volunteer managers should be able to efficiently track a volunteer's needs, hours of service, contact information, and personal information such as birthdate. They should also have a way to remember a volunteer's interests and skills. With organized, easy-to-access information about each volunteer, managers can easily send birthday cards, email messages, thank-you notes, and more. It'll also be easier to ask for volunteer feedback if you know how to reach them.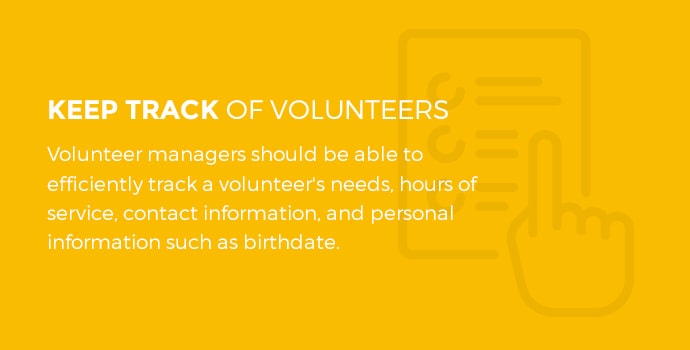 The ultimate goal is to make volunteers feel like you truly care about them and appreciate them as an individual.
Try Volgistics Today
Volunteer managers can improve volunteer retention by using volunteer management software like Volgistics. Volgistics makes it easy to keep track of volunteers from the initial screening and beyond. With Volgistics, you can use the following features to boost volunteer satisfaction and simplify communication: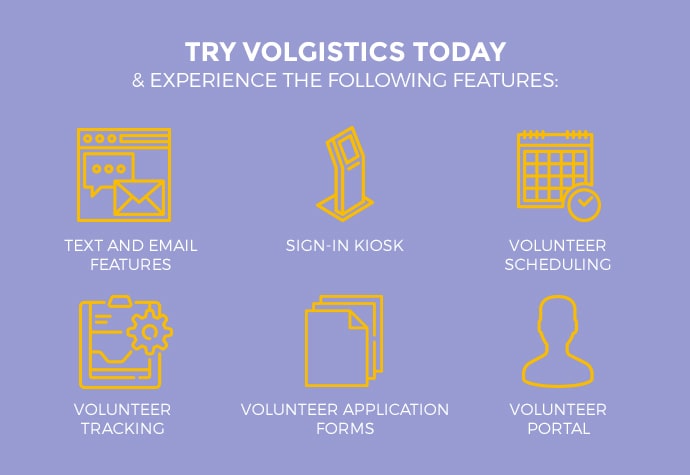 The Volgistics team is excited to help you improve volunteer retention with easy-to-use, contract-free volunteer management software. To learn more about Volgistics, contact our support team, join a live demo, or begin your free trial today.