As a leader for a volunteer organization, you have meaningful goals — to improve your community, to support marginalized groups, or to raise awareness for important issues. Despite the nobility of your cause, you need more than tenacity and enthusiasm to make a difference. You also need funds, and volunteer program costs and donations tend to be somewhat unpredictable.
It's important, however, to plan your budget with as much accuracy as possible. Use this guide to volunteer budgeting to help you make the most of your resources. Learn about categorizing funds, determining projected revenue, predicting expenses, creating an itemized budget, and more helpful tips.
The Importance of Budgeting for Volunteer Organizations & Programs
Most volunteer organizations rely on limited resources to function. A detailed, thoughtful budget allows for the most effective use of those resources. Creating a budget for a nonprofit volunteer program also:
Helps you focus on goals: Once you've planned the best way to use your funds, you'll be able to focus on reaching your goals. You'll spend less time concerned with your monetary constraints and more time getting things done.
Provides transparency for board members: Without clear financial plans and records, your board members are bound to grow frustrated and confused. A detailed volunteer budget means transparency. Your board members will be able to tell how well your programs perform, which makes for better feedback.
Provides transparency and justification for donors: Transparency also means more effective fundraising. Donors want and deserve to know where their money goes. If you can show that you make wise, comprehensive choices with your funds, you'll earn more donations. Donors will feel their dollars are making a difference and be more inclined to keep participating.
What Should Be Included in a Volunteer Program Budget?
If you're wondering how to create a budget for volunteer programs, start with the basics. Record all of your expenses — though volunteer labor is free, other expenses can amass. Here are the things to include in a volunteer program budget.
The Costs All Volunteer Programs Budget For
Keep track of everything. When you create a volunteer program budget, make note of every resource your organization uses to achieve its goals. Your costs of operation might include any of the following.
General Operating Costs
Here are some common volunteer budget expenses. Many of your operating costs will fall into these general categories:
Direct costs: The costs of your supplies, venues and other upfront expenses involved with a specific project fall into the direct costs category.
Staffing: Staffing costs include the resources spent acquiring and keeping team members who help bring your mission to life.
Capital expenditures: An item of capital expenditure has long-term resale value. Examples include vehicles and real estate.
Hidden costs: Hidden or overhead costs are indirect. They have no immediate connection to a specific project, but they're vital for operation.
In-kind contributions: These include donations of goods or services used to complete projects.
Common Expenses of Volunteer Programs
Your volunteer organization budget should also include expenses in these other categories:
Marketing: Proper marketing is vital for any volunteer group's success, though it can be costly. Marketing expenses include web design and search engine optimization (SEO), brochures, pamphlets, billboards, and promotional giveaways.
Recruitment: Acquiring adequate volunteer assistance involves expense. You have to pay for online postings or booths at career development events. You also have to dedicate resources to interviews, background screening checks, and new volunteer training programs.
Volunteer support: Support includes software, communications, and travel expenses.
Volunteer appreciation: Showing appreciation increases volunteer retention, lowering your costs in the long-run. Still, events, awards, and refreshments have a price tag.
Professional development: Professional development is important for continuous improvement. It includes trainings, certifications, and conferences.
Format Your Budget With Your Fiscal Department
It's important to align your budgeting categories with your fiscal department line items. These should match up so you can monitor your spending and communicate with donors, leaving no room for any translation errors. If a grant requires you to use their line items, create a clear map from your categories to theirs.
Budgeting Tips for Volunteer Organizations
When you first start volunteer program fiscal planning, you may struggle to find footing. Proper budgeting can be complicated and messy in its early stages. Reference these budgeting tips for volunteer programs to help you take control of your expenses.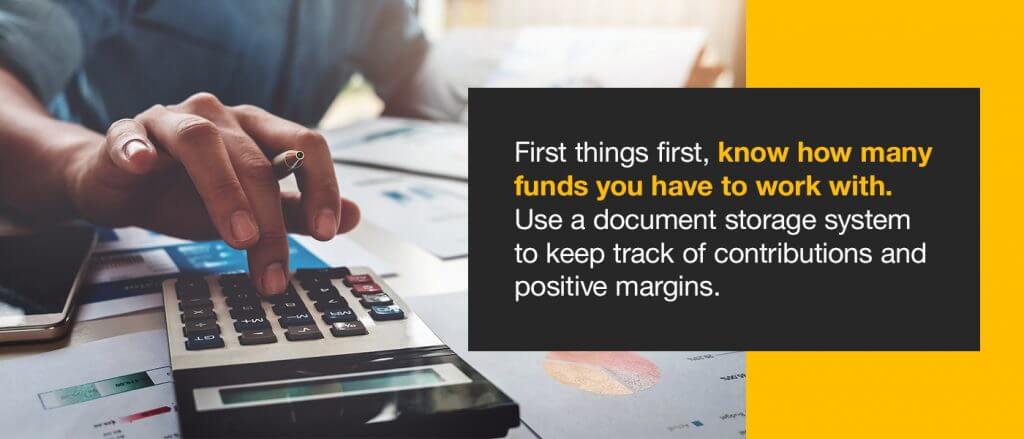 Know What Your Budget Is
First things first, know how many funds you have to work with. You can only create a volunteer organization budget if you're familiar with your constraints. Use a document storage system to keep track of contributions and positive margins. Make sure to keep track of both incoming and outgoing funds.
Over time, you'll be able to see patterns, and you'll get a feel for which fundraising efforts are most successful. Detailed donation records will also help you thank your highest donors, encouraging future contributions. You might designate plaques for your highest donors or host exclusive events.
Create a Timeline to Complete Your Budget and Start Early
You'll need time to gather data, discuss your priorities, and itemize your budget. Give yourself ample time to prepare for budgeting. Record data for at least a few months, schedule board discussion meetings in advance, analyze the data you've collected, and make decisions. Set a specific timeline to accomplish these tasks. Mark these events on your calendar so you can repeat the process in the following years.
Get started right away. Keep track of all of your volunteer program expenses. Schedule board meetings in advance so you have time to discuss your budgetary needs. Come prepared with detailed records to make the conversation smoother and more productive.
Involve Department Leaders For Their Input
When it comes to building a non-profit volunteer program budget, you need to involve all the necessary people. Leaving people out of the conversation might result in controversy. Not to mention, more voices mean more insights — people from different areas of your organization will have unique thoughts to contribute. Involve the perspectives of your board members, volunteers, and staff.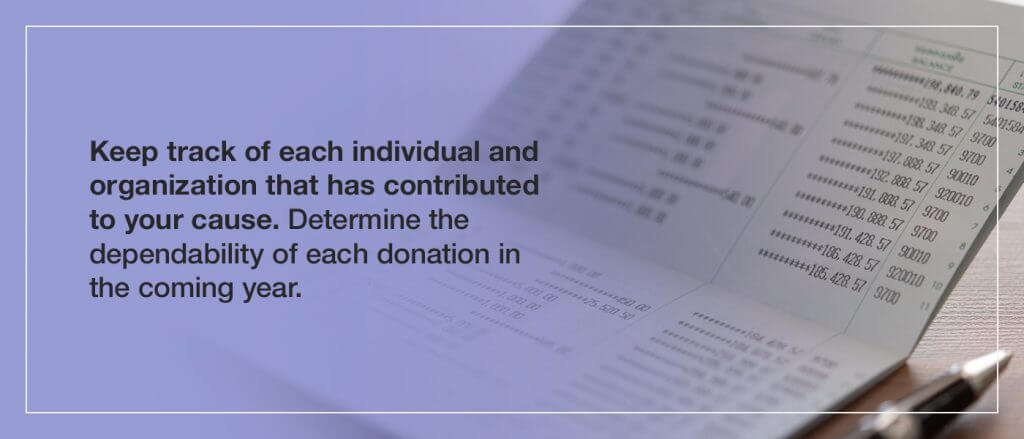 Identify Where the Funds Will Come From
When you rely on donations to operate, your funds can be unpredictable. With that said, it is possible to organize and predict your income to the best of your ability. Keep track of each individual and organization that has contributed to your cause. Determine the dependability of each donation in the coming year. How likely are you to receive matching funds next year?
Decide on a percentage of likelihood and use those percentages in your budget. For instance, if there's only a 50% chance you'll receive a matching donation next year, only include 50% of that donation in your budget. Try to play it safe and undercut these percentages. It's always better to have more funds than expected rather than less. When you project donations, exclude any one-time gifts. Talk to your donors to gauge the likelihood of repeat gifts. Keep them involved and informed so they feel inclined to keep supporting your efforts.
Determine Projected Revenue
Add up all the likely donations for the coming year to determine your projected revenue. Over time, you'll uncover trends and improve the accuracy of your estimates. Of course, your projected numbers may not match reality. For that reason, it's important to underestimate your donations rather than overestimate them.
Assess Best and Worst-Case Scenarios for Funding
It's important to be as realistic as possible. Create itemized budgets based on both best-case and worst-case scenarios. Use the numbers from your highest donation periods and lowest donation periods. Collect quotes from vendors and partners, tracking the highest possible expenses. Only planning for the best-case scenario might leave you with unrealistic expectations. You may find yourself frustrated and unable to meet your goals, which can demoralize your team. On the other hand, if you've accounted for disaster, normal circumstances will be a bonus.
Determine Expenses Associated With Certain Goals and Objectives
Be specific with your projected expenses. Determine your goals and objectives and plan for any costs associated with them. For example, if you have a goal to add five new volunteers in the coming year, outline the associated costs — how many funds will it take to recruit, interview, screen, and train five new volunteers?
If one of your goals is to thank your top 20 donors with a banquet, determine how much it might cost to rent a venue, and purchase catering. Gather quotes for comparison shopping. Write down all the expenses associated with each of your goals. Once you've gathered the numbers, you can decide which goals to prioritize.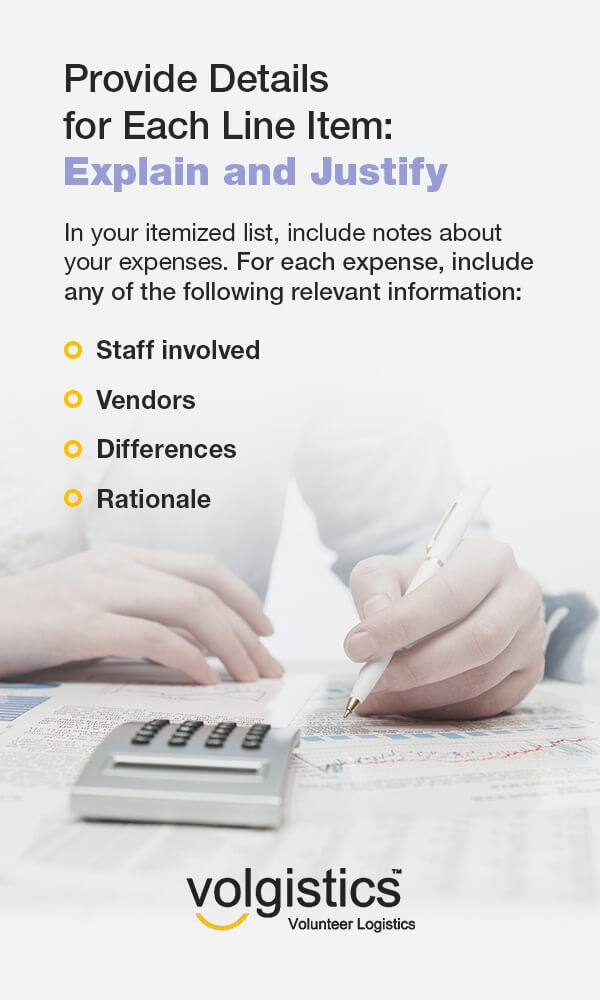 Provide Details for Each Line Item: Explain and Justify
In your itemized list, include notes about your expenses. You'll be more likely to earn grants and donations if you can explain exactly where funds go and justify spending. For each expense, include any of the following relevant information:
Staff involved: Keep track of how many volunteers or paid staff members you need to achieve your goals. You can use volunteer tracking software to determine how many volunteers attend each event.
Vendors: Discuss your vendors — their costs, their benefits, and why you've chosen them.
Differences: If an item is more expensive than it was the year before, explain why. Perhaps the cost of a venue has increased. Perhaps your organization has scaled upwards, increasing your quantities. Make note of any differences.
Rationale: Why is this expense important? Why is it necessary? Include a simple explanation.
Keep Records to Guide Your Future Budget
Every time money moves in or out of your organization, keep detailed records. List the amount, where it came from or where it's going, and add notes for easier comprehension. The more detailed, the better. These records will serve as volunteer budget examples to help guide your future budget.
Also, when you're tracking your funds, think about whether an outsider — for instance, a donor or a person reading a grant application — would understand where these funds came from or where they've gone. Having thorough and accurate records can help make it easier to justify your efforts to donors or grant organizations in the future.
Back Up Your Budget With Supporting Data
Measure how much you've been able to accomplish with your current funding. Use objective terms and figures whenever possible. Note the impact your program has had on the community using available resources. Several strategies can help you collect data, including the following:
When hosting events, include sign-up sheets so you can report on community engagement.
Calculate total donations from different fundraising events to see which are most effective.
Gather data from experts to measure your impact. For instance, if you lead a river-cleanup campaign, ask environmental authorities to measure pollutants in the river before and after your efforts.
Ask participants to share their thoughts. Though this data will be qualitative, it can add emotional sway.
Plan For the Future with a Reverse Fund
Your projected revenue may not match reality. This can make budgeting volunteer experiences challenging. As long as you prepare ahead of time, however, you can accommodate for decreased funds.
Always plan for a reserve fund in case revenues do not hit projected levels. Put funds into savings to make up for any possible deficits. When presented with a surplus in funds, you may feel obligated to put them into immediate use. Instead, build organizational savings. Set aside a percentage of your choice. You never know when you might hit a rough patch — your savings could make the difference between weathering the storm or shutting down.
Monitor the Budget Throughout the Year
Once you've determined and accepted a budget for your volunteer program, keep it under surveillance. Compare your predictions to reality. Did a donor give less than expected? Did a fundraising event have a smaller turnout than you expected? Ask yourself why this happened. Was it due to factors out of your control, or could you have done something differently? Take notes of all of your observations. Be as specific and objective as possible.
For instance, say you host an annual outdoor walk-a-thon. Last year, it took place during a beautiful day, you had a lot of participation, and your organization earned many contributions. This year, the day happened to be rainy and chilly, drawing fewer participants and resulting in fewer donations. Take note of this alongside your projected revenue. Ask yourself if you should reschedule the event in the future or relocate it indoors.
An itemized budget is also an invaluable tool — just be careful not to create it and forget about it. Instead, reference it as often as possible throughout the year. This can help you improve the accuracy of next year's budget and impact your decisions.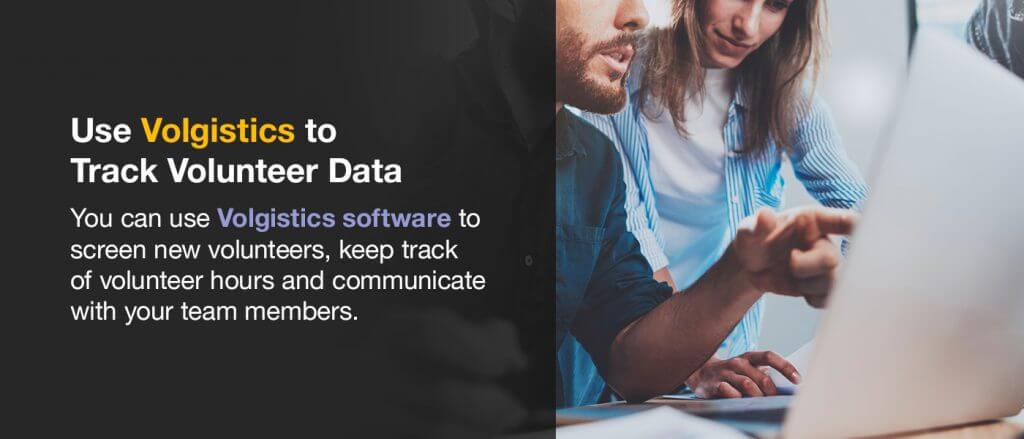 Use Volgistics to Track Volunteer Data
These budgeting tips for nonprofits let you create accurate, detailed budgets that can help you focus on your goals, have more efficient board meetings, and earn donations by providing justification for your funds. To achieve these benefits, though, you'll need a reliable organizational system. That's where Volgistics comes in. You can use Volgistics software to screen new volunteers, keep track of volunteer hours and communicate with your team members. These features can improve your team's organization for smoother day-to-day operation. To learn more contact Volgistics today!