If you manage a nonprofit, you know how vital external contributions can be. Corporate giving makes up a valuable part of those contributions — in 2019, charitable contributions from corporations amounted to about $449.6 billion.
What if you want to develop a permanent, mutually beneficial partnership with a local corporation or business? Building corporate-nonprofit partnerships requires some effort and planning, but the rewards are often well worth the investment.
If you're wondering how to create a corporate-nonprofit partnership, you've come to the right place. In this guide, we'll offer some advice about how to start a corporate-nonprofit partnership and suggest some different corporate-nonprofit partnership strategies that often prove beneficial.

What Is a Corporate-Nonprofit Partnership?
A corporate-nonprofit partnership, sometimes called nonprofit partnerships or charity corporate partnerships if the nonprofit is a charity, is a relationship in which a nonprofit organization and a corporate sponsor or partner join forces to meet a common goal on the basis of their shared values.
For example, an animal shelter might partner with a local bank. In this partnership, the bank might contribute recurring donations to the animal shelter or sponsor specific events, such as an off-site adoption event. The shelter might acknowledge the partnership by calling the event the "Rockville Community Bank Adoption Extravaganza" or naming an adoption sponsorship after the corporate entity. Or an organization that raises funds for kids with cancer might partner with a prominent car dealership — the dealership might set up donation stations around its showroom where shoppers could donate.
Nonprofit-and-business partnerships should try to meet these goals:
Mutually beneficial corporate-nonprofit partnerships are the most likely to last. A partnership is mutually beneficial if it has advantages for both the nonprofit organization and the corporate business. The intangible benefits to the business should outweigh any costs it incurs.
The nonprofit organization and the partnering business should share generally similar values. For instance, it makes no sense for a nature conservancy to partner with an oil and gas company — the values of the one organization would likely undercut the mission of the other. A nonprofit organization should seek out corporate partners whose values are at least broadly in harmony with its own.
Corporate partnerships work best when it is grounded in open, honest communications. The nonprofit should be open about what it hopes to gain from the partnership, and the corporate partner should be transparent about what it hopes to achieve as well.
Why Engage in a Corporate Partnership?
Engaging in a corporate partnership offers a number of benefits for nonprofit organizations, including:
More operating funds
Nonprofits don't do what they do for the money, but most of them need funding to run successful programs — and a corporate partner can help. In exchange for the use of its name on your promotional materials or at events, a business will make substantial donations to a nonprofit. These donations can be vital for helping the nonprofit achieve its goals.
Enhanced community standing
Your community may be fortunate enough to have a wealth of nonprofits working to make the world a better place. But if that's the case, it can be hard to stand out from the crowd. Working with a corporate partner can expose your nonprofit to people who never would have crossed its path otherwise — and established businesses often have deep connections in the community and can use them to help your nonprofit network and flourish.
Increased volunteer pool
When businesses partner with nonprofit organizations, some of their employees may become inspired to volunteer. If so, make a place for those employees on your volunteer team. If employees come to volunteer as a group, they can get a lot done in a short time — and they'll also likely have fun. A positive experience volunteering with their work friends can make them want to come back again, thereby helping your nonprofit with volunteer retention.
Wider influence
A well-known business may be able to do more for your nonprofit than a lesser-known one because it has a larger client base. When clients learn of the partnership, they may feel inspired to get involved as well, and a well-known business could potentially send supporters and donors your way in droves.

What Do Corporate Partners Want From the Relationship?
Though corporate partners may give generously, they are also likely to want something in turn from the relationships. Here are a few ways in which corporate partnerships with nonprofits benefit the participating businesses as well:
Community reputation
Most consumers want to feel that the companies they do business with are trustworthy, caring, and conscientious. Partnering with a nonprofit helps a business demonstrate how thoroughly it embodies these values. If community members see businesses becoming involved with nonprofit events and volunteer work, they are more likely to think highly of those businesses and patronize them in the future.
Advertising opportunities
When businesses sponsor a nonprofit event, they often get advertising opportunities in return, usually through the use of their name or the prominent display of their logo. Businesses can also reference the corporate-nonprofit partnership in their internal marketing materials, emphasizing that they are proud to support the good work of the nonprofits they partner with. These opportunities help raise the business's visibility in the public eye and create positive brand associations.
Employee morale
Employees who feel good about their workplaces are likely to be more productive and stay with the company for longer. Employee turnover tends to cost companies about a fifth of each lost employee's salary, but boosting employee morale can encourage people to stay, thus preventing substantial losses. Companies that partner with nonprofits are likely to see better employee morale. Knowing that a business is part of a mission to do good work in the community is likely to make employees feel positive about the business and take pride in working there.
Energized client base
Ideally, businesses want to partner with nonprofits that their client base will be excited about. These may be nonprofits that tug on the heartstrings, such as those that work with homeless children or pets. Or they may be nonprofits whose mission intersects with the client base's interests in some way — say an outdoor gear company partners with a nature conservancy. If the client base is excited to hear about the new partnership, they may be more inclined to continue patronizing the business.
Increased sales
Of course, companies are in business to maximize their revenues, and working with a nonprofit often offers a way to do just that. Some increased sales may come from the advertising and marketing opportunities mentioned above. Others may come from the positive brand association the partnership provides. Whatever the reason, most businesses will consider a corporate partnership a successful one if it has a net positive impact on the business's revenues.
Data
Many corporate partners will ask for documentation of how they have contributed and how far their donations or efforts have gone. They may want to show these records to their shareholders as evidence of corporate responsibility practices, or they may want to be able to show their employees the demonstrable impact they have had. Being able to document the benefits of your partnership helps keep the relationship between you and your corporate partner strong. 
Start your free trial to see how easy volunteer reporting can be for your corporate partnership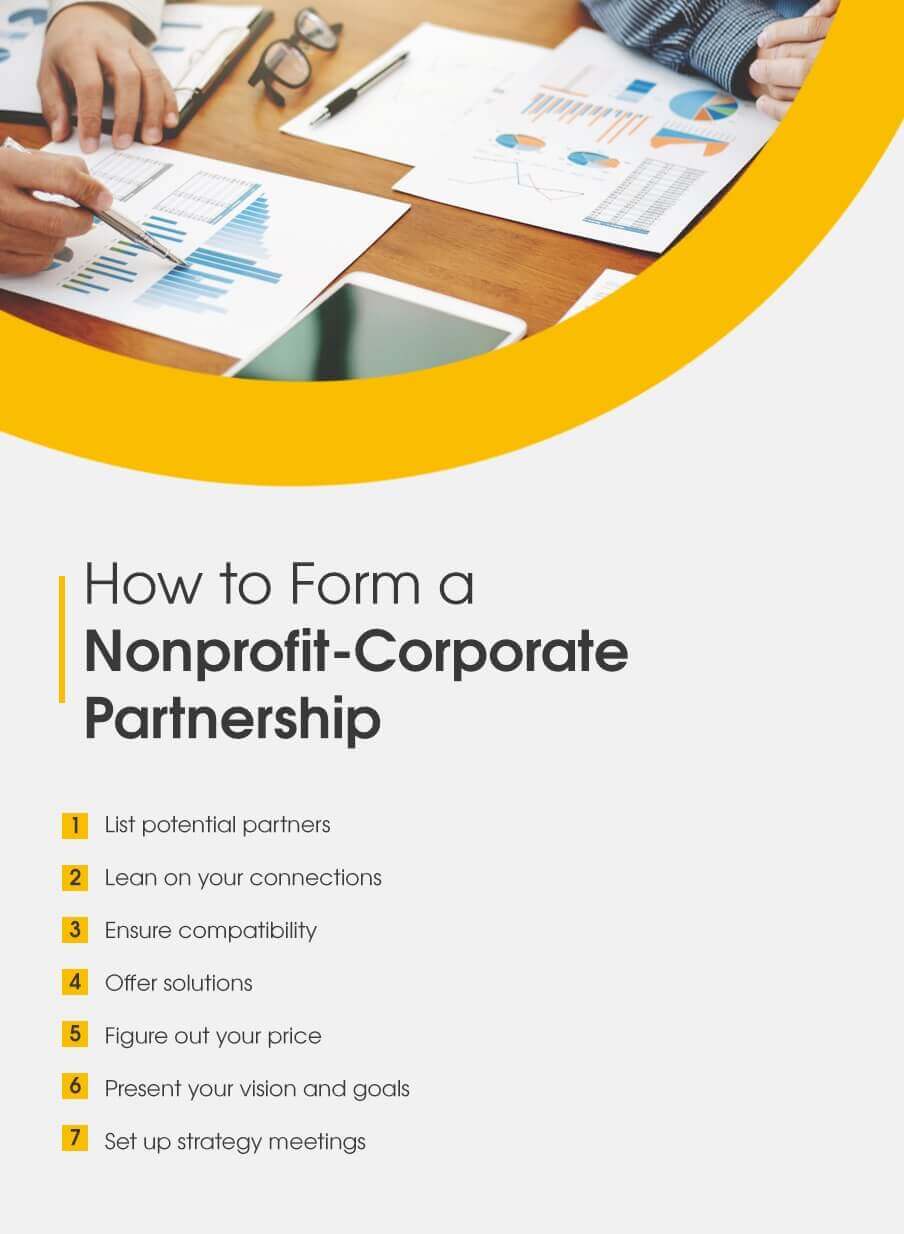 Examples of Corporate-Nonprofit Partnerships
Here are some examples of nonprofit partnerships:
Make-A-Wish Foundation and Disney
Since 1980, Disney has helped Make-A-Wish grant more than 145,000 wishes world-wide. In fact, one out of every two wishes Make-A-Wish grants is a Disney wish.
St. Jude Children's Research Hospital and Amazon
Amazon has been a partner of St. Jude Children's Research Hospital since 2014. The corporation provides shoppers with several ways to help end childhood cancer.
American Red Cross and The Weather Channel
CEOs of American Red Cross and The Weather Channel provided official statements in 2016 where they publicly announced their partnership. Dave Shull, CEO of The Weather Channel, noted that one of the reasons the two organizations joined forces was due to a common mission: to keep the public safe and informed.
The Salvation Army and Walmart
The Salvation Army and Walmart have worked together for more than 40 years. One of the outcomes of their partnership is the Salvation Army Angel Tree program, which provides roughly one-million children in-need with clothing and toys every Christmas.
Feeding America and Aldi
Aldi helps Feeding America solve hunger-related problems through cause marketing, disaster support, employee engagement, philanthropy, and product donations. In fact, every year since the start of their partnership, Aldi has organized volunteer events for its employees to pack disaster relief boxes, which support individuals and families displaced from their homes due to natural disasters.
How to Form a Nonprofit-Corporate Partnership
Once you've decided that engaging in a corporate partnership makes sense for your nonprofit, it's time to set one up. But how should you begin? Here are some tips for starting corporate-nonprofit partnerships:
List potential partners
One of the first steps in building nonprofit-corporate partnerships is to decide what types of companies would make sense as partners for your volunteer organization. Make a list of area businesses that have strong, positive reputations. If you can tie the business's area of expertise to your nonprofit work — even better. An animal shelter might partner with a business like PetsMart or PetCo, or a food bank might partner with a local grocery chain.
Lean on your connections
Whatever connections you may have in the community, use them to get introductions with local businesses. Your board members can be invaluable here — board members may have connections to higher-level executives like CEOs, and they will often be happy to facilitate introductions. Or reach out to your volunteers — some of them are likely to have fruitful connections to area businesses as well.
Ensure compatibility
Once you've identified a few promising businesses, make sure your values are aligned. Look into their company cultures and the values they reveal in the way they do business. No monetary advantage is worth partnering with a business if you wouldn't be proud of the alliance — think of how you would feel seeing your two names together on a banner at your next event. Make sure you do your research and choose a partner you respect.
Offer solutions
When you're meeting with potential partners, see if there are ways in which your nonprofit can help solve some of their problems. For instance, a food bank or homeless shelter looking for food donations might be able to partner with a grocery or hotel chain looking to cut down on food waste. Or maybe your organization provides interview and employment coaching for at-risk youth and can partner with a retail business that is desperate for help. Not all charity-and-business partnerships will be such perfect fits, but looking for areas where a business might want to improve can be key.
Figure out your price
What levels of donation, volunteering, or sponsorship would make corporate sponsorship worth the investment of your time and energy? Consider the contributions you would need to receive from a corporate partner versus the benefits that would merely be nice to have. If a reliable community retail business is willing to contribute regular cash donations but can't send volunteer groups as often as you'd like, you should likely accept the partnership and figure out how to bolster your volunteer program in other ways.
Present your vision and goals
Be sure to communicate clearly about your nonprofit's vision and goals as well. If you need to take in a certain amount of revenue each year for your programs to be viable, say that upfront. Or if your goal is to expand your literacy programs into ten more schools or surrounding cities, elaborate on those plans as well. Your new partners may have helpful ideas to contribute, and communicating with your corporate partner about how its time, talents, and donations will make a difference through your organization can make executives and employees alike even more enthusiastic and committed.
Set up strategy meetings
Once you've found a good fit, make sure you meet in person to hammer out the details of your partnership. Being clear about your wishes upfront and getting contractual details spelled out in writing can help make sure your collaboration is beneficial, harmonious, and productive for many years down the road.
Common Corporate-Nonprofit Partnership Models
Several types of nonprofit partnerships exist, and nonprofits and local businesses can work together to decide which works best for them. Below are a few different types of corporate-nonprofit partnerships:
Corporate sponsorship
Corporate sponsorship is one of the most visible kinds of corporate partnerships. In this model, businesses sponsor specific programs or events that the nonprofit runs. The business offsets the cost of the event, and in return, the nonprofit displays the business's name at the event or in advertising materials. This arrangement creates a positive brand association for the business and helps the nonprofit acquire the donations it needs to run a successful program or event. Corporate sponsorship spending was projected to grow by at least 4.5 percent in 2018, to $24.2 billion in the United States, and $65.8 billion globally.
Direct donations
Another type of private nonprofit partnership model involves direct donations.Donations usually take one of two forms: cash donations or in-kind donations. Cash donations go directly to support the nonprofit's operations. In-kind donations are donations of non-monetary things the business needs, such as blankets and canned food or new laptops. In-kind donations do not have to be physical items — legal advice, social media management, and errand running can all be in-kind donations, as well.
Volunteer programs
Corporate partners can also set up programs through which they send their employees to volunteer with the nonprofit. The volunteers might help staff public events, or they might do behind-the-scenes work, like walking dogs or cleaning cages at the animal shelter. Skills-based volunteerism, especially, in which employees volunteer their specific talents, such as carpentry or even teaching yoga to overworked staff members, is becoming popular as well in many business-charity partnerships.
Workplace giving
Workplace-giving programs take place when businesses collect donations from their employees for the nonprofit. Many times, businesses encourage contributions by offering to match whatever funds employees raise with a donation of its own. Workplace giving programs are useful because they allow employees to feel a direct sense of accomplishment and satisfaction even if they cannot take time out of their busy schedules to volunteer directly.
Corporate partner fundraising
Instead of asking its own employees for donations, a corporate partner may choose to help develop a fundraising campaign. In these fundraising corporate partnerships, the business may set up donation stations where its clients can contribute, or it may run special promotions like asking customers to round up their change and donating the proceeds to your nonprofit. Whatever route the business chooses, corporate partner fundraising is an effective contribution method and one that increases your nonprofit's visibility in the community as well.
How to Attract Corporate Partners
We could tell you all about this topic, but we'd rather point you toward this great content from a Donorbox webinar, where they really dive deep into it.
Contact Volgistics for All Your Nonprofit Volunteer Management Needs

If your corporate partner is sending volunteers your way, you'll need a reliable way to manage them. In that case, trust Volgistics for support. With this easy-to-use volunteer management platform, you can schedule volunteers, track volunteers, report on volunteer service, and text and email volunteers — all from within an intuitive online platform.
Sign up for a free trial, so you can try before you buy — we're confident you'll love the functionality and convenient management. Contact us today to learn more.