When a skills-based volunteer works on a project, they give it their best effort. Volunteer programs exist to better the community instead of generating a profit. Volunteers contribute their time and talents to your organization's mission because they believe in it. And skills-based volunteers have their work cut out for them because they are fulfilling a specific need.
From programming computers at the local after-school club to providing dental work for a small, impoverished village overseas, skills-based volunteers spend much of their time and effort bettering society. They do it to spread joy instead of accumulating wealth. While they may make a living with these abilities, they spend their free time applying their knowledge to make the world a better place.
Highly skilled volunteers are essential to an organization's influence locally and globally. Knowing how to launch a skills-based volunteer program of your own is your organization's first step toward investing in your community and your organization alike.
What Is Skills-Based Volunteering?
Skills-based volunteering harnesses people's unique talents and abilities in a setting that would otherwise merit compensation. In simpler terms, skills-based volunteering is someone using their professional training for free. Skill-based volunteerism takes many forms and includes the following factors.
The volunteers: Individuals, corporate workers, executives, and interns are all types of skill-based volunteers.
The projects: Projects can be short-, medium-, or long-term. A volunteer project can be as brief as an afternoon or as long as several weeks or months.
The time: Volunteer hours can occur during the workday or during someone's free time, depending on the project and the organization involved.
The setting: Various settings need skill-based volunteers, from planned events to spontaneous projects and natural disasters.
The skills: Volunteer projects need all sorts of abilities, from the most technical service down to various hobbies.
The foundation: Every volunteer project needs a robust foundation to streamline operations and keep everyone engaged. Volunteer management software can help you accommodate each of your volunteers.
The impact: Skills-based volunteerism can impact communities of all shapes and sizes, from local to national and international levels.
Examples of Skills-Based Volunteering

Skill-based volunteering is different than standard, hands-on volunteering. Hands-on volunteering demands labor, but requires far less training. Examples include playground cleanup, working at a soup kitchen, and planting a garden at the local park. These tasks are essential to a healthy and happy community, but skill-based volunteering takes things a step further.
Projects for skill-based volunteering fall under these three categories.
General skills: General skills can include tutoring, event coordinating, and job skills training. They take time and effort and often involve placing the volunteer in a position of authority or in an educational role. The general skills include specialized knowledge and the ability to pass it on to others who need it.
Board service: Board service volunteer work requires skills for board placement and board member training. These tasks demand knowledge of the organization and decisiveness to make good leadership choices. The decisions made in this type of volunteer work can influence the entire organization.
Pro bono professional expertise: Pro bono skills-based volunteering sees volunteers performing the same tasks they do during a typical workday, but for free. Examples of pro bono volunteer work include legal counsel, IT assistance, human resources consulting, and specialty marketing services.
3 Tips for Launching a Skills-Based Program
Everyone involved will reap the benefits of a skills-based program, from your organization's leadership team to the expert volunteers working on your project's front lines. And more importantly, the people in your community whom you're reaching will benefit most of all. It's a situation where everyone wins, and your organization is at the center of it all, making it happen.
You should consider a few factors when launching your skills-based program. Start the process thoughtfully to ensure success later on — including keeping your highly skilled volunteers engaged from start to finish. Here are three tips for launching a skills-based volunteer program in your organization.
1. Pursue Projects Your Workforce Understands
Organize projects that are a good fit for your overall mission and objectives. A project that feels foreign to your organization may sputter out before it even begins. When a project resonates with your employees and volunteers, they will show much more excitement and enthusiasm about it.
Be sure to explain the project in full detail to avoid confusion and increase your chances of receiving volunteer applications. Understanding the need for volunteers is the first step for your workforce. The second is the desire to join the cause, and this is only possible when you lay a robust foundation of understanding.
2. Match the Program With Your Organization's Culture and Skill Set
You can achieve more success by aligning the project with your organization's culture and skill set. If your organization fosters a community of healthy competition, offer incentives for recognition within your volunteer project. If your organization cares about a specific need in the community, create a project to fulfill it.
You should also develop a project that uses your organization's existing skill set, which could look different across various organizations. Assess your organization's abilities and create your volunteer project to match. Members of your workforce will fit right in, opening the door for them to volunteer.
3. Set Your Goals and Design a Program That Meets Them
First, you have to outline your goals. What are you trying to accomplish? Does your community need a specific task? Are you looking for skilled volunteers to help with internal, organizational needs? Ask yourself these questions to help you sort your thoughts. Once you've outlined your goals, you're ready to design a program that meets them.
Stay flexible in case you need to change things as you develop your skill-based volunteer program. Spend enough time in the planning stage to embark on the project with confidence. A well-organized project with defined goals will help your volunteers stay engaged and keep everyone on track.
5 Steps to Launching a Skills-Based Volunteer Program
The next stage of the process is putting your plan into action. Use these five steps to help you launch a skills-based volunteer program for your organization.
1. Determine Your Organization's Readiness

Your first step is to analyze your organization. Launching a skills-based volunteer program at the right time will increase your chances for success. If your board of directors is ready to fund the operation and you have established a strong presence in the community to attract donations and volunteers, you can be confident the time is ripe for you to start your project.
Here are some ways to ensure your organization is ready:
Refresh everyone on the details, including who will be doing what, when the project will begin, and where it will happen.
Make sure your organization is ready to engage volunteers. Can you attract volunteers to your cause? And if you can, will you be able to keep them around?
Is your organization willing and able to show appreciation and value for your volunteers?
2. Identify and Scope Your Project
After determining your organization's readiness, you're ready to set your volunteer program into motion. Look for an opportunity that fits your proposed timeframe, and ensure it's a project your volunteers are ready to accomplish. You'll want to scope your project using the following criteria:
Identify any challenges that could arise within your organization as you seek to meet your goal.
See if you can meet these challenges within a self-imposed deadline.
Determine if you have the skills needed to complete the project.
Figure out the costs associated with the volunteer work, so you can budget accordingly.
3. Recruit Skilled Volunteers to Your Cause
The next step in the process is finding the skilled volunteers needed to complete the project. You can find these people in various circles, including the following.
Your current network: The skilled volunteers you're looking for might be right under your nose. Be sure to give your employees opportunities to apply for volunteer work. Let them know you need their abilities. The knowledge and talents within your organization may surprise you!
Software platforms: Some software platforms are prime places to connect with potential volunteers. Be sure to integrate your project with volunteer management software to maximize the experience.
Other companies: Sell other organizations on your project to open yourself up to an even larger pool of skilled volunteers.
4. Manage Your Project
By the time you reach this stage, your project will be in full swing. You'll need to manage all aspects of it to ensure your volunteers stay engaged and your objectives stay on track. Keep a tight structure, and everyone will be in a better position for success.
You may need another person to help you support your skilled volunteers. This helper will take extra measures to ensure your project's stages are proceeding on schedule and each volunteer has the support system they deserve. When you rely on skills-based volunteerism, showing each volunteer you value them is crucial to the project's success.
5. Evaluate Your Project
Eventually, the project will come to an end. Use this step in the process to assess your project's success and each volunteer's experiences. When you evaluate your project, you allow yourself to learn from your mistakes and celebrate your successes.
Use what you learn to help your organization to improve for future volunteer projects. You'll also want to calculate how your project impacted the community. When volunteers see how their work made a difference, they will be more likely to lend their unique abilities to projects you may plan down the road.
Tips for Recruiting Talent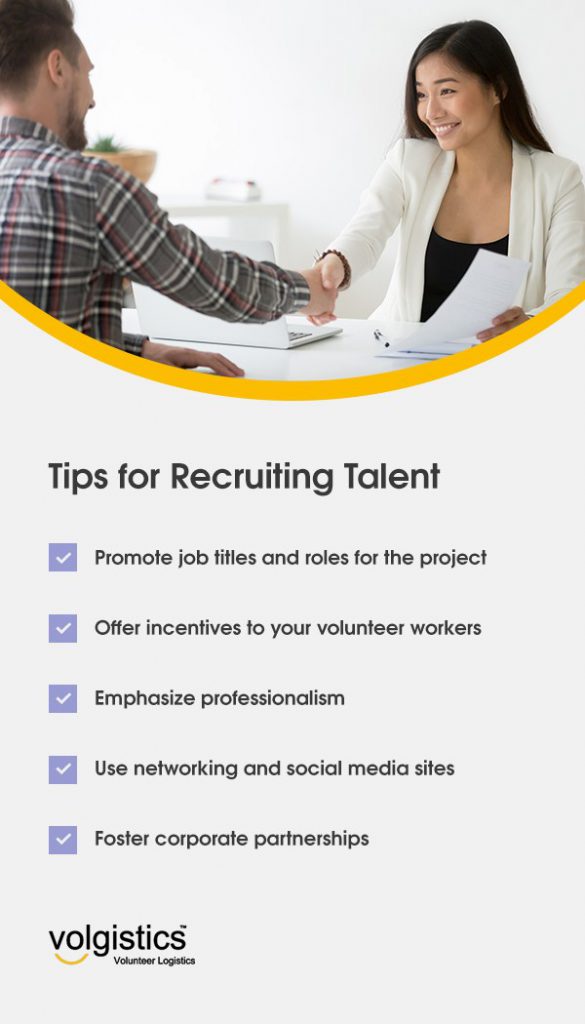 Your skilled volunteers significantly impact your project's success. Without them, the project might not make it out of the planning stage. Your volunteers are the ones who make it happen. You'll need to recruit the right talent for the project. Here are some tips to help you recruit volunteers who will help take your project to the next level.
Promote job titles and roles for the project: Skills-based volunteers are looking for an opportunity to use their abilities for the greater good. When you publicize your project, be sure to include the specific skills and roles you're looking for. Your volunteers should understand what they're getting into from the start, and you should know the types of skilled volunteers you can expect to sign up. If you limit the number of volunteers, promoting specific skills is essential to finding the right candidates.
Offer incentives to your volunteer workers: Skilled volunteers offer their time and abilities pro bono, but everyone likes a little bonus to work toward. Offer a rewards or recognition program to motivate volunteers to perform to the best of their ability. One of the most desirable enticements you can provide is the opportunity for professional development. Many skills-based volunteer projects can teach people new talents they need to advance in their careers.
Emphasize professionalism: Be sure to display professionalism throughout every step of the process. Skilled volunteers want to know you value their time and abilities. A project that looks thrown together may be unappealing for an experienced volunteer. But one that looks professional from top to bottom could help convince them to sign up. Your volunteers deserve a professional, respectful, and engaging volunteer experience.
Use networking and social media sites: Connect your organization with professional social networking sites to increase your reach and meet qualified individuals for your cause. Use these sites to establish yourself as a leader in your sector. When you're ready to launch your skills-based volunteer program, you can dip into these networks to motivate volunteers to join your cause. If you've already established yourself on these networks, you have a higher chance of a robust influx of volunteer applications.
Foster corporate partnerships: Be willing to partner with similar organizations when creating your program. These other organizations can tap into a whole new network of volunteers who can support your project, and you have access to volunteers who can help them. Communicate the benefits of your proposed program and bring other organizations along. Plus, word of the joint project will spread throughout the community at a faster rate. You'll be thankful for the extra media attention surrounding your cause.
Volgistics Can Help You Launch a Successful Skills-Based Volunteer Program
Your highly skilled volunteers deserve a professional experience that keeps them engaged from the start of the application process to the project's completion. Volgistics' volunteer management software can help you reach this goal. Organizations across industries enjoy the various features our software provides for their projects. We want to share this experience with you so your organization's project can achieve maximum success.
Our support team is available to answer any of your questions, so you can feel confident using our software for your project. Contact us today for more information or sign up for a free trial. We look forward to serving you!