Volunteering is an enriching experience, with many possibilities available to anyone who wants to pursue the noble goal of doing good. If you've decided to give your time to a worthy cause, congratulations! You're about to join the ranks of the roughly 25% of Americans who volunteer their time.
Volunteering can be a lot of work and a big responsibility. It's essential to prepare ahead of time so you can find a volunteer opportunity that works for you and your busy life. This way, you can set yourself up for an all-around worthwhile and successful experience.
At Volgistics, we love helping volunteer managers provide the best possible experience for their volunteers. The Volgistics solution has tracked more than 6 million volunteers across more than 5,000 organizations. Along the way, we've learned a lot about becoming a volunteer and how to prepare for volunteer experiences. We're here to help you identify a role that matches your needs.
1. Do Your Research
Many different opportunities exist in the world of volunteering. Some roles require a particular skill set and involve working closely with an organization's team and mission, sometimes bordering on the duties of a traditional internship. Others are short-term engagements you can do over a weekend or during a school break. Some may involve going on a service trip abroad with a little sightseeing along the way, while others empower you to help neighbors in your own community.
Individuals have various reasons why they consider volunteering, and you'll want to look for opportunities that fit your goals, obligations, and commitment level. You may also want to research organizations and their missions to find groups and causes you believe in.
Once you have a general sense of what you're looking for, or even if you're still deciding, you can start hunting for opportunities. Many organizations post volunteer listings online. Some may list them as job postings on popular job boards, while others post on dedicated volunteer-matching websites. Organizations recruit volunteers in many ways — you might find flyers or meet a recruiter at your school, community center, or place of worship.
If you've found a particular organization you feel passionate about, look on their website and contact them directly to learn about their opportunities. It's also helpful to research the organization's requirements for volunteers. Some roles may require specific availability, a minimum age, or a background check. Next, examine the organization itself, specifically the culture and the people you'll work with.

2. Evaluate Your Priorities
People choose to volunteer for many reasons, and your reasons will influence what kind of opportunities you apply for. Every individual ranks the benefits of volunteer work in a different order. Your priorities could include:
Gain Work Experience in Your Field
People who volunteer have 27% higher odds of finding employment. Many organizations work in particular sectors, allowing volunteers to gain experience or even get their foot in the door for a full-time job. An organization that tutors kids might be a good match for someone studying education. Many organizations need volunteer help with tasks such as marketing, event planning, grant writing, accounting, and fundraising. If career experience is your top priority, ensure you're looking for roles that will let you do work in your field.
Connect With Others
Volunteering offers a chance to connect with other volunteers and the people you're helping. If this is a priority for you, make sure you look for roles that offer group work or direct contact with an organization's constituents. Keep in mind that some volunteer roles require independent work.
Feel Happier and More Fulfilled
A recent study found that people who volunteer become happier, and the extra happiness is equivalent to the same boost in happiness as earning an extra $1,100 per year. Some people like volunteering because it is meaningful and rewarding. If this is something you're hoping for, make sure you look inward and ask yourself what types of tasks and organizations will feel most meaningful to you. The good news is that any volunteer role makes a difference!
Work for a Mission You Believe In
Maybe you're passionate about animals and want to volunteer to clean cages or walk dogs at your local animal shelter. Or maybe you want to do good for the planet and volunteer for beach cleanups. Look for organizations that fit with your personal beliefs and goals.
Earn Some Perks
Volunteering for specific organizations can offer benefits such as free admission to special events, a discount on the organization's services, or something else. If you're volunteering to pay your way to a reward, make sure you know what kind of thank-you's a role comes with and the eligibility requirements. For example, you might have to work a certain number of hours before you earn free tickets to the organization's annual festival.
Fulfill a Community Service Requirement
Many students must work a certain number of community service hours as a graduation requirement. If this is the case, make sure your volunteer opportunity meets the requiring party's criteria. For example, you may have to work at a 501(c)(3) organization or a government agency to qualify.
Travel Overseas
Many volunteer opportunities allow you to volunteer for a short-term service trip, such as building houses or teaching students in another country. They allow you to travel and make a difference at the same time. There are many different service trip organizations out there, so it's essential to do ample research before landing on a decision. Choose a destination, organization, and project that aligns with your beliefs and goals.
3. Set Realistic Goals
While volunteering is a worthwhile goal, it's essential to be realistic. Overcommitting yourself is a recipe for burnout. To ensure you can have a lasting, meaningful volunteer experience, make sure you know how much time, mental energy, and manual labor you can handle.
Most organizations look for committed volunteers who can give their time — whatever that may be — consistently. If it's only an hour a week, or one evening a month, that's great! Also, consider what practical volunteer work looks like for you. Can you lift 50 pounds? Or do you have enough mental energy at the end of the workday to spend another two hours on a creative task?
It's important to be realistic about how much of an impact you can achieve. While every job, large and small, contributes to an overall positive change, when you're working on small, clerical tasks, it's easy to lose sight of the big picture. Remember you're just one person and that those small tasks really add up over time.

4. Understand Your Options
With the many types of volunteer experiences out there, there's something right for everyone. With volunteering, you can find options that meet your time constraints. There are short-term opportunities that might engage you in a service project for a weekend, week, or even a month. These might include trips or small volunteer events in your own community. Construction projects, beach cleanups, or wildlife conservation projects can all fit the bill.
You can also engage in long-term opportunities for a few hours per week or even full-time for an extended period. Some service trips can last a year or more, such as teaching English in a classroom for an entire year. You can also find plenty of long-term volunteer opportunities close to home, such as creating marketing materials, writing grants, or organizing files for a local organization. You can even find more involved volunteer experiences, such as a volunteer internship that lasts four months to a year.
Another thing to consider is opportunities for adult volunteers versus opportunities for families and kids. Some organizations may have an age requirement, especially if the work is not appropriate for kids. Whether you're looking for a role for yourself or something the whole family can do together might change the positions you consider.
Besides the level of time commitment, you have many options for types of volunteer work. You can choose from roles focused on:
The environment: If you're hoping to help the environment, you might volunteer at an ecovillage or with an environmental conservation project.
Animals: To help animals, you might work with a wildlife center, an animal shelter, a zoo, or a farm. You could also consider getting involved in animal therapy or training service animals.
Social impact: There are many opportunities to help people in your community and around the world. You can work in child care, tutoring, or education abroad or at home. You can also help revitalize developing communities or work with women's empowerment organizations.
Health care: Many doctors and nurses choose to volunteer abroad in developing countries that might not otherwise have access to health care. Local hospitals, hospices, and clinics also have many volunteer opportunities for medical professionals and those who want to help.
Skill-based or business tasks: Most organizations have opportunities for administrative work, grant writing, marketing, web development, budgeting, accounting, and other related work for skilled professionals who want to gain career experience or give back.
5. Speak With Volunteers
When you're considering an organization or particular opportunity, it's time to do more research to ensure it's a good fit. You can get a better sense of what it's like to be a volunteer from others who do it. They might be the best people to teach you how to prepare as a volunteer with a particular organization. Talk to them about how a volunteer event or typical day at the office goes. Ask questions about the time commitment, the organization itself, the work you'd be doing, and anything else you're wondering.
This is one area where it helps to work with an organization that uses an online volunteer portal, like Volgistics. Volunteer management software can streamline the volunteer experience by organizing key information. It gives volunteers the flexibility to track their hours, manage their schedules, and access their data wherever they go. With this technology in place, they may have a more positive experience to share with prospective volunteers.
6. Consider the Logistics
How far away is the volunteer site from your home, school, or office? An opportunity that's easy to get to can make it easier to commit to. Consider other logistics such as:
Costs
Getting to your volunteer site may cost you bus fare or gas money. If your role involves traveling, such as delivering meals, your travel costs may be higher. Some organizations provide a travel stipend for their regular volunteers, so you might want to confirm what you would have to cover out of pocket.
Some organizations, such as soup kitchens or food banks, may require you to bring food to serve during your volunteer shift. Finally, some service projects need their volunteers to raise money or fund their own trips. For example, a construction service project may ask you to donate money for building materials, and a service trip may ask you to cover your travel expenses, lodging, or meals.
Application and Screening Process
Setting up the volunteer opportunity presents its own logistics. You'll likely have to fill out an application, which you can usually do through the organization's website or volunteer portal. You might also need to undergo a background check or submit proof of identity. If the organization you're applying to uses Volgistics to manage applications and background checks, this process should be relatively smooth and simple.
Depending on the organization and the particular role, you may need to provide some additional documents as you're applying. If the role requires specific skills, you might need to provide a resume or evidence such as a drivers' license. If the organization uses Volgistics VicDocs to store your documents, you can rest assured your information is safe and secure in the organization's system.
The organization might also want to interview you or meet with you before setting you up as a volunteer. Know that the application process may take some time, depending on the complexity, so you should plan ahead, especially if you have a particular starting date in mind.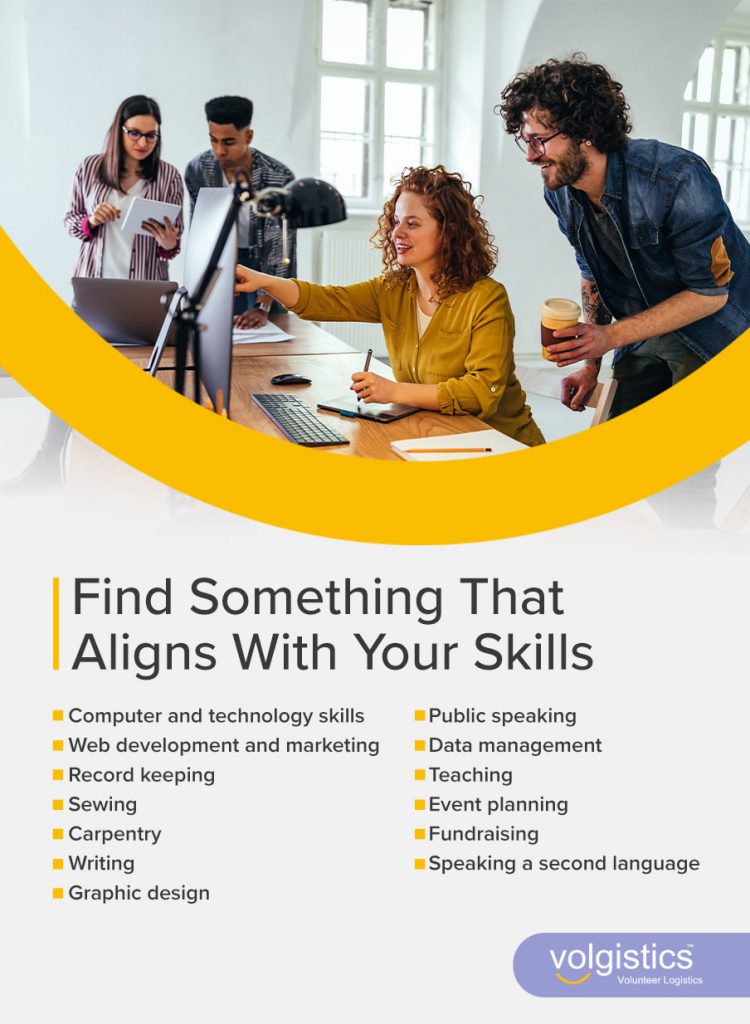 7. Find Something That Aligns With Your Skills
Consider the things you are good at and would enjoy doing voluntarily. Sharing a quick list of your skills helps volunteer leaders find roles for you that align with your skills and the organization's needs. Some of the skills and qualities that are helpful for many volunteer organizations include:
Computer and technology skills
Web development and marketing
Record keeping
Sewing
Carpentry
Writing
Graphic design
Public speaking
Data management
Teaching
Event planning
Fundraising
Speaking a second language
8. Take Charge and Share Your Experience
Once you start volunteering, you should be able to enjoy what you do. Don't be afraid to talk to your volunteer manager about the tasks and roles you want to get involved in. Once they get to know you, they may give you more flexibility over what you get to do during your shifts, such as splitting your time between a few different roles. They want you to enjoy the work you do and help find what makes you happy. Don't be afraid to share what you want to be working on and what interests you most.
Many long-term volunteers start to become more independent, taking on their own projects or even helping to mentor newer volunteers. This is another way to take charge of your volunteer experience. Have confidence in yourself and your abilities as you grow into more independent roles. Talking about your experience as a volunteer is also a great way to help other people find their way to the organization or learn how to succeed in their new roles.
9. Be Open to Change
Organizations go through changes all the time, adapting to new needs for their constituents and the community. They may also adopt new technologies and procedures or develop new programming in response to the changes around them. With these changes, volunteers' roles can also change. It's easy to fall into a routine as you get to know your role. When something changes, it's essential to be open, knowing that the changes will allow the organization to better serve its mission.
Feel free to ask questions of your volunteer leaders and the organizations' management team. Learn more about the changes so you can understand how they will help your organization succeed and how your role will be affected. If all goes well, your organization can give you lots of time to prepare and guide you through the changes so you can succeed as things shift.

Volgistics Can Improve Volunteer Engagement
Volgistics is a volunteer management solution that can make it easier for volunteers to perform well in their roles. When you're hunting for volunteer opportunities, you may encounter organizations that use Volgistics during the application process or after you've joined the organization as a volunteer.
If so, you can expect a much smoother volunteer experience overall. Volgistics offers a handy volunteer portal that lets volunteers manage their own schedules, update their volunteer profile, and view information about their previous service. It lets them easily plan their days and future volunteering, track their community service hours, and more.
Volunteer managers love Volgistics because it helps them engage their volunteers and manage their team with ease. They can access a database of volunteer information and view reports, service hours, and other data. They can also send texts and emails to ensure better volunteer retention and turnout at events. If you're a volunteer leader looking to improve the volunteer experience, contact the Volgistics team today to learn how this flexible software can help. Or check out a sample account or free trial to get started.