Congratulations! Your nonprofit organization is ready to recruit volunteers to take operations, events, and fundraising work to the next level.
When starting a volunteer program from scratch, review these best practices to create an ideal, streamlined volunteer management system — one that'll jumpstart your program on the right path. Here are the steps to a successful volunteer program.
How to Identify the Role You Want Volunteers to Play in the Organization
Before preparing any formal program, your organization must first lay the groundwork for integrating volunteers into your infrastructure. Set yourself up to incorporate volunteers more smoothly with these early planning steps.
1. Assess Needed Skills
Successful volunteer programs alleviate pain points or skills gaps a nonprofit doesn't currently have the internal capacity for. Staff is likely already overstretched with their own assigned duties to foray into shouldering more.
Ask fellow staff members where they could use some assistance, then create a list of top skills or areas of expertise that could be managed by volunteers. To inspire your list, common areas of needed volunteer expertise include:
Grant or content writing
Video production
Web design
Graphic design
IT or coding
Event planning
Catering
Tax, legal, or compliance oversight
Childcare
2. Understand Volunteer Capacity
Your volunteer capacity includes both how many volunteers you need as well as your current infrastructure available to handle those volunteers on-site.
To get a better sense of your volunteer capacity, review the following:
Scheduling: Do you have an existing volunteer scheduling software or suite of tools at your nonprofit to make shift assignments and coordination easier? Are you looking into getting one?
Space: Is there space at your office or locations for volunteers themselves to perform their work? Spatial considerations also include enough parking, being especially mindful of senior citizens and physically impaired volunteers.
Equipment: Will certain volunteer roles require additional equipment, such as extra computers, T-shirts, or protective work gear?
3. Identify Clear Job Roles

Volunteer position descriptions set clear expectations for the daily activities and responsibilities of volunteers.
Like a professional job title on a resume, volunteer roles clarify how volunteers will use their time in your space, as well as other role requirements, such as:
Required skills: Certain volunteer roles will require pre-existing professional or technical skills. For example, a volunteer social media manager should be savvy using the latest features across social media platforms, while a volunteer translator must be fluent in a language, immediately ready for writing and speaking activities.
Volunteer commitment: Some roles will require more volunteer hours than others. Ensure you're stating those commitment expectations in each role's description.
Assigned responsibilities: Be as descriptive as possible, naming specific functions and activities expected of each role. The sooner you relay these responsibilities, the stronger and more transparent your program.
4. Create a Volunteer Handbook
Volunteer handbooks are the central resource for new volunteers to understand their roles in your organization. Make your handbook available in print and online, and use them to put into writing the following program information:
How volunteers impact your mission
Program manager name and contact info
Volunteer roles and expected time commitments
Required skills for certain roles
Annual event calendar
Annual fundraising forecast or fundraising goals
Miscellaneous advocacy and networking information, such as resources explaining how volunteers can engage with your nonprofit outside its walls
General onboarding and training schedule
5. Evaluate Your Culture
Organizational culture is defined by many traits, including but not limited to:
Rigidity in chains of command
Data or information silos
Ease of use of technology
Open or closed communication channels and practices
Flexible work policies
General workplace atmosphere and employee morale
Consider the culture of the organization. Be honest — is it one you would recommend for friends and family to spend time in? Use your answers to determine if you're genuinely ready for outside volunteers.
How to Prepare Your Nonprofit for Volunteers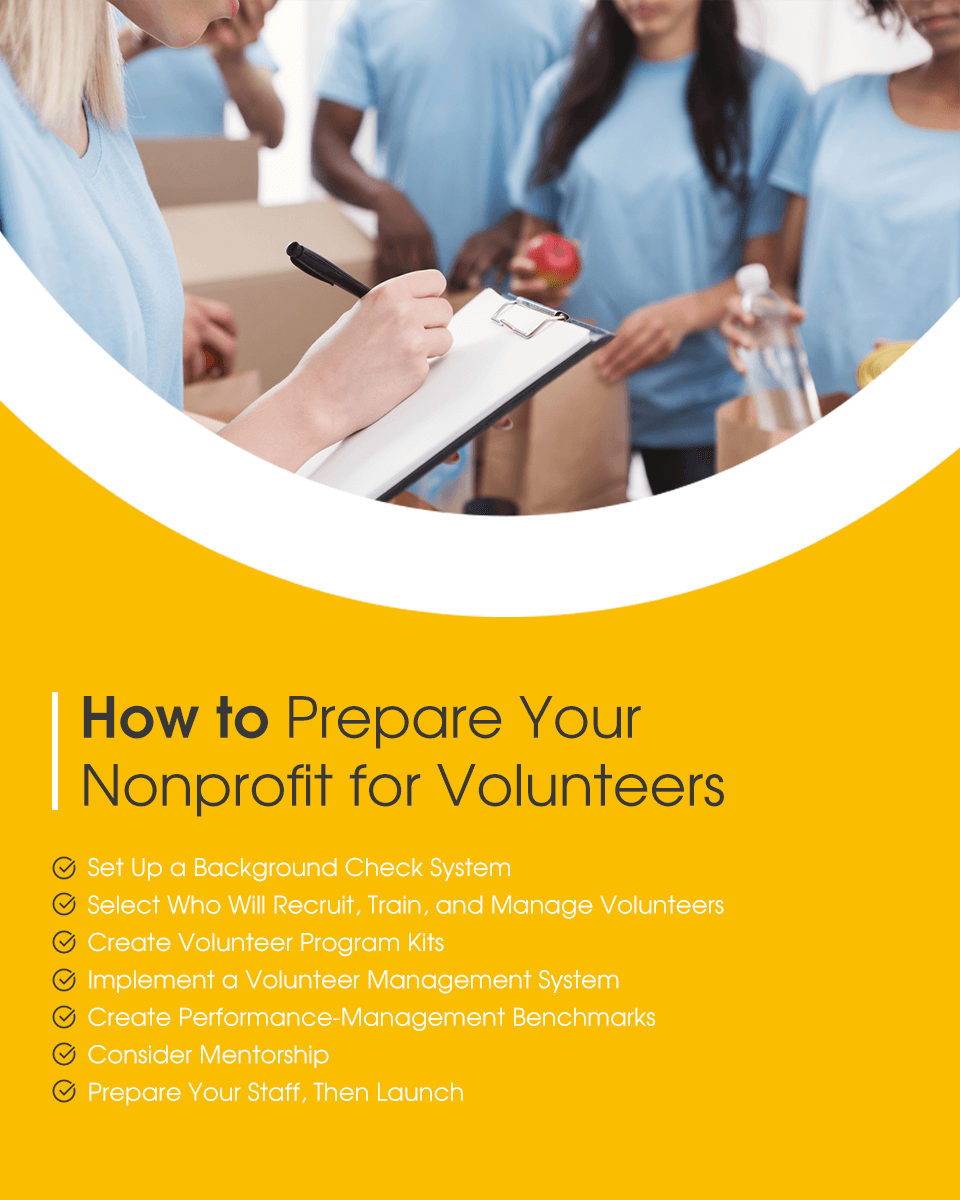 With your needs and capacities assessed, your nonprofit can move onto creating its official volunteer program using these steps.
1. Set Up a Background Check System
Background checks are an essential part of the volunteer screening and application process. In some cases, such as when volunteers are working with children, background checks are legally mandatory.
The traditional way to implement routine background checks into applicants is by partnering with a verified screening firm. However, many pieces of leading volunteer management software come with integrated screening technology, including tools like browser extensions that send information immediately to a verified screening partner at your request, streamlining the entire background-checking process.
2. Select Who Will Recruit, Train, and Manage Volunteers
The majority of nonprofits assign volunteer management activities to a full-time staff member or create a volunteer coordinator position specifically to supervise its new program.
Your ability to bring on a dedicated volunteer manager depends entirely on your nonprofit's resources. In any circumstance, that individual oversees the gamut of end-to-end volunteerism divided across four main functions:
Recruitment
Onboarding
Training
Engagement and retention
3. Create Volunteer Program Kits
Preparing your nonprofit to recruit volunteers means creating all the materials a new volunteer needs to launch into their role from day one, as well as the materials you need to run the program internally.
Your kits will be specific to your organization as well as your volunteer roles. The most common materials necessary for a complete volunteer kit, though, ensures smooth and open communication regarding all volunteer topics. Be sure to create each of the following before launching your program:
Volunteerism page(s) on your website
Volunteer scheduling and calendar system
Printed and online volunteer application forms
Secure volunteer information database
Role-specific volunteer training materials
Background check consent paperwork
General volunteer handbook
4. Implement a Volunteer Management System
Volunteer management software serves as a one-stop-shop for everything volunteer management. It's the central tool for volunteer coordinators to track and manage the vast majority of volunteerism activities, all from the convenience of one platform.

Volunteer management systems are designed specifically for nonprofits to save time while maintaining compliance across volunteer program activities. Plus, they store all documents and volunteer data securely, ensuring volunteers can trust their information is in good hands and used only by approved administrators.
5. Create Performance-Management Benchmarks
Performance parameters communicate how a volunteer will be supervised and assessed. Similar to performance reviews for professional roles, these benchmarks invite open communication, trust, and scheduled check-ins between all parties — the volunteer, the volunteer supervisors, and nonprofit staff.
Building a volunteer performance benchmark system goes a long way in decreasing role ambiguity. It also gives volunteers an elevated sense of purpose and place in the organization, knowing their work makes a measurable impact.
6. Consider Mentorship
Many nonprofits pair new volunteers with seasoned ones to smooth their first few months in their roles. Mentors give fresh recruits someone to turn to with questions, alleviating any sense of being a burden when clarification or direction is needed. These pairings also create instant connections for the new volunteer, helping them integrate socially into your organization.
7. Prepare Your Staff, Then Launch
Prepare, print, and upload your complete set of materials from your volunteer kits. Ensure equipment and infrastructure is ready, roles are assigned, and a functioning scheduling system is in place, then let your application portal and volunteer web page go live to recruit those much-needed volunteers.
Explore More Nonprofit Volunteer Program Best Practices

Register for a live demonstration of Volgistics, a leader in volunteer management software, tips, and resources in the nonprofit industry. Top features include:
Background screening integration
Volunteer scheduling systems
Individual and group hours tracking and reporting
Application and recruitment form management
Text and email volunteer communications
And more
Demos are free, as are 30-day trials of the software, so you can experience the benefits of an easier-managed volunteer program for yourself.