You don't need a degree in advanced data analytics to extract valuable insights from your organization's activities. Get a sense of how volunteer organizations can use analytics and — more importantly — what these metrics have to tell you about improving your operations. We'll walk you through it in our guide to nonprofit analytics.
Why Have KPIs for Your Nonprofit?
Key performance indicators (KPIs) refer to objective, measured values organizations track and calculate to reveal their progress towards stated goals.
In the nonprofit sector, KPIs are an invaluable method to ground programs, practices, and beneficiary or community impact. Volunteer organizations and nonprofit institutions using KPI measurements have an objective set of values showcasing their current successes and areas of improvement toward reaching targets.
In general, there are two categories of KPIs relevant for volunteer organizations:
High-level: High-level KPIs review the annual or long-term performance and achievement goals of your organization. For example, a high-level KPI could be increasing your volunteer retention rates by 10% this year.
Low-level: Low-level KPIs refer to operational shifts aimed at improving the practices and daily outputs of employees or departments at your organization or nonprofit. For example, a low-level KPI may include responding to all Facebook messages received by your nonprofit within the hour.
How Important Are Volunteers to a Nonprofit's KPIs?
Volunteers are an integral part of a nonprofit's infrastructure. Without volunteer hours and the quantifiable impact of their time, efforts, skills, and expertise, the nonprofit industry would cease to function as it does, hindered by limited financial and personnel resources that the very presence of volunteers directly bridges.
In fact, the estimated value of a volunteer's time exceeds $25 an hour, and with 63 million Americans regularly volunteering, that translates into a whopping $203 billion in cost-savings for the nonprofit sector.
Volunteer Impact Metrics for Nonprofits
Consider the following KPIs to grasp the true impact of volunteerism on your nonprofit, plus the qualitative and quantitative results generated by these essential individuals.
1. Volunteer Hours
Tracking volunteer hours doesn't start and stop with individuals clocking in. While it's important for your nonprofit to understand attendance and service-hour contributions across its volunteer schedule every week, month, and year, it's what you do with that information that'll contribute to those high- and low-level KPIs, such as:
Improving program staffing and scheduling
Bolstered grant application data and eligibility
Better fund accounting
Smoother audits and expense function reporting as required by FASB 117
2. Volunteer Retention Rate
Strong volunteer retention percentages indicate your organization's success at welcoming, training, and pairing volunteers with meaningful work that keeps them coming back for more.
Calculate your retention rates by first determining the number of volunteers you had at the beginning of your measurement period. For example, let's say you have 50 names in your volunteer management system right now.
Next, distinguish how many of those 50 volunteers joined during this measurement period. You'll then want to note how many volunteers you "lost" this year, as well.
Using our example, let's say your nonprofit gained 15 volunteers in a year but lost 5. This sets your gross volunteer roll at 60 people.
Re-subtract your new volunteers from that gross figure. This provides your net volunteer count, the true indication of your retention efforts from this year. Finally, to determine your objective volunteer retention rate, divide your net figure from how many volunteers you had at the beginning of the year, then multiply by 100.
To illustrate this final calculation using the figures from our example:
60 (gross volunteers) – 15 (new volunteers) = 45 (net volunteers)
45 (net volunteers) / 50 (beginning number of volunteers) x 100 = 90% retention rate for the year
3. Volunteer Donation Rate
According to VolunteerMarch.org, volunteers donate 10 times as much money to organizations they dedicate free time to than non-volunteers.
With such an innate donation-conversion potential, nonprofits should do everything in their power to track — and then nurture — volunteer donations via KPI measurements.
Understanding your volunteer donation rates can help you craft strategic fundraising initiatives, write targeted campaigns, and evolve how your organization targets and nurtures new volunteers — particularly by recruiting high net-worth volunteers and groups.

4. Beneficiaries Served
Another pertinent KPI for nonprofits to analyze is its beneficiaries served.
Beneficiaries can be counted program-by-program or event-by-event. For example, a local food bank may count the total number of plates served during every Sunday dinner. Beneficiaries-served data can also be aggregated, as seen by real-life examples like the Crisis Text Line publishing the actual number of text messages sent across macro-time periods. In doing so, Crisis Text Line showcases the real, numerical value of the work they do — and look impressive to boot.
As a bonus, consider having your nonprofit review its beneficiary satisfaction rates. You can collect your beneficiaries' opinions using anonymous online or print surveys, calculating a net promoter score, initiating an email or social-media survey, or using any other platform most likely to be visible and engaging to your target community.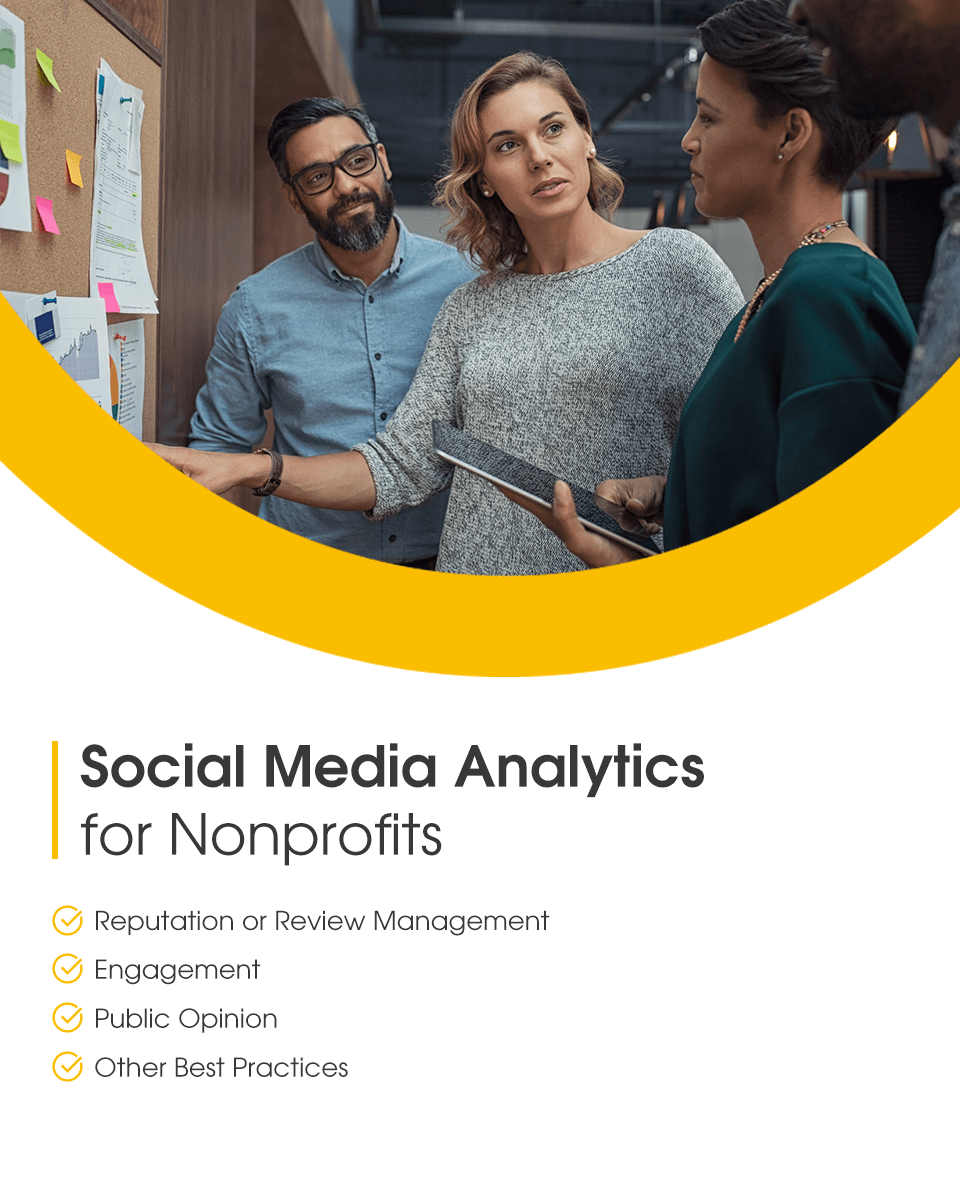 5. Volunteer and Program Attendance
Volunteer and program attendance KPIs compare your total event attendance with how many attendees are current volunteers.
This data reveals a new level of engagement for organizations to study and capitalize on. Yet nonprofits cannot do so unless they understand who's attending their events, when, and why.
This KPI is also a balancing act. A high percentage of total event attendance based on volunteers or their families may indicate your organization needs to re-think its marketing and PR campaigns. On the other hand, volunteers who minimally interact with your organization can reveal a lack of engagement or overall mission buy-in — two key concerns leading to potential volunteer turnover.
Google Analytics Metrics for Nonprofits
Online analytic tools offered by major search engines are perhaps your most valuable tool to track key website metrics, with no platform more dominant than Google Analytics.
Because Google is today's leading search engine — garnering over 60% of all web queries daily — it makes sense to choose its analytics platform. Using Google Analytics metrics for your nonprofit opens the door to a wealth of data surrounding the success and usefulness of your website. Better yet, Google Analytics' standard package is free.
To set up a Google Analytics profile for your nonprofit, follow these steps.
Create or sign into your official Analytics account: See how to do so on Google's Get Started page.
Create your site's Property: Your Property will be the main data-aggregation point for your website or app. Setting up your Property is crucial before continuing to further Google Analytics steps.
Filter your data views: Follow the prompts to tailor what data you want to begin tracking, as well as sub-data categories.
Install your analytics tracking code: This gives the platform access to begin aggregating data in your Property, funneling insights based on those data view reports.
Social Media Analytics for Nonprofits
Social media's immense popularity and usage positions it as a key platform for nonprofits to measure and embrace. Many have, yet social website analytics for nonprofits can inform even better decision-making regarding post types, frequency, language, graphics, and more.
1. Reputation or Review Management
Reputation or review management analytics keep track of your nonprofit's online reviews across platforms. It's a useful benchmark for organizations spread across multiple service sites, as well as those with one office or location to hear of real peoples' experiences with your nonprofit.
Use review-management reports to spot repeated issues in your events, interactions, or work. Review-management tools can also send alerts when someone writes you a new review, letting you respond quickly and efficiently to address their comment and thank them for their input.

2. Engagement
Like the similarly named web engagement analytic, social engagement data is an important nonprofit marketing metric that reveals how actively people interact with your social media profiles.
Social engagement is often broken down into three focus areas:
Likes: Number of likes your posts receive.
Comments: Number of comments your posts have.
Shares: The total number of shares your posts generate.
Social media platforms like Facebook and Twitter use engagement data to determine how many newsfeeds to display your content on. The higher your engagement KPIs, the more these platforms register your profile as high-quality and valuable — and the more feeds showcase your content. For this reason, engagement is essential to organic social media growth.
3. Public Opinion
Otherwise known as social listening, public opinion analysis reveals a more complete picture of your nonprofit's profile robustness. In other words, social media public opinion research identifies how top-of-mind your organization is to the public — plus why.
Aside from distributing branded voice-of-customer surveys, there are a few metrics to glean your public opinion:
Reach or impressions: How many "eyes" see your posts, but don't necessarily engage further.
Brand mentions: Rates of people tagging your nonprofit in their own posts.
Profile visits: Distinguishing between passive followers who follow you but don't visit your page, active followers who follow you and visit you, and leads who don't follow you but have found and viewed your profile.
Active followers: People who have liked, commented, shared, or visited your page in the past 30 days.
4. Other Best Practices
Consider these other social-media analytics best practices when diving deeper into how to utilize analytics for nonprofit success, boosting the impact of your profiles:
Be active: Facebook displays your nonprofit's typical response rates, as well as teases reviews. Boost both by assigning a staff member, intern, or trusted volunteers to be social media managers, keeping your voice consistent and active.
Be human: Put a human face on your nonprofit's social media presence. Your profiles are likely one of the first brand touchpoints a stranger has with your organization. Assure you come across as warm, passionate, informative, and inviting.
Donor and Nonprofit Fundraising Analytics
The complexity of charity reporting, combined with the daily demands of sustainable nonprofit fundraising, makes donor analytics one of the most vital KPIs for volunteer organizations today.
With donor and fundraising analytics, you wield the best chance to identify high-value donor pools and resources — in turn helping you understand what makes them tick. Consider these nonprofit donation analytics to do so.
1. Donor Retention Rates
Retained donors include supporters who have given to your nonprofit more than once. Low repeat donor figures or high turnover rates may indicate it's time to re-calibrate your donor relationship strategies or set up new cultivation models altogether.
There are several sub-categories of donor retention metrics you can also track here, such as:
Average donor gift size
Average pledge amount
Year-over-year donor growth
Pledge fulfillment rate — that is, the percentage of pledges actually received
2. Donor Demographic Analytics
It's important to know the kinds of people financially supporting your organization to create more persuasive campaigns, fundraising events, and marketing content. Having concrete donor data, though, also serves another useful purpose — to identify qualified major gift leads.
Donor analysis helps construct profiles of your supporters, often categorized by the following information:
Age
Income
Occupation or employer information
Education level
Marital status
Children and grandchildren
Community or professional connections
Other philanthropic history, such as donations or sponsorships of other nonprofits
3. Donor Wealth Markers
Donor wealth markers are deeper metrics tracking current and prospective supporters in the high wealth category. Compared to broad donor data or general nonprofit marketing metrics, wealth markers display individuals with a higher chance of contributing a major gift.
Data points that may indicate wealth markers include any of the following:
Real estate assets
Stock ownership and other investment vehicles
Political campaign contributions
Major gift support to other community causes or nonprofits
Extensive business networks and professional affiliations or associations
4. Donation Types and Methods
Just as you compile information on current and potential donors, you'll want a system documenting the types of donations procured, as well as its percentage compared to the whole.
Primary donation types for nonprofits to measure may be:
Major gift amounts
Mid-tier gift amounts
Small gift amounts
Planned or pledged contributions
Unplanned monthly donations
Annual fund contributions
To explore your donation data even further, consider also tracking donation methods — that is, how funds are received across events and initiatives. This category of KPIs for nonprofits will include:
In-person, ad-hoc donations
Online ad-hoc giving
Text-to-give campaigns
Peer-to-peer fundraising
Crowdfunding campaigns
Event tickets and registration fees
Total event fundraising
Online and in-person merchandise purchases
5. Cost-Per-Dollar Raised (CPDR)
Discover your total fundraising return on investments (ROIs) by calculating your cost-per-dollar raised, or how much you spent on hosting a fundraising effort compared to how much funds you brought in.
This expenses-out, revenue-in metric is essential to maintaining sustainable fundraising operations. To calculate CPDR, divide your fundraising budget by your total funds raised. For example, a charity golf tournament costing you $1,200 but generating $5,500 has a profitable CPDR of $0.22.
Use your CPDR to determine which of the year's campaigns were most cost-effective, as well as where you can make changes and find cost-savings next time around.

See How to Utilize Analytics for Nonprofit Success
Get a taste for using data analytics and custom KPIs from Volgistics' industry-leading volunteer management software. Try your free 30-day demo, or explore our video tutorials to see just what the software offers for simplifying nonprofit operations.