Businesses are always looking for ways to boost their team's productivity and happiness at work. Getting your employees to participate as corporate volunteers can do just that while also improving your bottom line.
Employee volunteerism is a great way to encourage workers to become more involved in their corporate community. With so many benefits for your company and its employees, incorporating volunteer efforts into your organization can uplift your entire business model.
Giving back is more than just the right thing to do. Offering time and energy for free is a special way to strengthen and enhance your employees' connections with your business, community, and team. Corporate volunteering can boost your bottom line by improving employee retention and increasing morale.
Types of Corporate Volunteering
Not all corporate volunteering programs are created equal. The kind that will benefit your organization the most depends on your employees. If they require more flexible scheduling, they may opt for volunteering online. If your team operates out of a downtown office building, your crew might band together for a volunteering program nearby. Each method has its own benefits. The following are three common types of corporate volunteering.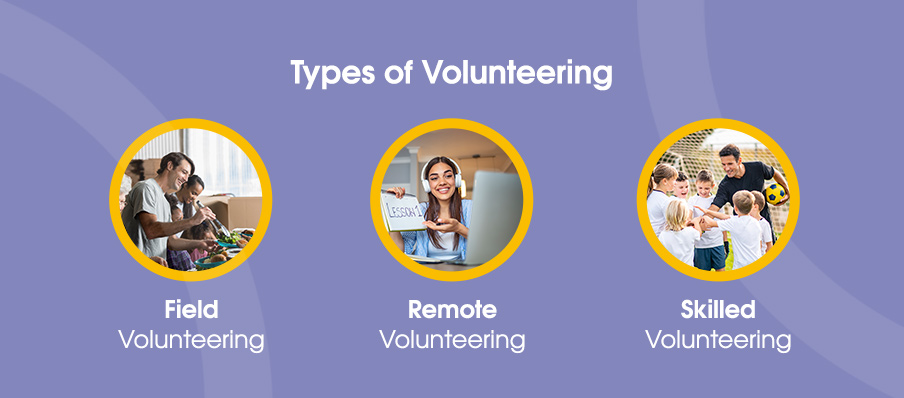 Field Volunteering
When a person offers their volunteer services in-person and on-site, this is considered field volunteering. The following are examples of this type of employee volunteerism:
Assisting in a soup kitchen
Walking dogs at a local animal shelter
Helping with a park clean up
Visiting a retirement community
Helping out in a local library
With field volunteering, employees will physically be on location. Being in-person allows team members to collaborate and work towards the same goal outside the workplace. Your team will learn important problem-solving skills they may not have established otherwise.
Coming together to uplift a special organization is an excellent team bonding exercise that can encourage your team to keep giving back. Having face-to-face interactions gives your employees the opportunity to connect. The following are some of the benefits of community engagement as a result of field volunteering:
Networking and making new contacts
Further development of social skills
Discovering new interests and passions
Remote Volunteering
As many aspects of our lives have become virtual in recent years, there are many new opportunities to volunteer remotely. Your employees could participate in online volunteer programs from the comfort of their home or work desk.
This kind of volunteering may not provide the same team-bonding benefits of having everyone collaborating in a soup kitchen. However, employees can still experience the joy of giving back from their office chair. Examples of virtual volunteering opportunities and programs include the following:
Tutoring school students
Writing newsletters
Designing flyers
Providing translator services
Volunteering online allows people to engage with communities near and far away. It opens up opportunities for reaching organizations and individuals who would be difficult to reach otherwise. Some virtual programs are designed specifically to pair volunteers with online opportunities.
Skilled Volunteering
Individuals can perform skilled volunteering either in the field or remotely. Employees with special skills can use those talents to give back to the community.
Examples of skilled volunteering include the following:
Coaching a sports team
Tutoring students in specific subjects
Offering accounting services
Reviewing legal documents
Translating languages
And all of these examples are done as a donation of time and energy to make life easier for another person or organization. With skilled volunteering, helpers with specific expertise will offer their knowledge to individuals or organizations in need.
Volunteering provides an opportunity to flex talents and skills people may otherwise not utilize in their day-to-day lives. Volunteering is an excellent way to return to former passions or activities that fall by the wayside when someone becomes busy with work, family, and their social life.
How Corporate Volunteering Can Help the Bottom Line
A company's bottom line is a barometer of the organization's overall success. It indicates whether or not current management tactics are beneficial for the business and its operations. A company's future relies on its bottom line.
So how can employers improve their practices, and how does corporate volunteering help the bottom line? The following are four benefits for corporate volunteering programs for businesses:
1. More Engaged Employees
One of the greatest benefits of corporate volunteering is boosting employee engagement.
When employees feel disconnected from their employer, they are less productive and less willing to go above and beyond for their organization. Incorporating volunteering is the perfect remedy for inspiring and motivating your team. Volunteerism can propel career growth and help build the social relationships important for keeping employees interested and involved in your organization.
Among businesses that measured a connection between volunteering and employee engagements, 96% believe workers who participate in these efforts are more engaged at work than those who do not. Higher engagement means better productivity, which can yield major benefits for your business's profits!
2. Better Employee Retention
High turnover rates are a common obstacle for companies with poor employee engagement. When employees feel disengaged from their work and don't hold their employer in high regard, they are likely to seek employment elsewhere.
Employee retention is important for your organization's bottom line. From recruiting and training costs to reduced company morale, high turnover can damage a business. Unfulfilled workers are more likely to leave their position than those who feel their job is meaningful.
When companies incorporate volunteer programs, their employees are more likely to experience purpose through their work and, therefore, are more likely to stay at their job. Volunteering allows people to feel like they are part of a greater goal and purpose.
3. Boosted Company Culture
Company culture refers to the following shared attributes of your business:
Values
Mission
Beliefs
Behaviors
Attitudes
Practices
When an organization implements a corporate volunteer program, this can positively benefit your business's culture. Employees can work together outside the confines of their job duties and continue their company's mission beyond the workplace. This offers an elevated sense of purpose that translates to happier and more uplifted workers.
Having a defined company culture influences the following crucial elements of a workplace:
Atmosphere
Career growth
Communication
Teamwork
Employee engagement
Businesses with a strong sense of culture typically have a more attentive staff and better employee retention. Your company's culture influences your bottom line as it reflects your organization's overall approach to working together as a team.
4. Increased Brand Awareness
Participating in corporate volunteering allows businesses to increase their brand awareness. When your team gives back to the community and positively impacts other people's lives, word gets around. People want to do business with and work for philanthropic organizations.
Participating in volunteer programs allows your business to know the community better and vice versa. When the community thinks highly of your organization, they are more likely to engage with your company.
Benefits of Corporate Volunteering Programs for Employees
Beyond benefiting the bottom line, corporate volunteering can positively influence an employee's experiences with their employer. The following are four benefits for workers who participate in volunteer programs through their job:
Better employee camaraderie: Getting outside of the workplace allows teams to come together in new ways. Volunteering offers the opportunity to see co-workers in a different light and work together towards another common goal. Workers from all departments and sectors can get to know each other despite not working closely on the job. Plus, people are more likely to share personal insights and experiences when they are volunteering together than when they are at the office.
Acquiring new skills: When participating in volunteer programs, people have exposure to a wide range of skills and activities that they do not normally partake in during their day-to-day lives. Volunteering can boost social interaction and communication skills.
Improved health: Volunteering one's time and energy can have significant health benefits. From reducing stress to staying fit, being a volunteer can improve mood and energy levels. The sense of purpose that comes with participating in meaningful work is a great mental boost.
Building new connections: Corporate volunteers can build connections with new people and get to know their co-workers better. Volunteering offers tons of networking opportunities and the chance to socialize in a new and interesting way. Establishing new relationships is just one of the many benefits of corporate volunteering.
How Companies Can Adopt Corporate Volunteer Programs
Today, companies can easily implement volunteer programs into their business model, and the following tips can make it even simpler.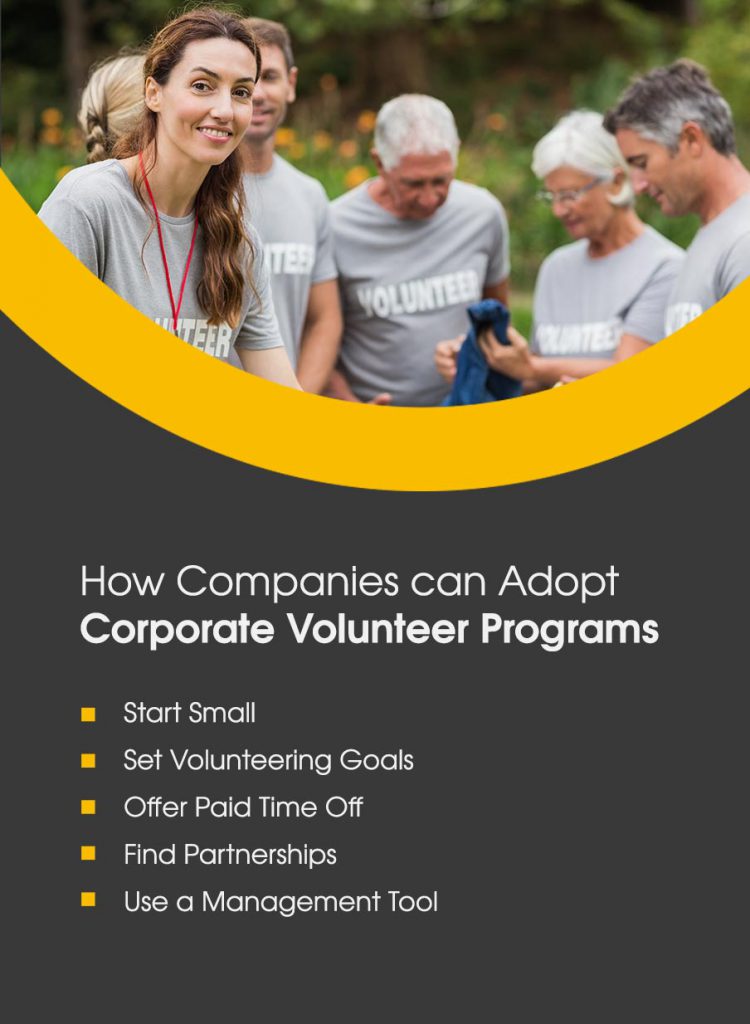 1. Start Small
When starting any corporate volunteer program, it is important to begin small. It may not be in your employees' best interests to have them serve Thanksgiving dinner on the first day of volunteering. Instead, opt for smaller opportunities where your team can learn the ropes.
Establishing structure in your volunteer efforts will also be easier if you begin with simple volunteer outings like a trash clean-up or tutoring session.
2. Set Volunteering Goals
Much like working for a company, having goals is an important part of establishing a corporate volunteering program. Make sure your team is on the same page and share a purpose when they embark on their volunteer outings. This creates uniformity and structure that will help your team effectively work together.
Volunteering goals may include fundraising a certain amount of money for a local nonprofit or dedicating a certain number of hours to a clean-up project. The goals should be specific and give each volunteer some guidance on why they are helping out and how they can contribute.
3. Offer Paid Time Off
One way of encouraging your employees to give back through corporate volunteering is allotting paid time off for volunteer efforts. This is an incentive to get out in the community and give back.
Plus, time off gives employees the spare time to volunteer that they may not have on their normal work and life schedule. Teams could also have designated days out of the office where they can volunteer together during regular work hours.
4. Find Partnerships
One way to streamline corporate volunteer efforts is by finding partnerships. While some one-off volunteer efforts can be hugely successful, ongoing partnerships offer a greater opportunity for creating lasting change. Finding nonprofits or other companies that need ongoing support is the perfect way of establishing volunteer relationships.
Having partnerships also allows your team to familiarize themselves with the organization they're helping. Your team of volunteers will know how to help and anticipate future needs. This relationship is mutually beneficial for your business and the organization you are assisting.
5. Use a Management Tool
When implementing a corporate volunteer program, it can be a challenge to monitor and manage volunteer efforts. Using a management tool can streamline the process and simplify volunteering as a business. You'll need a way of organizing volunteers, among other important management processes.
Managing Corporate Volunteers
Poor management can lead to a short-lived corporate volunteer program. To reap the many benefits of volunteering, your business must understand how to approach everything from recruiting to communication. The following are some of the most common areas of volunteer management to be aware of when starting out.
1. Recruiting
You can recruit corporate volunteers similarly to how you hire employees. It's unlikely all your workers will participate in volunteer efforts, but those who do should have some guidance and know what to expect.
With Volgistics, you can integrate volunteer opportunities directly onto your website. This integration allows you to advertise open assignments in an opportunity directory that any worker interested in donating their time and energy to a good cause can access. Employees can utilize the directory to find their next volunteer opportunity.
Volgistics software also allows managers to share new openings and automatically add new employees to the volunteer pool.
2. Reporting
Reporting is a vital aspect of corporate volunteer management. Volgistics makes it easy for managers to keep detailed records of their employees' volunteer hours. The user-friendly interface allows for easy reporting of each volunteer's activity. With Volgistics, creating reports and summaries for volunteer hours is straightforward. Managers can easily use reporting software for generating formatted documents and spreadsheets to track completed volunteer services.
3. Communication
Communication is the most important element of managing corporate volunteers. Your team needs to have frequent updates so they know where to be and when to be there. Volgistics has text and email features for this purpose.
With Volgistics software, managers can reach out to their entire volunteer force or individuals while keeping everyone on the same page.
Volgistics Makes Managing Volunteers Easy
Corporate volunteering offers tons of benefits for businesses and their employees. Volunteering programs can positively affect a company's bottom line by creating happier and more productive teams. Once your team starts volunteering, it is important for your business to understand the best way to manage volunteer efforts to reap the greatest benefits.
Volgistics software is created specifically for managers and volunteers. The platform provides important communication and tracking tools for seamlessly incorporating volunteering into your business strategy. Simplify everything from scheduling to reporting with one easy-to-use interface that saves time and is scalable.
Want to learn more? Contact Volgistics today!