Finding volunteers can be challenging for new and well-established organizations alike. While there may be an abundance of charitable and willing people in your area, there's a chance they've missed the ways you've tried to spread your message so far.
While other advertising methods may fall short, word-of-mouth marketing (WOMM) can help you bring in new volunteers while strengthening connections with current supporters. Follow this guide for some tips on how to make the most of word-of-mouth advertising.
What Is Word-of-Mouth Marketing?
WOMM is a marketing strategy fueled by consumer engagement. You can see WOMM at work any time a consumer shares a brand's post on Facebook or makes a quick recommendation to a stranger in a grocery aisle. When someone has a positive interaction with an organization, they're more likely to share the positive experience. Whether they share their experience with family members and close friends or rave about it on social media, the result is a free advertising opportunity.
Although it may seem like WOMM is mainly out of an organization's hands, there are many ways to encourage consumers to engage with friends and family. The most straightforward method is to meet and surpass their expectations. By offering an excellent product or service and providing quality customer care, consumers will be more likely to enjoy what an organization does. As a result, the more they like the company's offering, the more they'll want to share that joy.
Additionally, organizations can encourage direct consumer-to-marketer connections to promote WOMM. When organizations engage directly with consumers over the phone or through social media, the consumer develops a relationship with the organization, fostering more interactions in the future. Specifically, the ease of social media can promote WOMM by granting consumers a simple way to engage with and share an organization's offerings with their loved ones.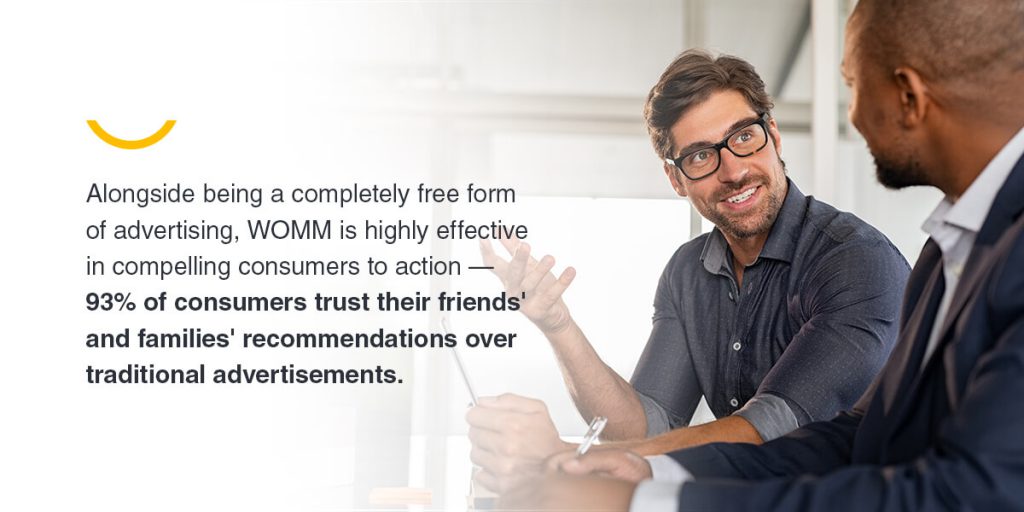 How Word-of-Mouth Marketing Can Benefit Your Organization
Alongside being a completely free form of advertising, WOMM is highly effective in compelling consumers to action — 93% of consumers trust their friends' and families' recommendations over traditional advertisements. While an organization or brand has something to gain from advertising, consumers would recommend a business or product based on their loved ones' best interests. In short, human connection fuels WOMM.
While the concept of WOMM usually applies to businesses selling products to customers, you can also use word-of-mouth marketing to encourage volunteerism. Rather than selling a product, your goal is to convince volunteers and donors to support your organization. When applying WOMM, you're effectively "selling" your organization to current and potential supporters.
Thankfully, volunteer organizations already encourage WOMM by nature — volunteers usually care about the causes they support, which means they're more inclined to share their experiences with others. By leaning further into WOMM, you can attract even more volunteers while keeping your current supporters happy and engaged.
Ways to Use Word-of-Mouth Marketing in Your Organization
Follow these tips to promote word-of-mouth marketing for your volunteer organization:
1. Share Your Organization's Mission
The first step to convincing people to share your mission is to communicate your mission clearly and effectively. Every volunteer organization has an origin story, and many revolve around fulfilling a need in a community. By presenting your mission in the best light, you'll be more likely to attract supporters and endear existing supporters to your cause.
When clarifying your organization's narrative, you should include:
The people who founded your organization.
The needs your organization fills.
The benefits of fulfilling said needs.
The actions your organization takes to solve said needs.
Ways your volunteers support your organization.
Many volunteers choose to serve because they enjoy helping others. Appealing to emotion in your organization's story and mission statement will make their decision to support you much easier.
2. Develop Your Online Presence
Once you've crystallized your narrative, use your online presence to share it with the world. Many potential supporters will either discover volunteer opportunities directly through your website or go to your website for more information after hearing about them. In both cases, your website is one of your most essential tools for attracting volunteers.
Consider dedicating sections of your website to sharing your mission with others. At a minimum, a page detailing your history and values helps volunteers get a quick glimpse of why they should support you and what their support might look like. Supplement your website with blog posts about recent events and stories about how your volunteers have helped the community. Adding eye-catching photos and videos enhances your story by helping potential supporters visualize the volunteer experience.
Perhaps most importantly, your website should directly encourage readers to get involved and show them where to start. There are many ways to push readers to take action, from providing contact information to displaying a list of upcoming volunteer events. For those who may want to support your cause through donations, adding a donation link can help to make their decision even easier.
3. Communicate With Volunteers
Improving the way you communicate with volunteers helps nurture their connection with your organization while also increasing event attendance. Use email and text communication to:
Notify volunteers of schedule changes, cancellations, and other interruptions.
Remind volunteers of upcoming events they've signed up for.
Send birthday messages to volunteers, showing them you care.
Present skill-specific openings to highly skilled volunteers.
4. Engage With Supporters on Social Media
Try using social media to engage with your supporters. Each volunteer event you hold is packed with noteworthy moments, and all you have to do is capture those moments and share them on social media. From inspiring before and after photos to quirky videos of volunteers having fun during a break, the content you share showcases the volunteer experience and can inspire others to join your cause.
While sharing content on Facebook, Instagram, or Twitter is essential, you should also take the time to directly engage with your audience. For instance, reacting and responding to comments demonstrate that you value your followers. Potential supporters will pay attention to how you interact with existing volunteers, which helps them decide whether they'll enjoy working with your organization.
5. Streamline the Volunteer Experience
Once a follower decides to volunteer for your organization, you should make it easy for them to start working with you. Even if a person falls in love with your mission and how you help the community, a roadblock in the application process might discourage them from following through. The time involved in picking up physical forms, bringing them home to fill them out, returning them, and waiting for the organization to process the application can deter even the most promising volunteers.
Make the application process more accessible with an online volunteer application management system. This way, volunteers can use a self-service volunteer portal to apply for volunteer opportunities, sign up for time slots that work well for them, and even view how many service hours they've accumulated. Both current and future volunteers will appreciate the ease of access an online system provides.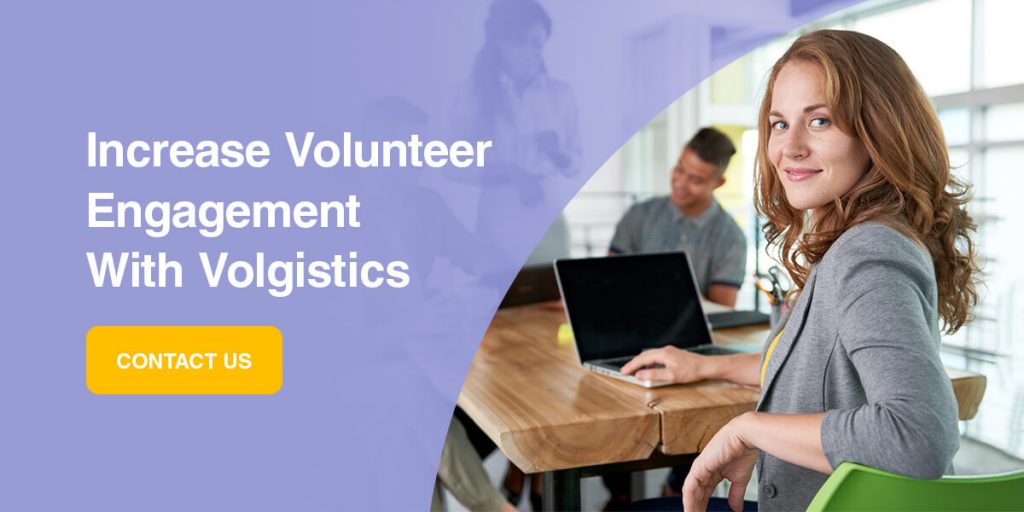 Learn How to Increase Volunteer Engagement With Volgistics
The best way to promote word-of-mouth marketing is to provide the best possible volunteer experience for your supporters. Volgistics volunteer management software is a highly customizable software solution for volunteer organizations of all sizes. With powerful communication features, Volgistics provides you with tools to engage with current and potential supporters. We also offer an optional online volunteer portal, allowing volunteers to quickly access schedules and sign up for events.
If you'd like to boost volunteer rates and create a better experience for your supporters, consider trying our volunteer management software today. If you have any questions, feel free to contact us today. We'll be happy to help!