Over the last decade, the number of companies offering volunteer time off (VTO) has risen significantly. According to a 2020 Corporate Executives for Corporate Purpose (CECP) report, 89% of companies offer VTO.
It is clear that VTO is trending, but why? Discover the benefits of VTO and learn how to implement it in your business in this short guide.
What Is Volunteer Time Off?
To begin, what is volunteer time off? VTO is an employer-sponsored benefit that allows employees to take paid time off to volunteer in their community. Typical VTO policies grant employees eight to 40 hours a year to volunteer. Giving employees this paid time makes volunteering an option for more people.
Uses of VTO
Now that you know what volunteer time is, how do employees use it? There are many options for employees to choose from when volunteering. Employees can start locally, participating in food drives and neighborhood clean-ups, or they can opt to volunteer for larger organizations such as the Red Cross or Habitat for Humanity.
Depending on an employee's location or time constraints, however, they may not find a cause that speaks to them or have the time off to volunteer. For employees with limited time and resources, online volunteering opportunities may be the best option. According to a 2022 CECP report, 83% of companies made virtual volunteering opportunities available to their employees.
But what counts as an acceptable use of VTO?
When creating a VTO program, it will be helpful to have examples of what can and cannot be used for VTO.
Acceptable uses of VTO include:
Directing a food drive
Participating in community clean-up events
Being an active member of a nonprofit board
Unacceptable uses of VTO include:
Vacationing
Judging a competition
Serving as your child's scout leader or coach
Attending a personal-internet conference or event
VTO should only be used for volunteering opportunities, and having clear guidelines will ensure that the time your company invests in volunteering is used to help others.
How Is Volunteer Time Off Different From Voluntary Time Off?
While volunteer time off and voluntary time off are both benefits that share the acronym VTO, they are very different. To build an effective leave policy, it is important to distinguish the two.
While volunteer time off is paid and dedicated to volunteer work, voluntary time off is unpaid and does not pertain to volunteering. Voluntary time off is a benefit employees use to take leave while still retaining employment.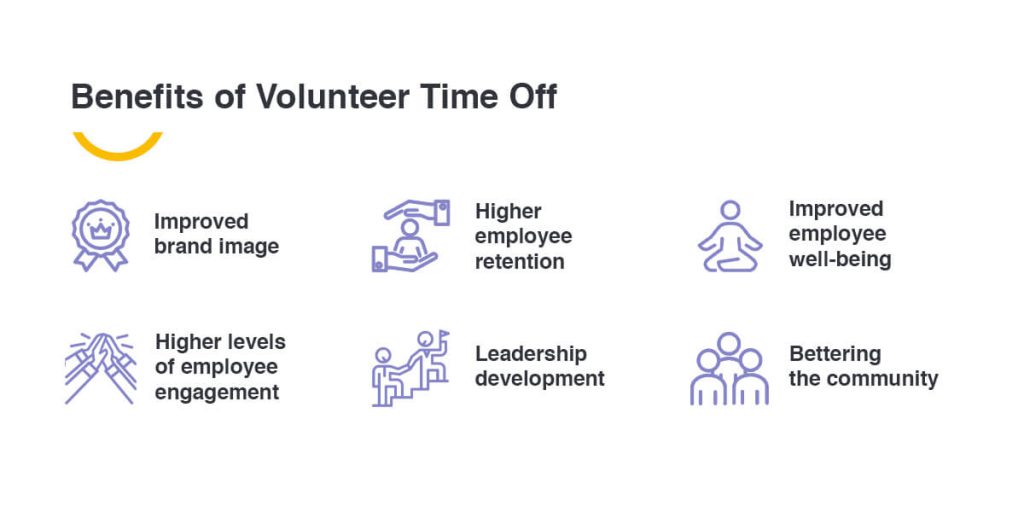 Benefits of Volunteer Time Off
As a benefit for employees, VTO comes at an additional cost to a company. By providing employees with PTO to volunteer, the company is spending money on time that does not go towards its day-to-day work.
That said, VTO has many benefits for a company. The benefits of VTO include:
Improved brand image: Offering VTO improves your company's image in the eyes of consumers and potential employees.
Higher levels of employee engagement: Allowing employees to take time to volunteer makes them more motivated, engaged and productive.
Higher employee retention: Employees who participate in corporate giving have 75% longer tenures than those who don't.
Leadership development: When employees take on new roles in volunteer organizations they can develop skills they do not develop in their daily job responsibility.
 Improved employee well-being: Research has found that volunteering increases happiness.
Bettering the community: Allotting resources to your community allows you to build a better community.
VTO Best Practices
Here are four tips on how to implement a VTO policy:
Work with your finance and human resource departments to create a budget for the program and discuss how you can plan for employee coverage.
Invest in a volunteer management tool to manage time-off requests and track VTO hours.
Encourage employees of all levels to participate in the program.
Create a VTO policy.
How to Create an Effective VTO Policy
Now that you have decided to add VTO to your employees' benefits package, it is time to create a VTO policy. A VTO policy will be the guiding document for employees taking time off to volunteer. It will outline the expectations and procedures for employees volunteering and getting paid for it.
VTO policies are usually digital and placed on a company's website. To ensure that your VTO policy is functional for all employees, here are six elements to include to create a detailed and trackable volunteer paid time-off policy:
1. A Clear Purpose
Your volunteer program should begin by detailing the purpose of the program. To accurately give the benefit a purpose, include the program's mission statement, the company's corporate social responsibility (CSR) promises and the intent behind giving employees time off to volunteer.
2. A Thoughtful Time-Off Policy
In this section of the policy, outline the extent of the VTO program. To create a detailed explanation of the paid volunteer time-off policy, answer the following questions:
How much time will an employee receive in VTO within a given period?
When does VTO renew?
Will unused VTO hours roll over?
At what rate are volunteers paid?
3. A Detailed Explanation of Employee Eligibility
All employees may not be eligible for VTO. In this section, outline who is eligible and who is not. For example, will part-time employees be eligible for the benefit? If so, will they have access to the same number of VTO hours that full-time employees have?
4. An Encompassing List of Volunteer Organizations and Activities
To ensure that employees are using VTO to participate in service activities that uphold and further your company's values, create a list of organizations employees can use this time to partner with.
You should also outline the kind of opportunities employees can partake in. Can they participate in spontaneous events or do they have to choose a pre-selected event?
5. The Application and Approval Process
Now that you have cleared up the nitty-gritty details of who can use VTO and how it can be used, it is time to outline how to submit a VTO application and how it will be approved.
Include information on where to find the form, who the form should be submitted to, who approves the application and how much notice employees need to provide.
To ensure that you are collecting the right information, include the following fields on the application:
Request date
Volunteer organization information
Employee name
Date of service opportunity
Total number of hours requested
Name of the volunteer role
Description of volunteer opportunity
Employee signature
Supervisor signature
6. Information on Reimbursement and Time Tracking
As you wrap up your VTO policy, explain how employees should keep track of their VTO and how you will handle reimbursement. To measure the reach and impact of your VTO program, keep a detailed record of your employees' volunteer hours.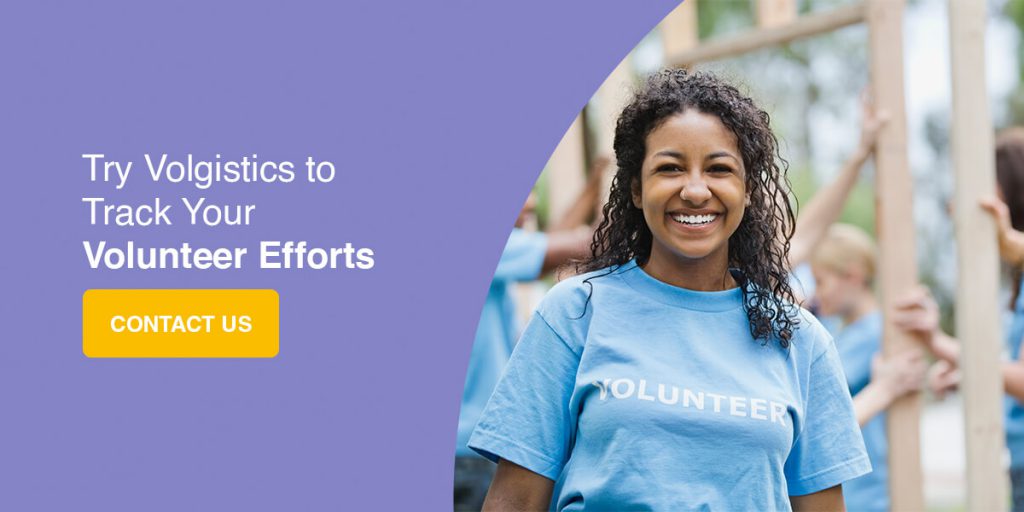 Try Volgistics to Track Your Volunteer Efforts
Volgistics provides software that allows volunteer managers to track their volunteer efforts. To see how Volgistics can help your organization meet its goals, request a live online demo or try it free for 30 days.