We've made some significant improvements to our help system. While this won't change the rapid response time from the support team, or the accuracy or completeness of their answers, it does change how you'll interact with them.

First, when you log into Volgistics, you'll notice that the menu has changed slightly. Instead of "Help", you'll see "Help Topics" where you can search through our documentation. You'll also see "Support", which will go right to the Help E-mail tab of the Mailbox. The Support menu item will also include a badge notification when you have unread responses from the support team.
You may be used to having our responses pop-up automatically when they're available. Because pop-ups are almost universally disabled, we've removed this feature in favor of the new notification. But if you still prefer to see responses in a separate window, you can launch one manually by clicking "Open in New Window" from inside the inquiry.
We've also updated the behavior of individual help inquiry responses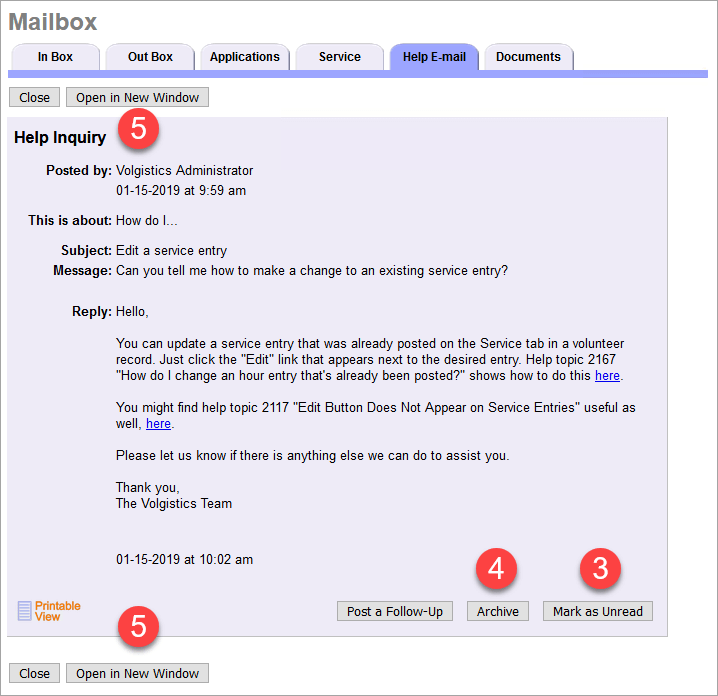 Responses are now only marked as read automatically when opened by the original sender
Responses can be manually marked as read by other System Operators
Responses can be marked as unread
Responses can be archived or unarchived
Responses can be opened in a new window
We hope that these changes will make it easier to find the information you're looking for in the documentation, and make communication with the support team more intuitive. Please let us know if you have any comments on these changes, or anything else in Volgistics.