Google Analytics (GA) is an invaluable tool for nonprofits and other volunteer organizations. It provides quantitative data organizations can use to tailor their online strategies, measure their return on investment, and achieve specific goals.
Using GA is particularly useful for targeting millennial donors. Studies show that 93% of millennials donate to nonprofits, 71% of them prefer to learn about an organization online, and 58% prefer to give via a website. But using Google Analytics' best practices to optimize your web presence and align it with these goals can lead to huge rewards no matter who your donors are.
In the following nonprofit guide to Google Analytics, we'll discuss how nonprofits can use Google Analytics, explain some basic Google Analytics metrics for nonprofits, and offer tips for key analytics for nonprofits to use to boost conversions, engagement, and growth.
Why Use Google Analytics?
For nonprofits, it's vital to learn the basics of Google Analytics because of the wealth of data it provides.
Google Analytics is a program that tracks and reports data about your website, including data about page visits, length of user stays on the site, and much more. Using nonprofit Google Analytics reports provides several benefits. Here are some essential ways for nonprofits to use Google Analytics.
1. Reliable, Data-Based Reports
Google Analytics provides reliable, quantitative reports organizations can use to understand their user segment's strengths and weaknesses better. Testimonials from satisfied clients are wonderful, and even complaints can be useful, but clients are likely to have biases — they're only human. Google Analytics reports focus on specific metrics and analyses for nonprofit traffic sources to convey the information you can rely on for growth.
2. Meticulously Tracked Data
Google Analytics doesn't merely track your data — it tracks and analyzes it meticulously. It runs on every page of your site and covers dozens of metrics that give you the information you need to set your organization up for success and a stronger community engagement.
3. Building on Current Strengths
Presumably, your organization already does a lot well – you know that from the impact you've already made, the donors you've cultivated, and the conversions you've achieved. But Google Analytics can tell you precisely where your online marketing and web presence are strongest and where you can improve. You can use that data to build on your current strengths and achieve even more impressive results.
4. Quantifying Return on Investment
The return on investment (ROI) of your marketing and recruitment strategies is an important figure to have, but it can be difficult to quantify without an analytical platform tracking your website traffic. This is where Google Analytics comes in. With Google Analytics goals, you can set targets and then measure them using concrete, quantified data. If your goal is to get more online donations through increased marketing, for instance, Google Analytics will keep track of them for you.
Getting Started
Learning how to set up Google Analytics for a nonprofit is quick and straightforward.You'll need to follow these steps:
Create an Account
To create an account, go to the Google Analytics marketing platform page and sign up. From there, you'll get the tools you need to optimize your site and help your organization flourish. If you have a Google Grants Ad account, you can link the two accounts to give yourself a fuller picture of your user journeys.
To link the accounts, you'll need to activate your Google Grants Ad account. Then, when you create your Google Analytics account, be sure you're using a Google account that has Google Grants Ad administrative access. Doing that should allow you to link your accounts for a comprehensive picture of your organizational metrics.
Install GA Tracking Code
Next, you'll need to install a GA tracking code to allow tracking to take place. To install the tracking code, you have two options. One is to add the code to the HTML code that already exists for each page of your website. The second option is to add tags to your site using Google Tag Manager.
The first option is easiest if you merely want to add the basic Google Analytics tracking code to your site. The second option is ideal if you are particular about the configuration of your Analytics tracking or want to add other types of tags — like AdWords Conversion Tracking tags or remarketing tags — to your website as well.
Identify Targeted User Actions and Set Up Conversion Tracking
The next step in using Google Analytics for volunteer organizations is to identify the user actions you would like to track, such as sign-ups or donations. You can then set up conversion tracking to monitor these activities. Setting up conversion tracking typically involves the steps below.
1. Creating Conversion Actions
You can create conversion actions by using the "Measurement" section under the "Tools" icon. Here, you can create the names of different actions, tell Google how to value and count them, and set a conversion window to tell Google how long you want to track the actions.
2. Creating Conversion Tracking Tags
To create conversion tracking tags, you'll need to add two snippets of code to your website:
Global site tag: The global site tag adds visitors to your remarketing lists and uses cookies to store information about how visitors clicked into your site. You will need to install this tag on every page of your website.
Event snippet: The event snippet tracks conversions or engagement with certain elements, like clicks on a button, for example. Every action that counts as a conversion on your site should have its own event snippet — unlike the global site tag, which should be the same throughout your site.
You can add these pieces of code to your site yourself if you have the time and expertise. Or, you can use Google Tag Manager to manage the tags for you by setting up Google Ads conversion tracking within this platform.

Goals for Nonprofits and Volunteer Organizations to Track
Once you've gotten your Google Analytics account set up and targeted user actions with conversion tracking, it's time to set goals for GA to measure. Consider tracking goals like these.
Volunteer Sign-Ups
Nonprofits and other volunteer organizations will likely want to track volunteer sign-ups over the long term. By tracking sign-ups, they can assess community engagement with their programs and determine which marketing strategies are most effective at bringing in volunteers.
Volunteer sign-ups are also significant because when community members sign up, they typically give your organization their email addresses. Giving you their personal information is a sign users trust your organization and would like to hear more from you. So tracking volunteer sign-ups can become a way to measure an organization's reputation as well.
Donations
One of the main reasons why nonprofits should use Google Analytics involves donations tracking. Tracking donations allows you to compare the contributions you receive at different times of the year, as well as the contributions you receive from one year to the next. By keeping an eye on your donations page or when a user clicks your donate button, you can assess your outreach strategies and determine which ones are most successful.
Downloads
If you have resources online, you can track user downloads. If your organization is an animal shelter, you might have an online PDF that outlines the number of pets saved every year and the medical success stories you create through your community's donations. If your organization is a conservation group, you might have materials online about how people can reduce their energy and resource consumption. Tracking downloads is a great way to generate data about how widely the community is receiving your message.
Time on Site
The visit duration internet users spend on your website is a reasonable proxy for user engagement. If people are more engaged with your site, they'll spend more time reading and clicking through to different pages. If they're not engaged, they'll leave. Even if people are not yet ready to sign up or donate, clear user engagement is an indication that your organization is doing something right. You can set different goals for time on site — say five or 10 minutes, depending on the amount of content you have online.
New User Account Registrations
You may want to track new user account registrations as well. Even if you have a core group of deeply engaged community members who believe in your work, it's always important to spread your message further and diversify your support base. Tracking new user account registrations can let you know how well you're doing in your outreach to new community members.
Important GA KPIs
Part of establishing strong Google Analytics fundamentals for nonprofits is defining and tracking your key performance indicators (KPIs). For nonprofits, KPIs are useful for letting you know how well you're achieving your established Google Analytics goals.
Before we go any further in discussing Google analytics KPIs for nonprofits, let's review some core KPI terminology:
Baseline: The baseline is the historical value of your metrics, and you can measure your current numbers against it to get an idea of your organization's performance. If you've historically averaged about $12,000 per year in donations, that figure is your baseline.
Benchmark: A benchmark is a success you hope to achieve. If you'd like to improve on your historical donations by increasing them to $20,000 per year, this figure is your new benchmark.
Indicators: Indicators measure an organization's success toward a goal. There are two main types of indicators: lagging indicators and leading indicators.
Lagging indicator: The lagging indicator is a metric that describes past performance. If you have historically taken in about $1,000 per month in donations, that figure is your lagging indicator.
Leading indicator: The leading indicator is a metric that describes what you're achieving right now and predicts your future success. If you're currently taking in about $1,100 each month in donations, that figure is your leading indicator.
Target: A target is a goal you need to hit for success. In this example, the target might be $1,700 in donations every month.
In developing KPIs for your organization, you should also focus on core dimensions and metrics — you can analyze and set goals for them. Some basic Google Analytics metrics for nonprofits include the following:
Medium
Source
User
Sessions
Goal completions
Landing pages
Time on site
Bounce rate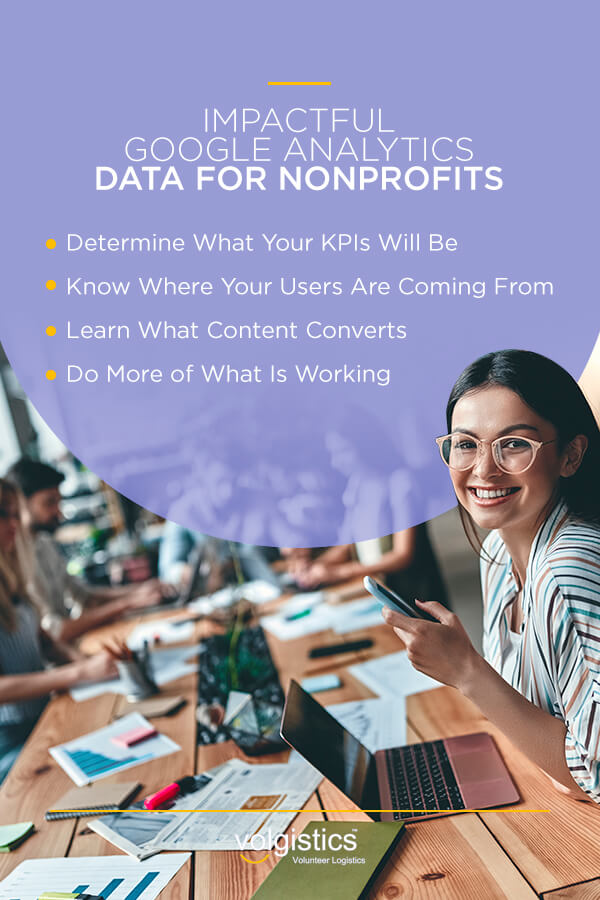 Impactful Google Analytics Data for Nonprofits
Once you've collected all the data, you still have work to do. You'll need to use the data to create a positive impact on your organization. Here are a few Google Analytics tips for volunteer organizations in terms of impactful GA data:
1. Determine What Your KPIs Will Be
What do you want to learn about the user journey? The answer to this question will inform your KPIs. If you want to know how often users are accessing your website, focus on session numbers as one of your KPIs. If user engagement is a high priority, focus on time on site as well as bounce rate — that is, the percentage of users who view a single page of your website and then leave.
2. Know Where Your Users Are Coming From
You can use source KPIs and medium KPIs to determine the source of your web traffic.
Source: This metric tells you where your website's traffic comes from – Google, Facebook, a specific site, etc.
Medium: This metric tells you how your users get to your site — organic searches, pay-per-click ads, links from other websites, etc.
Once you have this knowledge, you can tailor your marketing to popular media and expand your reliance on the sources that bring in the most traffic.
3. Learn What Content Converts
By using Google Analytics, you can learn what users tend to like and what converts them into customers.
For instance, you might have a general donations page with a button users can click to contribute. You might also have a donation button on a "personal stories" page that tells stories — with permission — about the underserved classrooms in which your organization has made a difference. If you discover that the personal stories are bringing in substantially more donations than the dedicated donations page, you can consider expanding the use of engaging narratives in your outreach efforts.
4. Do More of What Is Working
One of the best Google Analytics tips for nonprofits is merely to do more of what's already successful. By using Google Analytics, you can focus your marketing and recruitment efforts — by using SEO practices, social media, email, or whatever proves to be most effective. If you discover email blasts have high click-through rates to your site, you can focus more of your efforts on email. Or, if you find certain keywords that generate the most conversions, you can incorporate those keywords elsewhere on your site.
Making Your Data Useful
How can you convert all the GA data into a form that's most useful to your organization? Here are a few ideas for nonprofits in terms of incorporating Google Analytics data:
1. Export Relevant Reports
Export relevant reports to show progress on KPIs. These reports can include all traffic channels, a goal completions overview, an e-commerce report if you sell products online, and more.
2. Create Dashboards
You can create dashboards — either standard or customized — to get quick, useful insights about user behavior. A glance at the dashboards can give you a quantitative overview of how your organization is performing relative to the established KPIs and metrics.
3. Check Real-Time Reports
What if you have an event going on? In that case, you can check the real-time reports and assess user engagement.
Maybe you're hosting a fundraiser where participants can bid on items for sale on your website. In that case, you'd expect your website traffic to be through the roof, and you can check your GA reports to confirm. You can also assess nuances like whether the event has increased traffic from multiple media sources and how long participants are spending on different pages. And you can track whether the event increases donations, both during the expected time and immediately afterward.

Contact Volgistics for All Your Volunteer Management Needs
Now that you have a helpful nonprofit guide to Google Analytics, you can turn your attention to volunteer management. Volunteer management often involves goals, tracking, and reports as well, and Volgistics can help.
Volgistics is a stable, feature-rich, customizable platform, through which you can track your volunteer life cycles, create user-friendly custom reports, and much more. The platform has several stock reports built in, and you can also customize reports to ensure your organization gets the information it needs.
Try Volgistics free for 30 days or schedule a demo today to learn more.