Volgistics' online application form feature has been updated to meet the guidelines most feel will be used to create the American Disabilities Act (ADA) standards. Accounts that use custom fonts, font sizes, font colors, or buttons may need to update their settings to meet compliance.
The Americans with Disabilities Act (ADA) became law in 1990 and is designed to remove barriers that disabled individuals may face. Basically, the law's intent is to give people with disabilities the same access to service and opportunities that people without a disability have. At this time, there are not any official guidelines about what a web-based service such as Volgistics needs to do in order to be ADA compliant. However, the general recommendation is that web content should meet the standards for the AA Level of the Web Content Accessibility Guidelines (WCAG) version 2.0.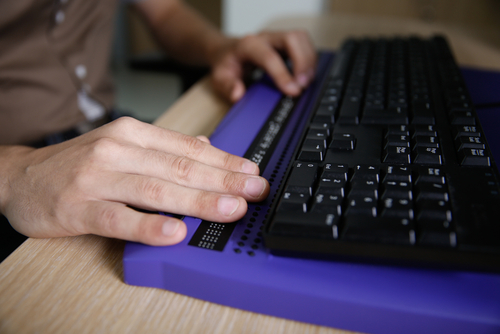 We believe having a disability should not prevent a person from engaging in volunteerism and we know many of you using Volgistics share this belief. Because of this, we've recently released an update to Volgistics to make its application form feature meet the success criteria of the AA Level of the WCAG 2.0 standards for HTML and CSS technologies. This means the application forms meet the visual requirements of the guidelines and were optimized to work with the most popular screen readers visually impaired individuals use to access the internet. Updates for the other online forms volunteers use (the Opportunity Directory and the VicNet portal) will follow.
If you are using fonts, font sizes, or font colors that are different from the default selections, or have uploaded custom buttons for application forms, you should make sure the choices meet the requirements if you would like WCAG compliance. Volgistics help topic 2561 "Application Forms and ADA/WCAG Compliance" explains how to do this.
As always, if you have questions or feedback, please let the support team know by sending an inquiry.