Whether you're planning a fundraiser, festival, or adoption event, you will always need a few helping hands. But if you're seeing little interest in your volunteer opportunities and an even smaller turnout on event day, you may be wondering how to find volunteers for an event. No matter the size of your organization, your team is busy even with adequate staff. But if only two recruits show up when you need ten, those two volunteers will end up overwhelmed.
Managers have plenty of options when it comes to recruiting volunteers for an event, whether it's months away or just around the corner. In this guide, we'll discuss some strategies you can use to increase volunteer event attendance and how to keep your volunteers coming back.
What to Do a Few Months Before
You may think that if you ask volunteers to attend your event several months before, they will forget about their commitment or won't know their availability yet. But this is the best time to prepare for your volunteer recruitment initiatives. If you start now and keep up with your recruitment strategy, you'll have a small army at your service on event day.
1. Continue Your Volunteer Retention Strategies All Year
The best way to make sure you have a high-quality staff on event day is to ensure your current volunteers feel appreciated. If you have one big annual event and few opportunities during the rest of the year, give your volunteers a little reminder now and then.
A few things you can try:
Throw a volunteer appreciation party.
Shout out a community service superstar in your monthly newsletter.
Invite volunteers to give feedback or speak at an upcoming staff or board meeting.
Host a volunteer training event in your off-season.
2. Focus on What You Have to Offer Your Recruits
The first step as a volunteer manager is to decide what incentives you can offer. When you're looking to get volunteers to help at your event, you can first advertise the benefit of making a difference. Generally, you will get more interest when you offer more incentives. Here are some things volunteers might be looking for:
Job experience
Hours toward a community service requirement
Free admission to your event
Discounts at your organization's gift shop
Tickets to a future event
A letter of recommendation
Introductions to VIPs and guest speakers at your event
Awards for outstanding service
A recognition luncheon
Whatever you decide, the next step is to publicize these opportunities, so others know why they should volunteer.
3. Build an Easy-To-Use Website

One of the top ways to get more volunteers is to help them find opportunities easily. If you recruit on social media and email, you want readers to be able to click on a link and seamlessly register to volunteer.
Your landing page for such links should be a page directed for those looking to volunteer their time. Include a call to action, so visitors can sign up to volunteer with the click of a button.
4. Make the Online Registration Process Easy
If prospective volunteers to express interest via email, they must wait until they hear back from you. This delay can cause some people to lose interest or find another way to volunteer their time. Instead, offer volunteers a way to sign up directly from your website. They can express interest in their preferred roles, and state their availability.
5. Dip Into Your Volunteer Arsenal
One of the more common ways to increase volunteer event attendance is to talk to those that have helped out before. Be careful not to count them in before you gauge their interest. If you're overdrawing on the resources you already have, you might see their support taper off. Make sure your repeat volunteers are doing work that is interesting and meaningful to them. It can be tempting to stick your most reliable helpers where there's the most need, but this won't work if they will be doing something they don't enjoy. The best way to ask is to recognize them for their past efforts and infer how they might like to get involved at this event.
6. Network
So, how do you recruit volunteers for an event? The best way is to ask people with a connection to your organization. Ask friends, family, and others who know you and support the work you do at your organization. Look for other ways your organization can broaden their network. Ask board members to recruit a friend or your current volunteers to bring in a buddy. Call for volunteers via your newsletter and social media. These will all target people with a connection to your organization, who want to see you thrive.
7. Find the Right Volunteers for the Job
As previously mentioned, it is vital to make sure volunteers are doing work that they enjoy and find meaningful. So, allow volunteers to rank their interest in the variety of volunteer roles you have available. For new and existing recruits, make sure you provide an overview of the jobs available and ask about their skills as you assign roles.
What to Do a Few Weeks Before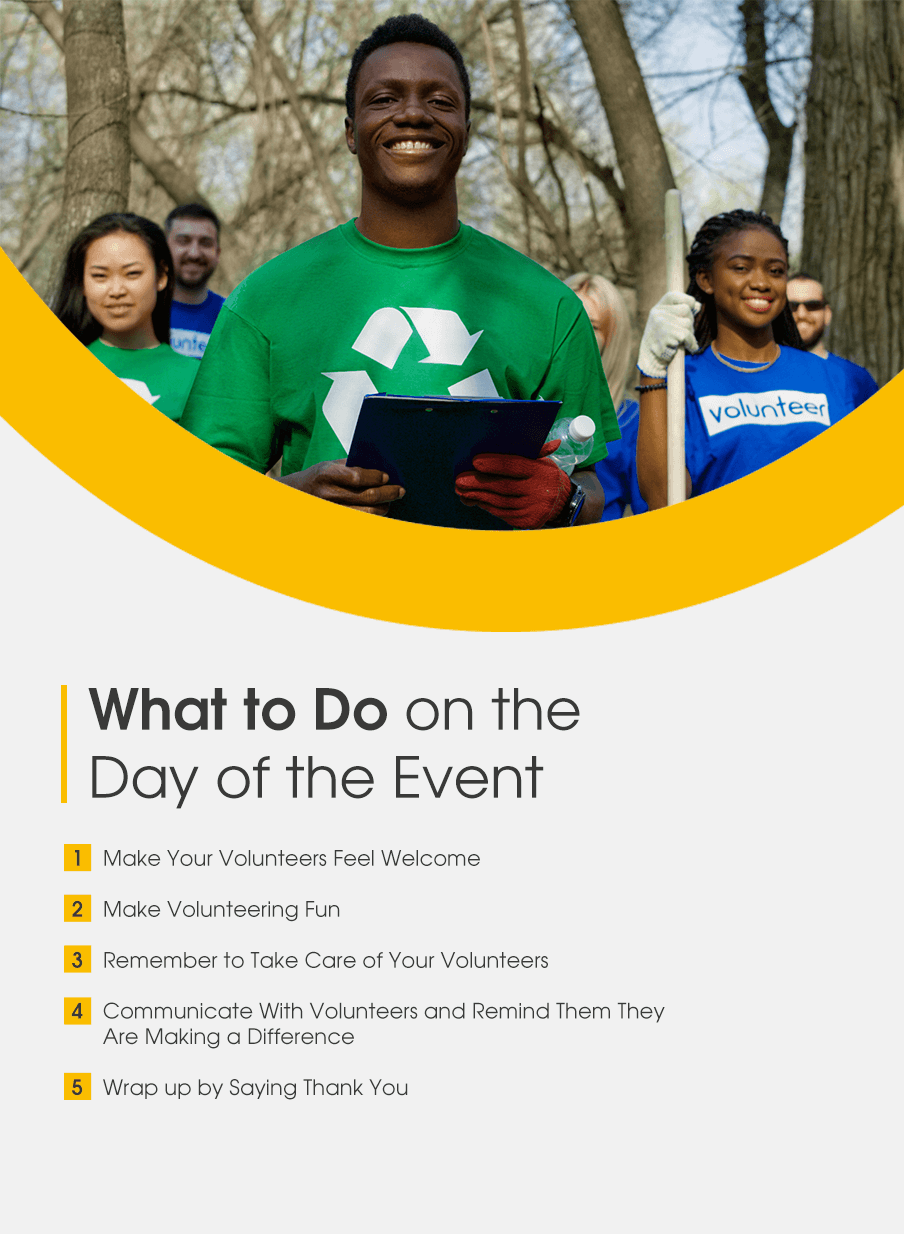 As your event draws closer, you might still be looking to fill a few more openings. You'll also want to remind committed volunteers of your event, so they don't schedule a conflicting event or forget about it altogether.
8. Promote From Within
If you've got a solid team of returners, consider giving them a "promotion." Let them manage your newer recruits so you can recognize your volunteer veterans and make them feel appreciated. They will feel tied to your organization and its success, and you will always have a trusted volunteer on-duty.
9. Recruit Electronically
If you're looking to fill a few more spots, you can recruit volunteers for an event online by:
Creating a compelling video of a previous event or asking volunteers to film a short video describing their experience.
Planning a campaign on Instagram, LinkedIn, Facebook, or Twitter.
Sending out an email blast to your subscribers.
Creating and sharing a Facebook event.
Always mention open roles, desired skills, and some of the key benefits of volunteering with your organization.
10. Make Training Convenient and Meaningful
When you have people making a significant commitment of their time, you want to try to lessen that burden whenever possible. But if your volunteers need training before event day, reducing that obligation can be tricky. Make training events more convenient for your staff by holding them online. Your volunteers can learn the ropes on their own time by watching a few how-to videos. As long as you make yourself available to answer any questions, online training can save everyone time. If you decide to host an in-person training session, make sure they are worth it. Don't hold a meeting for something that could have been an email. Make sure your volunteers see the value in coming in — make it a chance to bond as a team and play some games.
11. Use a Time Slot Sign-Up Sheet
A few weeks out, your volunteers know their availability for the day of your event and want to know how much of their time you'll need. While some people can stay and help out all day long, others may only have an hour or two to spare. Create some basic and advanced volunteer opportunities, and use a time slot sign-up sheet so volunteers can work around their schedule. Letting volunteers sign up online keeps you organized and gives volunteers the freedom to set their schedules, which saves you time as well.
What to Do a Few Days Before
Now that your event is almost here, it's time to make the final push, so your recruits attend on event day. Consider these tips to increase volunteer event attendance a few days out:
12. Create a Breakdown of Roles and Responsibilities
When managing nonprofit event volunteers, have a clear plan of attack for the day of the event. This is important for running a successful event and making sure your volunteers know what to expect. Creating a breakdown of every volunteer's responsibilities will ensure you always have a more experienced team member on duty, and that there are no gaps in coverage.
13. Tell Volunteers What They Need to Know
As you create a breakdown, make sure each task and duty has actionable instructions. Send a summary of each role to the responsible team members, and print a copy to post at the event. When you send these details out, make sure to say what time to show up, where to go upon arrival, and what the day will look like.
14. Send a Friendly Reminder
In addition to sending a breakdown, it will be helpful to send one last reminder text and email the day before. A volunteer management application like Volgistics can use the phone numbers and emails already in its database to send out these reminders.
How to Encourage Repeat Attendance for Volunteers
Once you've managed the process of recruiting volunteers for your event, you should have a great turnout on the big day. You now have a whole new roster of volunteers you can call on next time. But if you're experiencing a high attrition rate on volunteers, you may want to work on retention.
The first step to keeping your best helpers is knowing how to manage event volunteers. There's a lot you can do to improve the experience for volunteers and make people excited to help out next time through outstanding management.
What to Do on the Day of the Event
Making sure your volunteers have a positive experience is the most effective way to keep them coming back. Here are a few things to keep in mind on the day of the event:
1. Make Your Volunteers Feel Welcome
Make sure you have a friendly face available to greet volunteers when they arrive and show them around. One way to make new volunteers feel welcome is the buddy system. Have a recruit shadow one of your veterans for the first few hours, so they can learn and feel part of the team. There are several volunteer event best practices you can use to improve your event. One is setting up a volunteer check-in kiosk, so volunteers know exactly where to go and who to talk to when they arrive. A check-in area also gives them an easy way to log their hours.
2. Make Volunteering Fun
Making volunteering enjoyable is one of the best things you can do to attract volunteers for events. When you have a busy day and a lot to do, it's hard to make time for fun. Here's how you can fit a little cheer into your volunteer experience:
Starting the day with an icebreaker to make everyone feel part of the team.
Having volunteers track their step-count, ticket sales, or another metric and offer a prize for the winner.
Giving volunteers a break to explore and enjoy the event.
Taking volunteers backstage to meet a VIP.
3. Remember to Take Care of Your Volunteers
When working a busy event, it can be easy to forget about your staff. Don't fall into this trap. Make sure your volunteers take breaks, eat, and stay hydrated throughout your event.
4. Communicate With Volunteers and Remind Them They Are Making a Difference
Volunteers want to know how the event is going, why they're doing a specific task, and if their hard work is paying off. So, take the opportunity to connect with your helpers while they are on the job.
5. Wrap up by Saying Thank You
At the end of the day, make sure you take a few minutes to recognize your volunteer's hard work. Celebrate the day's wins — a surpassed fundraising goal, positive reactions from guests, or other successes. Make sure your volunteers know how vital their help was, and thank them for their time and effort.
What to Do After the Event
Just because your event is over doesn't mean the work is done. Here are a few things you can do after the fact to improve volunteer event attendance the next time around:
6. Send Thank You Notes

A heartfelt thank you says a lot. It shows your volunteers that their help was worth it and that you appreciate their time. Remember to send a note celebrating the event's success and their part in it.
7. Ask Volunteers for Feedback
When your volunteers are in the throes of an event, they witness things that you and your team might not have seen. Ask them to tell you if something went wrong and how you can resolve it in the future. Giving them a voice makes volunteers feel like part of the team.
8. Showcase Future Opportunities
If you have other volunteer opportunities coming up, send out a calendar of events to the volunteers that helped out. Provide them with a way to express interest and get involved in your other opportunities.
Ongoing Retention Strategies
After your event is over and behind you, it's time to start preparing for what's ahead. Here are a few things you can keep up with year-round, or in your off-season to keep your volunteers happy:
9. Respect Your Volunteers' Time
One crucial aspect of volunteer event planning is time management.
After all, everyone is busy. Relying too much on a few people will cause them to burn out or feel under-appreciated, so make sure not to overuse your volunteers. Be honest about how long things will take. If you know something will take a few hours, don't round it down to an hour when you call for help. Always start and end on-time.
10. Give Credit Where Credit Is Due
If some of your volunteers go above and beyond, give each one a spotlight in your newsletter. Broadcasting your appreciation to a wider audience gives volunteers a sense of pride and accomplishment.
11. Throw a Volunteer Appreciation Party
Retain nonprofit event volunteers by showing them you care. Take them out to lunch or plan a gathering where they can celebrate with friends and family. You can hand out awards for outstanding service, or give volunteers a fun experience to help them bond as a team.
See How Volgistics Can Help You Recruit and Retain Volunteers

Organizing an event is time-consuming, and making sure you have the staff to make it happen is complicated. Volgistics is like your personal assistant for all aspects of volunteer management. Volgistics will create a database of your past and current volunteers, send communications about your event and upcoming opportunities, let volunteers sign up for service, vet candidates, and much more. With your tailored-to-you volunteer management service by your side, you'll be able to increase volunteer event attendance like a rock star. Want to learn more? Sign up for a Live Demonstration or try our free demo to start saving time today.