Since the first March of Dimes event in 1970, walks and runs have become a well-known fundraising idea for charitable causes. Of the running events in the U.S., five-kilometer runs (5Ks) are consistently the most beloved by far. Most healthy adults can walk or run for five kilometers, which equates to just over three miles. That's why 5K fundraisers are inclusive activities many people can participate in and enjoy. More than 2.6 million people participate in 5Ks in the U.S. annually.
If you want to organize one of these events for your organization, this step-by-step guide is for you. We'll share our tips for organizing a 5K fundraiser so you can enjoy a successful event that rallies the community and furthers your cause.
1. Gather Your Team and Set Goals
You should start by assembling a team who will plan the 5K, market it, and coordinate on the event day. This team should include some employees, but you can also open it up to volunteers to ensure your staff has extra help.
Once you've gathered your team, it's time to think big picture. Have a meeting to discuss your goals for the event and brainstorm some ideas to make your 5K a success.
2. Decide on the Details
Once you have a general vision for the event, you can begin figuring out the details. Some specifics your team should decide on include:
What the theme and name for the race should be
How you will disseminate information about the 5K
What the entry fee will be for participants
Where and when the event will take place
How you will time the runners
What specific cause the proceeds will go to
Try to start planning early so you can think through as many particulars as possible before you begin involving other groups and promoting your event.
3. Build a Budget and Find Sponsors
Once you understand your event's goals and details, you can think practically about your budget. Of course, you want to keep spending down to maximize the proceeds that go directly to the cause. But organizing an event will always involve some costs. Determine how much you want to allocate to the 5K. You should also start seeking out corporate sponsors. In some cases, these supporters may agree to help fund the event in exchange for free advertising.
Finding sponsors to come alongside your organization and help with the event can be a great way to keep costs down while getting the whole community involved. Businesses can donate money or items. For example, a local printer may give you a discount to create T-shirts and other swag items at cost. You can also look for sponsors to offer post-race experiences. For instance, a restaurant may cater a free meal or provide snacks for runners.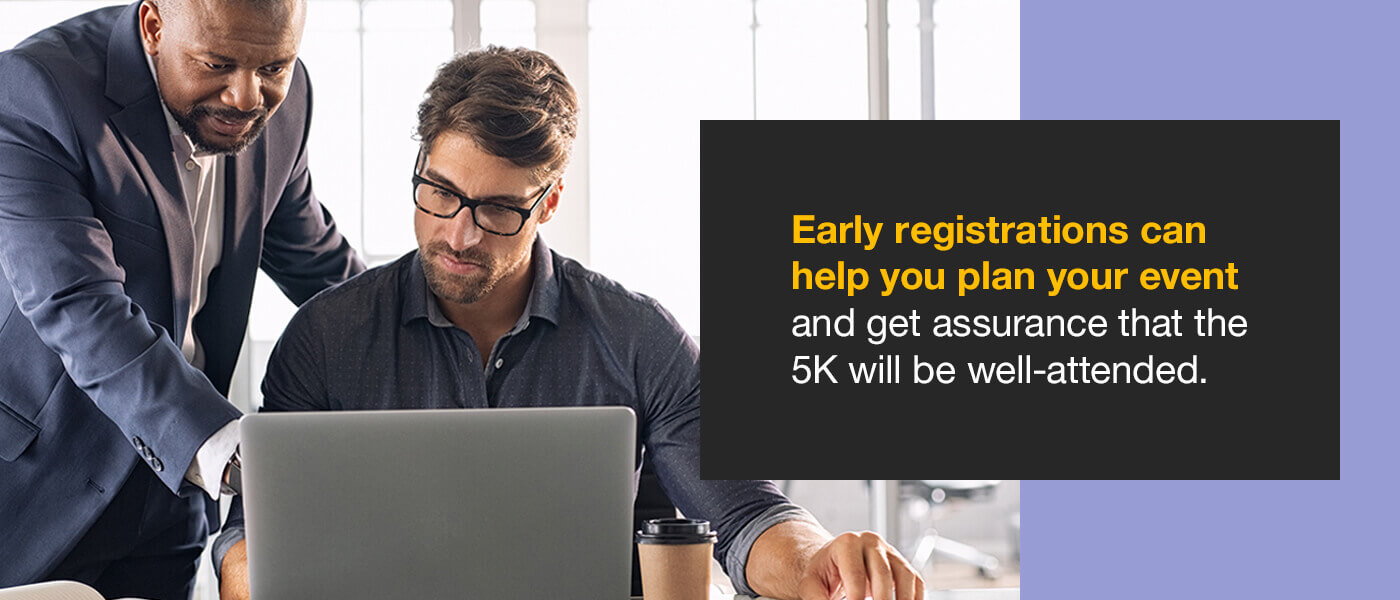 4. Open Registration
You can open registration as early as a year before your event, though you don't need the registration period to be quite this long. Still, it's smart to start promoting the 5K well before your chosen date and to offer an early-bird discount to encourage people to sign up right away. Early registrations can help you plan your event and get assurance that the 5K will be well-attended.
When a person registers for the event, make sure you have the participant sign a liability waiver and share sizing information for T-shirts or other swag you plan to give out. You should also give the participants their automatically assigned bib numbers at this time and provide confirmation of their registration.
5. Promote Your Fundraiser
Promoting your 5K is key to having a successful event that attracts plenty of participants. Though paid advertising like radio ads can be a good idea, you should take advantage of free methods of advertising as much as possible, like:
Social media posts
A feature in your email newsletter
Posters and flyers in public places
When posting printed ads, make sure to put signs or banners where it's legal to do so or get permission from private businesses to post a flyer on their window or bulletin board. It's especially smart to consider where your cause's target audience might see your promos. For example, a faith-based organization may ask local churches to promote their event. And a humane society could post their 5K ads at local dog parks, pet stores, and groomers.
6. Plan for Race Day
As your event gets closer, your team should coordinate the crucial details that will ensure your event goes smoothly. For example:
Ordering shirts and awards
Getting signs printed
Planning aid stations and recruiting medical professionals to be on site
Partnering with a vendor for portable restrooms
Procuring trash cans and other items you'll need
Coordinating security
The more details you can take care of in advance, the less stressful race day will be, and the more positive experience you'll be able to create for all your staff, volunteers, and participants.
7. Recruit Volunteers for Race Day
Nonprofit organizations rely on volunteers for all sorts of needs, including fundraising events. Chances are, your full-time staff can't be everywhere you need help on race day. Here is where volunteers can play a pivotal role. They can cover responsibilities like checking in attendees, handing out water bottles or swag, or directing parking, for example.
Start recruiting volunteers early so you can have time to go through your screening procedures and provide any training necessary to help volunteers do an excellent job. Remember, just like staff, volunteers will be the public face of your organization on race day, so you must partner with conscientious, trustworthy people.
8. Prepare for Racer and Volunteer Surveys
If your 5K is a success, you'll likely want to make it an annual event. It may seem too early to plan for next year when this year's event hasn't even occurred yet, but you can start creating surveys now to help you gain post-race insights from your participants that will help you plan for next year.
You should send out this survey to all your racers and volunteers within the week following the race, preferably within just a few days of the event. You can also take this opportunity to thank them for attending and invite them back next year. In your survey, ask participants what they liked and what they would have done differently. When responses start coming in, look for trends that help you make positive changes, so next year's 5K is even better.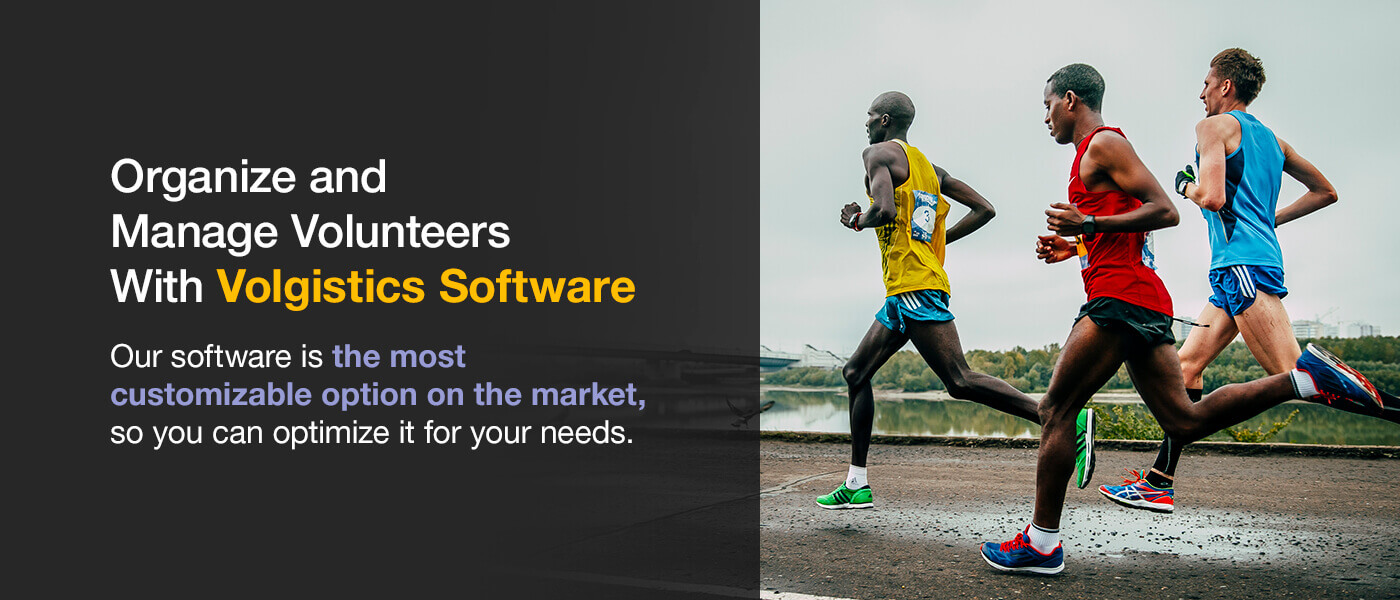 Organize and Manage Volunteers With Volgistics Software
If you're recruiting volunteers for your 5K, or if your organization depends on volunteers every day, you need a way to manage them effectively. Volgistics volunteer management software provides all the features you need to manage all your volunteers through the entire program cycle on one convenient dashboard. Our software is also the most customizable option on the market, so you can optimize it for your needs. Learn more about features and pricing so you can determine if Volgistics is the right solution for your organization.