View Volunteers in a Set¶
How to View the Volunteers in a Set
Once you create a Set to identify a group of volunteers, you can see which volunteers are included in the Set from the Volunteers page. This allows you to look at a few of the records to determine if the Set is bringing back the volunteers you want.
Here is how you can do this for non-archived volunteer records:
Choose Volunteers from the menu

Under the Include section, click the Clear link to make sure there are not any selections that will limit your results.

Use the Set dropdown to select the name of the Set you want to view.

Click the All link to the right of the row of letters.
All the volunteers who meet requirements of the Set rules used to create the Set will be displayed on the page making it easy to perform some common tasks such as:
Click the Tag button to Tag all the records so you can perform any of the tasks shown in Tag Functionality.
See a count for how many volunteer records are in the Set.
Use the Search options in the column headings to find certain volunteers in the Set. You can learn more about how to do this in the Sort & Search Records section of Finding Records.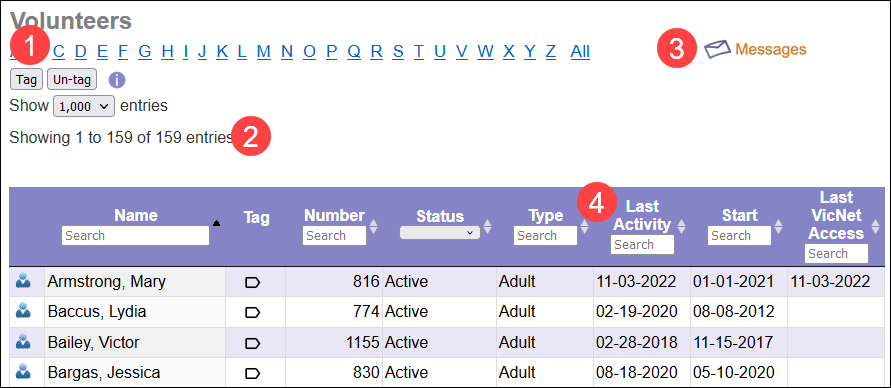 Your archived volunteer records are stored in a separate section of your database so you will need to use the Advanced options settings on the Volunteers page to find the archived volunteers who are in a Set.
To start, go to the Volunteers page and click the Advanced options button under the Include section:

In the Volunteers in this Set dropdown, select the Set you need and check the Archived volunteers checkbox.

Click the All link to the right of the row of letters at the top of the page.
All of the archived records that meet the requirements of the Set will be shown.
Archived Records
Archived volunteer records cost much less than non-archived records on a record-by-record basis so they have more limited functionality. Because of this, you will not be able to complete all of the same actions for archived records that you can for non-archived records. You can learn more in Archived Versus Non-Archived Records.
Related Help¶
How to View the Volunteers in a Set