Setup Menu¶
The Setup menu option opens the Setup page in your account. The Setup page includes links to the system setup and configuration options.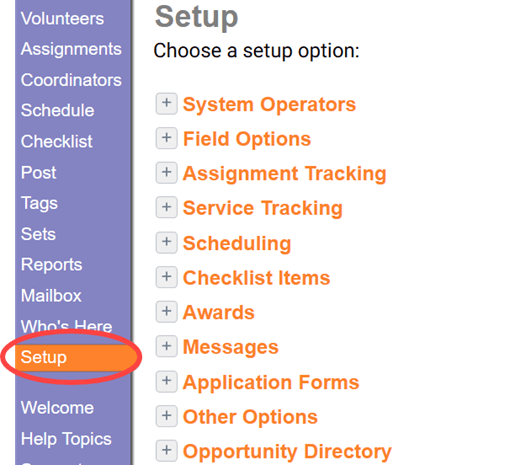 After you select Setup, you can expand a setup area and choose a page to update the account settings. If you need help with the settings on a page, check if there's a Help link at the top or bottom.

If you need additional assistance, select Support on the menu to contact the Volgistics support team. See the Contact Support help topic for more information.
Setup Does Not Show¶
Your organization's Account Administrator controls which Volgistics System Operators have access to the Setup page. If you need help with how to do this, see the Limit Operator Rights or Access help topic.
If the Setup option does not appear on your Volgistics menu, you do not have access to the Setup controls. In this case you should contact your organization's Volgistics Administrator for assistance with configuration changes. Follow these steps if you need to find out who the Administrators are for your account:
Choose Welcome from the menu.

Scroll down if necessary and and click the Operator information link.
This will open a profile page for your operator record and also list all of the Administrators for your account.
Setup Messages
You may see a message from Volgistics after you select Setup from the menu. This box has information about the messages you may receive as well as information about what to do when the message is shown.
Setup Is Currently Being Used¶

The Setup options contain many important account settings such as your time zone settings, Hours of Operation, System Operator access, and more. Because of this, only one operator is allowed access to Setup at a time to prevent possible configuration conflicts. If you see a message that another operator is using Setup, simply try again later.
There may be times when an operator does not close Volgistics by selecting Exit on the menu while they are using Setup. In this case, the system will still see the operator's session as active even though they are no longer logged-in. If this happens, you can contact the operator and ask them to log-in again and exit properly. Or, if you're unable to contact the operator, you can access Setup when their session expires.
Local Storage Warning¶

Your web browser settings must allow access to local storage in order for Volgistics to function properly. If your web browser has local storage access disabled, you will see a warning message. In this case, you (or your IT team) will need to update the browser to give Volgistics access. If you need help with this, you will need to consult the documentation for whatever web browser you use.
Related Help¶