Service Value Overview¶
Service Values
While many organizations' needs are met by simply tracking volunteer hours, some organizations must also track and report on the monetary value of their volunteer programs. The service values feature allows you to attribute monetary value to volunteer service in Volgistics. Service values can be given to actual hours, merit hours, and/or any service measures used by an organization.
First, a default rate can be set for actual hours, merit hours and any service measures. Then different default rates can be set for different time periods. In addition, the service values for actual hours, merit hours and other service measures can vary by Assignment.
After setting up service values, the monetary value of service will be included in all appropriate service records. It can be included in service reports by selecting the "Value" field for any relevant measures (for example, Hours, Merit hours, Absences, etc.) on the report's Fields page, like this: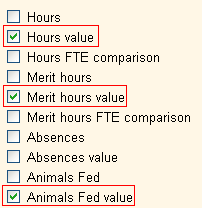 What monetary amount should I give for the service value?
It is ultimately up to each organization to decide the monetary value of the jobs that volunteers perform. If you have a large organization, this is something the Board of Directors or Human Resources department may be able to assist with. You could also look on the web for assistance. For example, Independent Sector (a Washington, D.C. based advocacy coalition) announces a figure around April of each year for the value of volunteer service in the previous year. You can learn what the most recent figure is at https://www.independentsector.org/volunteer_time.
The website also has resources for finding the hour value of previous years, the value of volunteer service by state, as well as the value for different types of service.
Related Help¶
Service Values