Create a Birthday List¶
Wishing volunteers "happy birthday" is a common practice in many volunteer programs, and Volgistics makes it easy to know who has upcoming birthdays. With the birthday list feature, Volgistics can automatically show you volunteer birthdays for the current day, week, or month on the Welcome page each time you log in.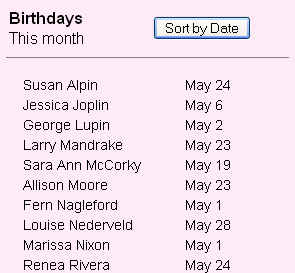 By default, the birthday list is sorted alphabetically by the volunteers' last names each time you visit the Welcome page. However, you can quickly sort it by date order by clicking the Sort by Date button at the top of the list. Click the Sort by Last Name button when the list is in date order to change the list back to being sorted by last name.
The birthday list gets volunteer birthdays from the Date of birth field on the Profile tab.

In order to appear on the list, you (or the volunteer) must have entered at least the volunteer's month and day of birth in the Date of birth field. A volunteer will never appear on the birthday list if their Date of birth field is left empty because Volgistics cannot determine when their birthday is without this information.
The birthday list will only show birthdays for volunteers in the non-archived section of your account. Because records in the archived section are generally stored due to inactivity, these records will not appear on the list.
If you choose to use the birthday list features, Volgistics provides an Omit from birthday lists checkbox next to the Date of birth and Age fields on the Profile tab in each volunteer's record. Check this checkbox for any volunteer who prefers not to have their birthday listed. This enables you to track dates of birth for all volunteers, while giving you the flexibility of honoring individual volunteer requests to be omitted from published birthday lists.
The birthday list feature displays the volunteer's name, followed by their month and day of birth. It does not display their year of birth, even if one is entered in their Date of birth field.
To setup birthday list features:
Select Setup From the menu.
Expand the Other Options link.
Select Birthday Lists.
Related Help¶