VicTouch Overview¶
VicTouch is the optional Volgistics module that allows your volunteers to clock-in and clock-out to automatically track their service hours and record additional service information, like the number of miles they drove or notes about their shift.
VicTouch is ideal for organizations where volunteers serve primarily on-site at a specific facility or campus, or for situations where volunteers will all check-in before serving. If this describes your organization - and you track volunteer hours - VicTouch is a great solution. It can eliminate manual record keeping for service details altogether, and give you a precise record of which volunteers were onsite, and when.
You don't need to use VicTouch to use Volgistics. If you do not need to collect volunteer hours or don't need volunteers to check-in before serving, simply use Volgistics without the optional VicTouch module. There are other options to collect volunteer service information so you can still keep track of information such as the number of hours a volunteer serves without the VicTouch module.
What You Need to Use VicTouch¶
VicTouch is accessed over the internet via a web browser, so the module can be accessed on most devices with an internet connection and an up to date web browser. Most organizations set up a kiosk station at their facilities where volunteers can check-in, but it is also possible to generate QR codes volunteers can scan with their smartphones to clock-in and clock-out on their own devices.
How you choose to set up VicTouch will depend on where volunteers will be checking-in, what equipment you have available to set up sign-in stations, and how secure those stations need to be. Here's some examples of how resources, security needs, and situations could influence what hardware is used to set up VicTouch:
You can find directions on how to launch VicTouch on the device of your choice in Options to Launch VicTouch.
VicTouch Branding¶
You can customize VicTouch to use your organization's color scheme and logo. Each station that is launched will reflect what is set up in your account no matter what method is used to launch the station.
To set the color theme for VicTouch:
Select Setup from your menu.
Expand VicTouch.
Select Theming.
To add your logo to the sign-in page:
Make sure your account has a logo uploaded to the Display graphic section of the logo upload page.
Select Setup from your menu.
Expand VicTouch.
Select Check-In Sequence.
Select PIN screen setup.
Make sure the box in front of Display logo graphic is checked.
Click the Save button.
Each VicTouch station will need to be restarted to reflect any changes you make to your theme or logo.
Why Is It Called VicTouch?
Vic stands for Volunteer Information Center and Touch is how you access the module (through a touchscreen). Thus the name VicTouch. Technically, VicTouch can be used on desktop computers and laptops without a touchscreen by using the computer's mouse--but touchscreens provide the best user experience.
There are also optional modules called VicNet and VicDocs. Don't confuse VicTouch with these. While each module starts with Volunteer Information Center, they're designed for different purposes. The VicNet portal is used to give volunteers and Coordinators a way to interact with the Volgistics system from anywhere there's an internet connection, and the VicDocs module gives applicants, volunteers, Coordinators, and volunteer managers a way to upload electronic documents (Docs) into Volgistics. The main purpose of VicTouch is to serve as a time clock to collect volunteer service information.
How VicTouch Works¶
Volunteers access VicTouch with their unique PIN. They do not need any special account, but their volunteer record must have the correct Status set on your VicTouch Ground Rules page in order to sign-in. Volunteers will use the Number on their Core tab as their PIN. These can be assigned automatically so that they are set as a random number or the last seven digits of the volunteer's phone number.
The primary function of VicTouch is to have volunteers clock-in and clock-out when they serve. You can have volunteers clock-in for their scheduled shifts or clock-in for any Assignment that you choose to make available to them. Here's how the sign-in process might look for a volunteer:
In addition to being able to clock-in and clock-out to record their service, you can also set up VicTouch to allow volunteers to see their schedule, add or remove themselves from the schedule, as well as have a copy of their schedule emailed or sent by text to them. VicTouch can also be set up so volunteers can review their service history. These additional features can be disabled if needed. For example, a performing arts center may have a group of ushers reporting for a show at the same time so disabling the additional features will help limit the amount of time the volunteers spend at the sign-in station.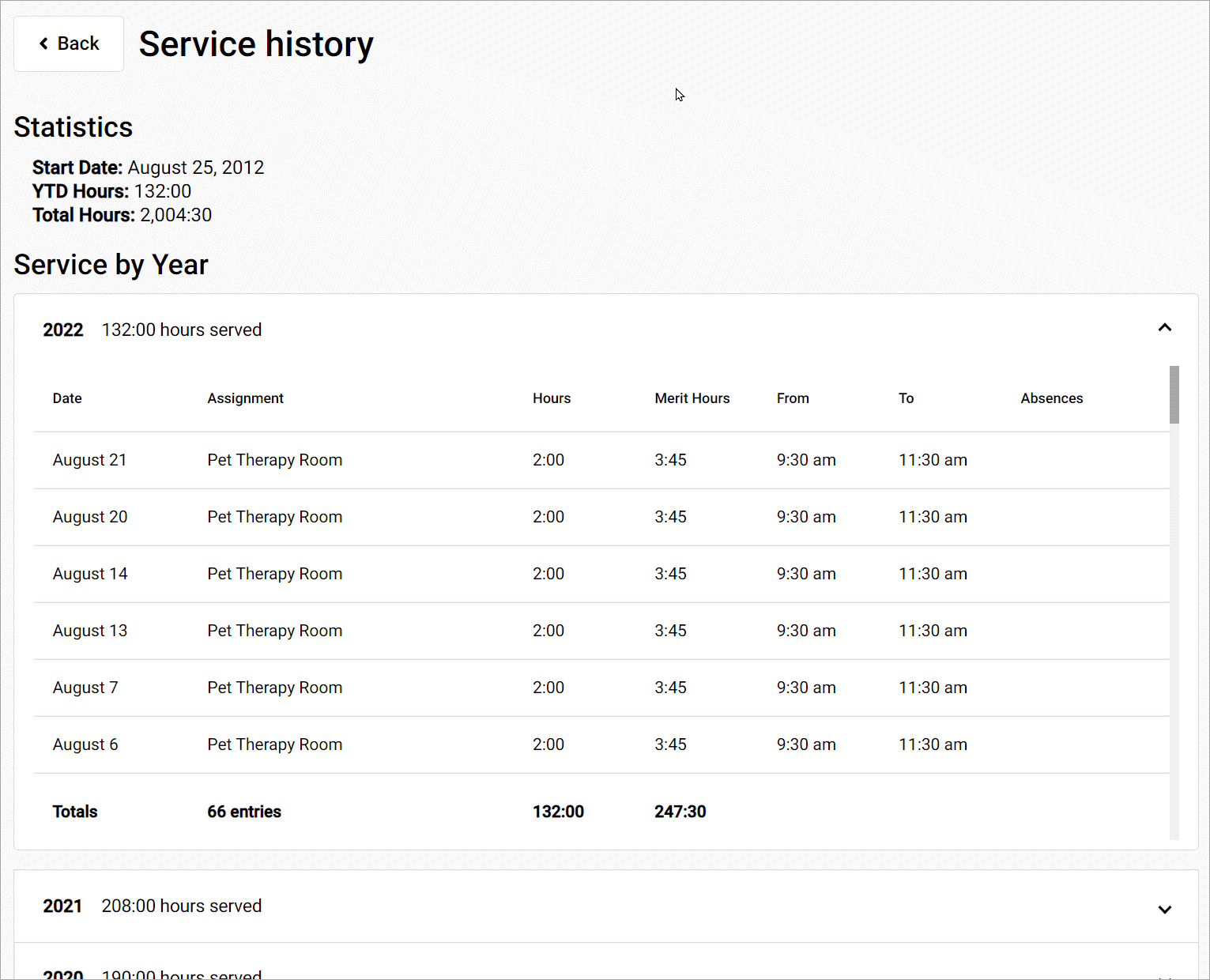 You can also set up greeting cards when volunteers clock-in. These can be automatically shown when the volunteer's anniversary or birthday approaches, or you can set up holiday cards to be shown in a date range around the holiday being celebrated. The holiday cards can be customized so they work great to remind volunteers of upcoming deadlines, workshops, or events such as a banquet or picnic.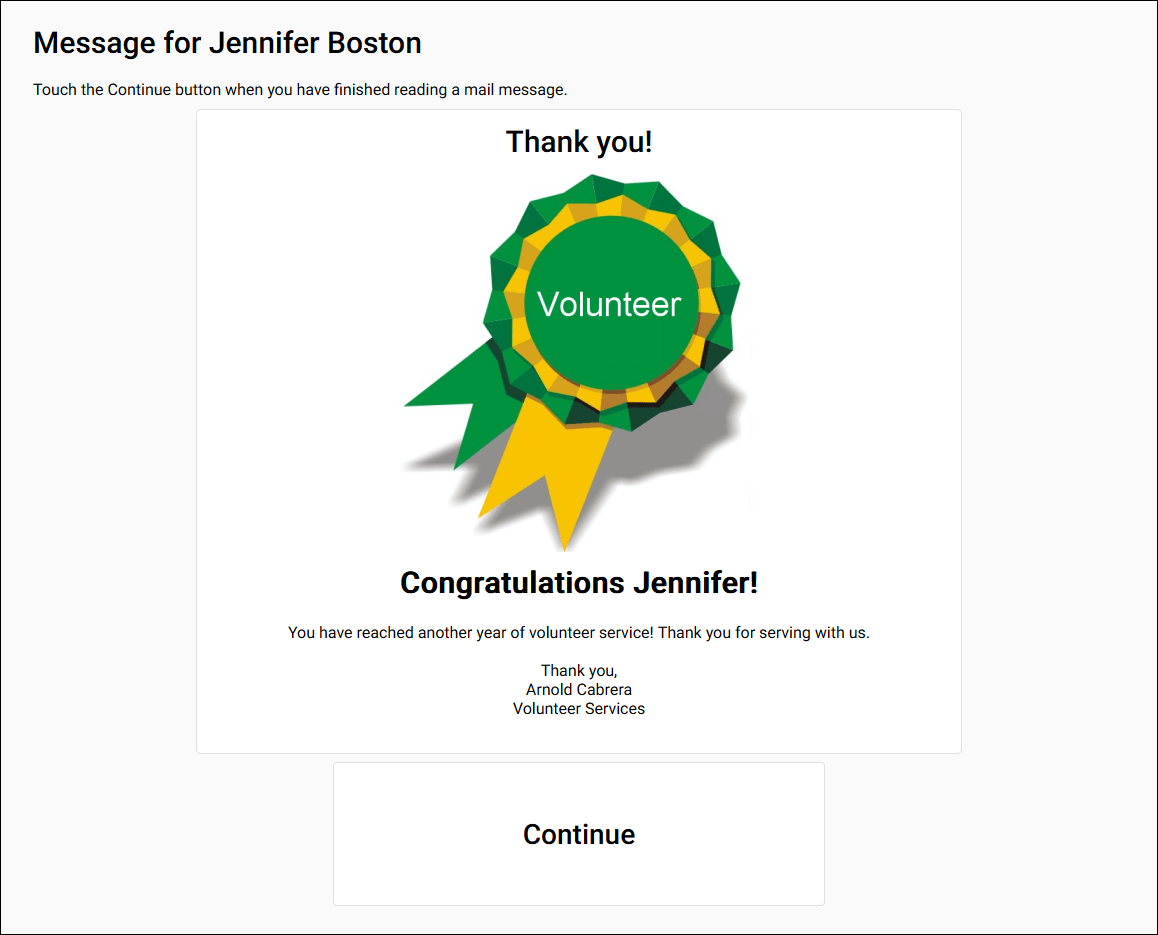 In addition to the greeting card feature, VicTouch has built-in messaging capabilities. These come in handy if you need to send a message out that all the volunteers will see when they clock-in. Or, you can select to just send the message to certain volunteers if you only need to communicate with some of them.
Who's Here Page¶
One additional feature you get when your volunteers use the VicTouch module to clock-in and clock-out is that you can view which volunteers are currently clocked-in, who was clocked in earlier in the day, and even who is expected to serve during the day. To do this, System Operators simply select the Who's Here item from their menu. The Who's Here page can also be launched on a separate monitor beside the sign-in station. This works well in situations where an organization wants their department heads to be able to quickly see which volunteers are on-site.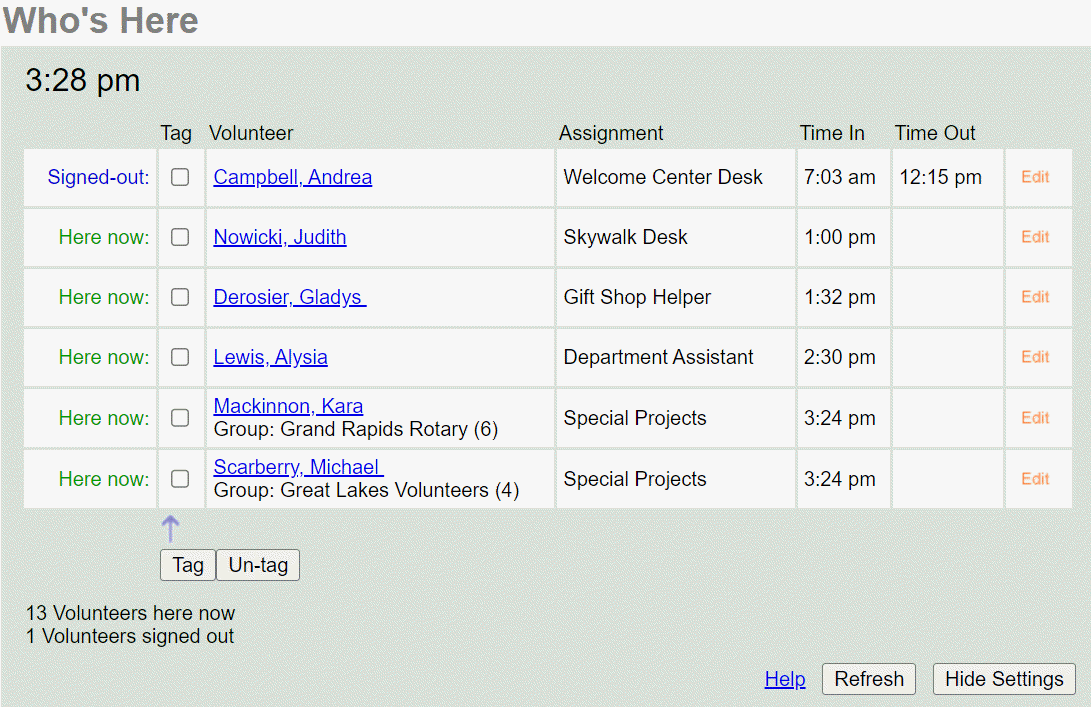 Because clocking-in and out creates a service entry on the volunteer's record, organizations can also create a service report to see the volunteers who served on a certain day in the past.
Not a Current VicTouch User?
If you'd like to start using VicTouch and the module is not included in your account's current service level, you can use it on a trial basis to check it out. If you decide you'd like to use VicTouch on a permanent basis, you can add it to your service level in the Volgistics Store and it will be available immediately.
Related Help¶