VicTouch Greeting Cards¶
If you use the VicTouch module, you can optionally deliver electronic greeting cards to volunteers as they check-in. This is a friendly way to wish volunteers happy birthday, happy anniversary, or to pass along a holiday greeting. You can also customize cards for uses such as reminders about an upcoming training or banquet, or deadlines for things such as flu vaccines or credentialing. Custom cards can also be used to pass along motivational or inspirational messages to boost volunteer morale.
Volunteers receive your greeting cards when they clock-in or clock-out on the days you've scheduled greeting cards to be delivered.
Here's a sample of how a birthday card might look: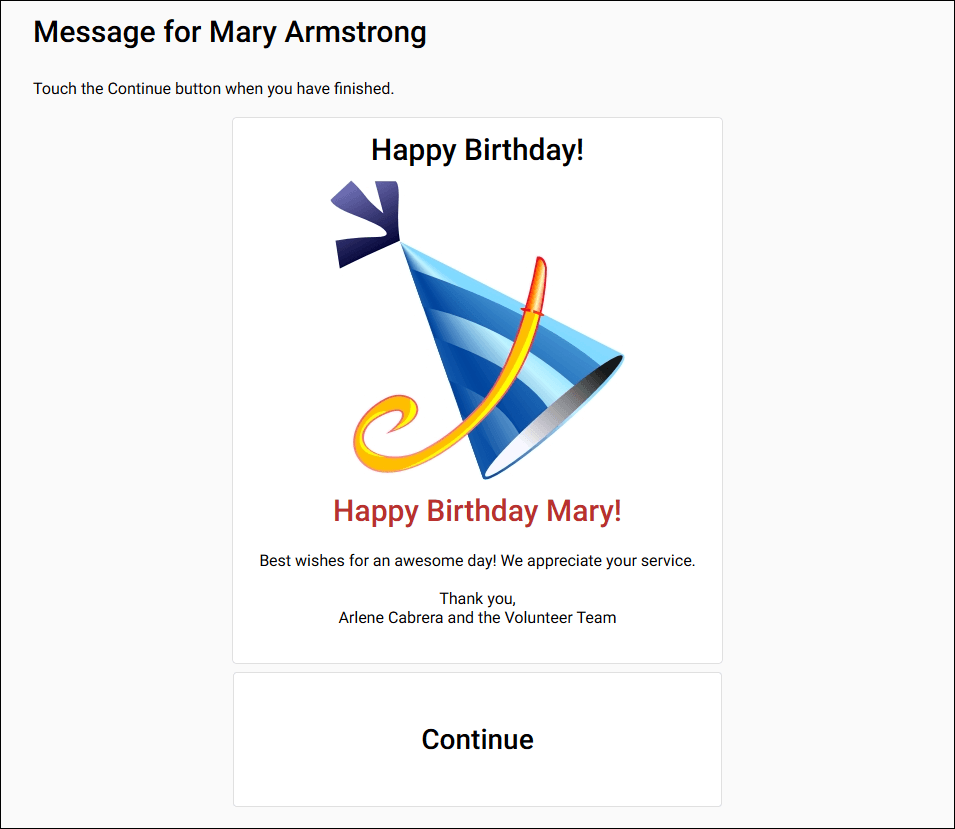 Greeting cards come with several stock images. You can either use these stock greeting card images, or upload your own greeting card graphics.
You can setup Volgistics to deliver the following types of greeting cards:
Birthday greetings¶
You can set a birthday card to be delivered automatically on or around a volunteer's birthday. A volunteer must have at least a month and day of birth entered in the Date of birth field on their Profile tab in order to receive a birthday card.
Start date anniversary cards¶
There are also anniversary cards that can be delivered automatically on or around the anniversary of each volunteer's start date to acknowledge another year of volunteer service.
Holiday cards¶
You can send holiday cards for specific date ranges that you specify. There are two holiday cards available so you can plan ahead. For example, you can have one card for Thanksgiving set up to be displayed the last week of November, and the second card configured for the December holiday season. You can control whether the volunteers see the card each time they sign-in, or set it so the volunteers only see the card once.
Custom cards¶
The holiday cards are also how you customize cards to be used for other purposes. You can change the graphic used for the card, the heading, and the card's message to meet your needs. The custom cards work great if you want to display a message with an image for all the volunteers who sign-in. If you just need a one-time message sent to a certain group of volunteers, a VicMail message will be simpler to send.
Greeting Card Setup
The Greeting Card Set Up help topic can guide you through configuring your greeting cards.
Track Message Delivery¶
You can check the Greeting Card Status section of the volunteer's Vic tab to see if they've viewed the greeting cards.

Related Help¶
Related Videos¶
VicTouch Holiday Cards