Service History Page Set Up for VicTouch¶
The Service History Screen in the VicTouch volunteer time clock lets volunteers review the hours and other service that they have performed with your organization. The information on this screen corresponds to the service entries from the Service tab of the volunteer's record. You can learn more about how to add service to Volgistics in the Methods of Posting Service help topic.
Service entries are associated with a date (or date range) and can optionally be associated with an Assignment. These can also record the number of hours a volunteer served, merit hours, and service measures. This information can all be made available to volunteers through VicTouch, but you can use the Service History Screen settings to customize what is visible to volunteers. This help topic walks through these settings.
You can see an example of what this screen will look like in the View Service section of the Volunteer Guide for VicTouch help topic.
To get started configuring your Service History Screen settings:
Expand VicTouch.
Click Service History Screen.
Now that you're on the setup page, let's walk through each of the options that you can configure.
Volunteer Access¶
In this section, you can configure whether or not volunteers will be able to access the Service History Screen. If you want the Service History Screen to be available to your volunteers, check View their service history at VicTouch. If you do not want this screen to be available to them, make sure this checkbox is unchecked.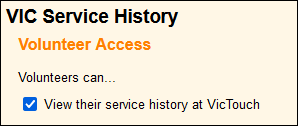 Included Fields¶
The Service History Screen will always show the volunteer's general service statistics, which include their start date, their year-to-date (YTD) hours, and their total hours served with your organization. However, it also includes their service broken down by calendar year. The Included Fields section of this setup page lets you configure which information is visible to volunteers for their individual service records. You can set up each service entry to include the following information:
The Date the service was performed (this is always included).
The name of the Assignment the service was associated with. You can choose whether this includes the corresponding Site and Place names as well.
The Time-in and time-out for the performed service.
The number of Hours performed.
Any service measures that were recorded for the entry (e.g. Visits).
Check the boxes for the fields you'd like to be visible to volunteers for each of their service entries.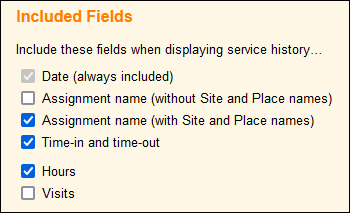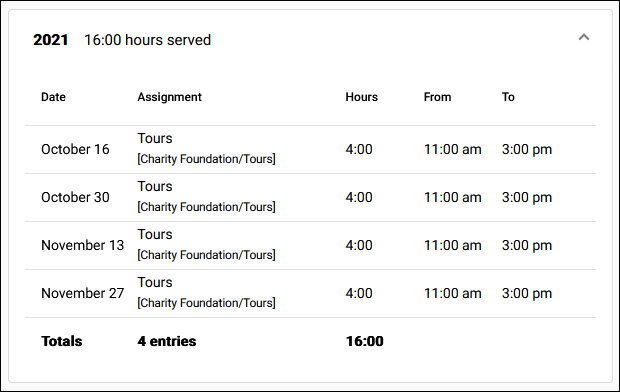 Also in this section, you can configure the heading and instructions included on the Service History Screen. Use the Page heading field to enter the heading you'd like to appear at the top of this screen, and use the Additional instructions rich text editor field to enter any detailed instructions you'd like to provide on this screen.
Related Help¶