VicNet Overview¶
The VicNet portal provides a way for volunteers (and others at your organization) to interact with your account from any device with an internet connection. VicNet is optional so whether or not you use VicNet depends on if it makes sense for your organization's needs. This help topic is designed to give an overview of what VicNet offers to help you decide.
Why Is It Called VicNet?
Vic stands for Volunteer Information Center and Net is how you use the portal (over the internet). That's why we named the portal VicNet.
There is also an optional module called VicTouch designed to be set up on touchscreen devices at your facility to provide a way for volunteers to clock in and clock out. Don't confuse VicNet with VicTouch. VicNet is used to give volunteers and Coordinators a way to interact with Volgistics via the Internet. While the main purpose of VicTouch is to provide a time clock at your facility.
In addition to volunteers, the VicNet portal can be accessed by Coordinators at your organization. These people are typically volunteer team leaders or department managers at your organization who primarily need to see or work with the schedule for your organization.
How VicNet Works¶
Volunteers and Coordinators can access VicNet by going to your organization's unique VicNet URL address in their web browser, by using the mobile app on an Android or iOS device, or by going to the generic VicNet URL (found at www.volgistics.com/vicnet).
If they are using a browser, users can bookmark the page, or make a shortcut to the URL address on their phone screen or computer desktop. Or, many organizations have their web master put a link to the portal on their organization's website. In this case, the web master can make a simple text link like this:

Or, create a button image to serve as the link:

Or, use a graphic link, like this: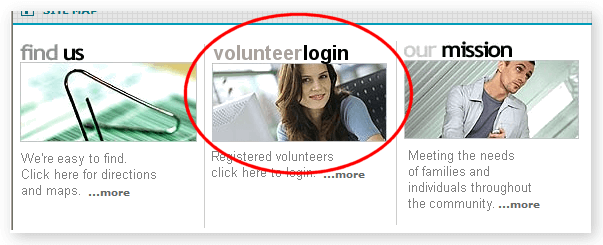 VicNet can also be embedded inside a frame on your organization's webpage so it looks like part of your website.
Alternatively, you can have your volunteers and Coordinators download the VicNet app on their smartphone or tablet. Once they have the app installed, they can open it, enter their email address and password, and select your organization (if they serve at other organizations too) to log in. They won't need your VicNet URL at all. The app can be downloaded in the App Store or on Google Play using the buttons below:
Regardless of how you choose to have users get to the login page, volunteers and Coordinators log in with their email address and password to access the portal.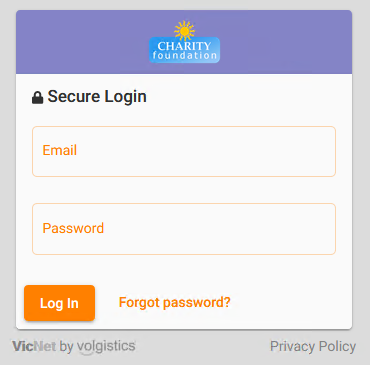 Branding
The VicNet portal has built-in theming options so you can easily brand the portal to match your organization's color scheme. In addition, the navigation buttons can be easily changed to customize VicNet for your organization.
VicNet for Volunteers¶
Volunteers can do many different things once they've logged in to the portal. You customize what they can see or do to meet your needs. If you want to see what the volunteer experience is like, we recommend reviewing the Volunteer Guide for VicNet.
If you're already familiar with VicNet and are ready to customize the portal and introduce it to your volunteers, see Getting Started With VicNet.
Here's a brief overview of the pages available and how they're used.
VicNet for Coordinators¶
Coordinator records are typically used for volunteer team leaders who oversee a group of volunteers, staff members such as department managers, or anyone else who may need to see (or work with) the schedule. If you want to see what a Coordinator can do in VicNet, see the Coordinator Guide for VicNet.
When you're ready to create Coordinator records and introduce VicNet, see Get Started With Coordinators.
One thing to notes is that you may have cases where one person has a volunteer and a Coordinator record in your account. In this case, the volunteer record is used to track things such as the service hours, scheduling, and Checklist information for the person, while the Coordinator record is used to manage the assignment(s) they oversee. The Shared Email Addresses help topic explains how the VicNet login process differs for these individuals.
Here's some information about the pages available to Coordinators in the VicNet portal, and how're they're used.
Controlling Access to VicNet¶
You control which Status(es) volunteers must have in order to access VicNet, and whether certain Types or Flags are required. By default, Coordinators automatically have access to VicNet, but you can disable access if needed. For more information on volunteer and Coordinator access, see the Set Up VicNet Access help topic.
There are a variety of ways volunteers can get their first password to enter on the VicNet portal's login page. For Coordinators, see the Introduce VicNet to Your Coordinators section of Getting Started with Coordinators.
Previewing VicNet¶
If you're new to Volgistics, you might like to see what VicNet looks like for a volunteer or Coordinator. You can do this by previewing VicNet for any record in your database. You must have at least one volunteer or Coordinator in your database to do this and the record must have an email address recorded. If you haven't entered any volunteers yet, back-up and enter a volunteer record first. If you haven't entered any Coordinators yet, back-up and add a Coordinator
Whenever needed, you can View VicNet as a volunteer or coordinator in a few easy steps.
Related Help¶