Prevent Overlapping Schedules¶
While your volunteers are superstars, most likely they have not mastered cloning themselves so they can serve in two places at the same time. So Volgistics has a feature that helps prevent volunteers from being scheduled at a date and time that would cause a conflict with the volunteer's existing schedule. Here is how you can enable this feature:
Choose Setup from the menu.
Go to Scheduling.
Select Ground Rules.
Find the Additional options heading and check the box in front of Do not allow conflicting schedules.
Click the Save button.
Once you configure Volgistics to prevent duplicate schedules, you cannot add a volunteer to the schedule for a date and time that conflicts with the volunteer's current schedule. If there is a conflict, System Operators will see a message showing information about what you are trying to schedule the volunteer for and the volunteer's current schedule that conflicts with your selection.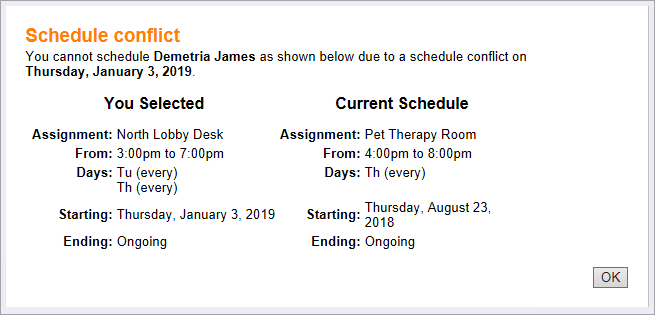 If you get a message such as the one shown, the easiest solution is to schedule a different volunteer who is not scheduled for an overlapping time. If you must schedule the same volunteer, you will need to do one of two things. One option is to edit or delete the volunteer's current schedule so there is not a conflict. The other option if you want the volunteer to be on the schedule for overlapping times is to disable the feature that prevents conflicting schedules. Once the volunteer is on the schedule at the conflicting time, you can enable the feature again if you wish.
If you allow Coordinators to schedule volunteers through the VicNet portal, the feature will also prevent Coordinators from adding volunteers to the schedule at overlapping times.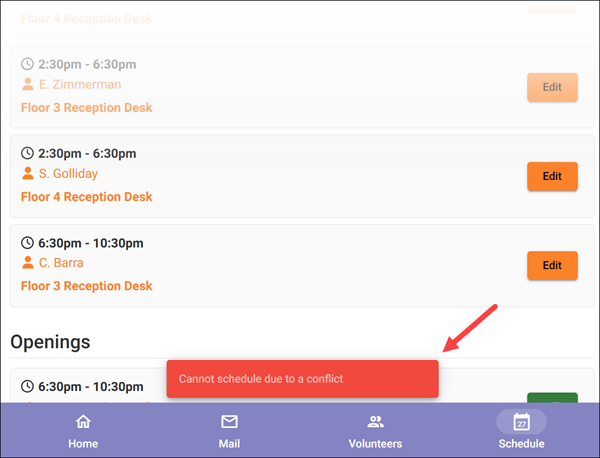 This is also true if you allow volunteers to self-schedule through the VicNet portal or the VicTouch sign-in stations. Here volunteers will simply see a Conflicts message instead of the Schedule button on any open shifts that conflict with the shift they're scheduled for on the date.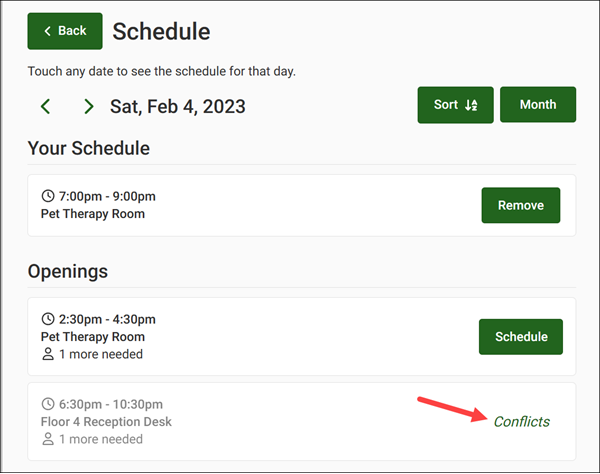 Please Note:
The schedule entry will show as a conflict if any portion of the entries overlap. For example, attempting to add a volunteer to the schedule from 3:00 pm to 5:00 pm will show as a conflict if the volunteer is already scheduled on the same date from 1:30 pm to 3:30 pm. This is because the period from 3:00 pm to 3:30 pm overlaps.
The system only checks for conflicts for individual records. Because group records are intended to represent more than one volunteer, group records can be scheduled in different Assignments for dates and times where they are already scheduled.
This setting is not retroactive. If there are schedule conflicts that exist before you turn-on conflict checking, these overlapping schedule entries will still be there after conflict checking is enabled.
Related Help¶