Message Preference Overview¶
Volgistics provides volunteer and Coordinator message preference features needed to ensure the integrity of automatic and mass email and text messages you send. These features enable volunteers and Coordinators to opt-in or opt-out of different types of automatic or mass email and text messages. They can also opt-out of messaging entirely if they choose.
We require this to be used because Internet Service Providers (ISP) and cell phone companies often blacklist organizations as spammers if mass messages are sent without opt-out features. This would mean that your email or text messages would not be delivered by the ISP or cell phone company. You can learn more about this in the Why Message Opt-Out Is Required help topic.
This help topic is designed to introduce you to how the message preferences work.
Message Types¶
The first thing that happens is account holders create "types" to describe to different varieties of messages they will send to volunteers and Coordinators. These will vary depending on the nature of your organization. For example, an organization such as a humane society may have a type called Adoption Events, whereas a community arts organization may have a type called Upcoming Concerts. You can learn how to setup the message types in your account in the Update Message Types help topic.
There are also built-in automatic reminder message types to increase compliance. Schedule reminder messages can be sent to remind volunteers about when they are scheduled next. You can also configure reminder messages for upcoming due dates when you have Checklist items that repeat on an annual or periodic basis. You configure these messages when you setup the Checklist item.
Message Preference Selection in VicNet and on Application Forms¶
You can include the message preference fields on application forms so prospective volunteers can choose what types of messages they'd like to receive when they apply. Your current volunteers and your Coordinators can update message preferences in the VicNet portal.
If you enable text messaging for your account, volunteers and Coordinators will select their preferences when they opt-in for text messaging. You can also allow prospective volunteers to opt-in for text messaging when they apply as shown in the Enable Text Opt-In While Applying help topic.
A System Operator can view a volunteer's message preference selections on the Profile tab of the volunteer record. For Coordinators, the preferences will show at the bottom of the first tab on the Coordinator record.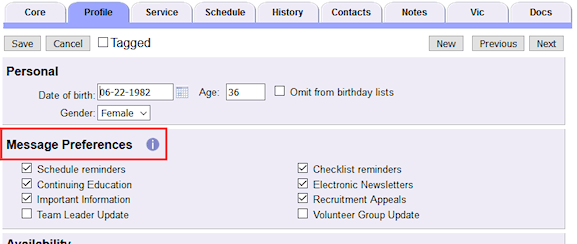 Preferences and Sending Messages¶
Whenever a message is sent to more than one person, there will be an option to select a type for the message. The system will automatically remove volunteers and Coordinators as recipients for the message if they have selected not to receive the type of message you are sending. You will see a list of people who have opted not to receive the message type (or cannot receive the message due to another problem) after you send the message.

The people who receive the message will see a link at the bottom that they can click to update their preferences. There are four choices for how the message is worded. You can change the selection on the Messages Ground Rules page.
Here is an example of one choice as it would appear for an organization named Great Lakes Animal Shelter.
Click here to change your message preferences for communications from Great Lakes Animal Shelter. Please note that we only send messages when necessary, so opting out of our mailings could cause you to miss important information
When a mail recipient clicks the link in an email message you've sent them, they reach a web page similar to this: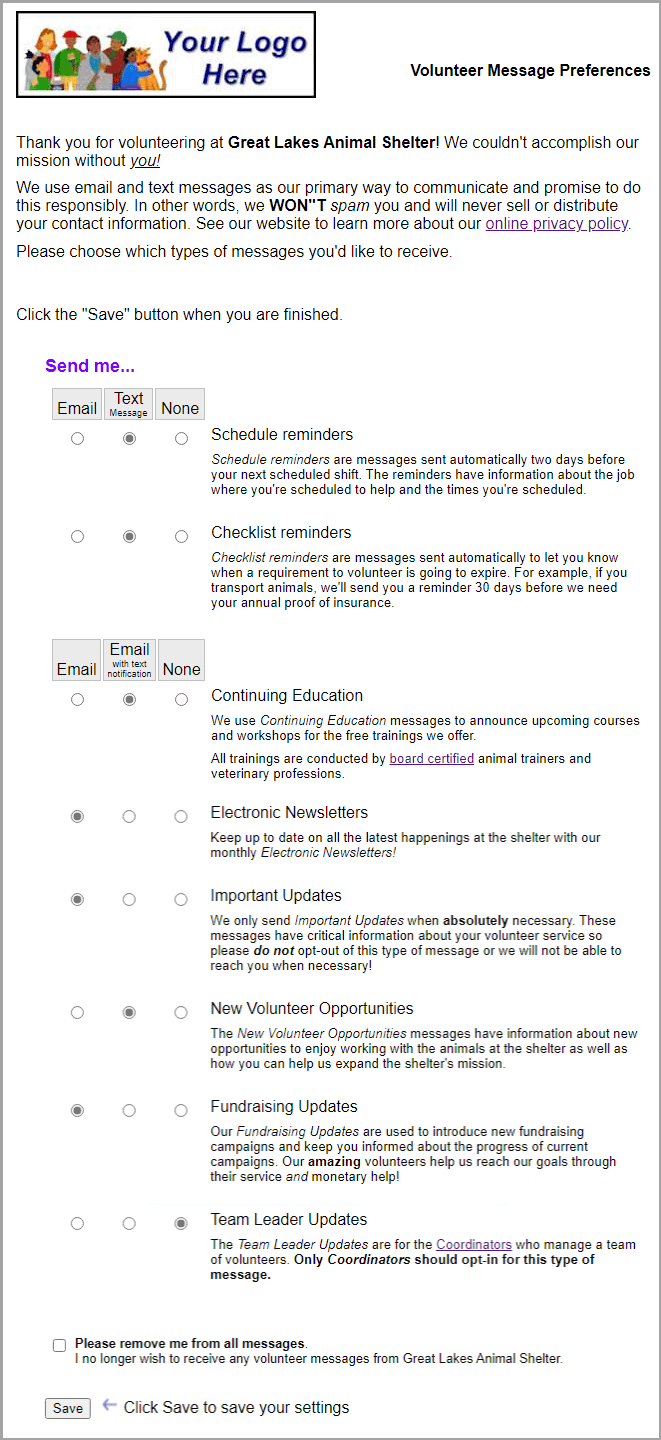 When a volunteer or Coordinator has opted-in to text messaging, the page will also include options for text message preferences.
If a volunteer or Coordinator opts-out of all email and text messages, the email validity icons next to the Email and Text fields will turn red.

For volunteers, this choice will also be noted in the Message Preferences box on the Profile tab of their record, as well as the Messages box on the History tab of their record.
If the recipient opted-out of all messages by mistake and lets you know they want to opt back in, you can click the Reset link next to the Email field to reverse this. However, regulations do not allow you to change a person's text preferences. They will need to repeat the opt-in process if they want to receive text messages again.
Because an individual's request to no longer receive messages from your organization may indicate a change in her or his relationship with your organization, Volgistics can automatically alert you when this happens. You receive these alerts on the In Box tab of your Volgistics mailbox. If they are not already turned-on, you can enable these alerts in Setup. To do this, select Setup from the menu, choose Messages, then select Volunteer message preferences, or Coordinator message preferences. The Add Volunteer Message Descriptions and Add Coordinator Message Descriptions help topics explain more.
Related Help¶