View a Volunteer's Checklist Items¶
Every volunteer you track in Volgistics has a Checklist box on their History tab. This will include all of the Checklist items that apply to the volunteer. You can review the Checklist box to see:
Which Checklist items the volunteer has completed
Which Checklist items the volunteer needs to complete
When a completed Checklist item is due to be renewed (if it expires)
To view a volunteer's Checklist box:
Select Volunteers from the menu.
Select the History tab.
This is an example of a volunteer's History tab: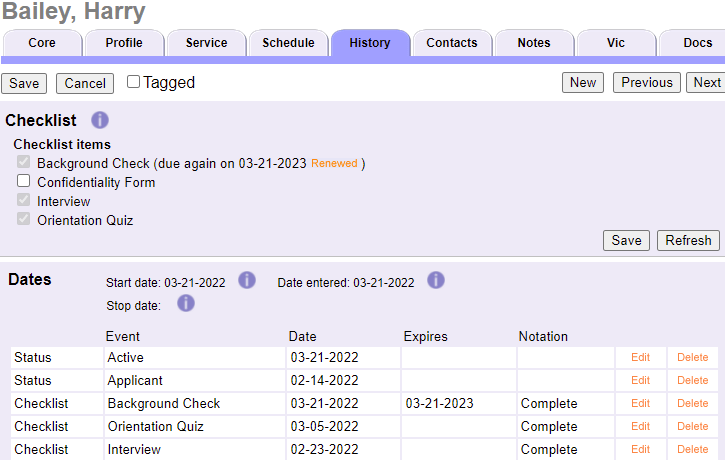 If you do not see an item listed that you expect to see, the item is not set up to apply to the volunteer.
The items that the volunteer still needs to complete appear without a checkmark, and completed items appear with a checkmark. In the illustration above, volunteer Harry Bailey has completed all of his Checklist items except for his Confidentiality Form.
The History tab also includes a Dates box that shows you when each of the completed Checklist items was last performed, and when they expire next (for items that must be repeated periodically). These date records can be included on reports such as the Volunteer Date History report and certain custom reports. These reports can be set up to only include dates for certain items.
Related Help¶